Looking for Disney Cruise tips? After a week on the Disney Fantasy, we ate at every restaurant aboard the ship at least twice. Here's our review of the Animator's Palate restaurant!
One of the best things about cruising on the Disney Fantasy is the rotational dining. I didn't understand it at first, but it really keeps things interesting every night.
The saddest part of the rotational dining was that we only got to go to Animator's Palate twice during the week.
Animator's Palate was such an awesome dining experience with two really cool opportunities on the two nights we were able to eat there.
We'll get more into why in a minute, but Animator's Palate was our favorite of the rotational dining restaurants on the Disney Fantasy, and it was all because of the experience.
Overall, the food is relatively the same in each of the three restaurants, so it's all about the atmosphere and experience that differentiate them.
Animator's Palate is definitely an experience for you and your kids to look forward to!
Be sure to check out our full review of everything the Disney Fantasy has to offer!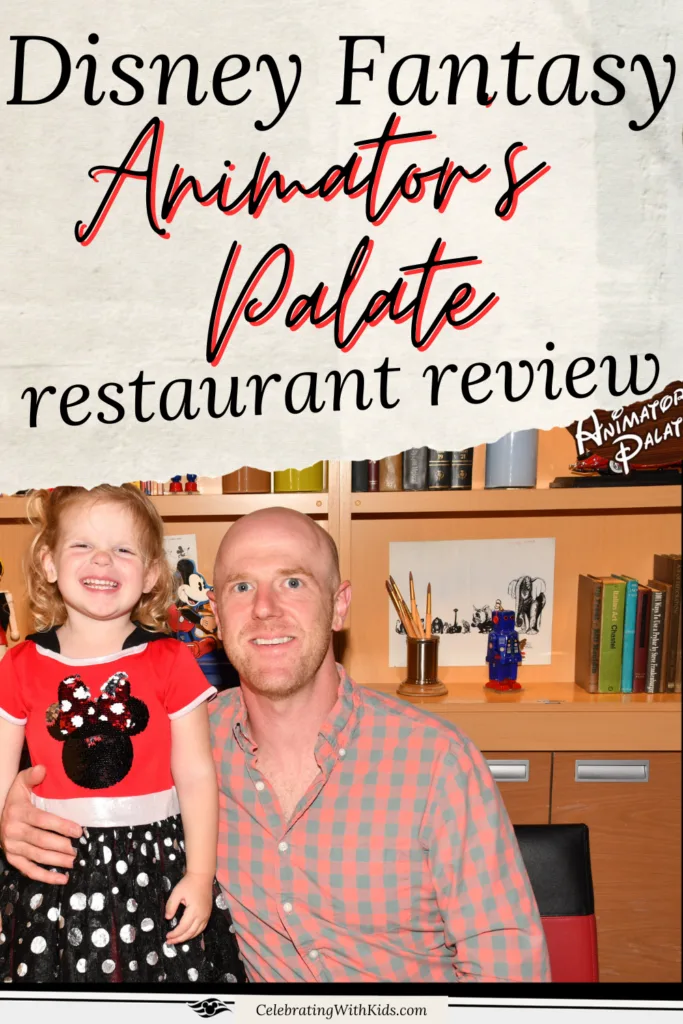 Animator's Palate Restaurant Review
Animator's Palate restaurant is a really great environment, with good food and an awesome experience to go along with it.
Located on Deck 3 of the ship near Royal Court, Animator's Palette has no exterior windows to the ocean, but instead has interactive TVs throughout the space.
Animator's Palate theme
Animator's Palate has a theme based on the creation of Disney shows and movies.
All of the decor is about the creation of characters and sets and in the Disney universe. There's statues and sketches and art going all the way back to the early days of Disney through their Pixar years.
There's also a lot of TV screen portholes throughout the restaurant that have different animations going on throughout the evening.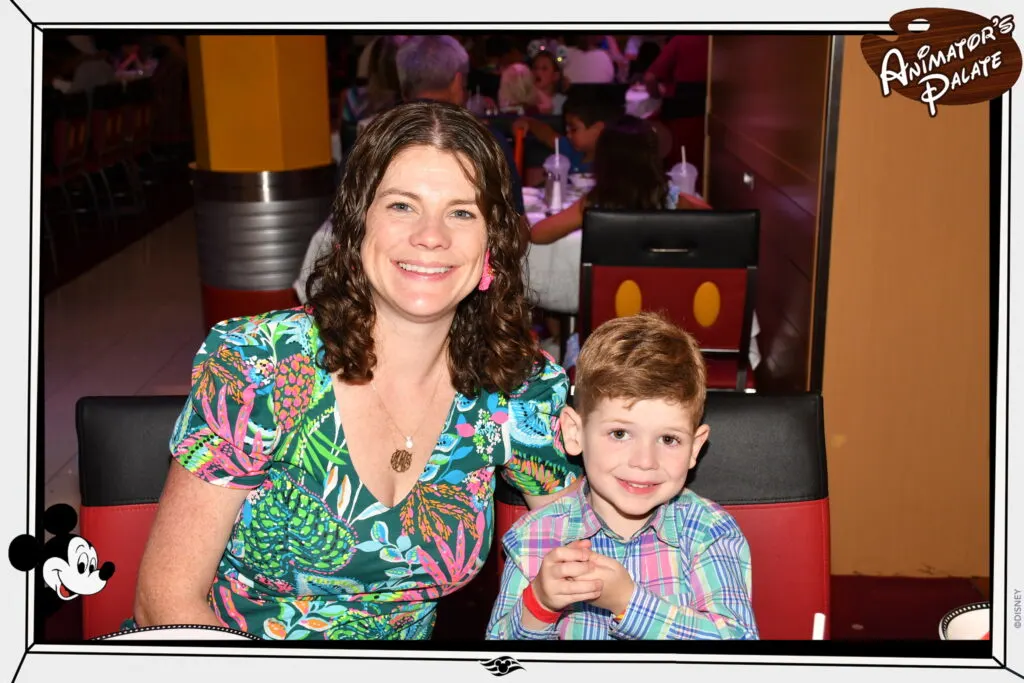 You also get to sit in seats that look like Mickey's pants, so that makes for a more fun adventure!
Animator's Palate atmosphere
The atmosphere of Animator's Palate is the best of the three rotational dining restaurants. Each of the nights you're there, there is a different interactive situation.
On the first time you're there, Crush the turtle from Finding Nemo is going around talking to people. How they do it, I have no idea.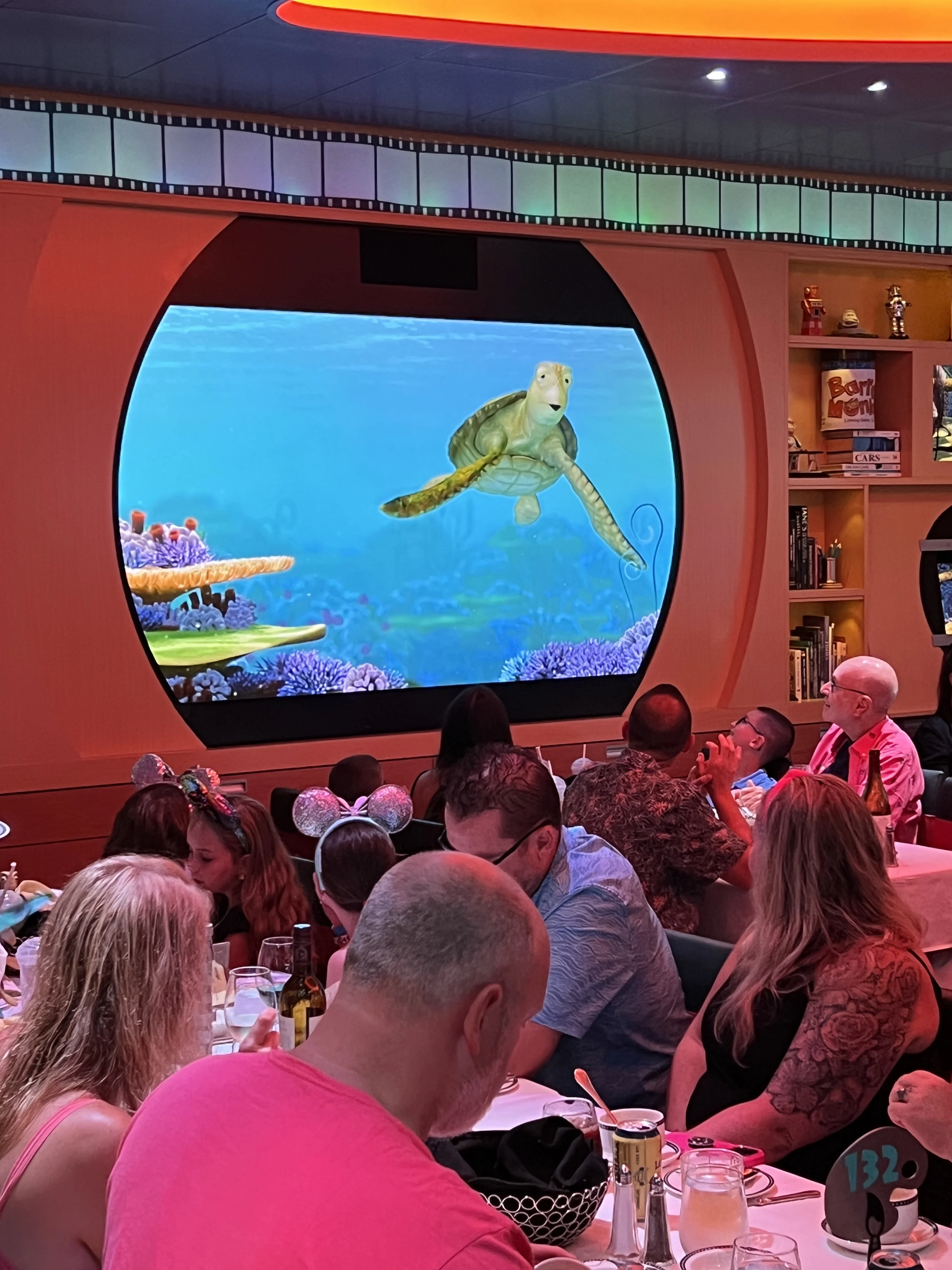 He is actually interacting with people at tables and having real conversations with people.
While that's going on, all of the characters from Finding Nemo are floating around doing silly things on all of the screens. It gives your kids something to watch and look at while waiting for dinner.
The second night you're there, there is an interactive show where each diner gets a sheet of paper to draw a picture of a character that the Disney team then scans into their system and puts on a legitimate movie with all the characters drawn.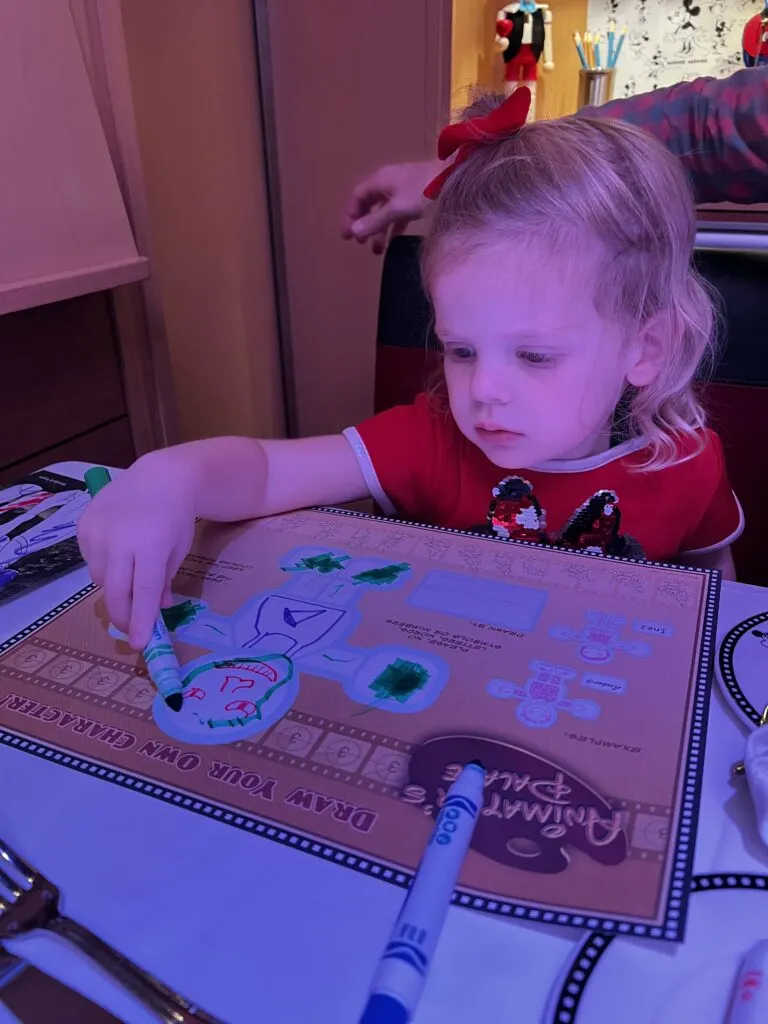 They break this up into different areas, so your drawing will be shown on the screen closest to you.
This is a really cool show, but you do have to do the drawings very quickly at the beginning of dinner and then wait until late into dessert time to see the show. This is a great time to get out your phone and record the show if your kids would find it fun to see their drawing again later on!
Animator's Palate dining choices
There are tons of great dining options at Animator's Palate. Here's a look at the menus from each night.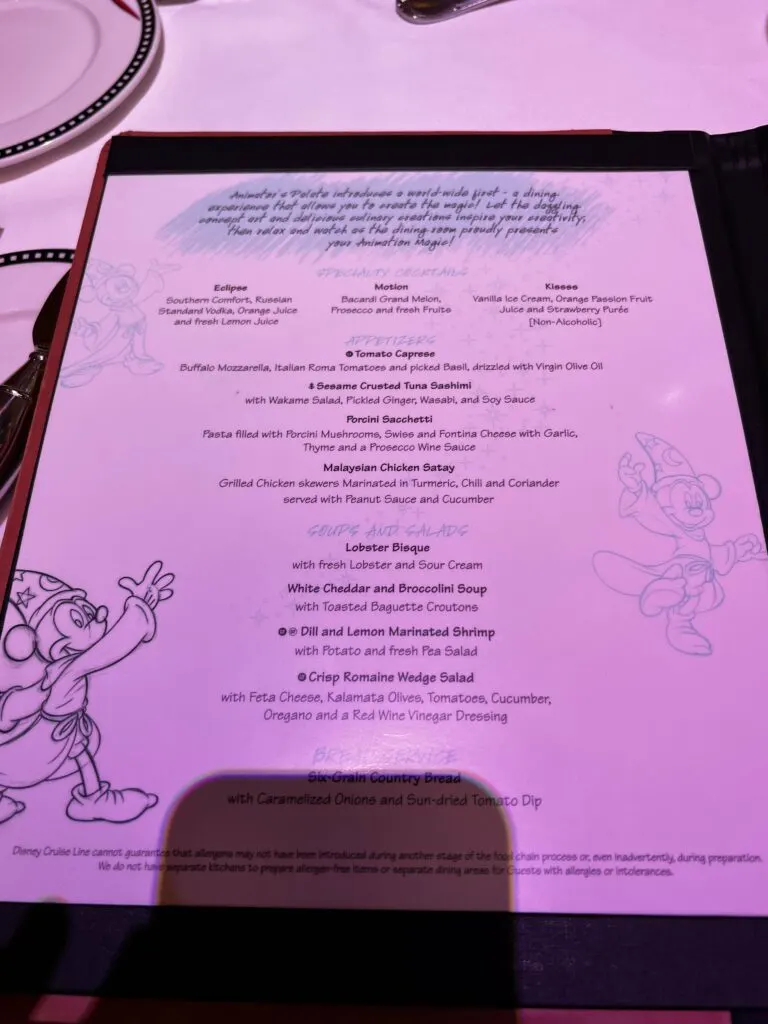 The dining here is second to the entertainment, but the food is just as good as the other two rotational dining restaurants. Everything is better than you'd expect, but not like a true fancy dining restaurant.
The thing that separates the dining experience on the Disney Fantasy is the wonderful service from your wait staff.
Animator's Palate appetizers
Too many to choose from! We tried quite a few appetizers in Animator's Palate and they are all ones I'd recommend.
We had a capresse that was mozzarella, tomatoes and basil that was really fresh.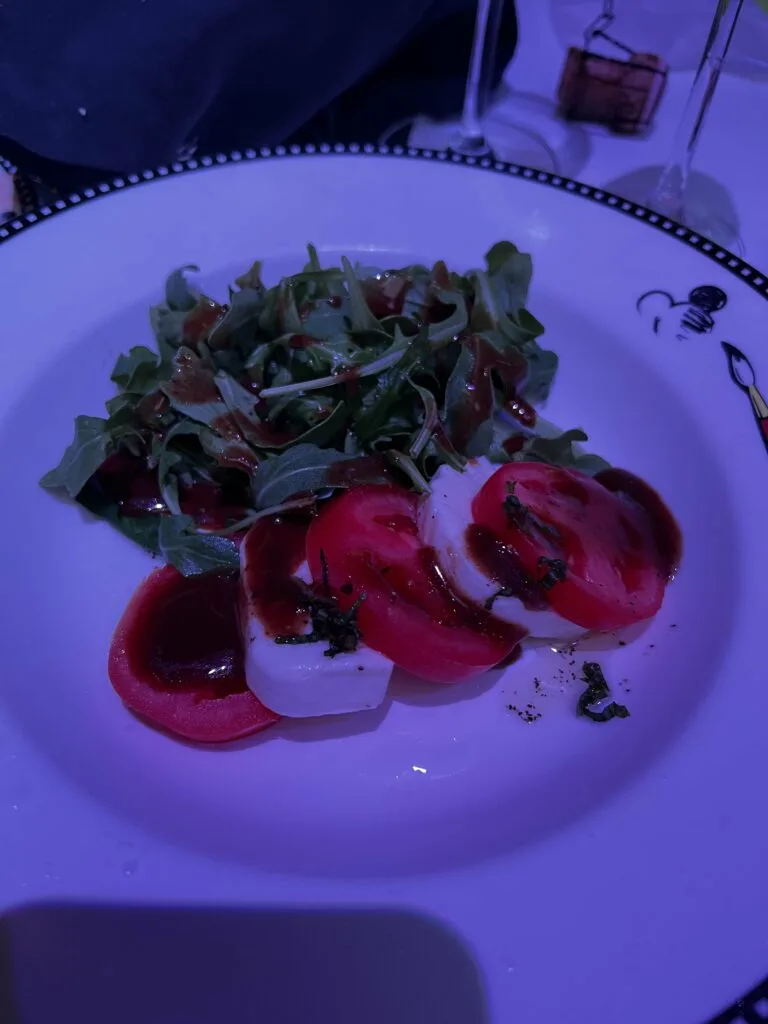 Then we tried the sesame-crusted tuna sashimi, which was really interesting and good and something I wouldn't have probably ordered otherwise.
Animator's Palate entrees
After the really good sesame-crusted tuna sashimi, we figured the sesame-crusted tofu would be really good too, but it was not. Luckily, we had other choices as well.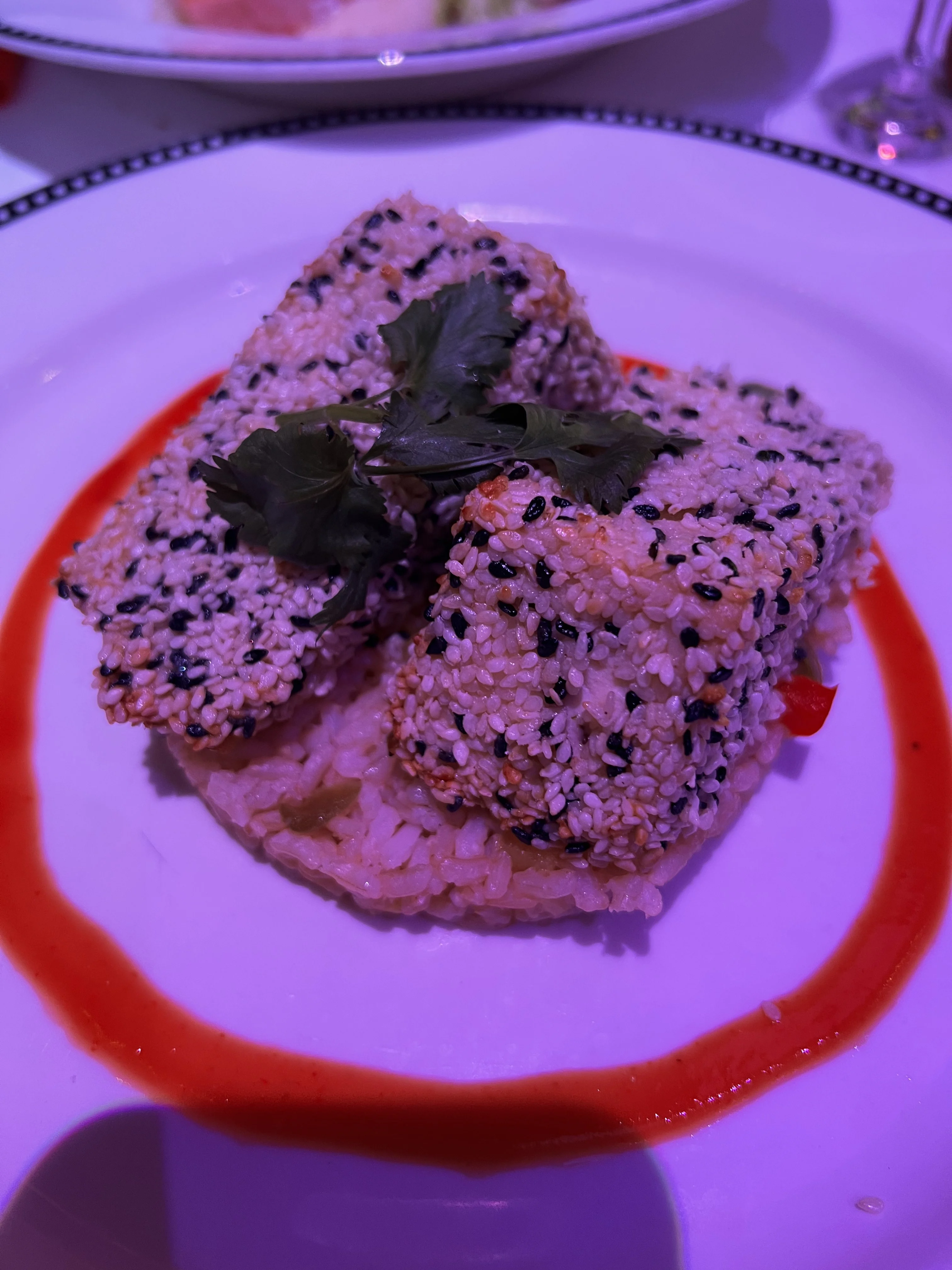 We really enjoyed the roasted salmon steak on a celeriac puree and the grilled garlic shrimp. The shrimp itself was really good, however there was way too much linguini and it was kind of odd to serve a red sauce pasta with shrimp.
Animator's Palate dessert
There were several good dessert choices in Animator's Palate, but we didn't get a photo. The menu below though shows the choices and we had the celebration cake and the peach tart, both of which were a good way to end the day.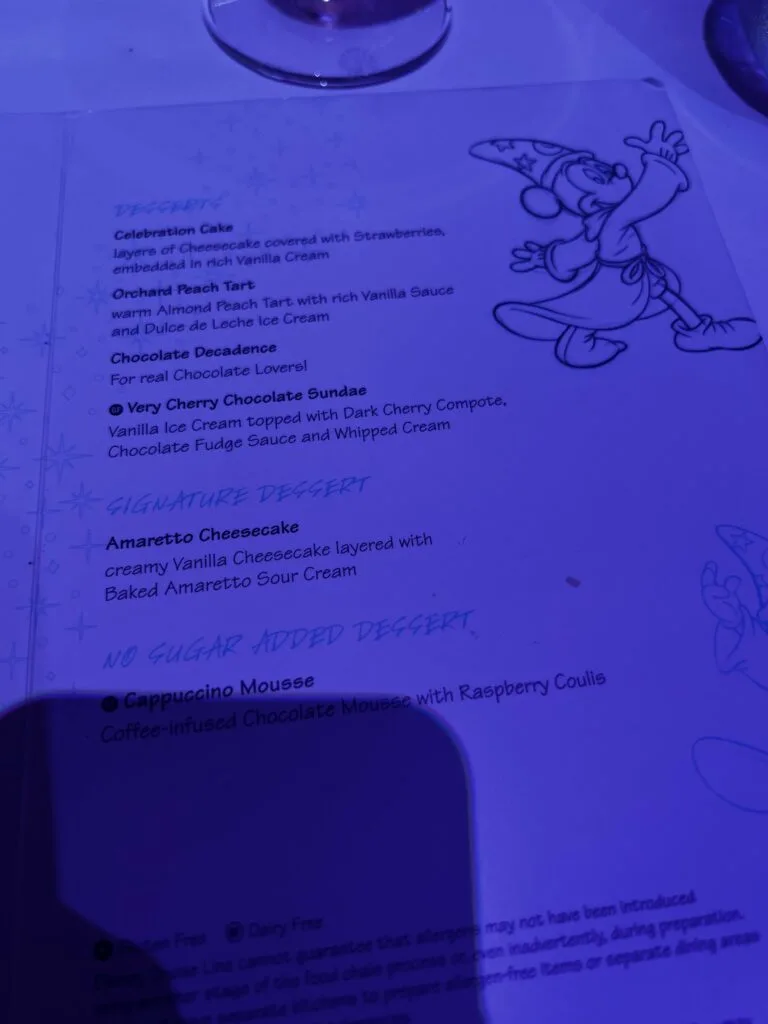 Animator's Palate kids meals
Animator's Palate has the same general options for kids meals as the other rotational dining restaurants, including the Minnie Burger, mac and cheese, and penne with red sauce. It also included a surf and turf option, but there's no chance our kids would try it.
Animator's Palate tips for kids
If you have kids, it's best to order them food early on, as with all the other restaurants.
Honestly, it's best if starting on night one, you ask your server if they can have a bowl of fruit or something to get your kids started when you arrive. Our servers had a bowl of mixed fruit and an apple juice on the table every night for our kids after night one.
At Animator's Palate, make sure they are ready to draw when they first get there and can do it fairly quickly.
Unlike some of the other restaurants, there isn't really a bad seat in this restaurant, so your kids will be entertained the whole time. But if you have a really tired and fussy kid, you can definitely take them around and have them follow certain characters from TV to TV.
Here's our top 14 activities for kids on the Disney Fantasy!
Before you go…
Animator's Palate is just one of the three rotational dining restaurants you'll experience during your Disney Fantasy cruise. Make sure you check out our reviews on the other two restaurants before you go!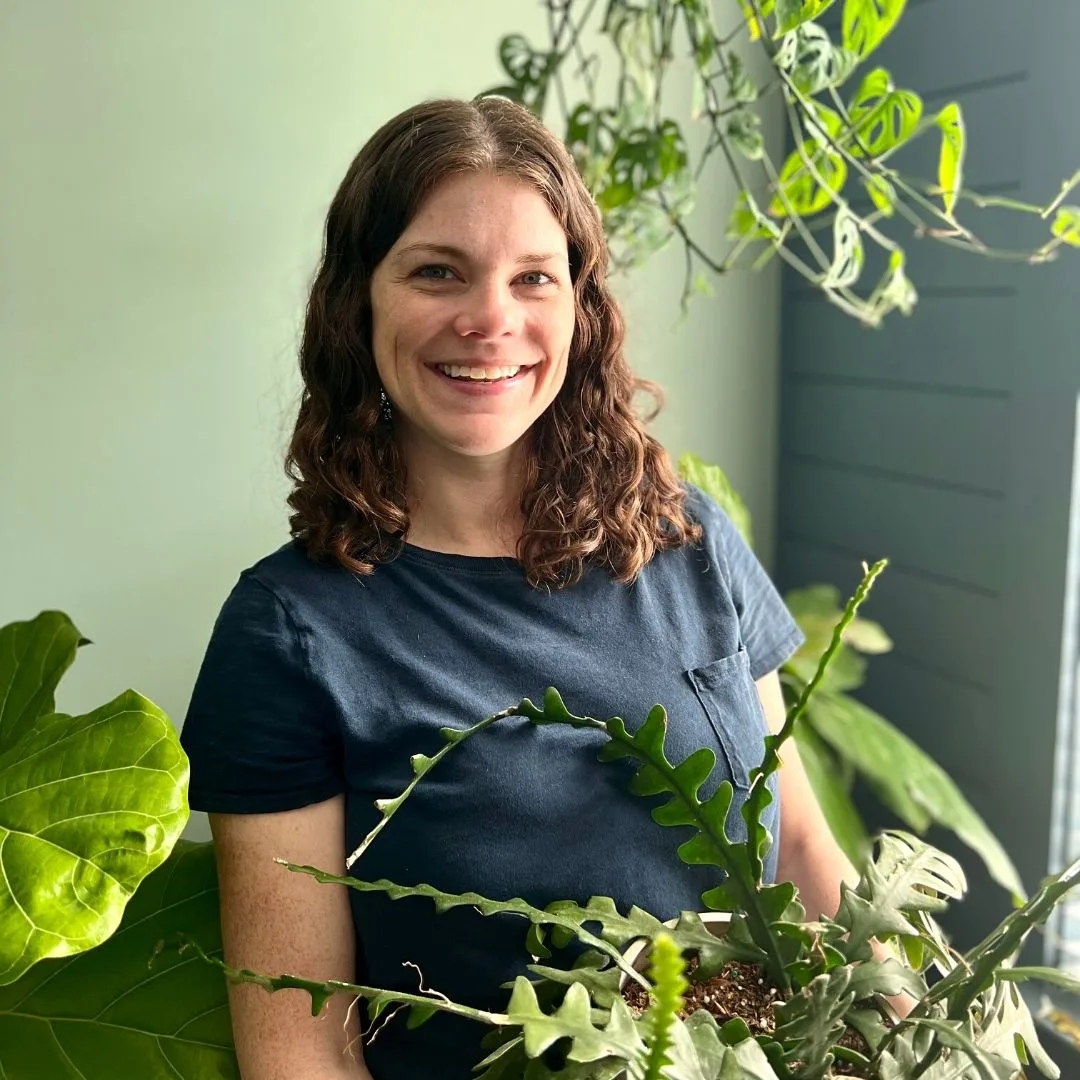 Hey there, I'm Morgan, the creative mind behind CelebratingWithKids.com! As a parent of two lively little ones, I've made it my mission to turn ordinary days into extraordinary adventures, sharing playful activities, thoughtful toy reviews, and delightful printables to help families celebrate every moment together. 🎉👨‍👩‍👧‍👦🎈