Looking for a fun, free, outdoor Christmas activity for your family? Here's how to do an outdoor Christmas lights scavenger hunt – with a free printable!
Want to make Christmas extra fun this year?
We love going to look at Christmas lights in the nights leading up to Christmas.
Once you've seen them a few times, it can be a little less magical.
So, I like to bust out a scavenger hunt to keep my kids on their toes!
I also have a free printable Christmas decorations scavenger hunt, but today I wanted to share our Christmas lights scavenger hunt!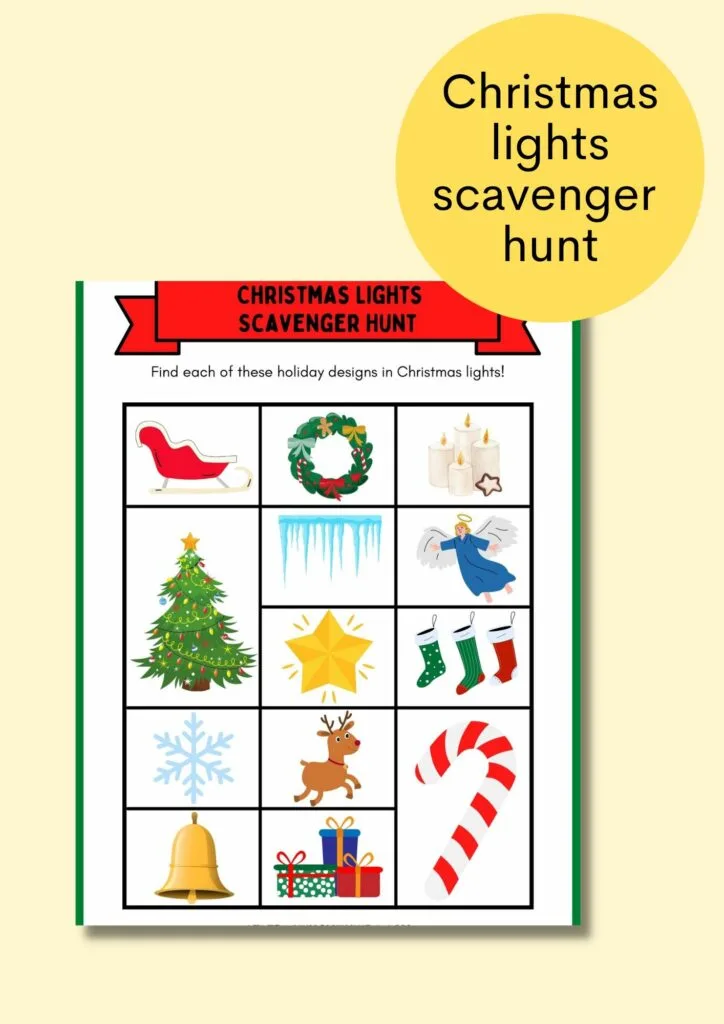 Why do a Christmas scavenger hunt?
Scavenger hunts promote family bonding, encourage outdoor activities, and create lasting memories.
I love how a scavenger hunt adds excitement and new elements to the traditional activity of viewing Christmas lights.
It's fun, it's easy, and it's free. What's not to love!
Christmas Light Scavenger Hunt Ideas
Here are some ideas for what to put on your Christmas light scavenger hunt this holiday season:
Wreath
Stars
Candles
Nativity
Angel
Santa
Elves
Nutcracker
White lights
Colored lights
Icicle lights
How to do a Christmas light scavenger hunt
First, make a treasure hunt list. You could use our free printable or make your own.
Then, head outdoors! Walk around your neighborhood and check out the lights. This is often best to do once it starts to get dark and the lights are on!
Consider cruising around on bikes or with a wagon so you can cover more ground, or break your hunt up into several nights so you can take your time.
Dress warmly if you need to, pour yourself a hot chocolate to go, and go enjoy a fun family evening outdoors!
Look and see what you can find!
Ready to add a dash of adventure to your Christmas lights viewing? Download our free printable and start your memorable scavenger hunt today!