Looking for the perfect backpack cooler to buy? Here is our complete RTIC backpack cooler review!
We live in coastal South Carolina, and that means whenever we want to go do some thing in the summer, or honestly half the spring and the fall, it is H-O-T hot.
my husband and I used to just sling sandwiches into her backpack and Collett good enough but now that we have kids and they want so many snacks and water and drinks on hikes and outdoor adventure's we like to have a cooler with us.
last year for his birthday I got my husband, the BruMate BruTank cooler. This is an EPIC cooler with abuilt in water tank, but it is a heavy bohemouth. It's great for tailgating and parties and even long beach days, but it's not going on a hike with him.
So, this Father's Day I decided to gift him another cooler – a backpack cooler.
I originally was hoping to get him the Yeti backpack cooler, but it was actually recalled due to an issue with the magnets and therefore I could not find one for sale anywhere except sketchy over priced ones on eBay.
So I ended up buying a backpack cooler from RTIC brand, which is a brand I had never shopped from before.
We've now had it for a few months and taken it on picnics, to the beach, and hiking in the mountains.
I'm excited to share our full RTIC backpack cooler review with you here today!
Click here to get 10% off your first order with RTIC!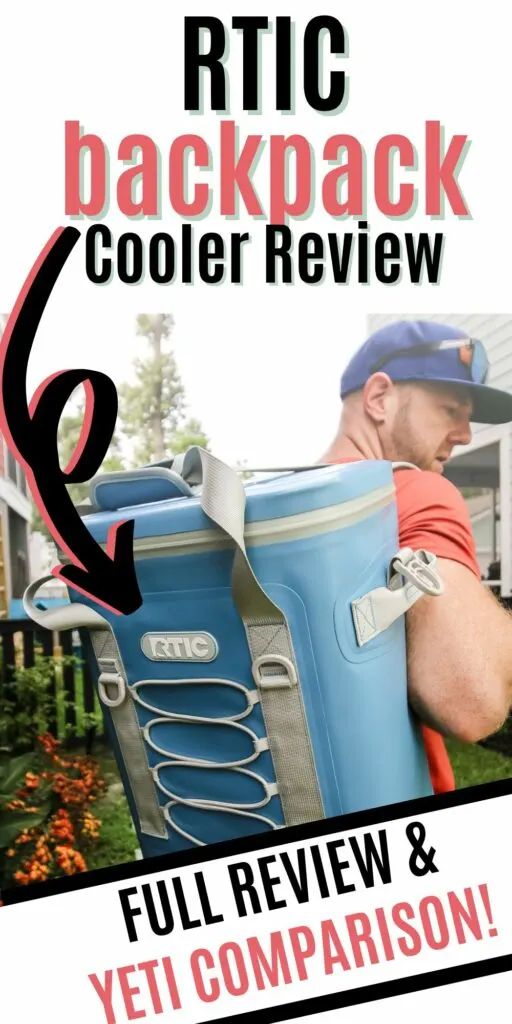 RTIC backpack cooler review
Overall, we love our RTIC backpack cooler. It is easy to carry, durable, and the perfect size for our family of 4.
Benefits of the RTIC backpack cooler
Here are some of our favorite things about this backpack cooler
Great size
I ordered the smaller size the 20 can version of the backpack cooler. It also comes in this 30 can version.
Honestly, I was a little nervous when I was ordering it online that it would be too small and figured that bigger was better for a cooler.
But after talking to some other people and reading reviews, I thought maybe bigger would be too big and inconvenient, especially for taking on hikes.
This is a silly thing to note, but I also thought that the cooler comes in a way better colors in the smaller size compared to more boring colors in the bigger size.
Of course your mileage may vary but for us there is plenty of room in the 20 can cooler for lunch and drinks for the four of us plus 2 ice packs. If you had a bigger, family or plan to bring large items, the big cooler could be the right pick for you.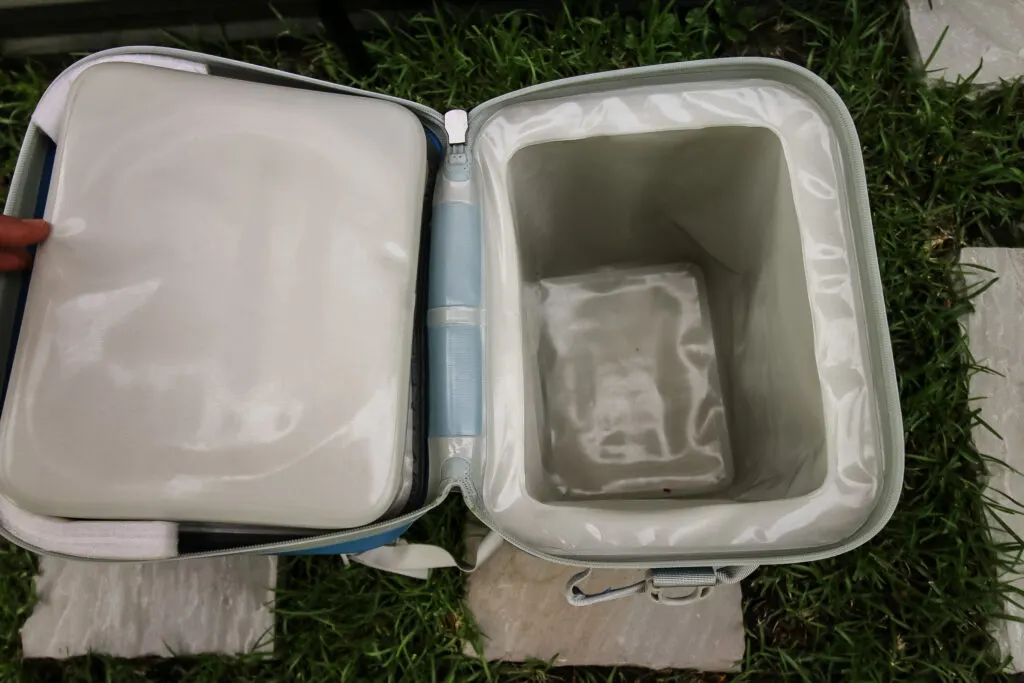 Well padded straps
I definitely wanted to note that the back and the straps of this cooler are really nicely padded.
This is important when you're carrying a heavy cooler. It is super comfortable to carry and I think that the padding is a good indicator of the quality of this cooler.
Keeps cold
This cooler is supposed to keep your food cold for 24 hours. Honestly, we have not put that the test but we have brought it to the beach on a very hot July day in South Carolina and everything in there stays nice and cool.
These are the ice packs we use, one on bottom and one on top of the food. They fit perfectly and work great!
Waterproof
This cooler is designed to be waterproof and has a watertight seal on the zipper. Once again, we haven't really put this to the test, but it definitely has a tight seal, more on that soon.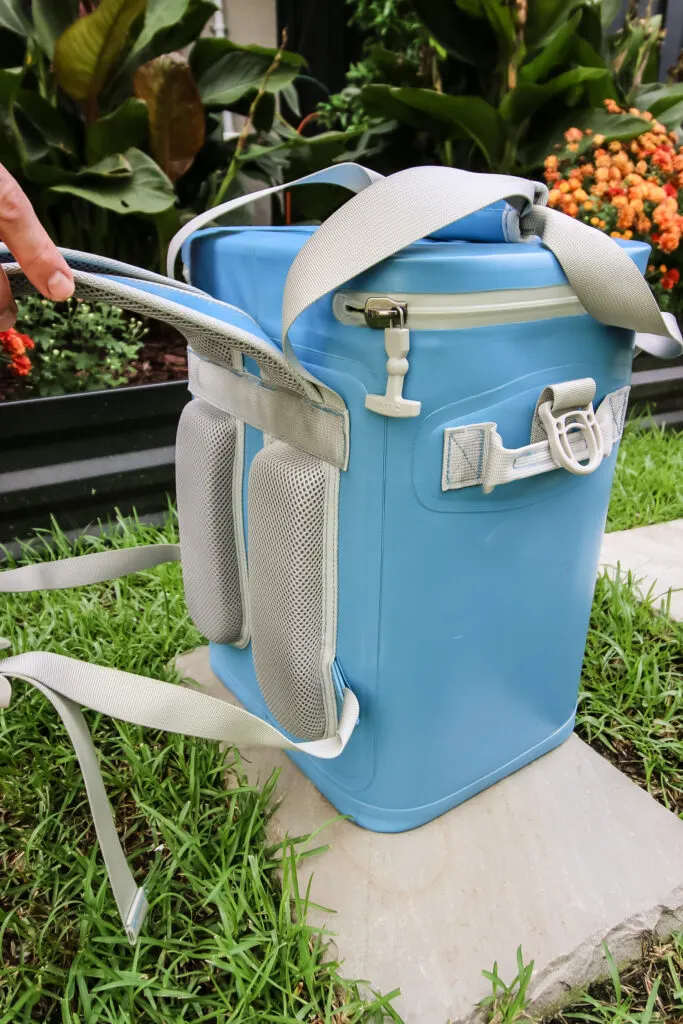 Drawbacks of the RTIC backpack cooler
Here are some things I don't love about this cooler.
Boxy shape
This is silly and has no effect on anything but I really don't like the way this cooler looks when you're wearing it. It's just large and we got the smaller one.
It's a very boxy shape – you can see it in the pictures – it's just not super cute. But it does make it stand up really nicely on the ground and have a really nice capacity inside there.
No dry storage
The one major thing that I think that this cooler lacks is dry storage separate from the actual cooler.
I just wish I had a little zipper section or some thing where you could put some thing you don't want to keep cool.
Like I love trail mix on a hike, but I hate it when raisins get cold then they get hard. That's silly, but an example of a time when I would put some thing in a small outer pocket.
But then maybe my M&Ms would melt and I'd be complaining too.
Either way, it's just something to note.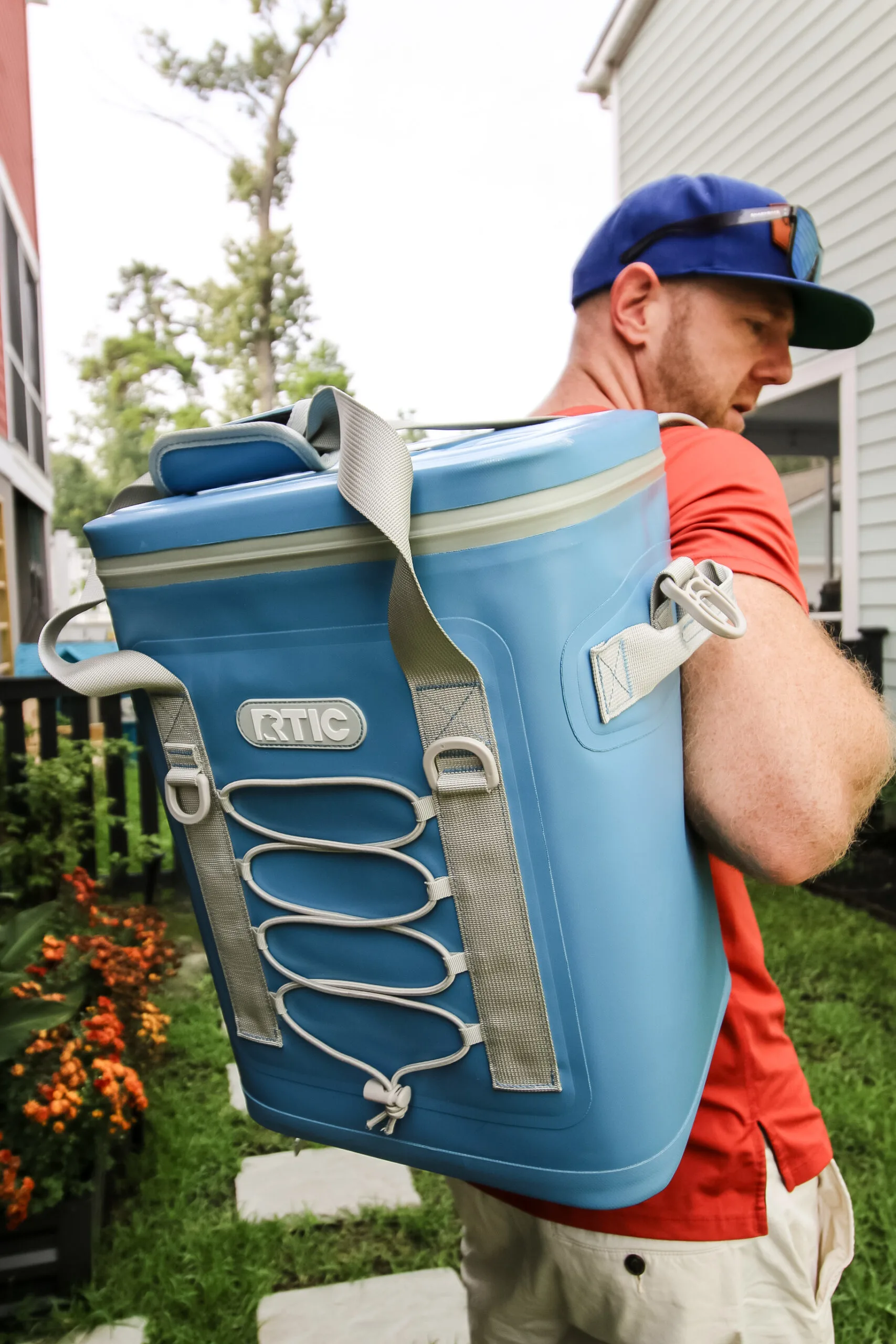 Hard to zip
My final note is that this cooler can be pretty hard to zip and unzip.
It came with a lubricant to help the zipper. However, because of that waterproof seal, it's just a really tight zipper.
It's not impossible, I'm not gonna break an arm doing it, but it is a little bit too difficult for my small kids to unzip without help.
Once again, not a dealbreaker by any means just something to note.
Overall impressions
Overall, this is a really great cooler. I'm really happy with it and think it was a great value for the cost. If you are looking for a backpack cooler that won't totally break the bank but it's still super high-quality, this is a great option.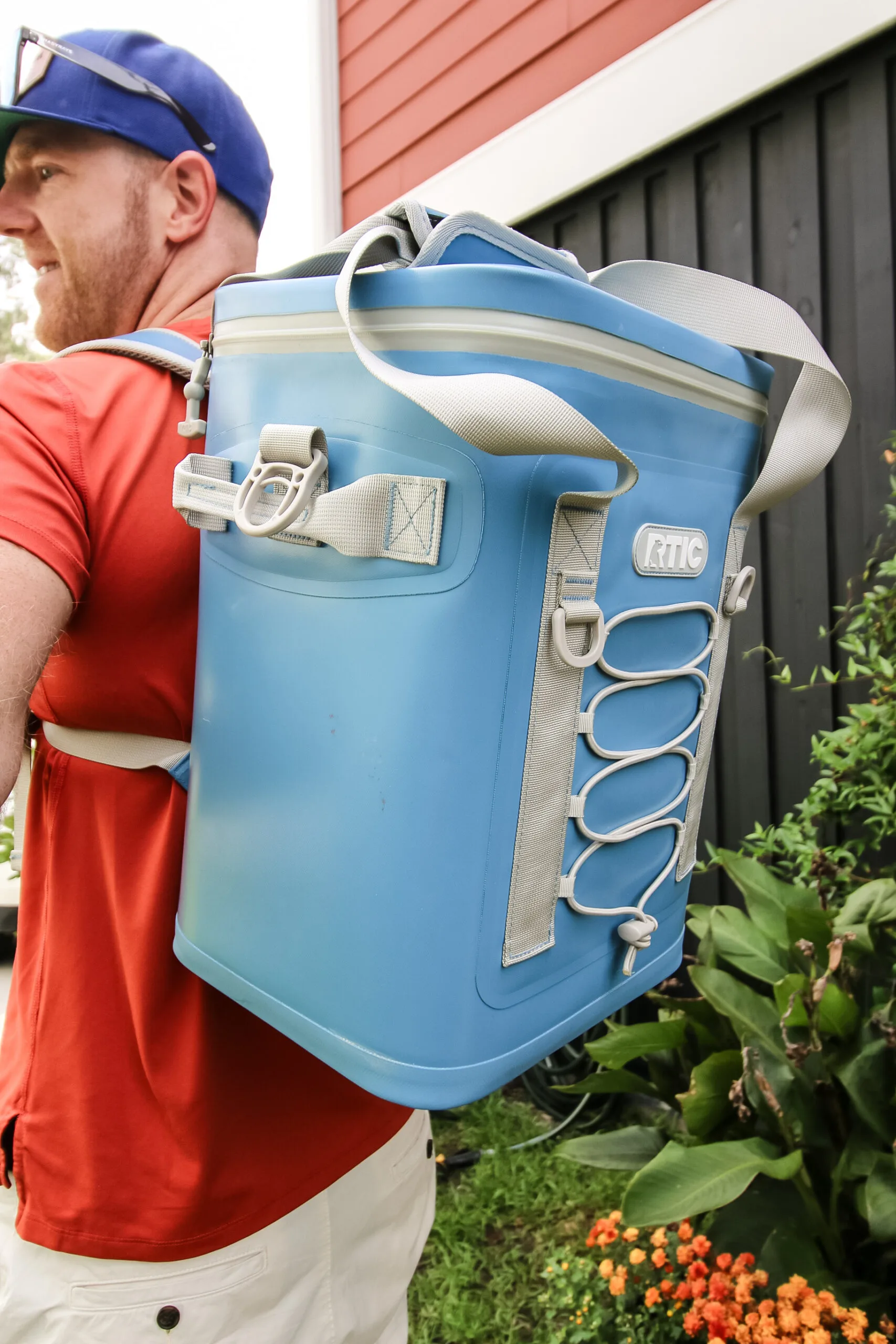 Where to buy RTIC coolers
RTIC keeps their costs down by being direct-to-consumer. So, your choice is primarily to buy it on their website or on Amazon!
RTIC coupon code
Click here to get 10% off your first order with RTIC!
RTIC backpack cooler FAQs
Here are some common FAQs about this cooler.
Is RTIC just as good as Yeti?
It is generally accepted that RTIC is of a similar quality to Yeti. Yeti tends to have more brand recognition and prestige.
How long does ice last in the RTIC backpack cooler?
The backpack cooler should keep ice cold for 24 hours. We have not put this fully to the test, but it has lasted well in 6 hours in the hot beach sun for us!
Are RTIC coolers worth the money?
I think that RTIC coolers are a great value for the money, especially compared to pricier competitors. It's a large, sturdy, high quality backpack cooler option.
Does the RTIC backpack cooler float?
These coolers can float and are waterproof. Pretty cool if you are a boater!
Any more questions about the RTIC backpack cooler?