Discover the ultimate towel for busy moms and families in our Shibumi Towel review. Learn about its quick-drying technology, ultra-absorbent material, and compact design.
Whether you are going to the beach or the pool, summer swim gear can add up quickly and accumulate into quite heavy loads you're carrying from the car.
While a lot of things are "extras" or "nice to haves," a good towel is really an essential for any swimming trip.
We are big fans of our Shibumi beach shade and were excited to hear they had released their own signature beach towel.
So, we had to give the towel a try and report back with our thoughts! Here's our review of the Shibumi towel to let you decide if it's right for you!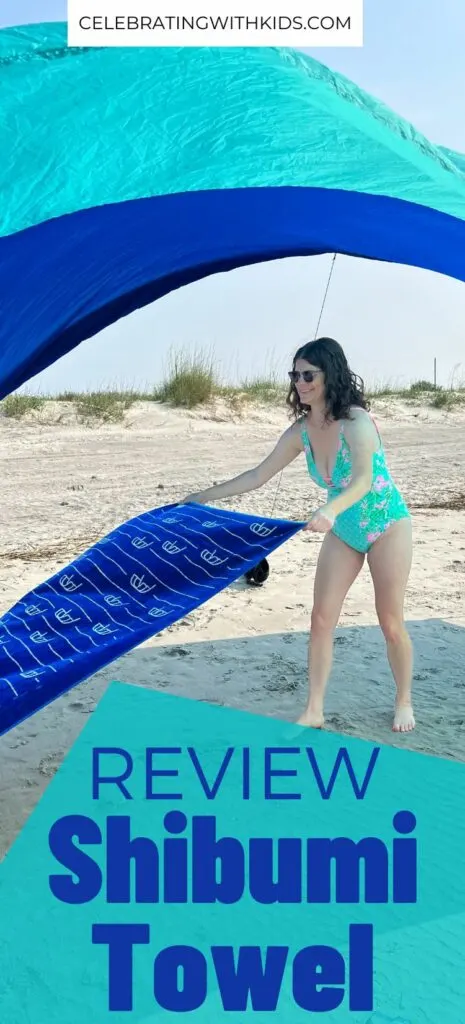 Overview of the Shibumi Towel
Here are some quick facts about the Shibumi Luxe towel:
Dimensions- 35 x 68 inches
Velvety Soft Velour Front + Absorbent Terry Back
100% Cotton
Machine Washable
Made in Portugal
Currently comes in 4 prints, all in trademark Shibumi blue colors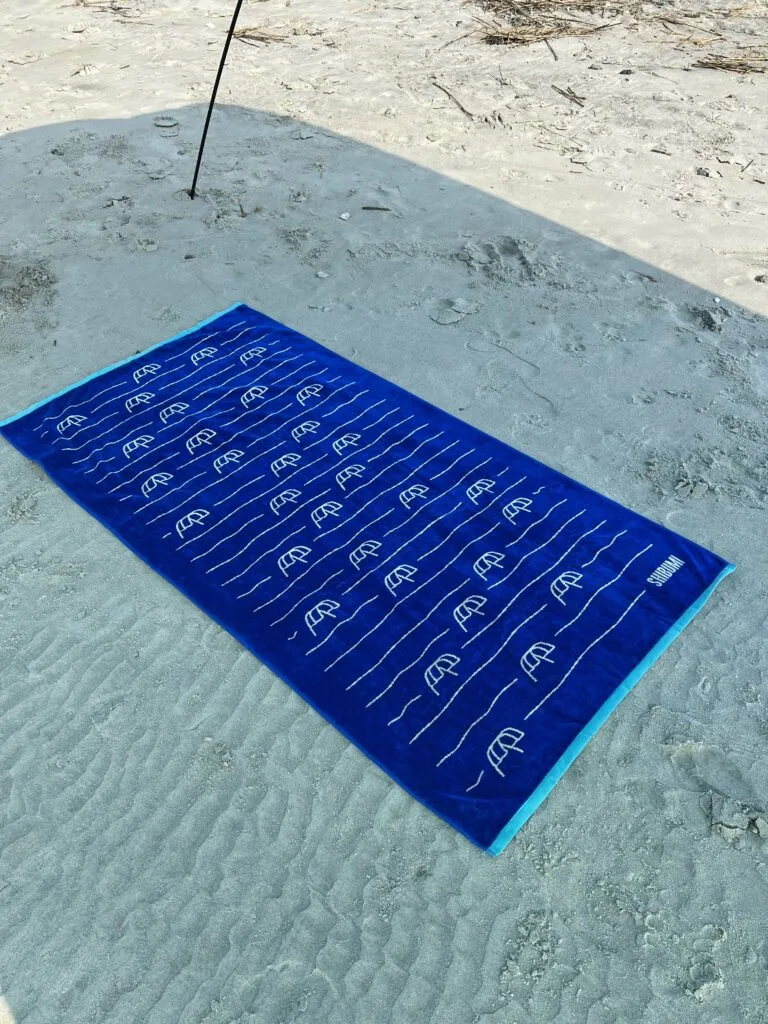 Fabric & Material
The Shibumi towel is a super soft, thick, and lush feeling beach towel.
It is double sided. One side is velvety soft velour and the back side is more absorbent terrycloth.
I like that the colors coordinate well with the Shibumi shade on the beach. It gives you a cohesive aesthetic and looks cute. Plus, our design (the "Shady Days") is printed with lots of little Shibumi shades all over it – super cute!
The current prints/designs include: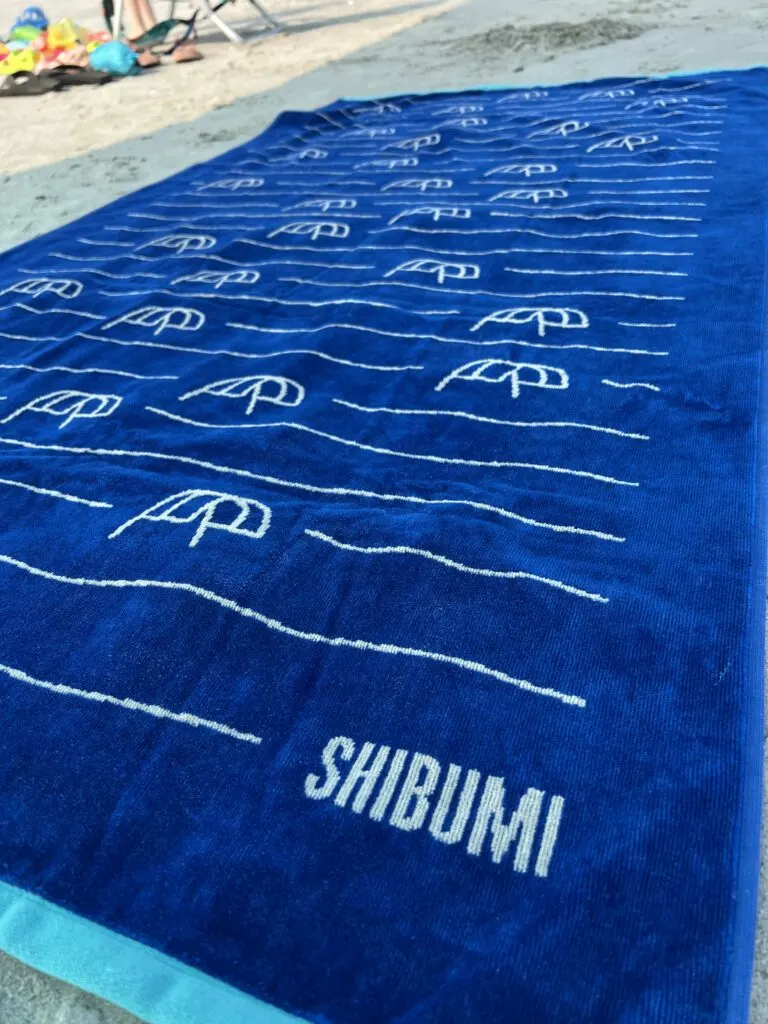 Size & dimensions
At 35×68 inches, it is just under 3 feet wide and right at 5 1/2 feet long. While this is a decent size, I don't really consider it "oversize," which is how they advertise it.
It feels like a normal size pool towel, and a great size for laying out or wrapping up in. I wouldn't consider it like a beach blanket you can lay out for activities.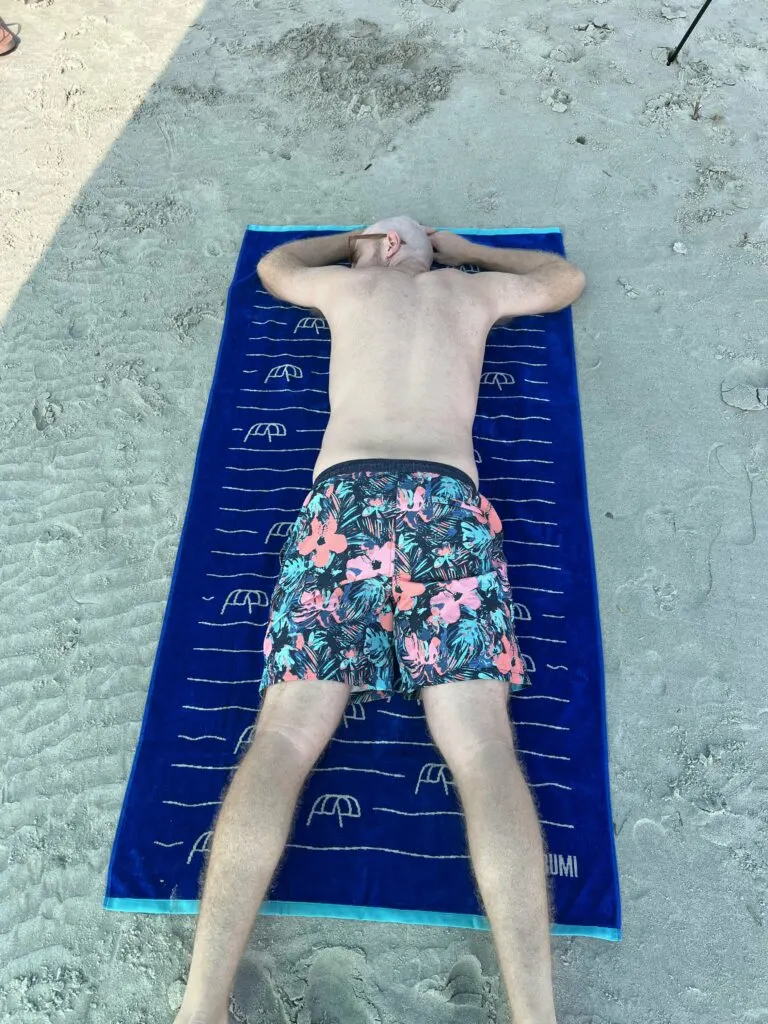 Use & functionality
The towel is designed to be ultra absorbent and quick drying. The double sided material makes it super soft, thick, and luxurious.
Despite the thicker material, the towel is not at all heavy. It's lightweight, compact, and easy to pack in a beach bag.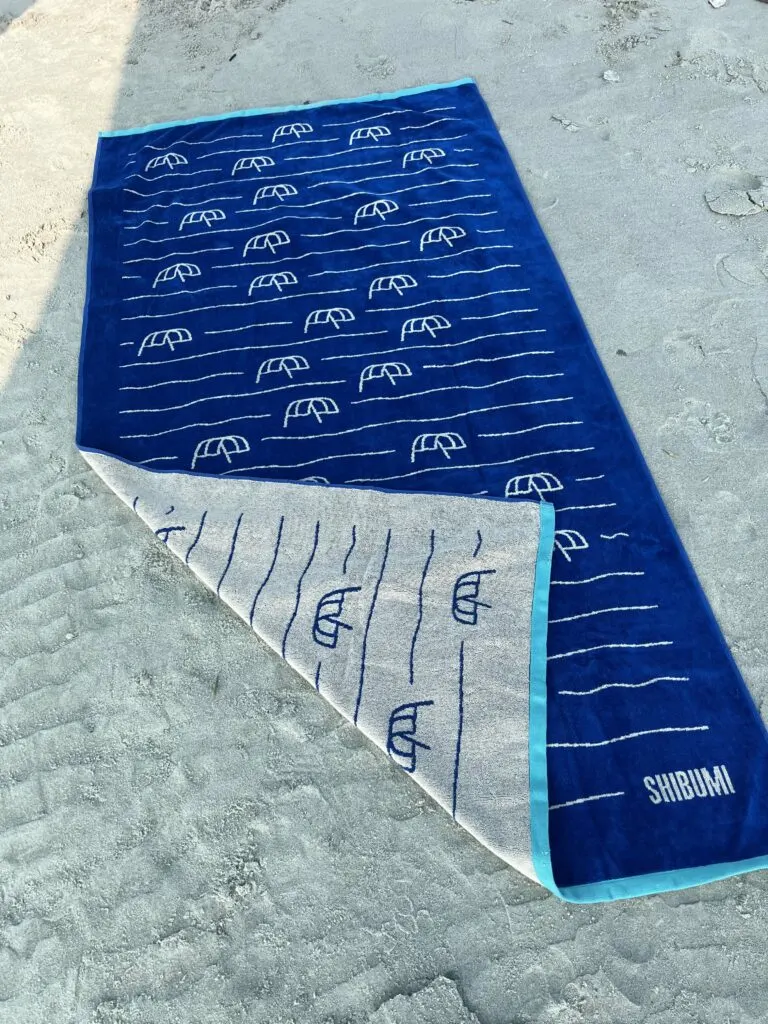 Durability & quality
The Shibumi towel is machine washable and 100% cotton.
We have washed our towel about 3 times now and it has worn perfectly well – no pilling or fading at all. It did leave a TON of bright blue lint in our dryer the first time!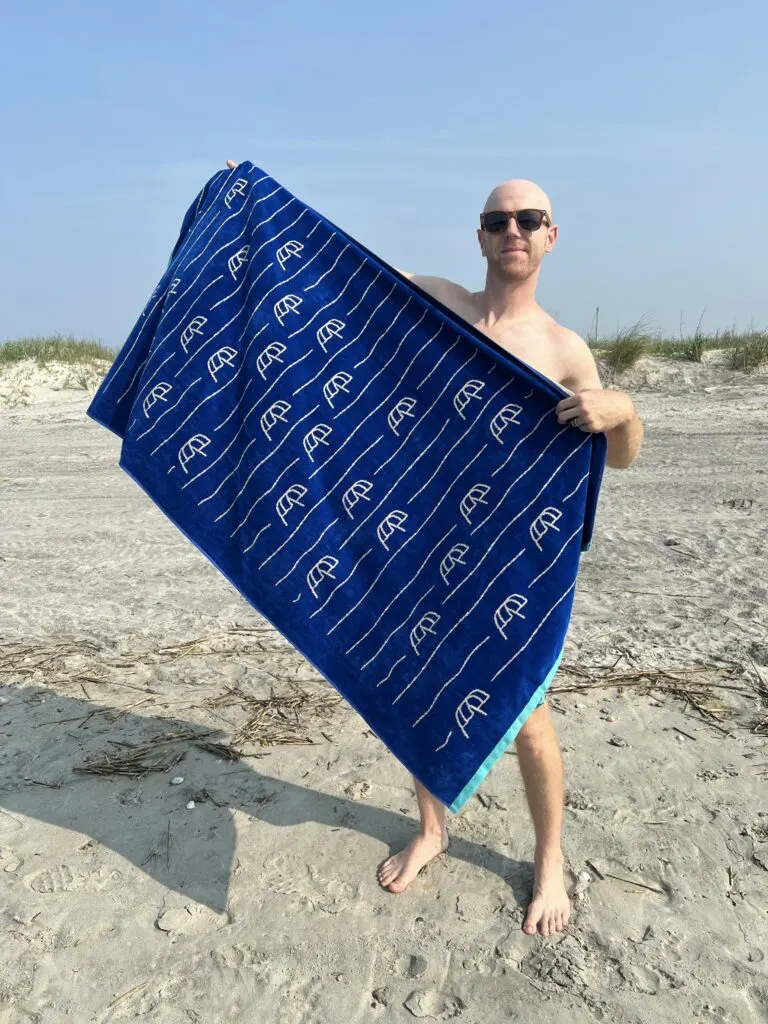 Uses for a Shibumi towel
We have used our Shibumi towel at the pool and beach. I personally prefer it for the pool – I don't love a towel directly on the sand as it gets so sandy and prefer to use a beach blanket.
But, the Shibumi towel is great for:
laying on beach chairs
taking to the pool
drying off after an outdoor shower
bath time
taking to the gym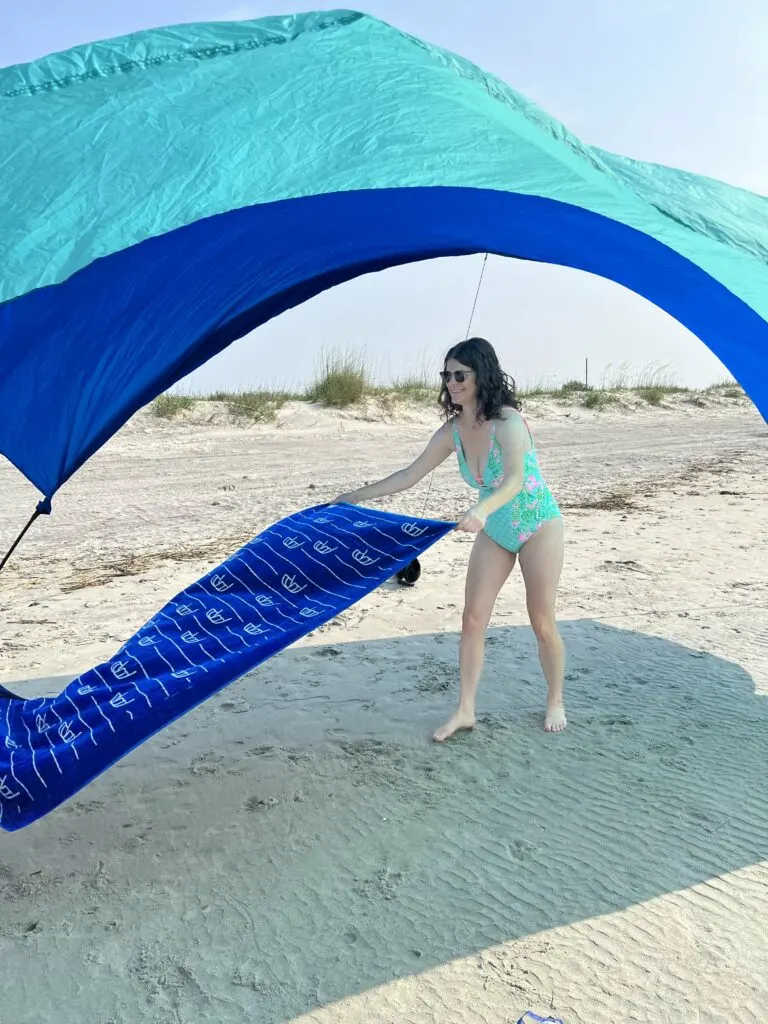 Is the Shibumi towel worth it?
The Shibumi towel is a great, premium beach or pool towel. The double sided super thick material that still manages to dry quickly is really the stand out selling feature.
However, it is priced as a premium product and could be considered pricey, especially if you need a few of them for your family.
I think that the Shibumi Luxe Towel is a nice to have beach accessory and is a great gift idea for the Shibumi super fan in your life.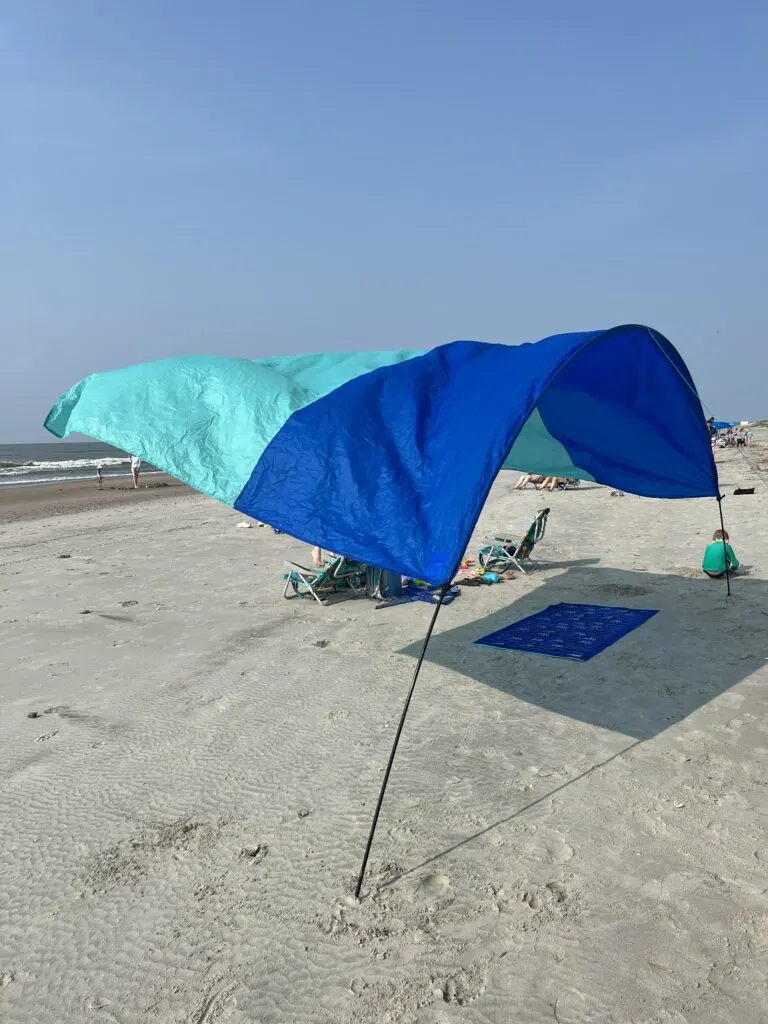 Any more questions about the Shibumi towel?