Considering a shibumi beach shade? Here's our review after using it for a while – and our opinion on if the shibumi is worth it!
Have you ever had a beach umbrella or tent blow away? It's a harrowing experience, and can result in a busted tent and a potentially injured bystander. Plus, then you are without a beach shade.
After losing 2 beach tents in 2 visits, we were on the lookout for a new beach shade option.
We encountered someone with a Shibumi at our local Kiawah island beach and after checking it out and chatting with them, decided to order one of our own.
We just took it on a beach vacation and are excited to report back on how well it worked for our family of 4.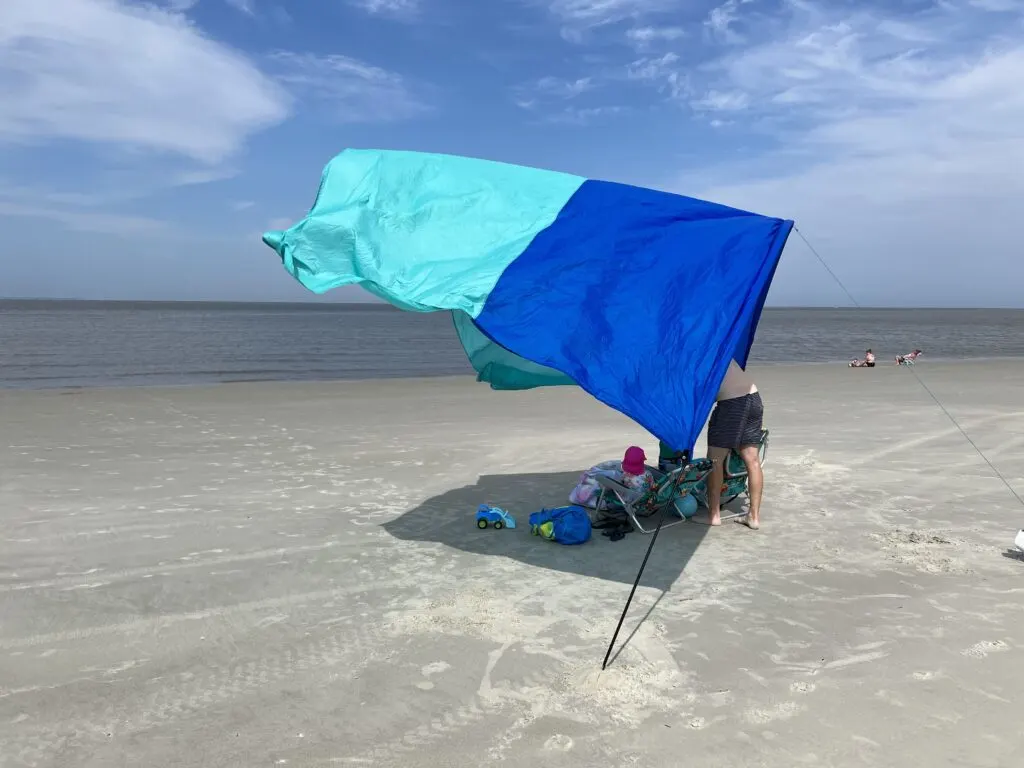 What is a Shibumi sun shade?
Shibumi makes a beach sun shade that works as a free flowing beach canopy. There is a long pole that sticks into the sand as an arch and a beach shade canopy that is held up by the wind.
There is also a sandbag (the carrying bag, filled with sand haha, that serves as a tether to hold the shade upright.
Who owns shibumi shade?
Shibumi shade was created by 3 UNC students after they got sick of lugging canopies and umbrellas on their beach vacations to Emerald Isle beach in North Carolina.
Read our Shibumi towel review here!
When was shibumi invented?
Shibumi was invented in 2015.
Where does shibumi shade ship from?
Shibumi shades are sewn in Virginia. Ours arrived at our home in South Carolina less than 48 hours after ordering it!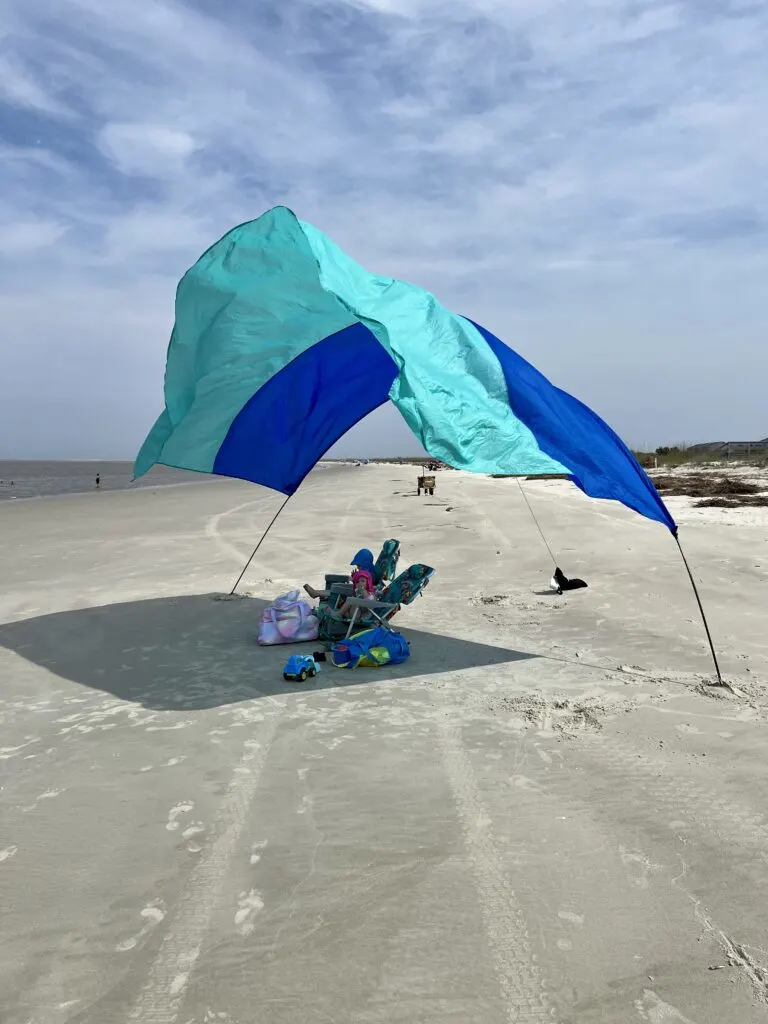 Does a Shibumi Shade work?
I thought that it would be interesting to look at the claims on the Shibumi Shade sales site and give our thoughts on each one after using the shade several times!
Works with the wind, not against it
This is the tagline for the Shibumi. The idea is that the wind will blow away a tent or umbrella, but holds this up instead.
I mean, that is factually correct – the wind holds up this shade. That also means that the shade relies on the wind to be held up. No wind, no shade!
Provides 150 square feet of shade
This might be true if the shade is blown out full force and the sun is at just the right angle. To me, the shade felt big enough for 2 beach chairs plus our kids playing in the sand below.
Weighs 4 lbs
No doubt about it – this is the top selling point for the Shibumi to me. It weighs less than my towel bag and slips over your shoulder easily enough that I forget that it's there.
Assembles in 3 minutes
Maybe the inventors can assemble theirs in 3 minutes, but it takes us a bit longer.
We found that it was best in loose, dry sand (when the tide is coming in and all you have is dry sand) to build the sand up around the poles a bit, which took me at least 3 minutes on each side.
I also spent at least 3 minutes filling the bag with sand to tether the whole thing down.
I'd say assembles easily in about 10 minutes – helpful if you have 2 adults, though 1 can manage.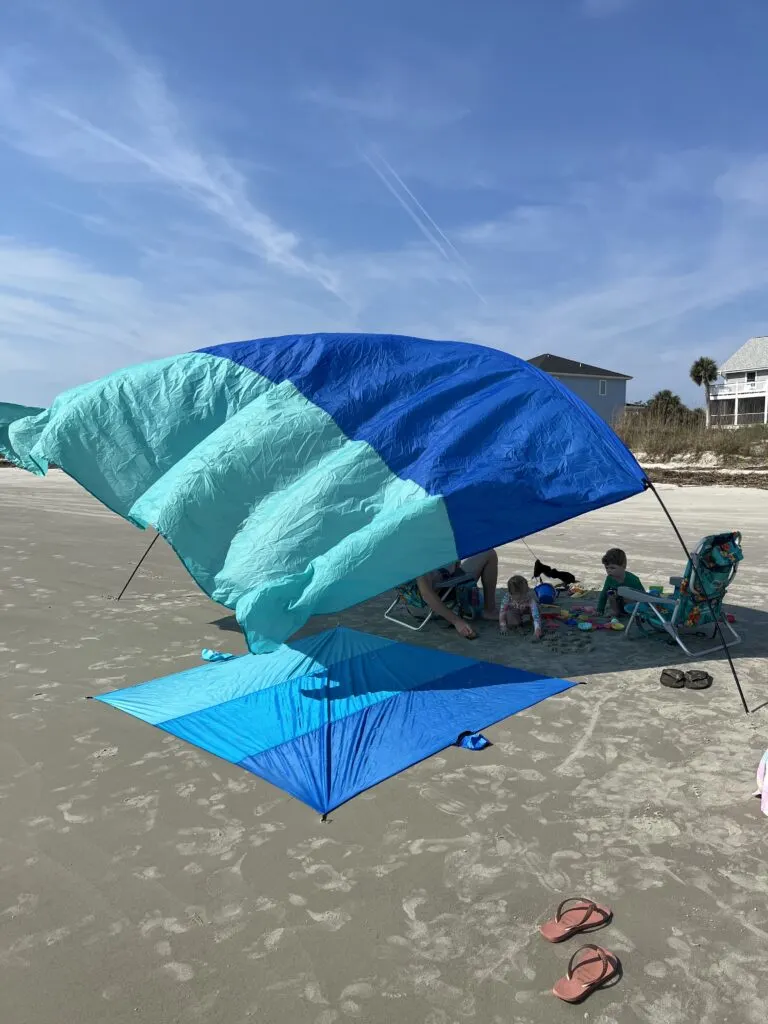 Won't break or blow away in high wind
We tested this claim when the wind blew our Shibumi down while we were on a walk down the beach. This is the situation in which we've lost 2 pop up coleman style tents on the beach (when they blow away, the metal beams break and they could possible impale someone).
When the shibumi falls down, it just falls flat on the sand. The sail goes down and the pole holds it in place. The sand bag really keeps it from blowing away.
It's worth noting that we only had it fall once. I think it was due to a combination of the wind changing directions (you need to move the sandbag, but we had walked away) and the sand being very dry and loose, so the poles got loose.
After this happened, we built up little mountains of sand round each pole and didn't have an issue again.
UPF 50+ Sun Protection
All you can do is trust them on this claim, but it definitely provides shade and must be blocking UV rays.
Packed dimensions: 4″ x 4″ x 27″
This thing packs up tight. I was surprised that it's easy to get back into the carry bag. Inside the bag there is a sewn pocket to keep the poles separate from the sail. Very smart!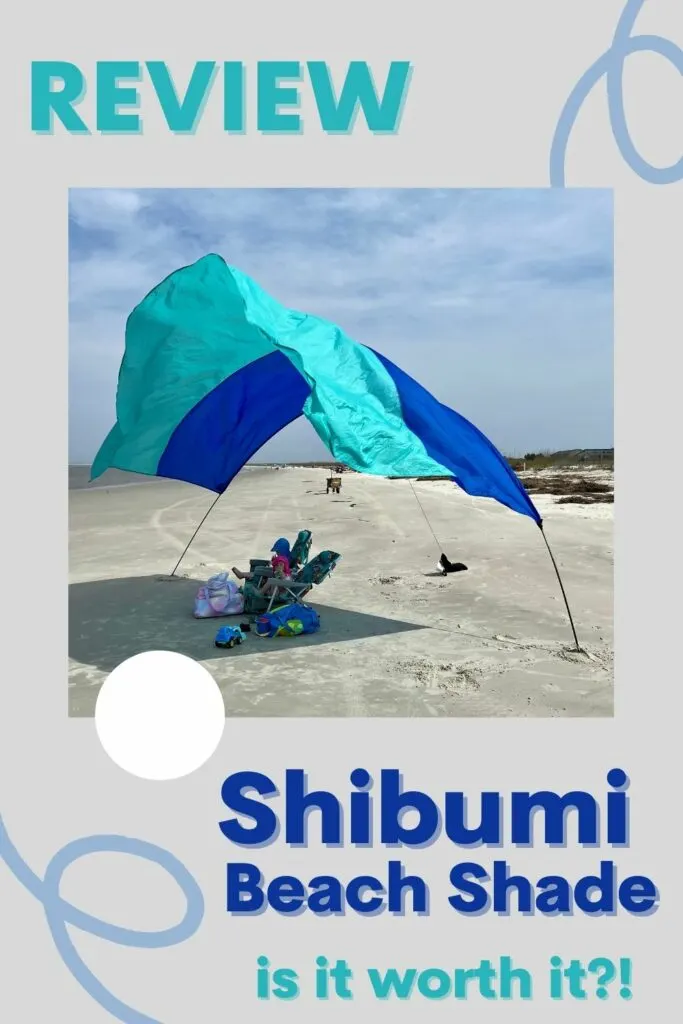 How does a shibumi shade work in real life?
We used our Shibumi on a beach vacation to the Beaufort area with 2 toddlers and really had a positive experience. We have since used it at Folly Beach, Kiawah, and for a week on Holden Beach, North Carolina.
How do you set up a shibumi?
This tent is easy to set up, even if I think it takes longer than advertised. To set up a shibumi shade, you:
Assemble the pole (it's like a tent pole, with the poles connected on the inside with a long stretchy string
Slide the shade onto the pole
Wrap the rubberized velcro strap on each side of the shade around the pole and velcro in place
Position to best catch the wind, with the center of the arch 7 feet tall
Stab each end of the pole into the sand
Our tip – build up sand around each pole to help hold in place
Fill the carry bag with sand (fill it full!) and position to tether the tent in place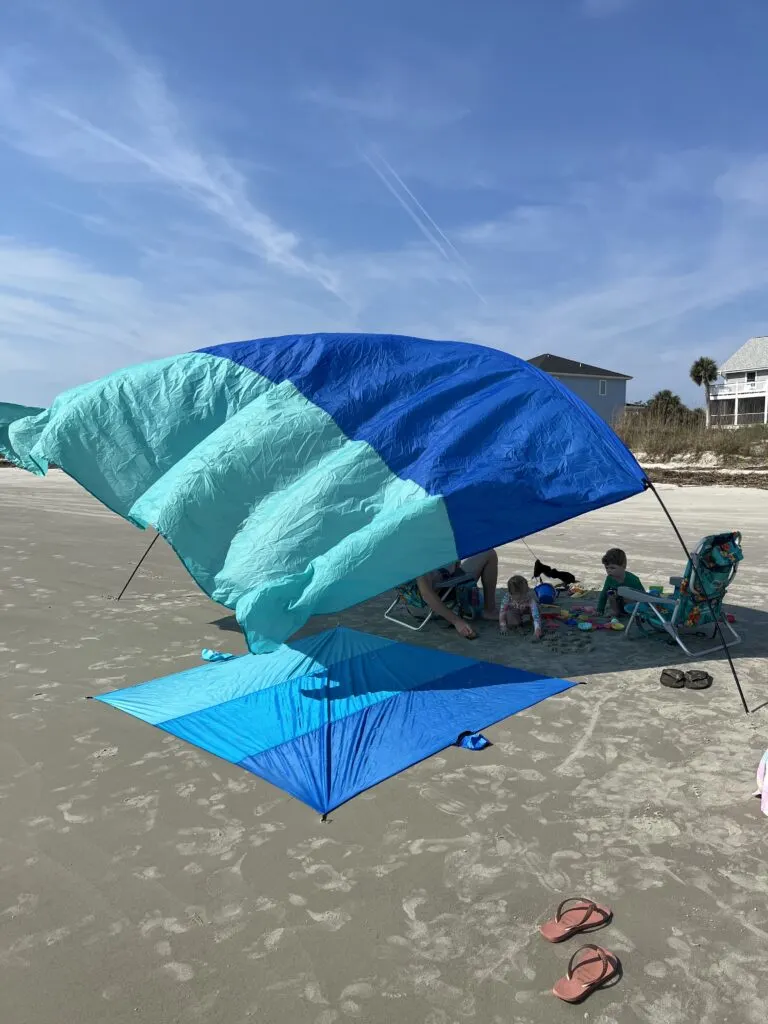 Will the shibumi shade blow away?
We tested this one out! It did not blow away but collapsed and was held in place by the pole and sandbag.
Is the shibumi shade noisy?
This is one of the biggest cons of this shade – it is REALLY loud. When the wind is going, it's really loud. There's no way to sugar coat it. You don't hear it from a few feet away, but under it… it's loud!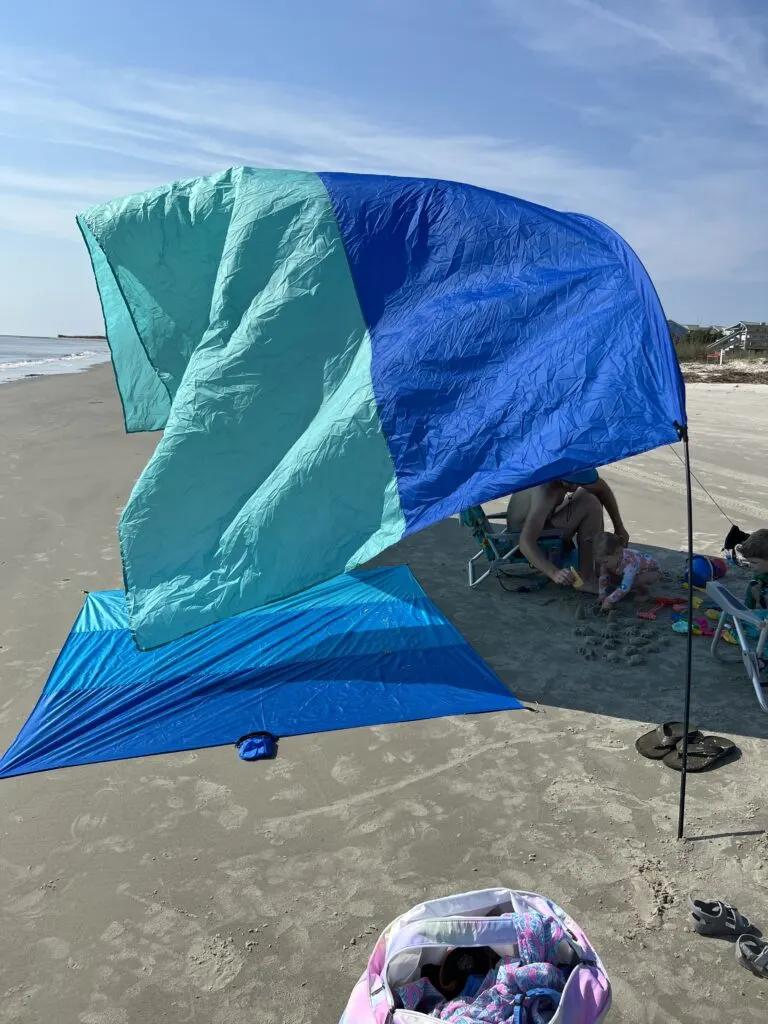 What if there is no wind?
If there's no wind, the tent hangs down and flaps you in the face. There's no sugar coating that, either. Luckily there is usually some wind on the beach.
One of the trickiest parts of assembling this thing is positioning it correctly. You need to hold it up and determine what the best way is to turn it to catch the most possible wind.
And, if the wind direction changes, sometimes you need to re-position the tent poles to prevent it from blowing weirdly.
Officially according the Sibumi themselves, the shade needs at least 2 mph wind to blow and should not be used for prolonged periods of wind over 20 mph.
How much shade does a Shibumi tent provide?
The amount of shade that the Shibumi provides depends on where the sun is (overhead vs to the side) and how much wind you have to blow the shade up.
It is PLENTY of shade for a family of 4 to sit and play. If you have 2 families of 4, I'd say get 2 shades.
They claim that it can fit 6 adults side by side. The full width underneath (the full arch) is about 19 feet, so you decide if that's enough space for you!
Y'all are lucky because I laid our shibumi out in our yard to measure it for you!
How long is the pole for shibumi shade?
The pole is 308 inches long, about 25 feet. When arched to 7 feet tall, it's 228″ wide, about 19 feet.
How big is a shibumi shade?
The shade itself is 201″ by 105″. This is about 16 feet by 8 feet.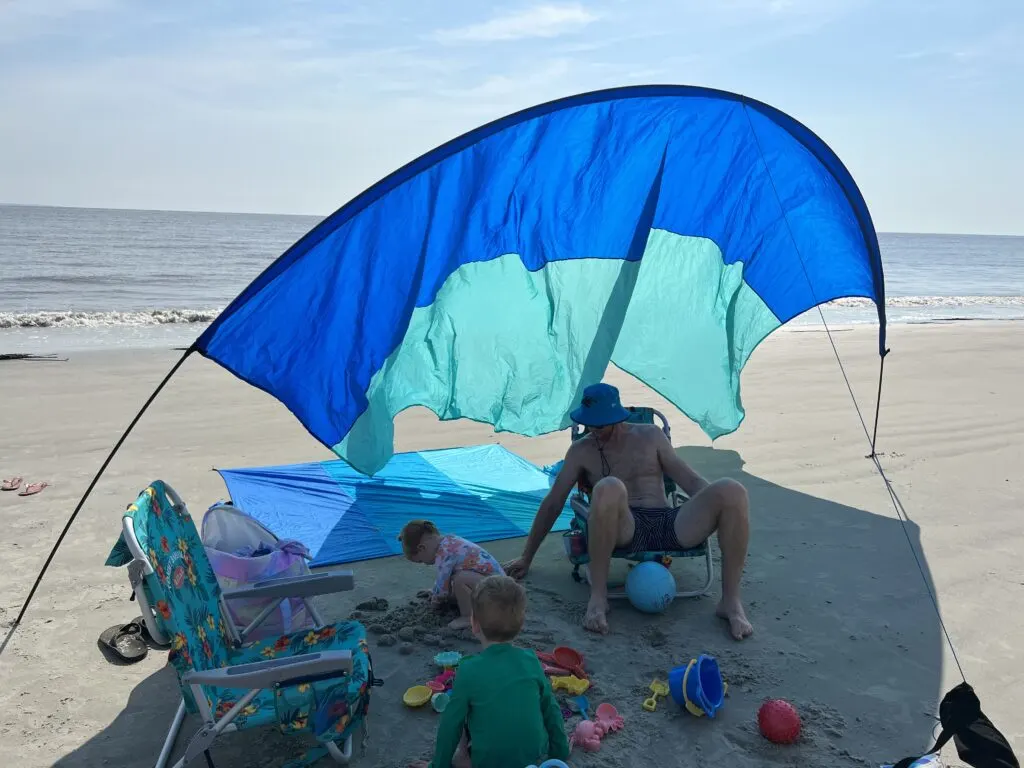 How does a shibumi shade compare?
The ease of carrying a shibumi shade far outweighs any benefits of a beach sport brella or pop up coleman beach tent.
Shibumi shade vs umbrella
Shibumi shades give you way larger shade than any umbrella I've ever seen. Plus, they are smaller and lighter to carry.
Shibumi shade vs pop up tent
We have historically used a pop up tent for a sun shelter on the beach. In the past 6 months, we have had our beach tent blow away twice. These weren't even windy days – just a gust of wind with the tent staked into too soft/loose sand.
Both times the beach tent actually *exploded* and one time it nearly clobbered someone nearby.
Something had to give!
Additionally, the beach tent is EXTREMELY heavy to carry – only my husband can carry it and it took all his focus – meaning we had to make multiple trips from the car. With 2 toddlers, this isn't ideal.
That being said, the steel frame tent did give us a guaranteed amount of shade and was completely silent. Except, you know, when the park ranger had to bring over his reciprocating saw to chop up its remnants so they would fit into the trash can after it exploded the last time.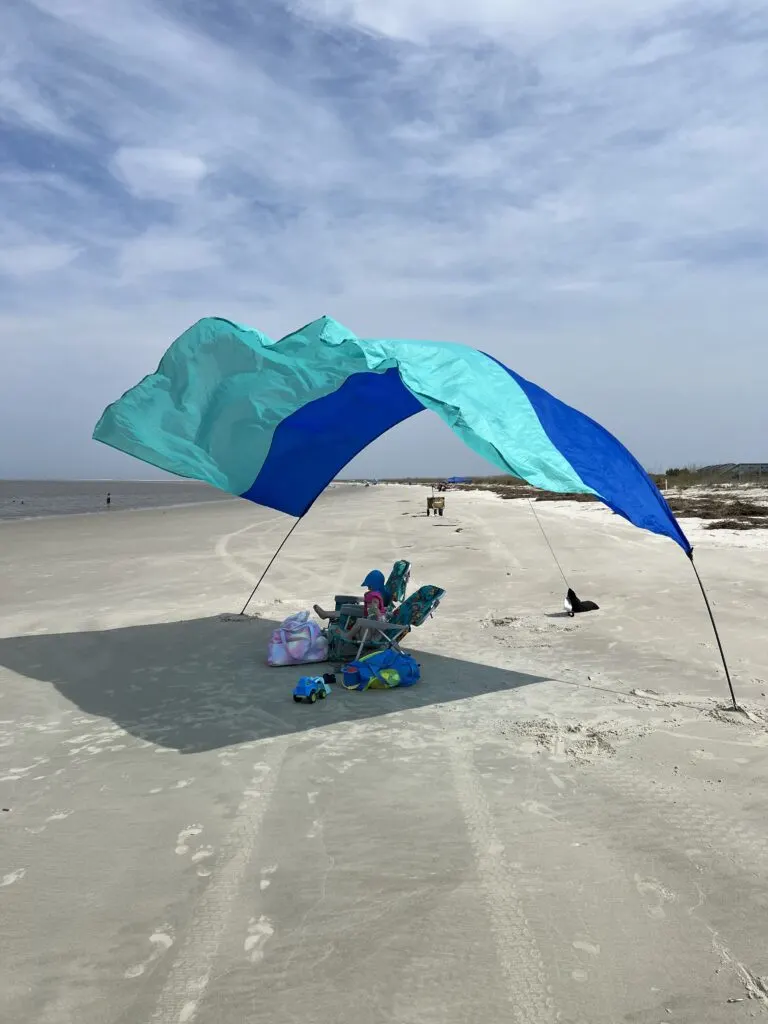 Why are shibumi shades banned?
Some beaches have banned all beach tents, and this can include the shibumi.
Reasons for banning beach tents include:
Blocked visibility for rescue workers
Takes up too much space on crowded beaches
Blocks the path for rescue vehicles
History of tents or umbrellas blowing away and injuring others
Where are shibumi shades banned?
Myrtle and North Myrtle Beach, SC and Rehoboth and Bethany Beach, DE. have specifically banned Shibumi shades. The Myrtle Beach area bans anything larger than a beach umbrella during their crowded summer season.
If you've ever been to Myrtle Beach (spoiler alert, don't do it, it's our least favorite beach area in the Carolinas) you'll know why. It's packed!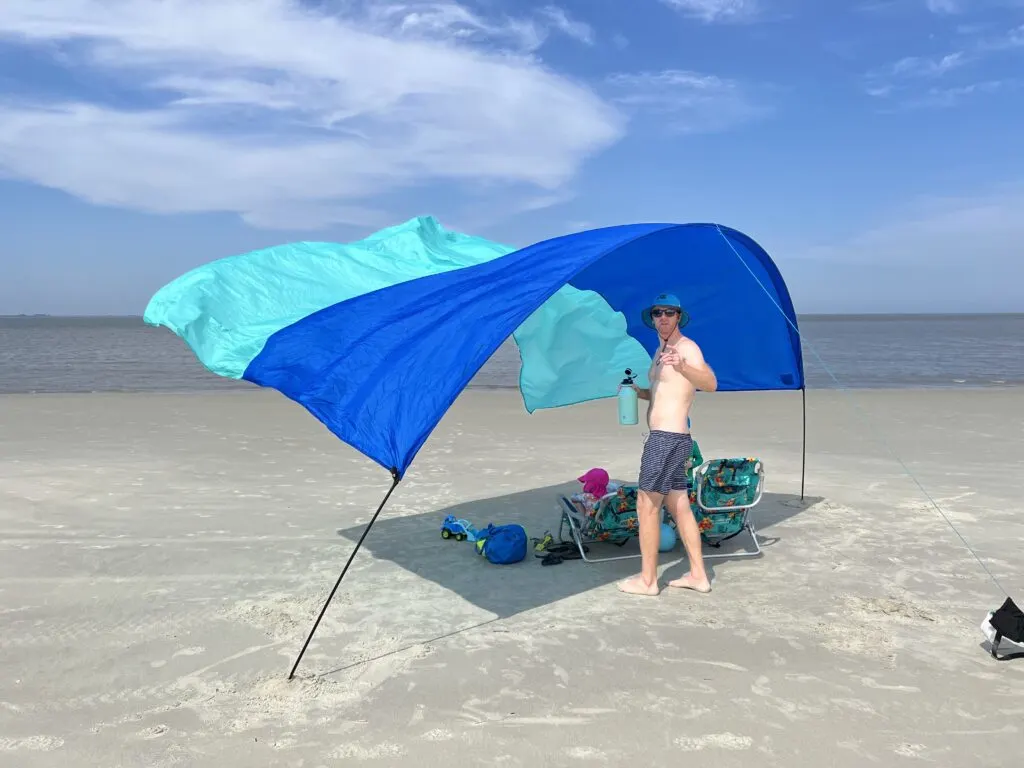 Is the shibumi shade worth it?
A Shibumi Shade is worth the investment if you go to the beach regularly, have lots of stuff to haul, and want shade. The shade will provide you with shade that won't blow away and is super lightweight to carry.
We – especially Sean – were very very skeptical about buying a $250 beach canopy. Honestly, if we hadn't seen one in real life, we probably would not have pulled the trigger.
That being said, after using it, we feel confident that it will be a long term solution for our family.
And, since we live very close to the beach and have at least a dozen beach days a year, it's a worthwhile investment for us!
Shibumi shade cheaper alternative
Neso and Solbello are two popular Shibumi alternatives.
Shibumi vs Neso
These aren't exactly the same, but Neso tents are a popular alternative for less than half the price!
Neso shades are cloth shades held in place on all 4 courners with ropes and sand bags. They have poles on one side to raise it and create an angled shade.
These tents don't use the power of the wind and are more similar to (though easier to carry and load than) traditional pop up tents.
Shibumi vs Solbello
Solbello is another shade that depends on the wind to create shade. Unlike the Shibumi, it has only one pole (well, Shibumi has 1 pole but it goes into the ground in 2 spots, this is just more like a flag pole up and down).
This is pitched as an alternative to the single-pole umbrella (for beaches that don't allow tents). So, if your beach has that rule, this could be a better option!
Solbello is designed to be shade for 2 people plus your stuff, compared to Shibumi which is shade for 6. So, it's just smaller!
Solbellos run around $180, making them less expensive than the Shibumi.
Any more questions about the Shibumi Shade?