Wondering what to bring to the beach with a toddler? Here is the best beach gear for toddlers – and nothing that will weigh you down!
We live in Charleston, South Carolina, so we hit the beach quite a bit in the warmer months.
Our last house was just a bike ride from the ocean, but now we are a bit further away. Either way, our kids love going to the beach.
Back in college I used to head to the beach with a towel around my neck and a water bottle in one hand.
Lately, having too much gear has made heading to the beach something that I dread and avoid.
This year, I made a big effort to streamline our beach accessories for the kids. This has been so successful that we now ALL look forward to beach days.
Let's talk about kids beach accessories, and what beach stuff for toddlers you really need.
What we take to the beach
When we go to the beach, it is usually 2 adults and 2 toddlers (1 and 3 years old).
Here's what our load looks like now. No beach wagon needed!
Adult 1: wears beach chair backpack, carries beach bag, might carry toy bag
Adult 2: wears beach chair backpack, carries beach shade with beach blanket clipped on, carry or holds the hand of younger daughter
3 year old: wears mesh backpack of beach toys (usually)
1 year old: sometimes walks sometimes is carried, carries nothing
That's it. We haven't even been bringing a cooler – we use insulated water bottles and put them in the beach bag with 2 towels and snacks or lunch that can be kept at room temperature.
So, while you might feel like you need a lot of beach items for toddlers, I encourage you to cut it down. Getting to the beach, packing up, and getting home are more fun and less stressful (especially in the midst of a toddler meltdown) with less stuff.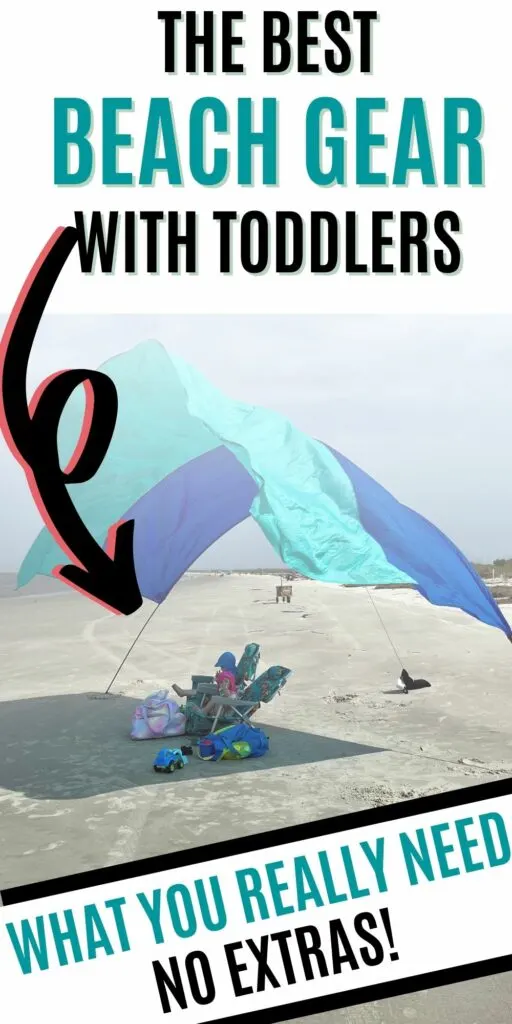 Beach checklist for toddler
Here is my checklist of beach essentials for toddlers:
Long sleeved rash guard/swimsuit
Disposable swim diaper + 2 extra + mini pack of wipes
Sun hat
Sunscreen
Water bottle
Snacks + snack bowl (if needed)
Beach blanket
Sun shade
Beach toys in a mesh bag
What to wear
I think that it is super important that kids wear long sleeved rash guards or swimsuits at the beach on sunny days. My kids own short sleeved or sleeveless suits, but I save those for short pool trips, not for long beach days.
The best sun hats for toddlers
Sun coverage is SUPER important for toddlers. And I am obsessed with Flap Happy hats. I highly recommend the sun hat for babies and the swim flap hat for toddlers.
The swim hats are phenomenal. They are comfortable (an XL fits both my 1 and 3 year olds, so it will last a long time) and come in fun colors. The material is a bit silky and I machine wash and hang dry them. You can wring the water out at the pool or beach and they give SUCH good sun coverage on the face and neck. Plus, they are so cute!
Swim diapers
If your toddler is still in diapers and you plan to get in the water, you will want a swim diaper. I have used re-usable and the disposable swim diapers. There is no difference functionally to me.
I suggest having 2 extra diapers and a travel sized pack of wipes with you. Also a plastic bag to tie up a dirty diaper. I put these in an inner zipper pocket of my beach bag.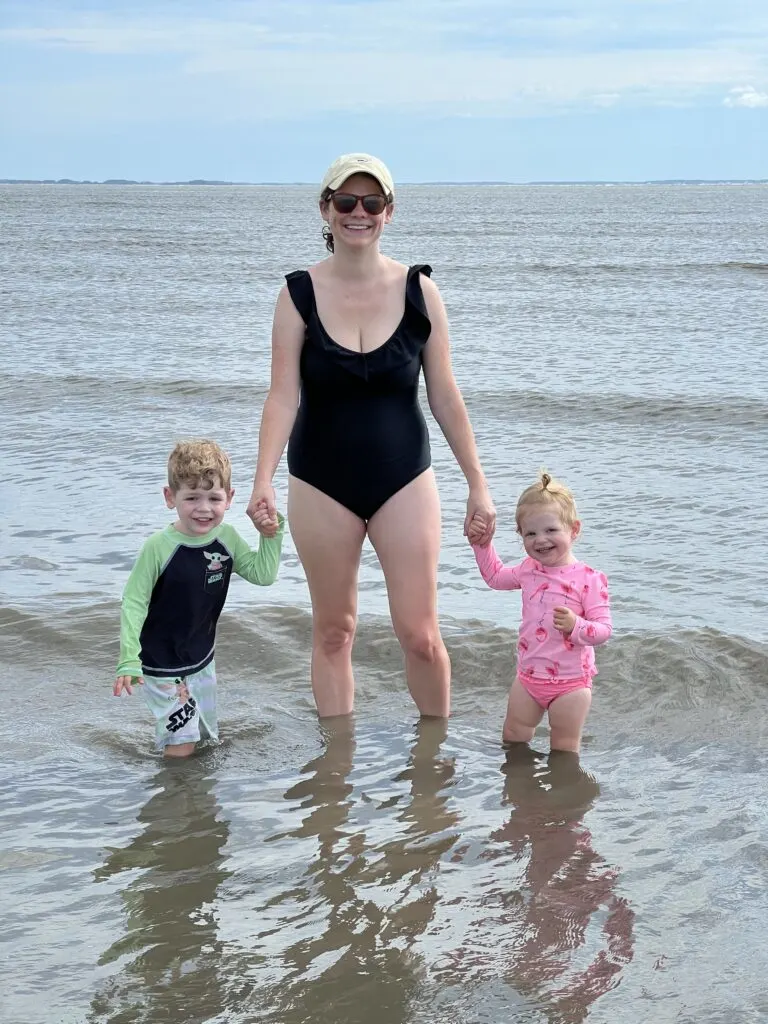 Shoes
Water shoes will vary depending on where you are going. Our beaches don't typically need water shoes, but for a lake I would use them. We like these fabric water shoes and these foam/croc material water shoes.
Toddler sunglasses
I have bought toddler sunglasses and they will not wear them. My opinion is to skip these and stick to a good sunhat instead!
The best sunscreen for toddlers
We always put sunscreen on at home before putting on our suits and then bring more to reapply.
For the kids I like the Coppertone Water Babies at home and put this spray bottle (not mist – just small sprays of sunscreen) for touch ups. I've had bad luck with mist actually landing on skin at the beach!
I prefer SuperGoop SPF 50 for myself. This is what I use on my face.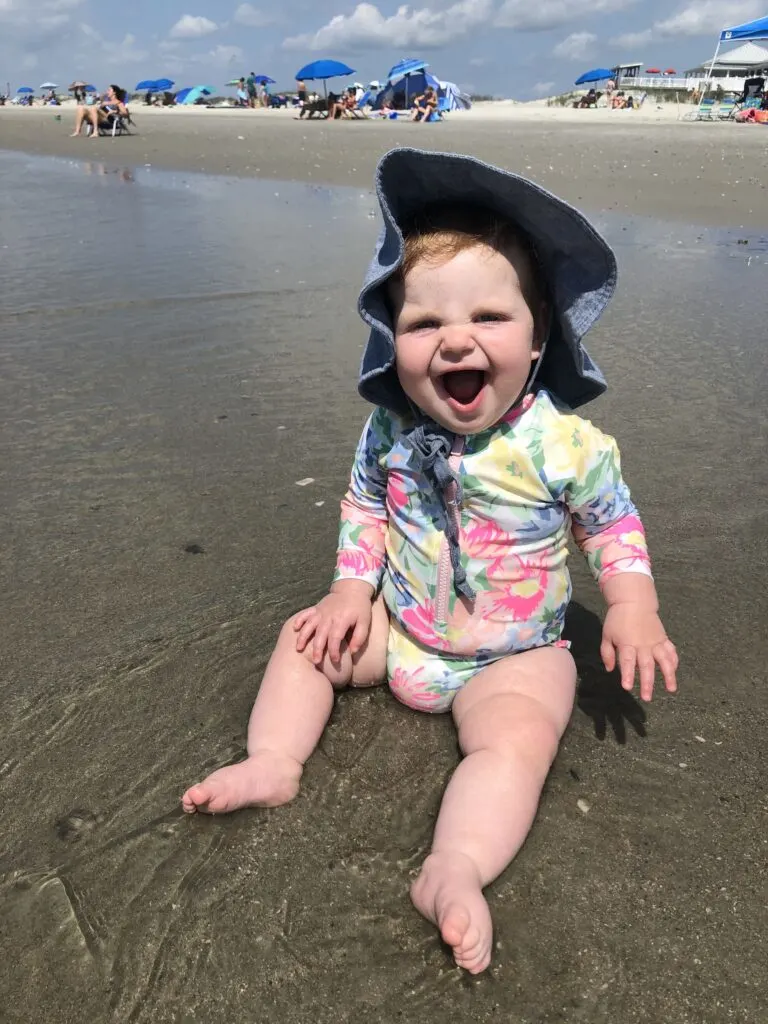 Water bottles
Don't forget a water bottle for each kid! Nothing fancy is required, use what they are used to. Fill it with ice and top with water at home!
Beach chairs
I swear by backpack style beach chairs. We get ours at Costco but you can find them in most beach stores. They are easy to carry like a backpack and leaves your arms free for other things, or to carry a baby.
Look for one with built in cup holders, mini-coolers, or small pouches on the back, perfect for helping to cut down on baggage!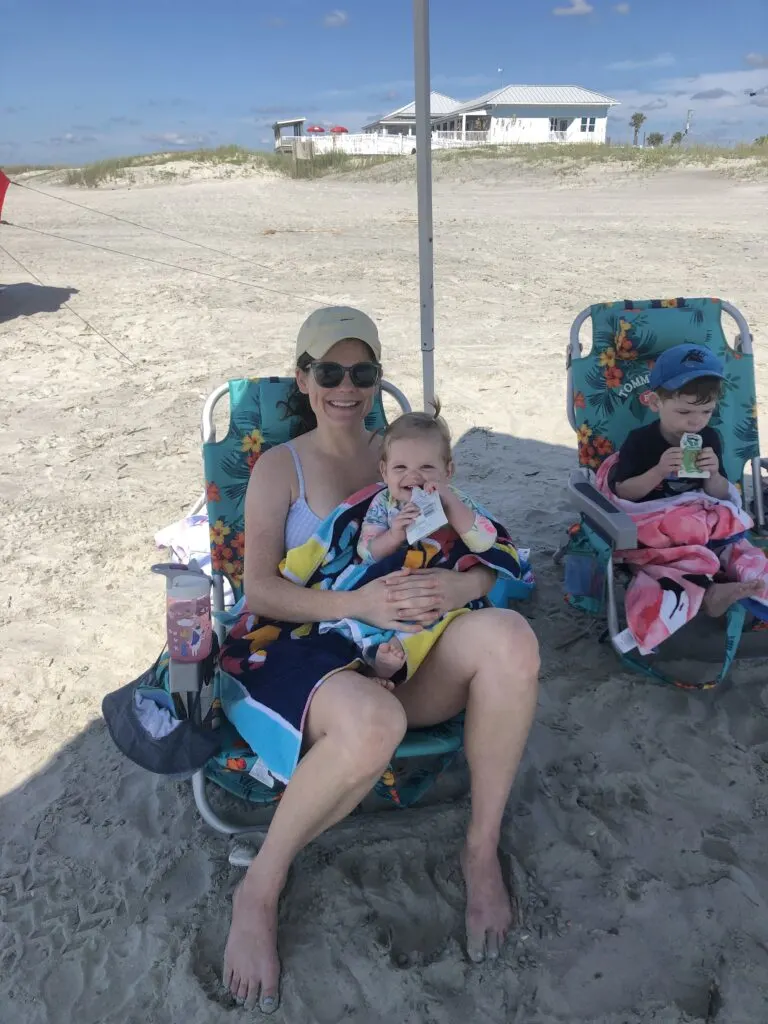 Do I need a toddler beach chair?
I will rock your world and say don't bother with a toddler beach chair. We use a beach blanket, but truthfully our kids don't give a second thought to plopping right on the sand.
The only times our kids sit in a chair is snack or lunch time, and I just move to the beach blanket and let them have my chair, no problem!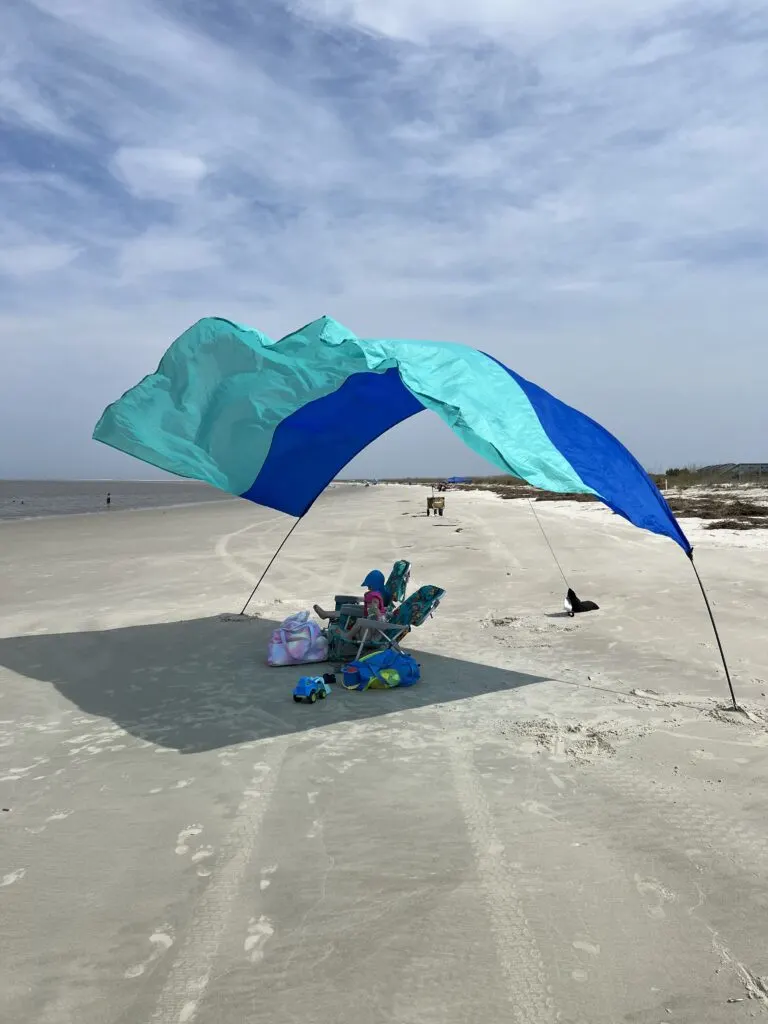 The easiest beach shade with kids
I think that a beach shade is the #1 most essential item for a sunny beach day. The last thing that kids need is to sit in the sun all day, and a wide brim hat can only do so much.
We have used beach umbrellas, pop up beach tents, and recently invested in a Shibumi beach shade. They are pricey at $250, but if you go to the beach often, they are the ultimate solution of portability, ease of use, and won't blow away in a gust of wind.
Read our complete Shibumi review here.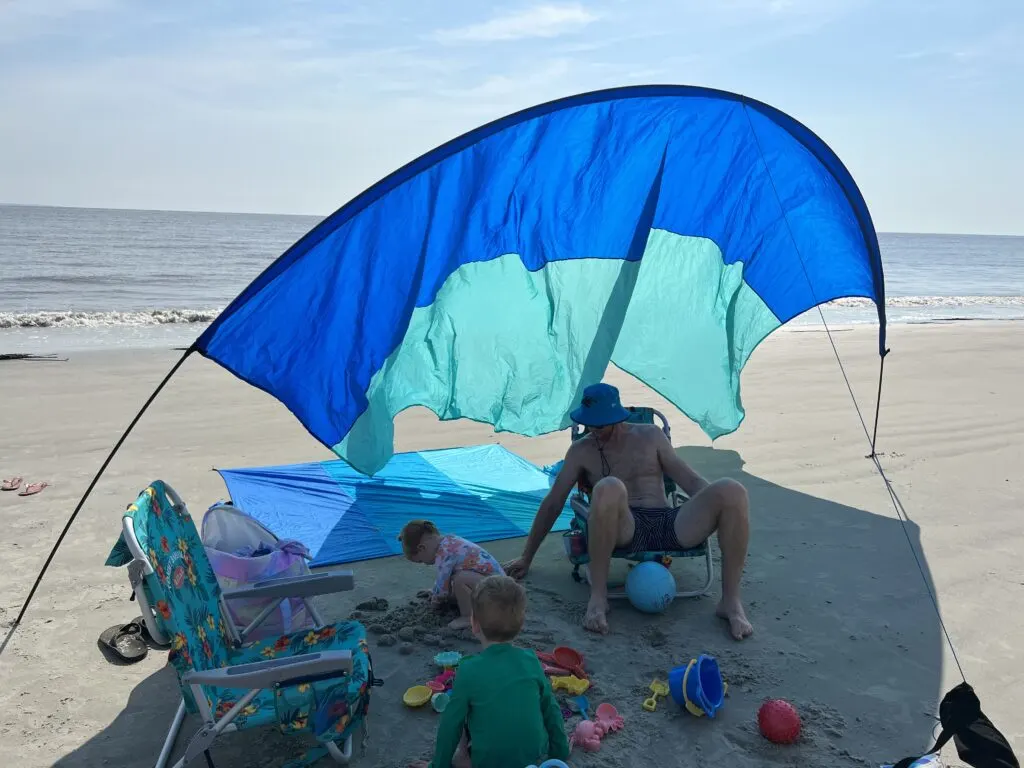 The best beach toys for toddlers
Don't forget the toys! My kids love a mixture of:
shovels
buckets
sand molds
plastic trucks and boats
balls (volley ball, splash ball, or small inflatable rubber ball)
small water squirters
I have bought pricier kids beach toys and grabbed random ones off the sale rack at the grocery store. The kids do not care. I say buy cheap and don't get sad if one washes away or gets left behind!
I suggest storing beach toys in a mesh bag like this one to help shake out the sand.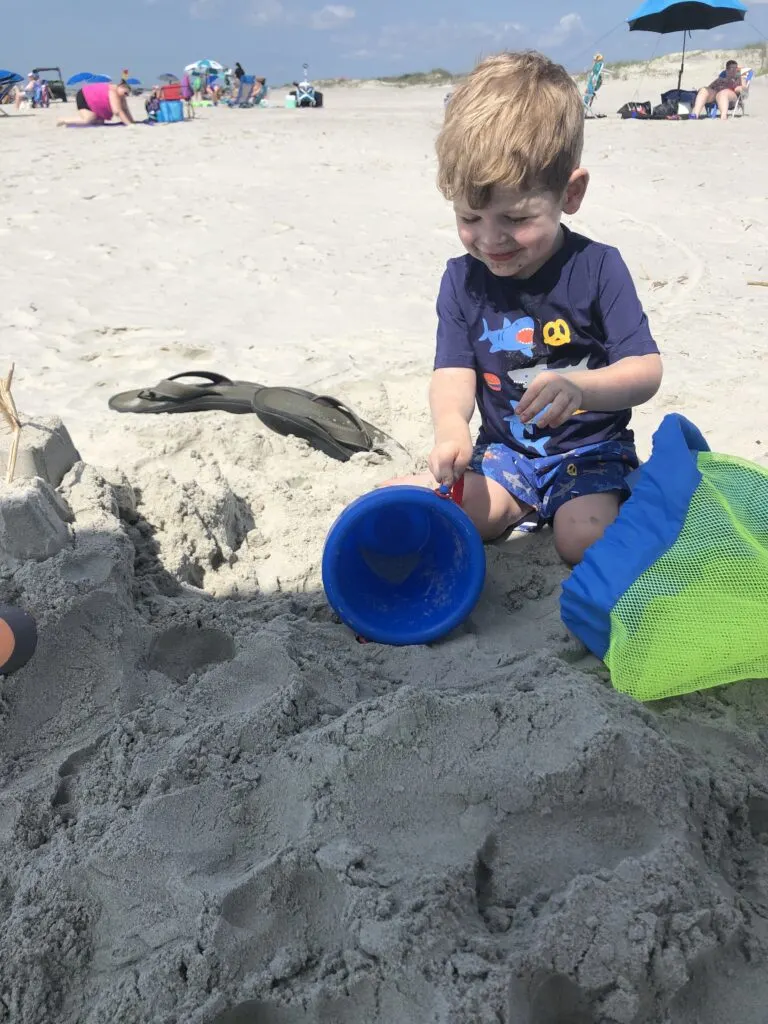 Beach floats
We don't use any beach floats at the beach. Our kids wear water wings in the pool but at the beach, we stay where they can touch and I never take my hands off the littlest one!
What are your toddler beach essentials?