Looking for a fun and colorful activity for your kids? Here's how to plan a rainbow color scavenger hunt for your kids!
I love a good scavenger hunt with our kids. I'll take any excuse to get outside and have a specific activity to keep the kids occupied.
Check out all of my other outdoor scavenger hunt ideas:
We really love doing holiday decoration themed hunts – our neighborhood goes all out.
But, in the spring and summer (until the 4th of july) there aren't many holiday decorations.
So, I decided to set up a rainbow scavenger hunt! This is a fun opportunity for kids to go on a treasure hunt looking for colors.
You can do a color hunt as an indoor or outdoor scavenger hunt.
Pair it with another fun exploration activity like this Five Senses Preschool Craft to make a morning out of it!
When to do a color scavenger hunt
I think that any day is a great day to do a color hunt! However, rainbows work well with the following themes:
Weather
St Patrick's day
Colors
Rainbow unicorns
5 senses
Check out my favorite rainbow crafts and rainbow recipes for kids!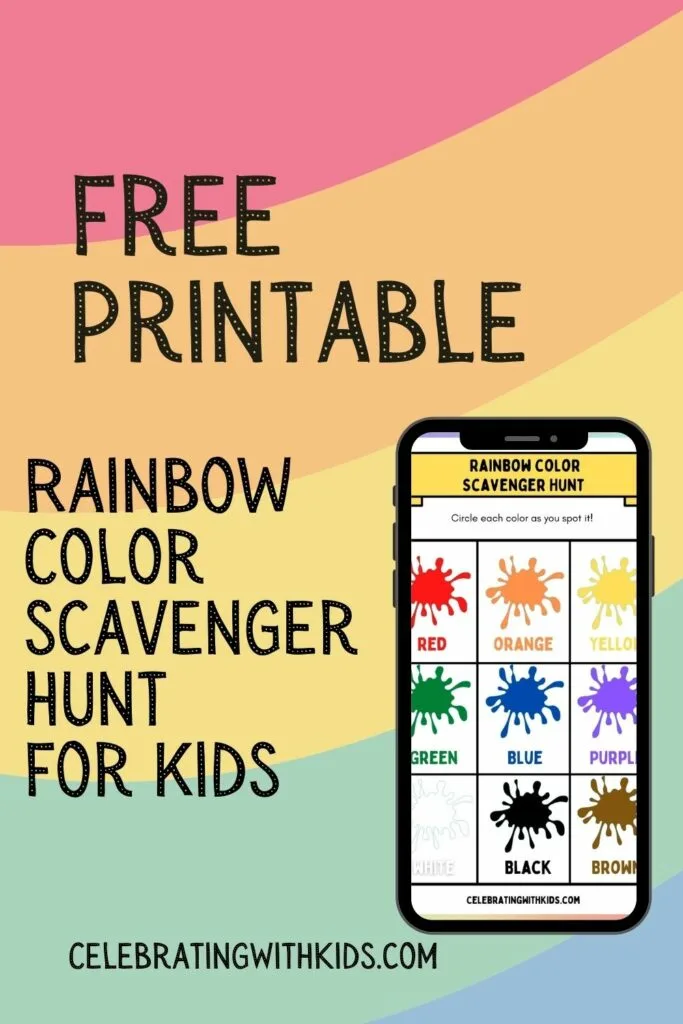 How to set up a rainbow scavenger hunt for kids
Print a scavenger hunt paper for each kid – and a couple extras, just in case
Have crayons or pencils for each kid, too
Use the papers alone or pair each with a bag if the kids are collecting items
Let kids run wild and get creative finding items each color!
If you are working with younger kids, it's good to plan items of each color so if they need a hint you can give it!
Color scavenger hunt free printable
Get a free rainbow scavenger hunt printable PDF to take on your scavenger hunt with you! Click here to sign up for access to our free printables library! We have LOTS of other scavenger hunt printables in there!
How to use this printable
You can carry the printed paper and cross off colors as you find them. Or, attach a print out to a paper bag and let kids gather items for each color on their color hunt!
If you want to use the printables multiple time, laminate them!
Have you done a color hunt for preschoolers?