Do your kids love crafting? How about giving them craft supplies and kits for a gift! Here are a ton of ideas for Arts & Crafts gifts for kids!
Buying gifts for kids is easy. For the most part, they get excited about everything, especially when it's wrapped up.
As a parent, I have seriously changed my tune on what makes a good gift.
I don't want any more junky toys or small plastic things to step on in the middle of the night – we have enough of that.
Instead, I try to stick to as many consumable gifts as possible.
This could include food, clothing – or something like craft supplies!
Crafting is great because it fosters creativity and imagination in children. Crafting is great for cognitive and emotional development!
Plus, craft supplies get used up. You make the craft, you use the supplies, and then you move on. No plastic junk to step on in the middle of the night!
Today we are excited to share some of our favorite arts and crafts gifts to give kids!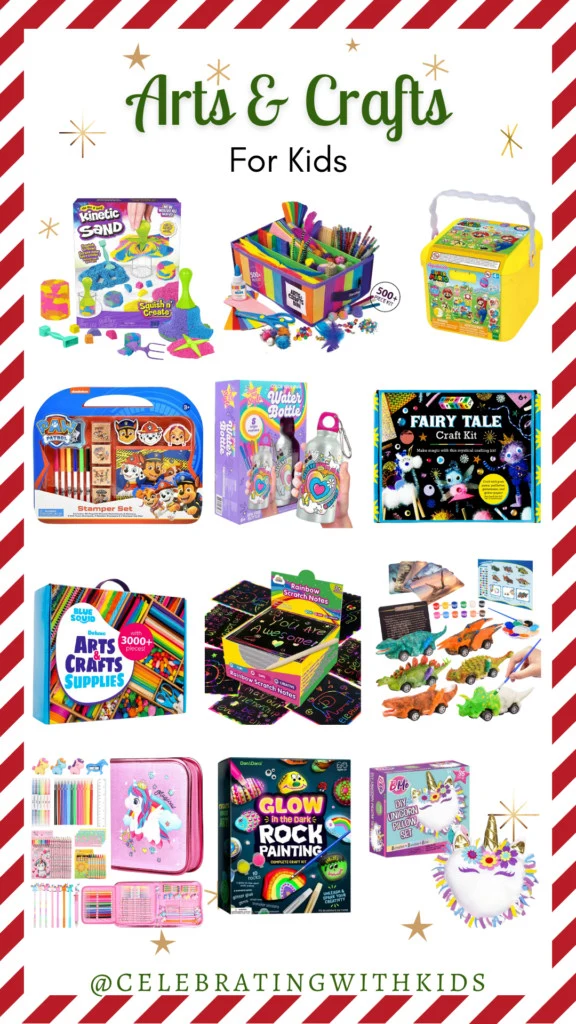 The Benefits of Arts and Crafts
Arts and crafts have cognitive, emotional, and social benefits for kids. They teach fine motor skills, boost self esteem, and encourage self-expression.
Plus, most kids love doing crafts. Whether they laugh about getting messy or are meticulous in their making, craft kits are the perfect combination of a physical and experience gift idea for kids!
Selecting Age-Appropriate Arts and Crafts Supplies
The most important thing to remember when selecting craft kits to gift is that they are age appropriate. Kids will be frustrated by kits that are too advanced, and bored by kits that are too simple.
I always suggest referencing the suggested ages on the packaging for a kit – there is some wiggle room, but it is generally a good starting point.
Also pay attention to non-toxic and child-safe materials. This is especially important for young kids that still put things in their mouth. Don't gift choking hazards to toddlers!!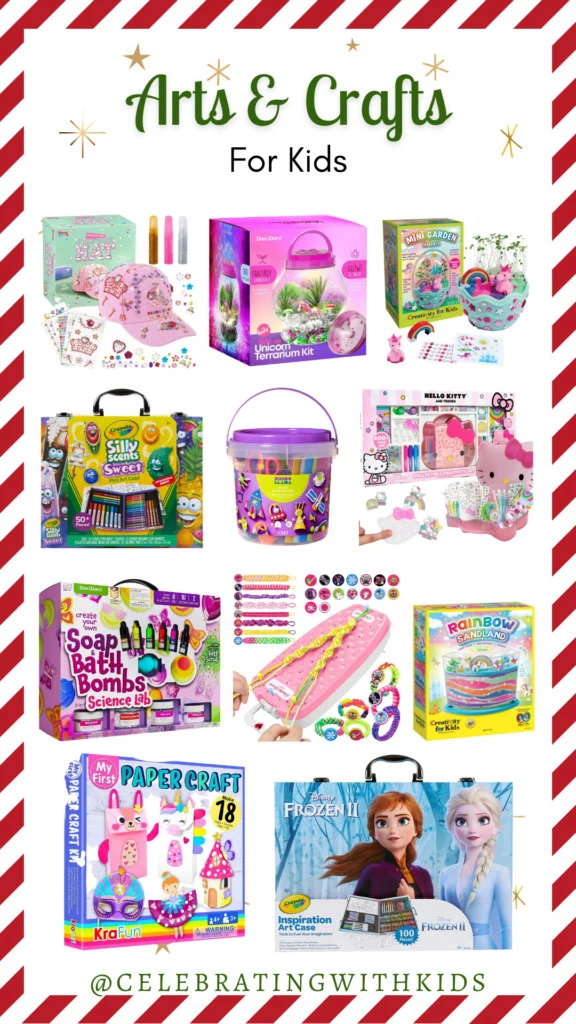 The best arts & crafts gifts for kids
Here are some of my favorite arts & craft kit themed gift ideas for kids!
Unleash the world of scented creativity with the Crayola Silly Scents Mini Art Case! This set includes scentged markers and twistable crayons as well as coloring pages, in a really nice case.
Let your child's imagination bloom with Mini Garden Unicorn Activity Kit! Kids make a littler terrarium with a unicorn statue and real plants!
Dive into the cosmic world of creativity with the Cosmic Bucket of Crafts Set by Mondo Llama!
This set includes foam shapes, pipe cleaners, pom poms, and tons of accessories for kids to get creative. A universe of artistic possibilities for your little ones.
Unleash your child's creativity with the Blue Squid Deluxe Craft Chest – a treasure trove of artistic adventures! It includes: Pipe Cleaners, Pom-poms, Wooden Shapes, Wooden Beads, Plastic Beads, Safety Scissors, Feathers, Googly Eyes, Sequins, Gem Stickers, Coloured Strings, Popsicle Sticks, Buttons, Glitter Glue, Felt Sheets, and more!
These magic rainbow scratch papers are so fun – scratch on designs to reveal rainbow colors underneath. Super fun and great for independent playtime, too.
Dive into a world of sudsy creativity with our Soap & Bath Bomb Making Kit for Kids! Fair warning: they might just get obsessed with making them!
Unleash their creativity with Kinetic Sand Squish N' Create Playset! It's more than just sand; it's sensory magic. I really love Kinetic sand for older toddlers and preschoolers!
Let them express their style with the Decorate Your Own Baseball Cap Kit! A perfect crafty activity for creative kids – and with a fun wearable hat in the end.
Perfect for kids and teens who love creativity and storytelling. This kit has everything they need to make a fluttering fairy, a kind king, a prancing Pegasus, and a magical mermaid.
Let your child's creativity flow with the Color Your Own Water Bottle kit. Then, they can show off their decorated water bottle to their friends!
I remember being obsessed with sand art kits in the 90s. I love the large size and add on accessories in this kit!
Painting rocks is super fun, and this kit includes glow in the dark paint for even more fun!
Kids who love soft lovey type toys will love making their own soft unicorn pillow.
Roar into creativity with Dinosaur Painting Kit for Kids! Unleash their artistic talents and enjoy dino-mite fun with painted pull-back cars.
Mess-free fun for toddlers and kids. Includes a sketchbook, markers, foam stampers, and wooden stampers. Get ready for creative rescue missions!
Hello Kitty lovers will love the stickers, stamps, and markers in this themed kit. Super cute and they come in a Hello Kitty storage case!
This Frozen-themed kit includes markers, crayons, and colored pencils, perfect for kids who love to color (and love Elsa!) A great Frozen gift idea, too!
IDK why, but kids love sniffing scented craft supplies. This unicorn set is fruit-scented and includes markers, crayons, pens, stencils, colored pencils, and what we used to call a Trapper Keeper back in my day.
Unicorn meets bunny in this adorable paper craft kit! Super cute and on the girlier side, these paper crafts are super fun for kids to make!
Let their imagination bloom with this Light-Up Unicorn Terrarium Kit! This magical craft kit is perfect for boys and girls to create their own enchanted world.
Remember those iron beads that melt together to make shapes and designs? This is like that, but no iron required! This epic craft kit comes with over 2,500 beads and a display stand to make Mario, Luigi, Princess Peach, and more.
Spark her creativity with the Friendship Bracelet Making Kit! A wonderful way for girls aged 6-12 to craft their own stylish jewelry.
Packed with crafting materials and neatly organized in a storage bin, it's perfect for kids aged 3-8. Ideal for school projects or as a thoughtful gift.
Want more gift ideas for kids?
Check out some of our age-specific gift ideas!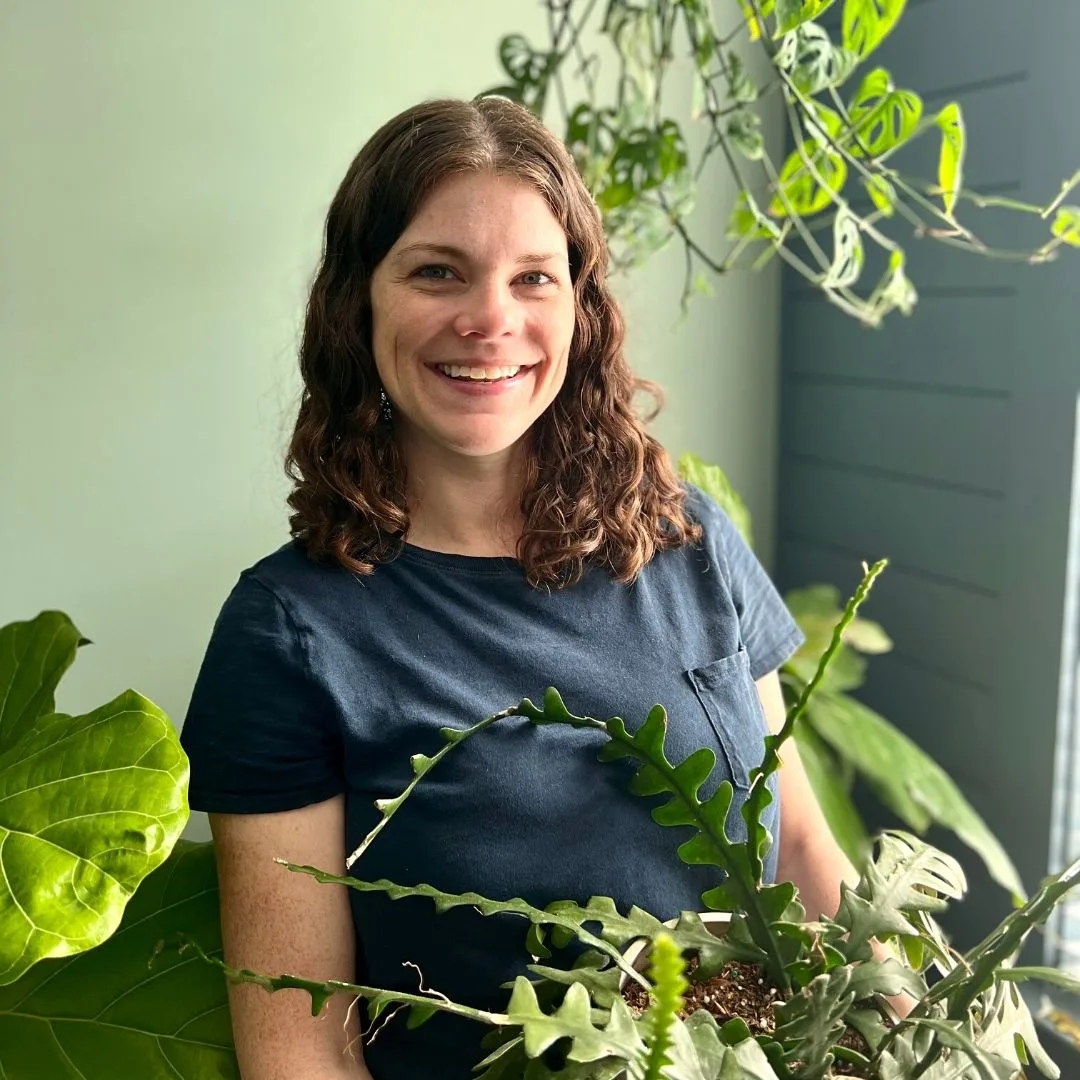 Hey there, I'm Morgan, the creative mind behind CelebratingWithKids.com! As a parent of two lively little ones, I've made it my mission to turn ordinary days into extraordinary adventures, sharing playful activities, thoughtful toy reviews, and delightful printables to help families celebrate every moment together. 🎉👨‍👩‍👧‍👦🎈