Looking for the perfect gift for the preschooler in your life? Here are the best gifts for 3 year old boys to inspire your shopping!
Shopping for a three year old is really fun, but it can also be overwhelming. Three year olds are old enough to have their own interests and likes and dislikes, but they aren't necessarily old enough to really understand making a gift wish list or asking for specific things.
So, that really puts a lot on the gift giver to pick the right gift. And, let's be real, most three-year-olds are going to be thrilled to unwrap anything.
But, I know if you're gonna spend your time and money picking something out, you want some thing good.
I have a daughter that turns three this week and a four year old boy so I am deep into this age category and have a lot of thoughts and ideas into what makes a good gift idea for a three year old boy.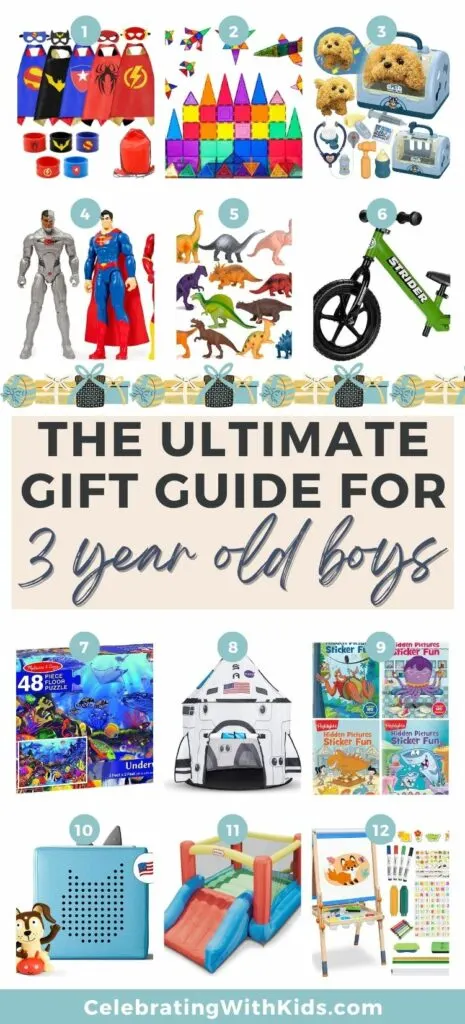 The best gifts for a 3 year old boy
Here are my favorite 3 year old birthday gifts and holiday gift ideas!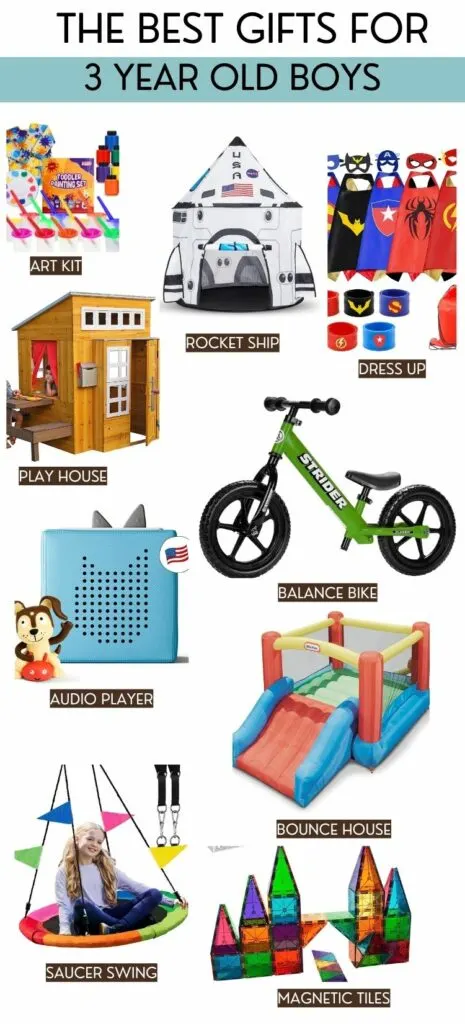 Experience gifts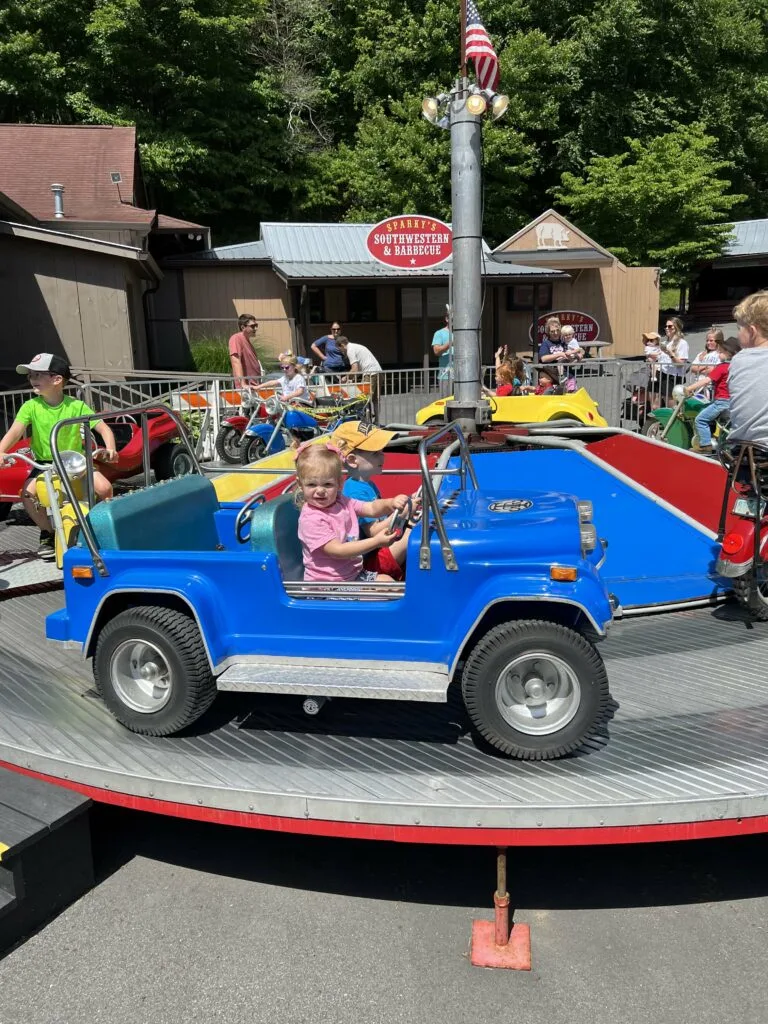 OK I'm gonna go ahead and start it with a gift idea that is not a toy. It's not even anything you can really rap. It's an experience! I have a whole article about the best experience gifts to give kids, but think of these kinds of ideas:
Trip or membership to a zoo, aquarium, or museum
Meal at a favorite restaurant
Tickets to the movies
Sleepover (such as a night at grandmas)
Fun activity like slide place, water park, putt putt, petting zoo
An experience gift is great if your three year old girl has too many toys, minimalist, parents, a full house, or just doesn't need anything physical. Create memories instead!
Subscription box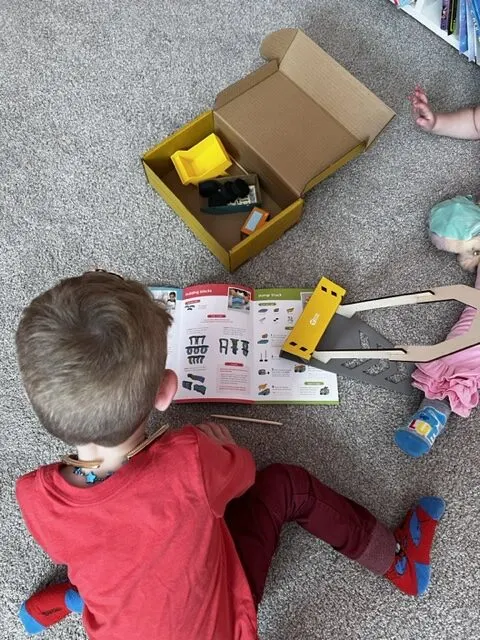 My kids have gotten a few different subscriptions in their lives and loved them all. One of them is highlights Hi Five magazine. It has stories, activities, and craft ideas. It is a perfect magazine subscription for a 2-4 year old.
My pick for a kids subscription box is Kiwi Crate. At this age, it's the Koala Crate box. We have subscribed for over 2 years and you can see our full review here. We love the fun crafts and activities and convenience of the subscription.
Outdoor Adventures and Active Play
If your kids like to get outside and play, then an outdoor toy is the perfect gift!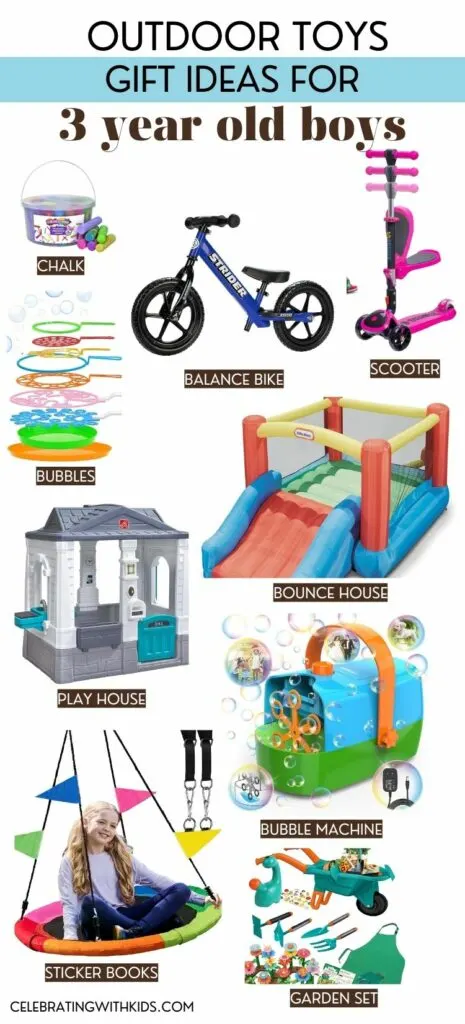 Tricycles and balance bikes: Boost his confidence and motor skills for outdoor exploration. A balance bike is perfect for this age! Or, try this 3-wheeled scooter. My kids love theirs and that it has a fold downs eat if needed!
Sidewalk chalk and bubbles: Encourage creativity and open-air fun. I love a bucket of sidewalk chalk and this set of bubbles!
Playhouse: Create a space for imaginative outdoor adventures. Consider plastic or wooden options.
Gardening set: Cultivate his love for nature with a child-friendly gardening kit.
Saucer swing: Provide lounging and swinging excitement for your growing adventurer. We love this saucer style swing for lounging and swinging!
Bounce house: Watch him jump and play with boundless energy in his own bounce house. We use ours indoors, but they are great outdoor toys if you don't have the space inside!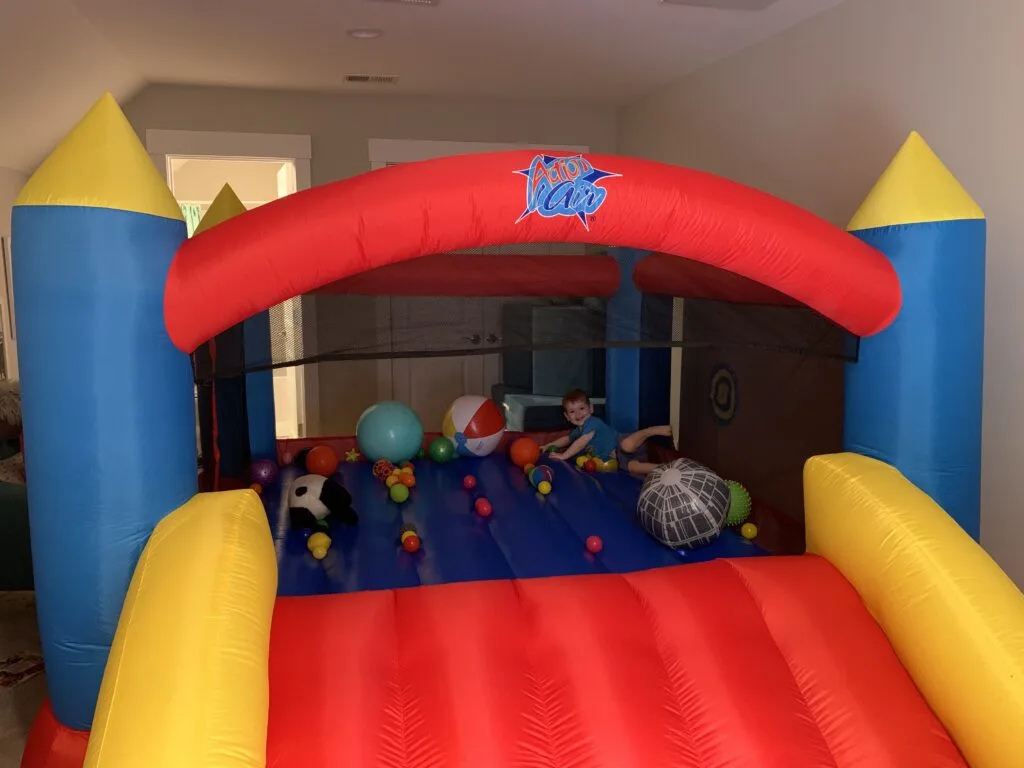 Imaginative Playtime Explorations
Three years old is when kids really start to play imaginatively and almost even independently with toys. Here are some that are a perfect fit for this age.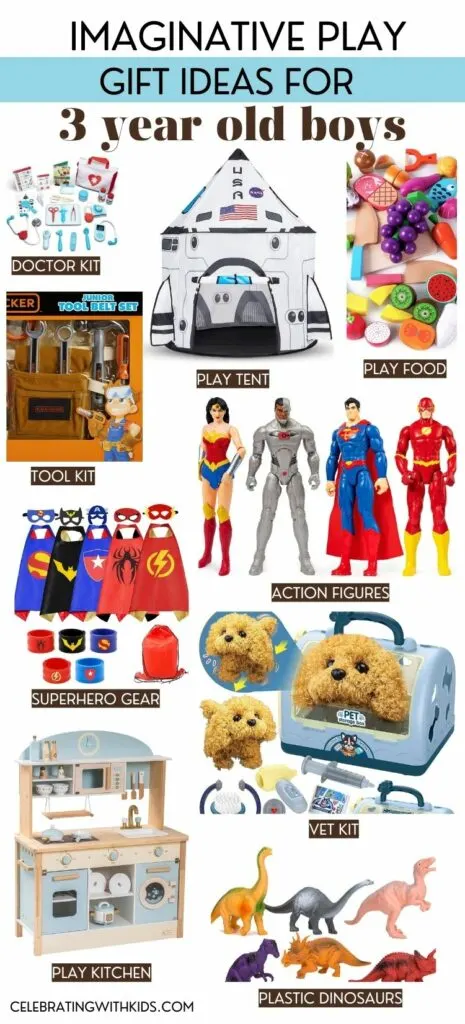 Action figure sets: Ignite his creativity with action-packed figurine sets. Pick characters that he knows, and larger ones like this set!
Plastic dinosaurs: You can never go wrong with dinosaurs for boys this age. I love a simple set with a lot of different species so they can identify them all!
Play toolkits: Foster hands-on learning and imaginative construction play. I love this set by Black + Decker!
Play kitchen sets: Let him whip up make-believe meals and embark on culinary journeys. You can get a wooden or plastic play kitchen, depending on your needs! Don't forget the play food!
Superhero dress-up costumes: Fuel his heroic adventures as he saves the day. Dress up capes and masks are super fun for this age!
Adventure-themed play tent: Provide a cozy and imaginative space for pretend play. I love this rocket ship tent!
Doctor or veterinarian kits: Foster caring and empathy through role-playing like a doctor or vet kit!
Learning Through Play
Looking for more of an educational type gift idea for your three year old? Here are some learn and play toy ideas.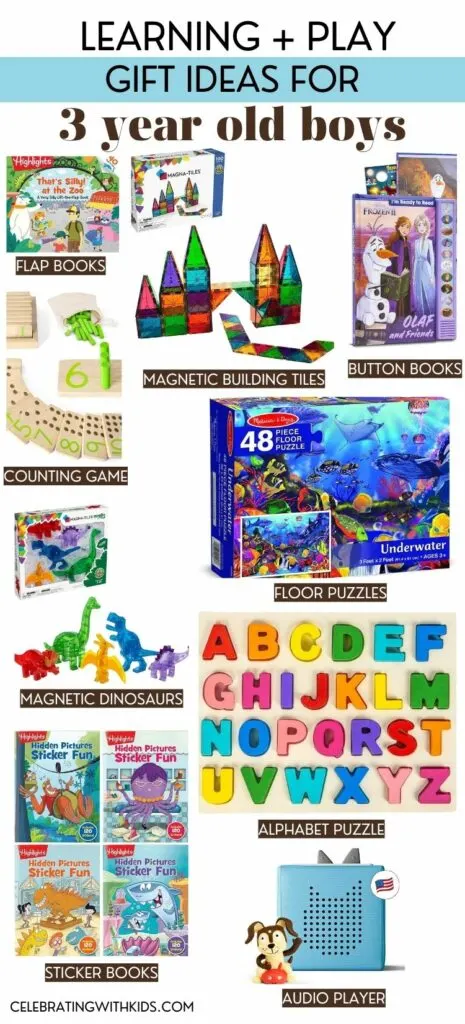 Educational puzzles: Enhance cognitive skills with age-appropriate puzzles and shape sorters. At the age of 3, floor puzzles are my favorite choice as a step up from baby wooden puzzles!
Building blocks: Inspire creativity and spatial awareness with colorful building blocks. At this age, I think that magnetic tiles are the way to go. Consider Magna Tiles or Picasso Tiles, and look into fun add ons like the dinosaur set if they already have the tiles!
Interactive books: Combine fun and learning with lift-the-flap books and sound-enhanced stories.
Activity books: My kids love activity books, including this style of Disney sticker book, Highlights look and find sticker books, and these scissor skills books!
Alphabet and number toys: Introduce early literacy and numeracy in an engaging way. I taught my kids their letters with this wooden ABC puzzle and this peg game is perfect for practicing numbers!
Screen free audio player: These kids speakers will play stories and songs and keep them entertained – without a screen – for a long time. Lots of the content is educational, too. We have a StoryPod but Tonies is a very popular brand. Here's my comparison of the top screen free audio player options!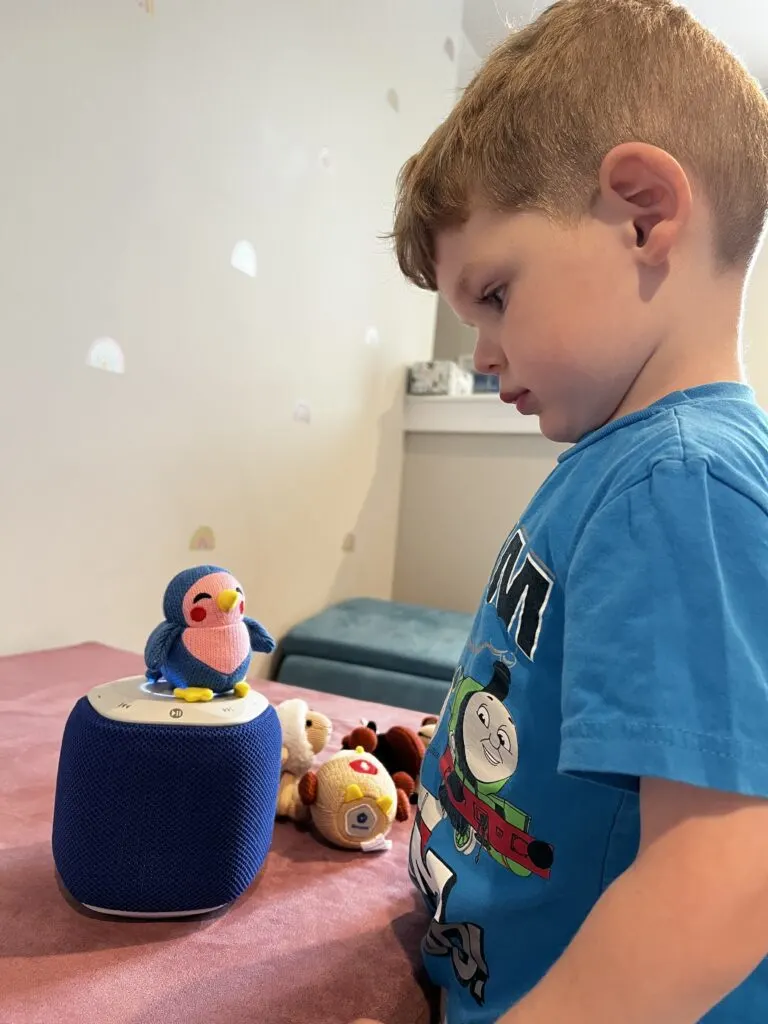 Arts and Crafts Extravaganza
Three is the perfect age for starting to craft and make art! Here are crafty gift ideas.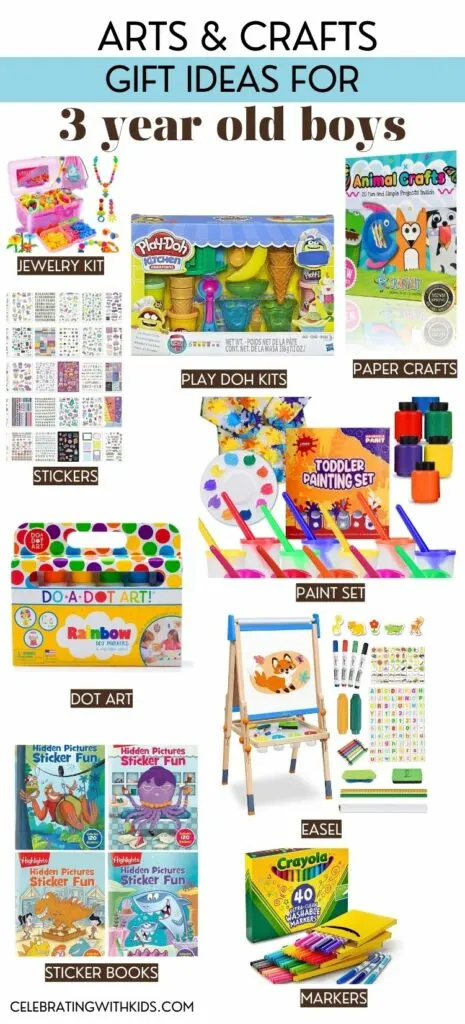 Washable markers and crayons: Spark his artistic side without worrying about messes with washable markers.
Dotters: These dotters are so random and make me think of Bingo but are a huge hit with the kids.
Playdough sets: Enhance sensory experiences and sculpting skills with vibrant playdough and fun playdoh kits.
Craft kits: Fuel his creativity with DIY projects like jewelry making, paper crafts, and more.
Paints and art supplies: Allow him to explore colors and textures through hands-on art with a painting set or an easel!
Stickers: Kids at this age just love stickers. Go with sticker books or just big packs of stickers for fun!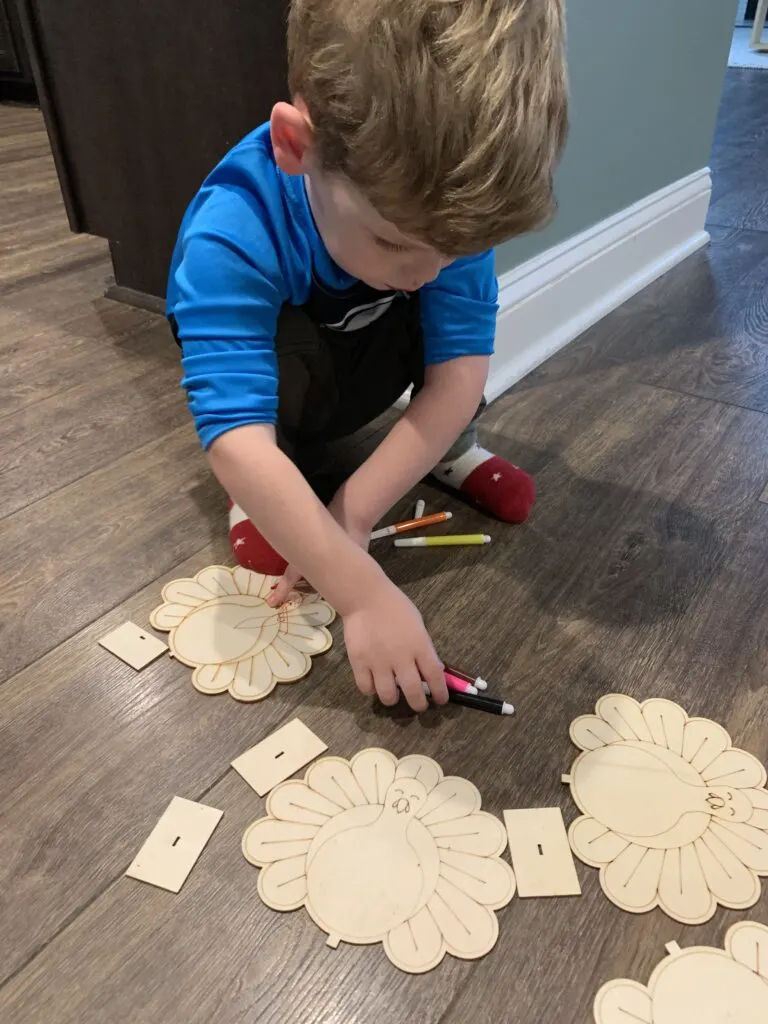 Cuddly Companions and Playmates
Some kids are really in the stuffed animals. My son was not, my daughter is. This is something the kids accumulate a lot of so be sure to check in before you buy another random stuffed animal.
It's always better to find one that is very specific to their niche interests.
Stuffed animals: Gift him snuggly plush toys that reflect his interests and passions.
Action figure buddies: Provide him with action-packed playmates for endless adventures. Look for a plush option like this one!
Soft-bodied dolls: Let him nurture and care for soft-bodied dolls that capture his heart. Here are my favorite soft bodied dolls!
Character-themed stuffed toys: Delight him with stuffed toys featuring his favorite characters.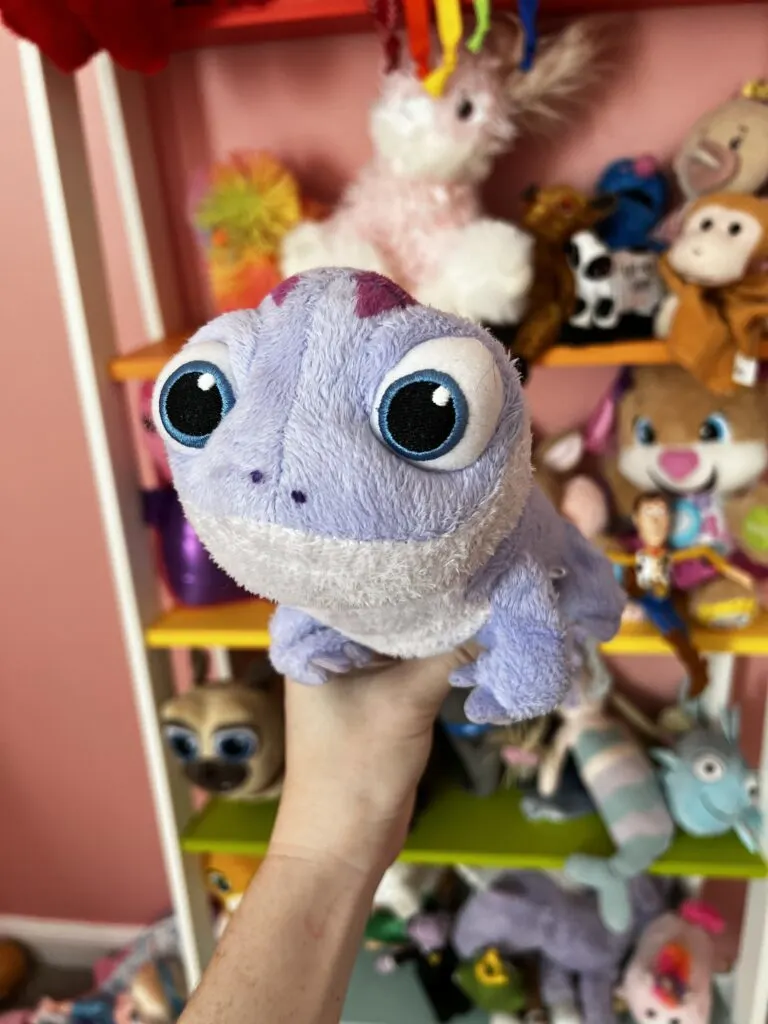 What is your favorite gift for a 3 year old?