Considering buying an American Girl Bitty Baby for your child or grandchild? Here is my complete Bitty Baby review and thoughts on if a Bitty Baby's worth it!
When I found out that my second child was going to be a girl, I was so excited. No hate to the boy moms out there – I have an older son and adore him. But, I was so excited to share some of my favorite girlie childhood memories with a daughter.
One thing that sticks out in my mind as growing up in the suburbs in the 90s is American Girl dolls.
They were The Toy to have and I adored my Molly. In fact, she sits on a (very very high) shelf in Rory's room now, and we play with her occasionally. (More once Rory can respect doll hair, haha!)
So, the Christmas when Rory was one, I decided to get her a Bitty Baby. It was our first foray into American Girls dolls and I know it won't be our last.
But, I get a lot of questions about the Bitty Baby and I thought that it was past time for me to write a proper Bitty Baby review!
Be sure to check out all of the best gift ideas for 2 year old girls!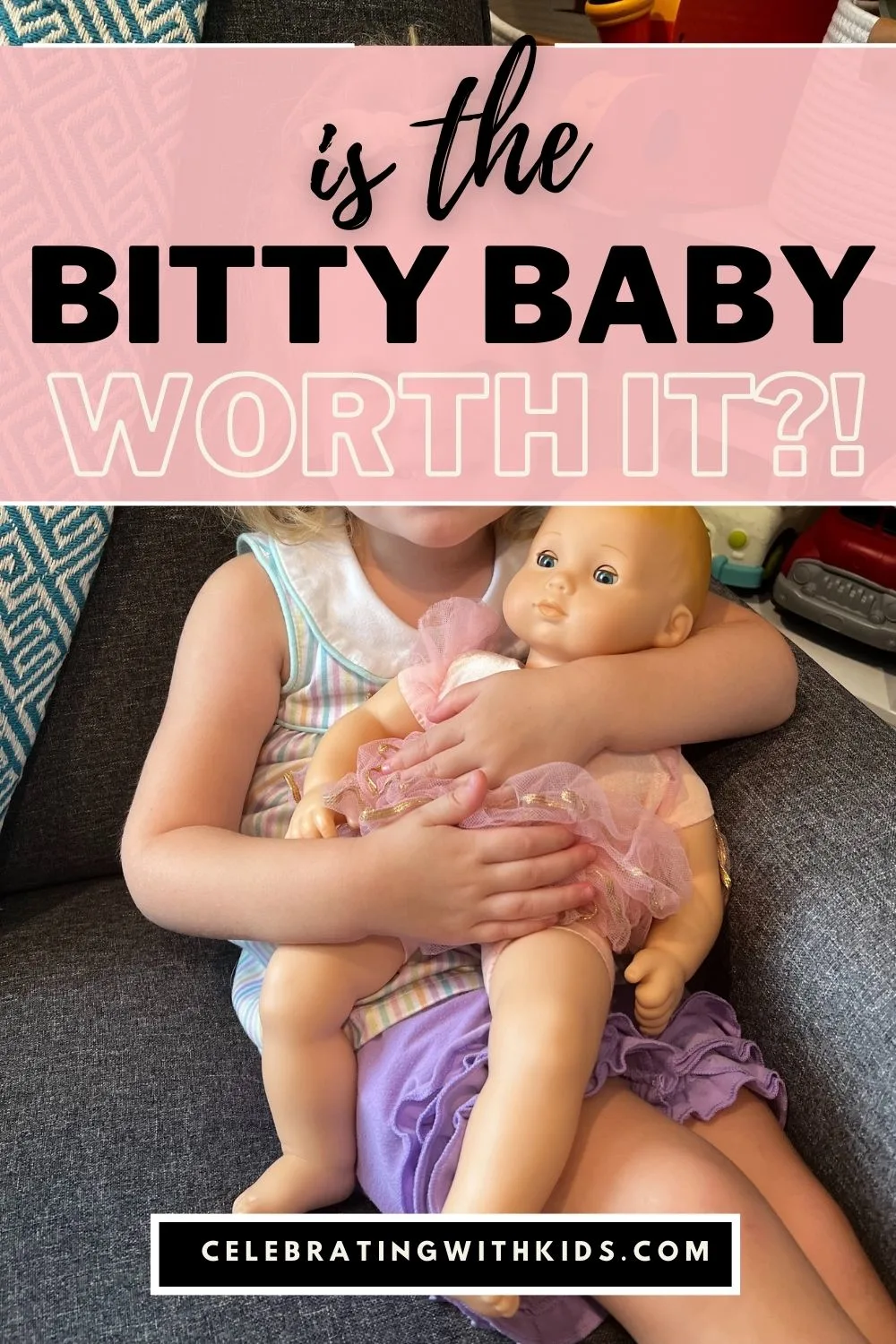 American Girl Bitty Baby Review
It was really special for me to gift my daughter the American Girl doll baby because of my own sentimental attachment to the American Girl brand. But, let's dive into all the features and details of this doll, outside of sentimentality.
Overview of Bitty Baby by American Girl
Bitty Baby is the American Girl baby doll. It is a 15″ doll with a soft body, hard plastic limbs, and eyes that open and close.
Bitty Baby comes in 6 different skin tone/hair/eye color combinations and also has a non-soft body waterproof version called the Bitty Baby Splash.
Key Features of Bitty Baby
Some of the features of Bitty Baby that make it unique and appealing to young children and parents alike include:
Soft and Cuddly
The doll's soft body makes it perfect for hugging and cuddling.
Perfect size
The 15″ length and slight weight to the doll make it perfect for a toddler-preschool aged kid to play with.
Painted on hair
In stark contrast with traditional American Girl dolls, which have beautiful long hair, the Bitty Baby has painted on hair.
This is CRUCIAL for toddlers. My daughter loves her dolls, but she wrecks their hair. My sister specifically will not let her play with her childhood Kirstin American Girl Doll because she doesn't want the braids getting wrecked.
Painted on hair is perfect for this age!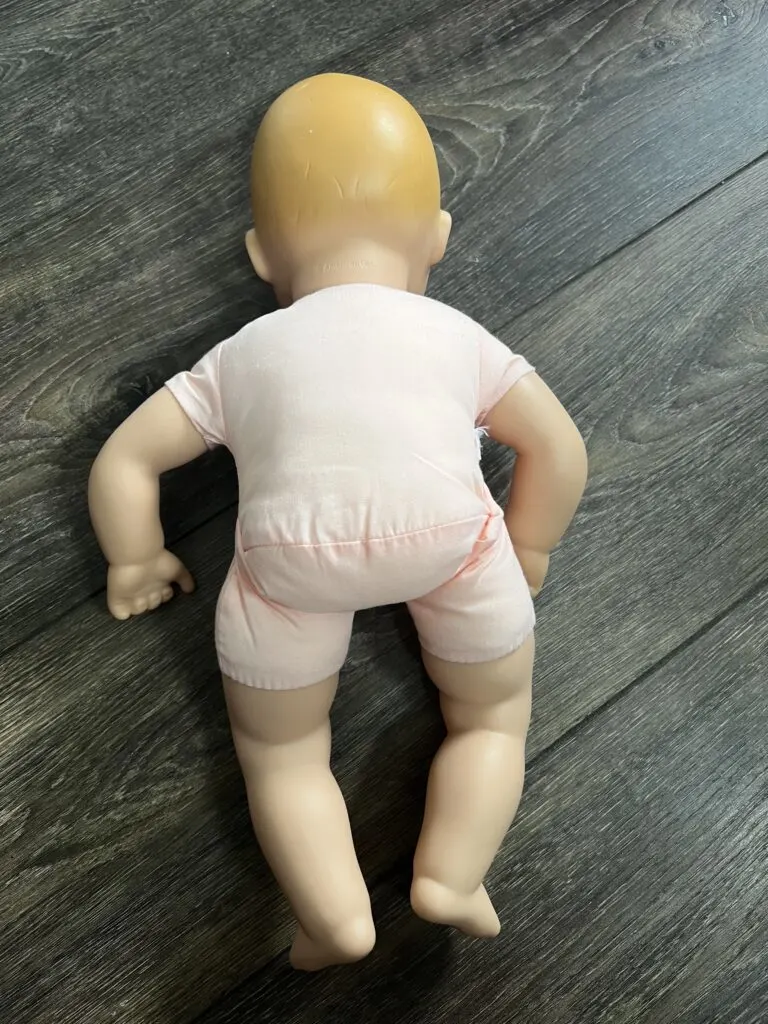 Mix-and-Match Outfits
There are a wide range of outfits and accessories available for personalization and storytelling with the Bitty Baby accessories.
These dolls will also fit any generic 15″ doll baby clothes.
I will say that there are some SUPER cute vintage/discontinues Bitty Baby doll clothes (they go back to 1990!) and I have had success getting good deals on Poshmark, Mercari, and eBay!
Eye and Hair Options
While there aren't as many customization options for the Bitty Baby compared to traditional American Girl dolls, there are a few options including:
Storybooks and Accessories
There is also a large selection of accompanying storybooks and other accessories that enhance the doll's play value. My kids love reading, so I always love a chance to tie play to books!
Note: Check your library. Ours has TONS of American Girl books!
Gateway to the American Girl World
This is the least "practical" benefit, but is the real reason for the price and why I personally bought my daughter a Bitty Baby. This is your introductory doll to the American Girl collection.
If you have nostalgia for American Girls and want to share that with your child, the Bitty Baby is the perfect option.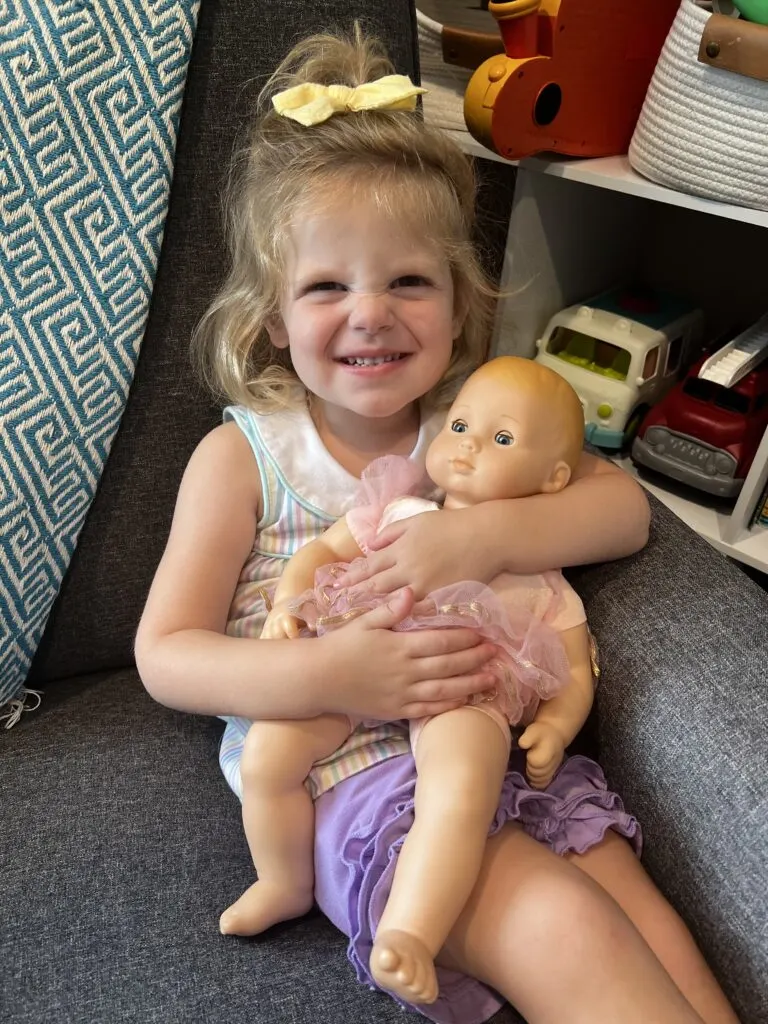 What age is a Bitty Baby for?
Bitty Baby is labeled for ages 3 and up. I say it's fine for 18 months and up, with the understanding that older kids are more likely to be imaginative than toddlers.
I would assume that a child aged 5-6 would be more ready for a full American Girl doll, but if they prefer babies, then this is totally appropriate for any age.
Where to buy Bitty Baby
You can buy Bitty Baby from American Girl directly or on Amazon. They are also periodically (often in November/December) at Costco and on QVC!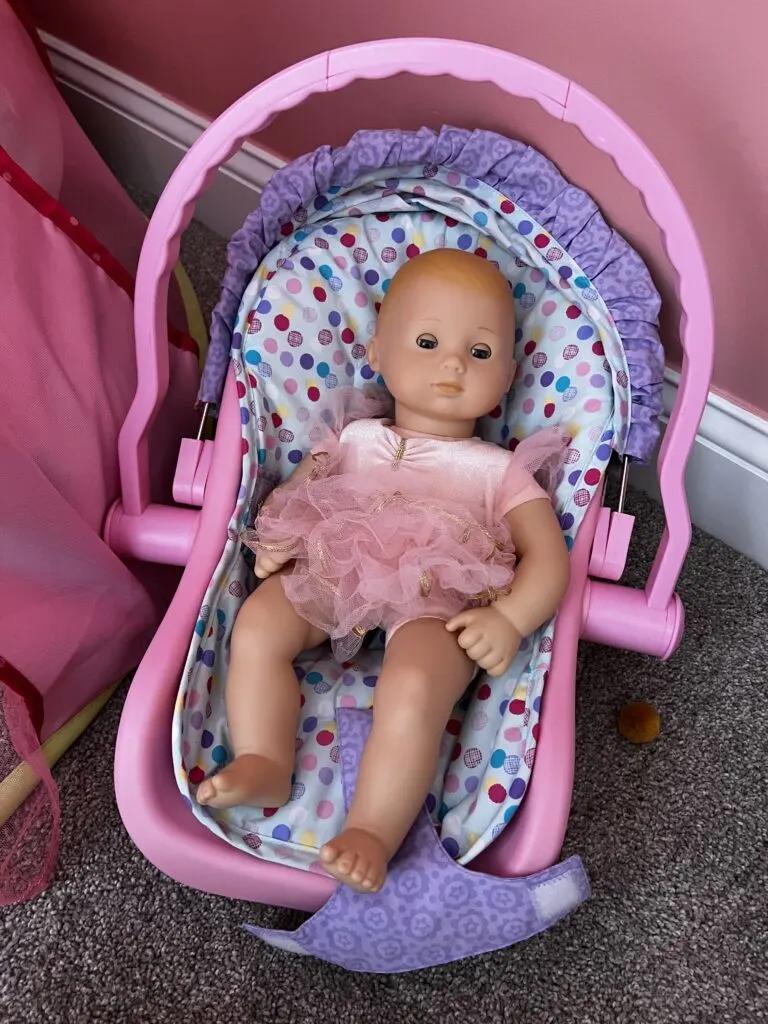 Is Bitty Baby Worth It?
Let's be real – the Bitty Baby is way over priced for what it is. I will list out some alternative very similar dolls below, but you can see that the beanie baby is more than double the price of even the most expensive comparable doll.
What you were paying for is brand recognition, and the nostalgia associated with the American Girl name.
Now, with that being said, this is a very high quality doll. It's made a really nice materials, it's very durable, and it's cute too.
My Bitty Baby from the 90s is still alive and well at my mom's house and my kids play with it when we visit (RIP to the original moses basket, which was destroyed by a cat in the late 90s).
I see no harm, if you can afford it, and spending the money on this doll. I mean, hello, I bought one.
But, in all honesty, your child is very very unlikely to notice any difference whatsoever between the store and the cheaper alternatives on my list.
The biggest reasons to buy this doll would include if you have a childhood nostalgia associated with the American girl brand name like I do, or if you are buying an American girl doll for an older child, I want your younger child to feel included as well.
Or, if your older child loves baby dolls, and maybe already has American girls or gets the catalog in the mail and asks for it specifically.
So, in conclusion, no, the bitty baby isn't really worth the price, but plenty of people pay it and it kind of just is what it is.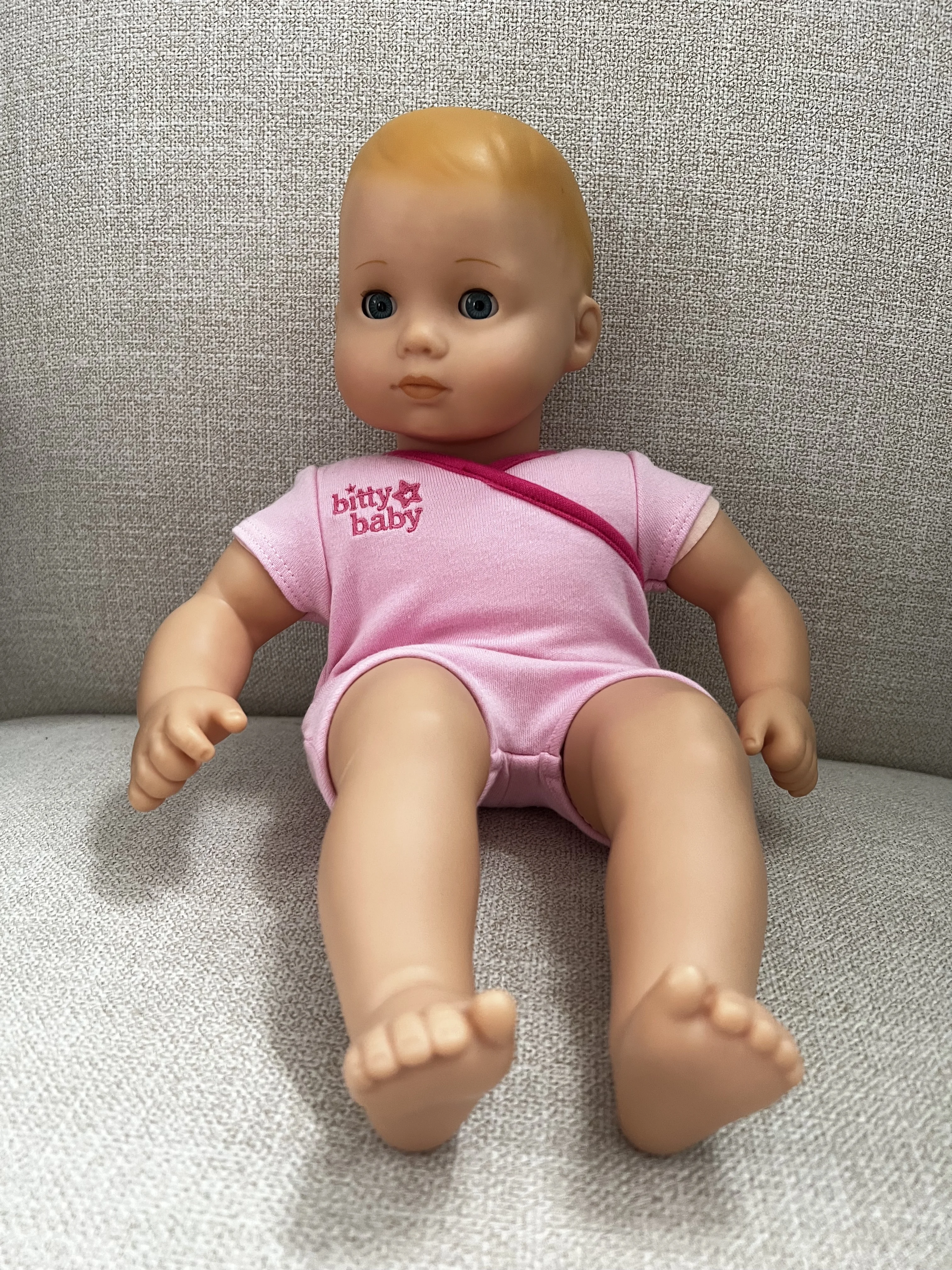 Cheaper Alternative Similar Dolls
If you want the same aesthetic as a Bitty Baby without the price tag, there are a lot of similar dolls at a more budget-friendly price.
Many brands sell generic soft body dolls that can be paired with bitty baby clothes and accessories, or their own accessories.
Either way, your child is going to have a comparable play experience. They will not know or care about the differences, I promise!
Here are some more affordable soft-body baby dolls: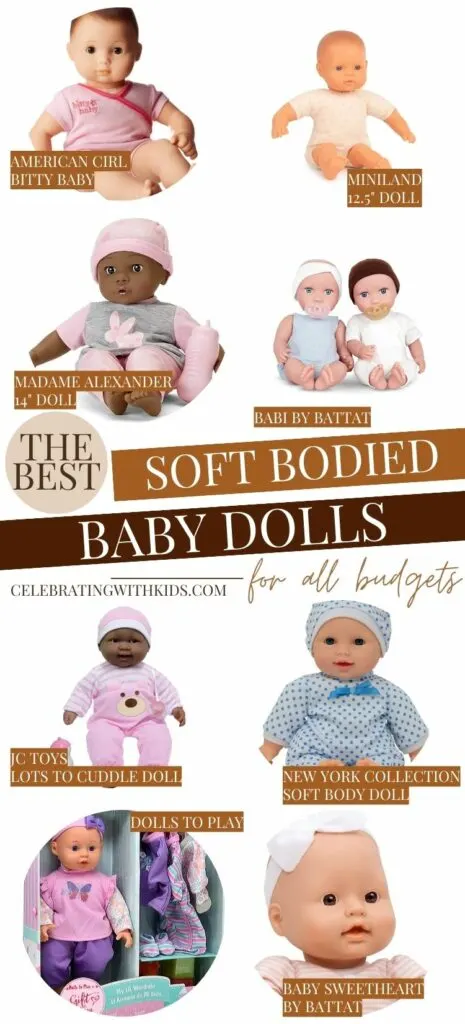 Also, be sure to check out other stores for sales and discounts on Bitty Baby. I got our Bitty Baby for $89 from Costco and it included the baby carrier, a bottle, and a couple of very casual outfits.
I hope that this review has helped you to decide if purchasing a Bitty Baby doll is the right decision for your family. Happy shopping!
Any more questions about Bitty Baby?