Explore our printable turkey craft activity for kids this Thanksgiving! With our free printable template, children can create a personalized turkey hat, get creative and learn about gratitude in a fun-filled crafting experience.
Looking for a simple and fun Thanksgiving activity for kids? How about making turkey hats!
Our free printable turkey hat not only adds a touch of festive fun to the holiday but also encourages kids to express their thankfulness.
Make these turkey hats for preschool November crafts or as a fun kids activity for Thanksgiving dinner.
I love the idea of printing a stack of these out for the kids table for cousins and friends to make hats while they wait for dinner to be ready.
This activity combines creativity with gratitude, making it a perfect Thanksgiving project for kids.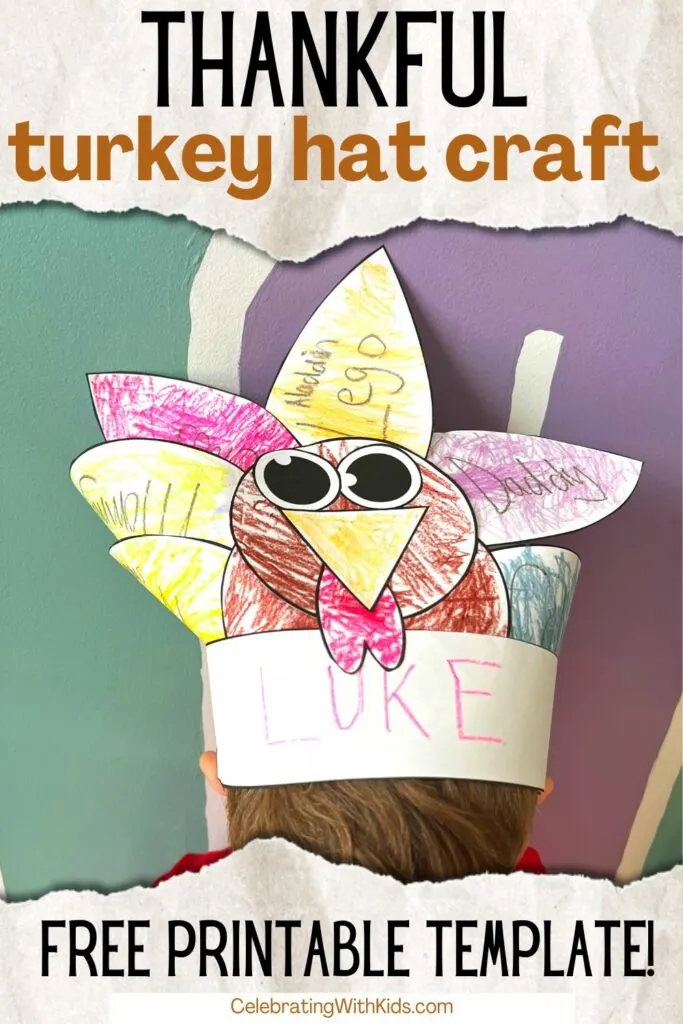 Free thankful turkey hat printable for kids
We are excited to share a FREE printable template for you to use to make these turkey hats! These Thanksgiving hat printables double as Thanksgiving coloring pages, too!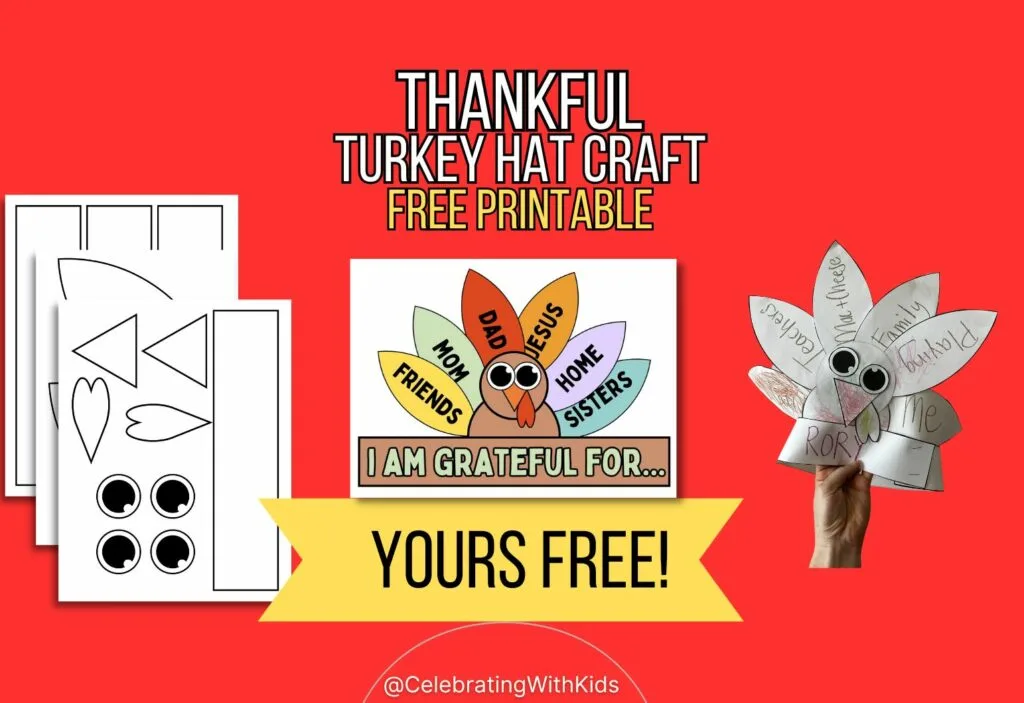 Simply print out THIS TURKEY TEMPLATE, cut it out, glue the pieces together, and make your own turkey headband craft!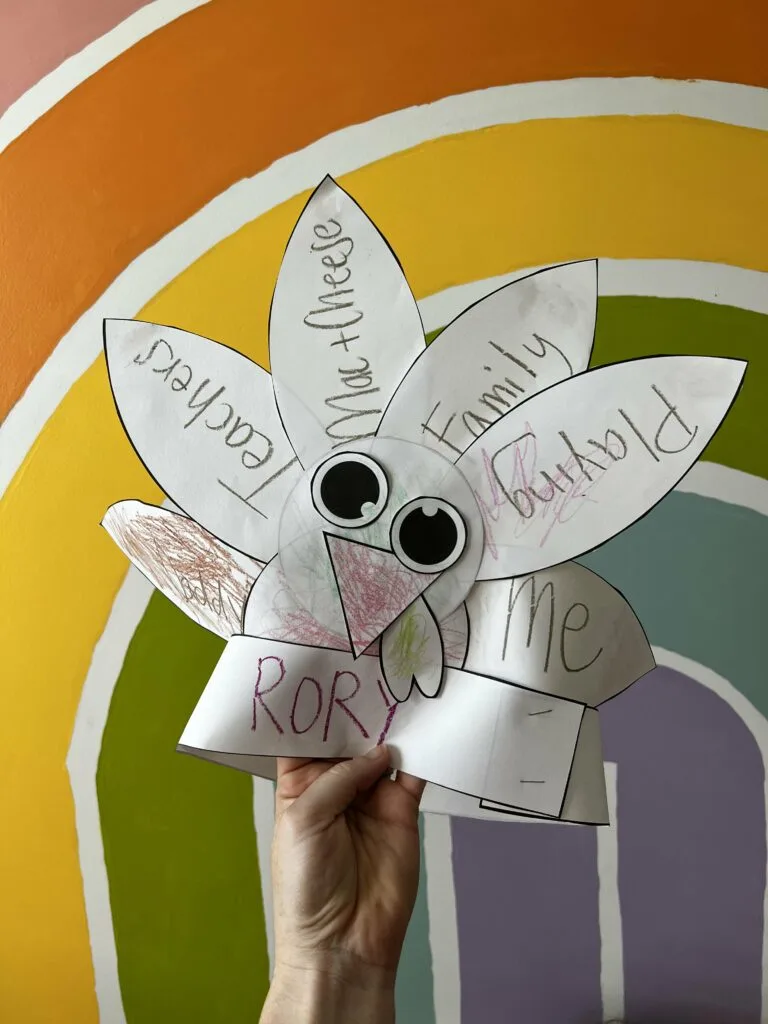 How to make a Thanksgiving paper turkey hat
Want a fun and silly craft to help kids learn about thankfulness this holiday season? Here's how to make an "I am Thankful" turkey printable hat for Thanksgiving!
Materials Needed to make a thanksgiving turkey crown:
Crayons, colored pencils, or markers
Scissors
Stapler
Glue stick
Glitter, sequins, pom poms, etc (optional for additional decorations)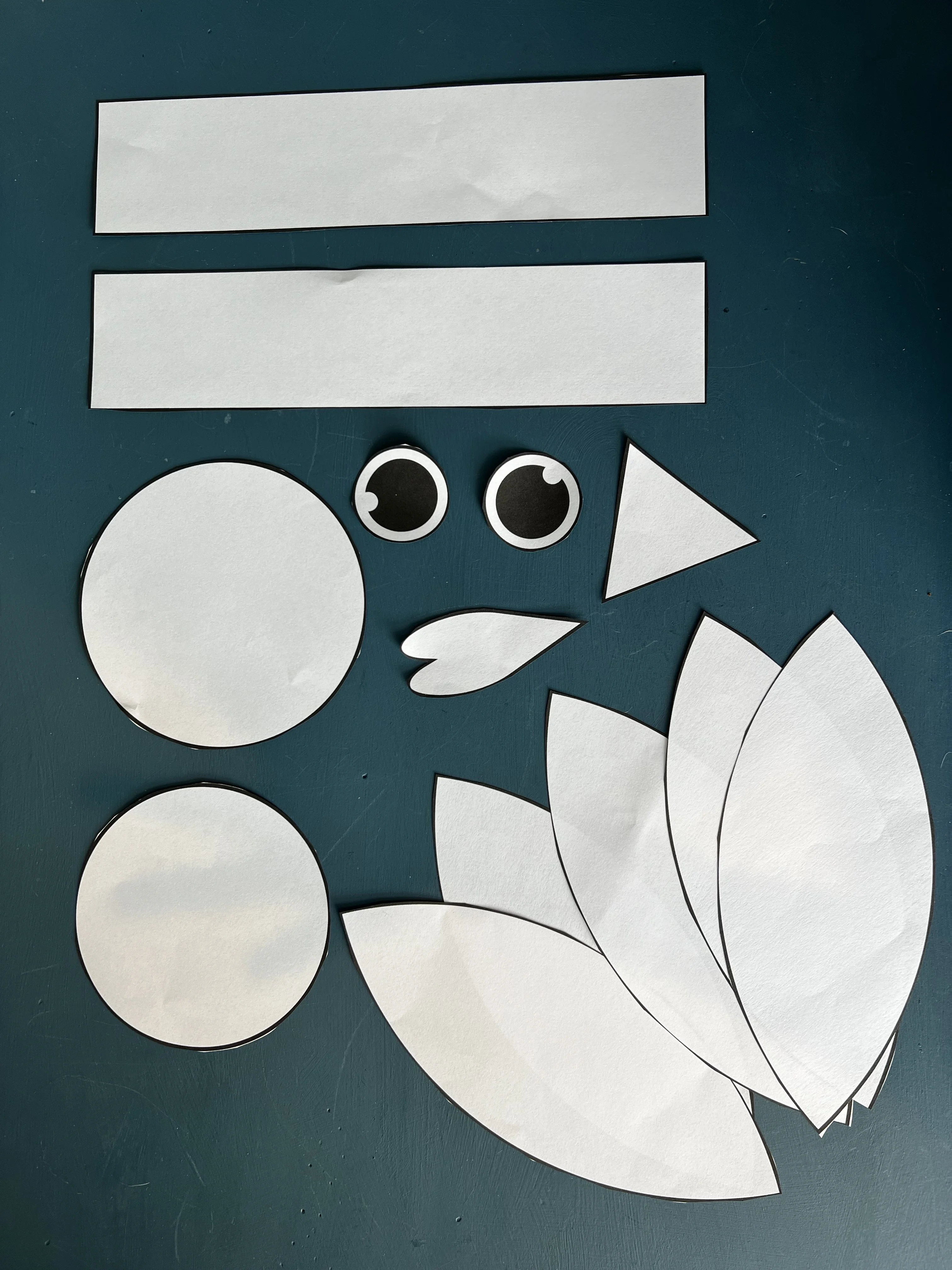 Step-by-Step Guide to Make the Thankful Turkey Hat:
Download and Print: Begin by downloading the free printable turkey hat template. Print it out on white cardstock paper for durability, but regular paper will also work in a pinch.
Cut Out the Turkey: Carefully cut out the turkey's body and feathers along the outlines. For younger children, you might want to pre-cut the pieces for them.
Color the Turkey: Let kids unleash their creativity by coloring the turkey's body, feathers, and other details.
Write Thankful Messages: On each feather, children can write what they are thankful for, or you can write it for them. This is a great time to talk about gratitude and thankfulness in general!
Assemble the Hat: Use a glue stick to attach the face elements to the smaller circle head, and the smaller circle to the larger circle body. Glue the turkey to a strip of the paper headband.
Attach the Feathers: Glue the thankful feathers onto the back of the turkey hat. Ensure that the words are visible when the hat is worn. Let dry for a few minutes.
Optional Decorations: For added flair, kids can add glitter, sequins, stickers, or pom poms and attach them to the hat.
Size it to their heads: Use a stapler to attach another strip to either side of the paper headband strip. Hold it up to your kiddos head and mark the right size, then staple it in place.
Wear and Share: Once the hat is complete, children can proudly wear their Thankful Turkey Hat and share their gratitude with family and friends.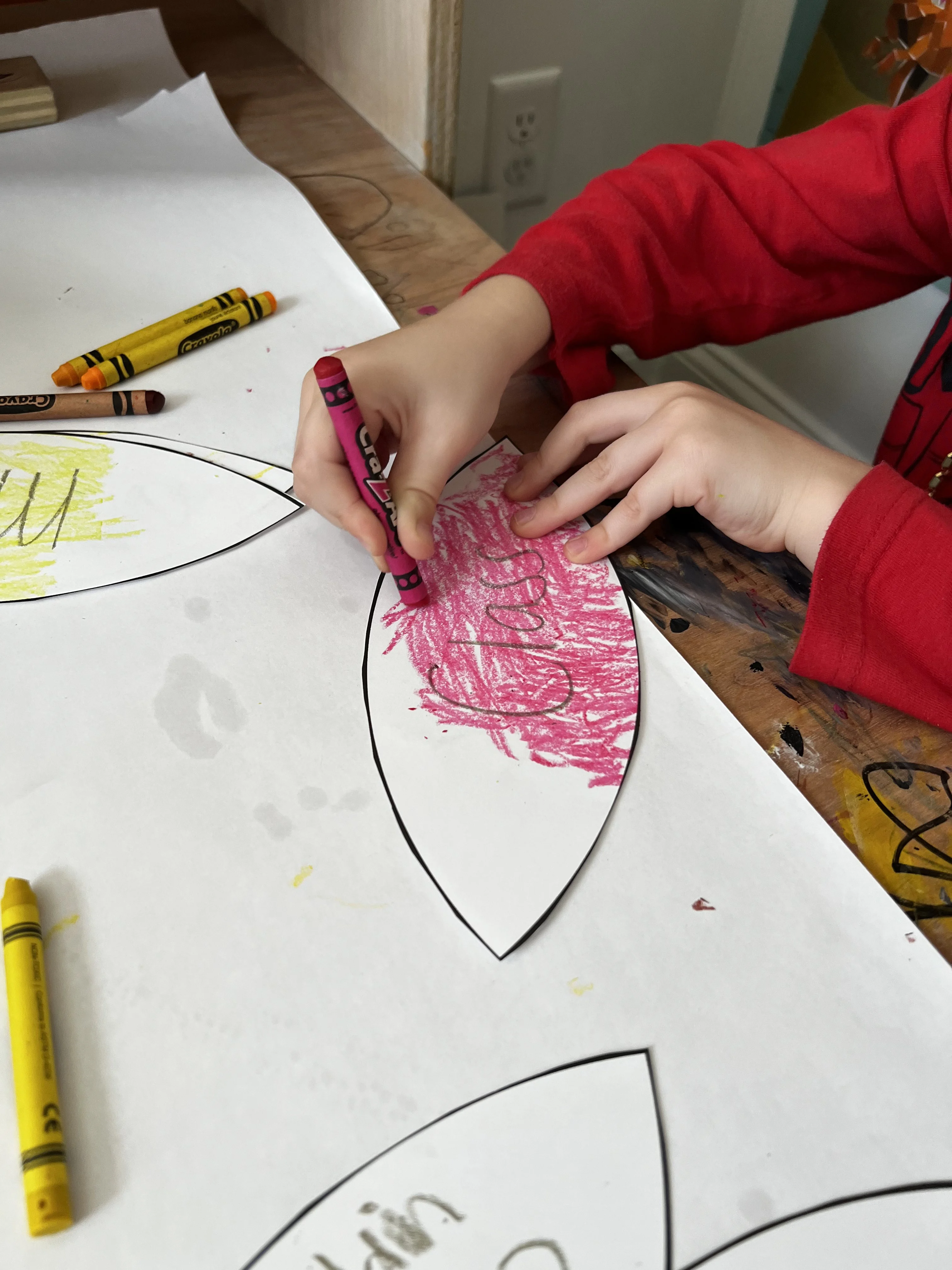 Gratitude and Thanksgiving Conversations
Use the time while you are making this printable turkey hat craft to talk to your kids about gratitude and thankfulness.
My kids are 3 and 5 and finally getting old enough to understand things like gratitude. I think it's super important to recognize the things we have to be grateful for, especially this time of year!
Be prepared with some examples of things to be thankful for to get the conversation going. Most toddlers to preschool aged kids won't be able to rattle off 6 things to be grateful for without some examples and prompting.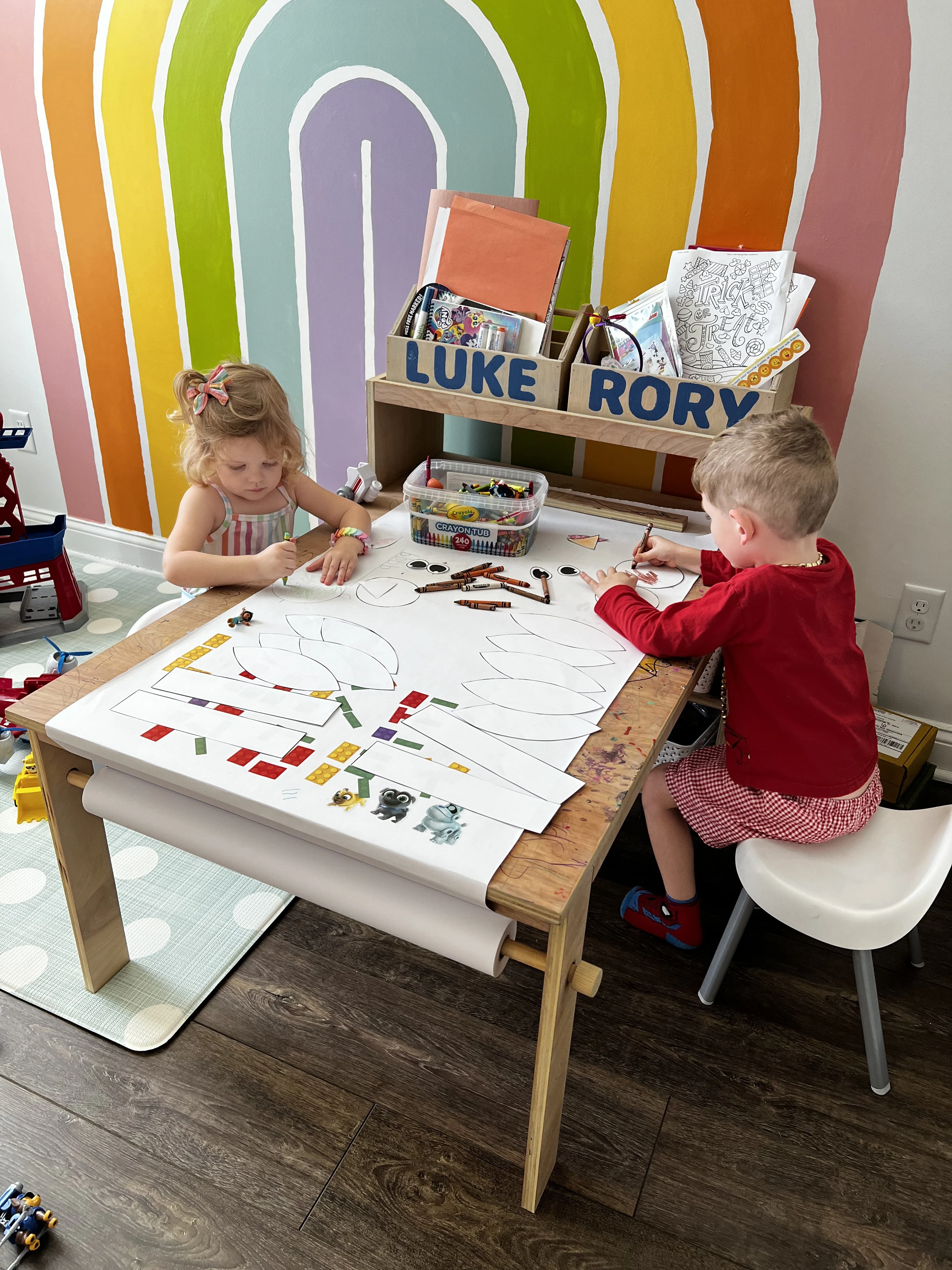 This Thanksgiving, let's celebrate gratitude and creativity with our Thankful Turkey Hat craft! Download our free printable, gather the materials, and have fun coloring, crafting, and having heartfelt conversations.
As your kids wear their Thankful Turkey Hats, they not only show off their artistic talents but also share the spirit of gratitude with everyone around them.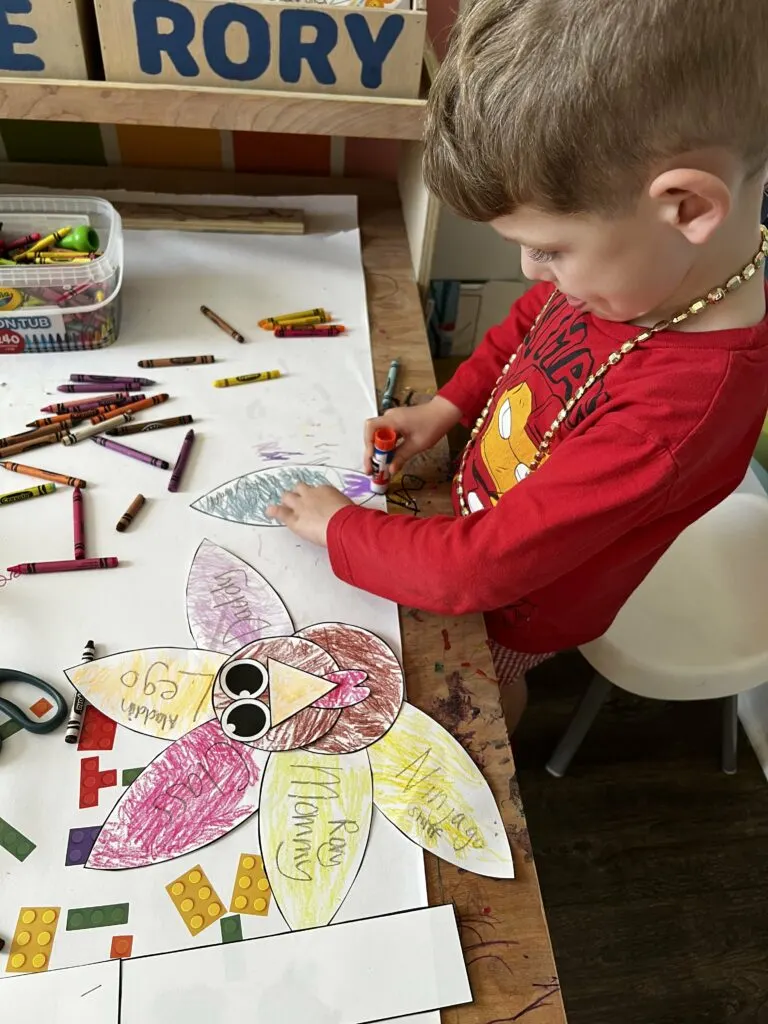 Have a happy Thanksgiving, however you celebrate!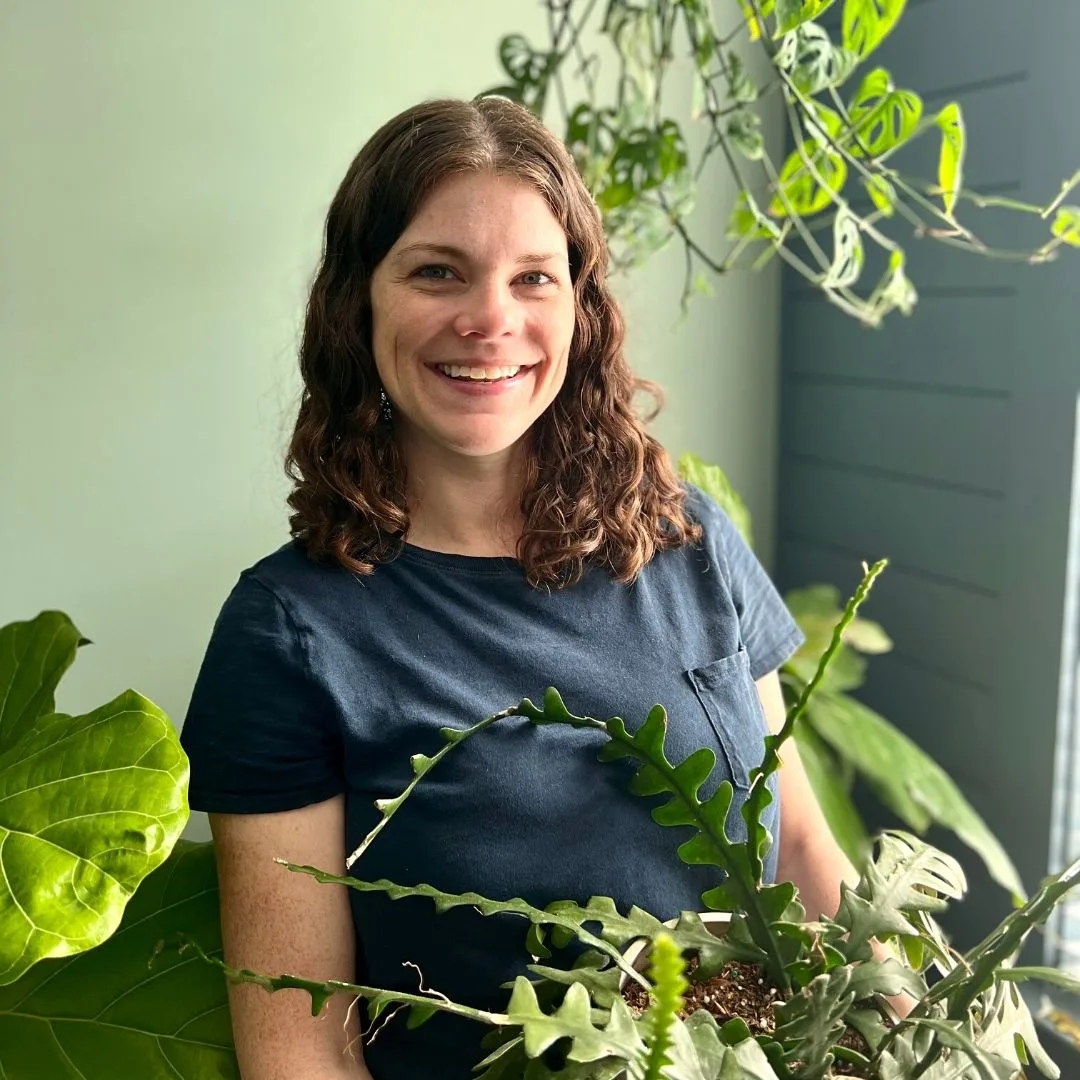 Hey there, I'm Morgan, the creative mind behind CelebratingWithKids.com! As a parent of two lively little ones, I've made it my mission to turn ordinary days into extraordinary adventures, sharing playful activities, thoughtful toy reviews, and delightful printables to help families celebrate every moment together. 🎉👨‍👩‍👧‍👦🎈