Discover an effortless Halloween class gift idea that's both budget-friendly and delightful! These glow stick gifts, paired with charming printable tags, offer a unique and thoughtful alternative to traditional treats.
Halloween is fast approaching, and we all know how hectic it can get with costumes, parties, and trick-or-treating.
As parents, finding a quick, affordable, and delightful class gift can be a challenge.
Look no further – we have the perfect solution that embodies the spirit of Halloween without breaking the bank.
This year, I packaged up glow sticks for the kids with a cute little printable gift tag.
Keep reading to see how I made them and get the free printable tag that you can use, too!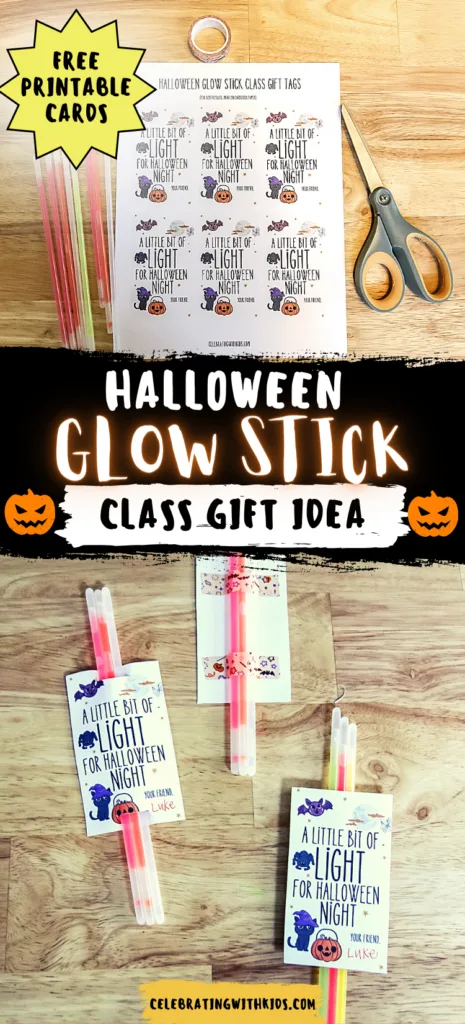 The Perfect Halloween Class Gift Idea
Glow sticks are a hassle-free and budget-friendly class gift option for busy parents. These gifts require minimal time and money investment while still being thoughtful and unique.
You can't beat the convenience of the printable gift tags that add a personal touch to the glow stick favors.
Candy is great, but kids will get PLENTY of it. This is a great option for a candy-free Halloween treat!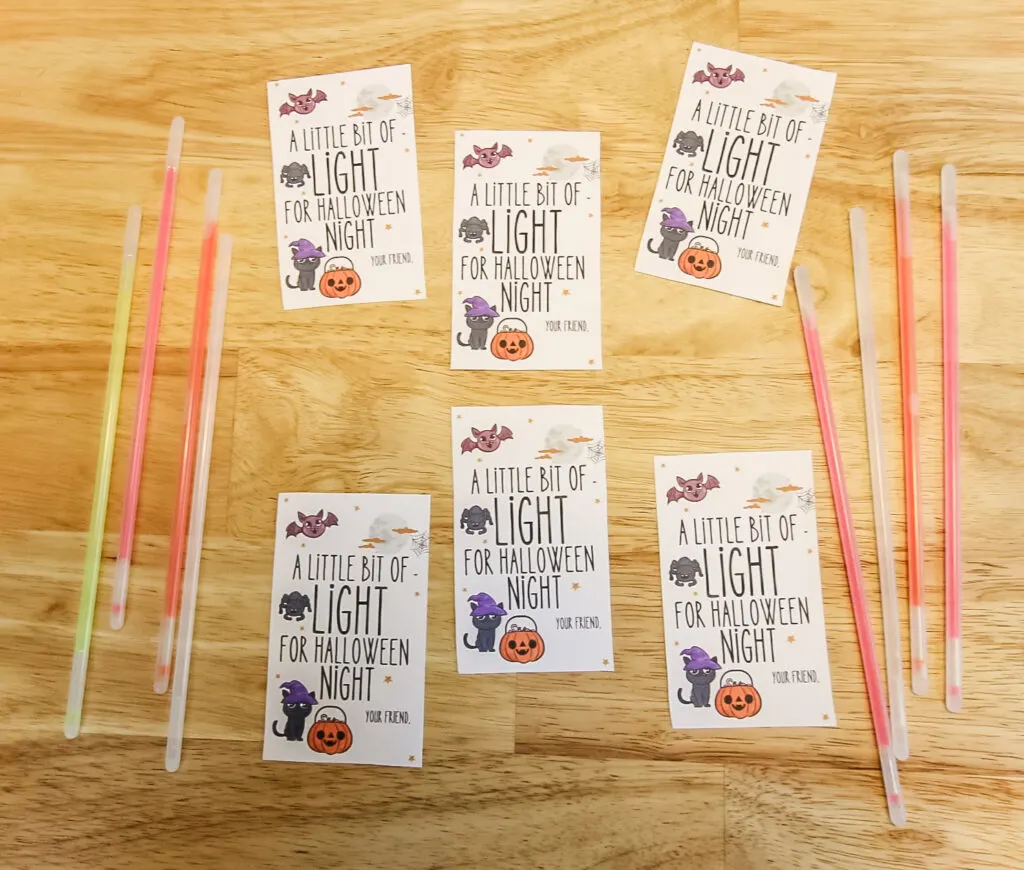 Great gifts for other Halloween parties, too!
While I designed these to be a class gift, they can be so much more! You can always hand out glow sticks, but having the tag makes them feel intentional and more special.
Consider using them for:
Trick or treaters – put out a teal pumpkin and offer them as an allergen-friendly treat option.
Party Favors – If you're hosting a Halloween party, consider using these glow stick gift tags as party favors. Place them at each table setting or in goody bags for guests to enjoy during the event.
Neighborhood Halloween Bash – Organize a neighborhood Halloween block party and distribute glow stick gift tags to kids attending the event. This not only adds to the festive atmosphere but also ensures that children are visible in the dark.
Halloween Parades – If your town organizes a Halloween parade, consider giving these glow stick gift tags to kids marching in the parade. It not only adds to the visual appeal but also enhances safety by making them more visible to the audience.
Haunted House or Maze – If you're organizing a haunted house or maze, provide glow sticks with the gift tags to attendees. It adds a spooky glow to the atmosphere and helps visitors find their way through the darkness.
Classroom Rewards – Teachers can use these glow stick gift tags as rewards in the classroom during the Halloween season. Reward students with a glowing surprise for good behavior, completed assignments, or participation in class activities.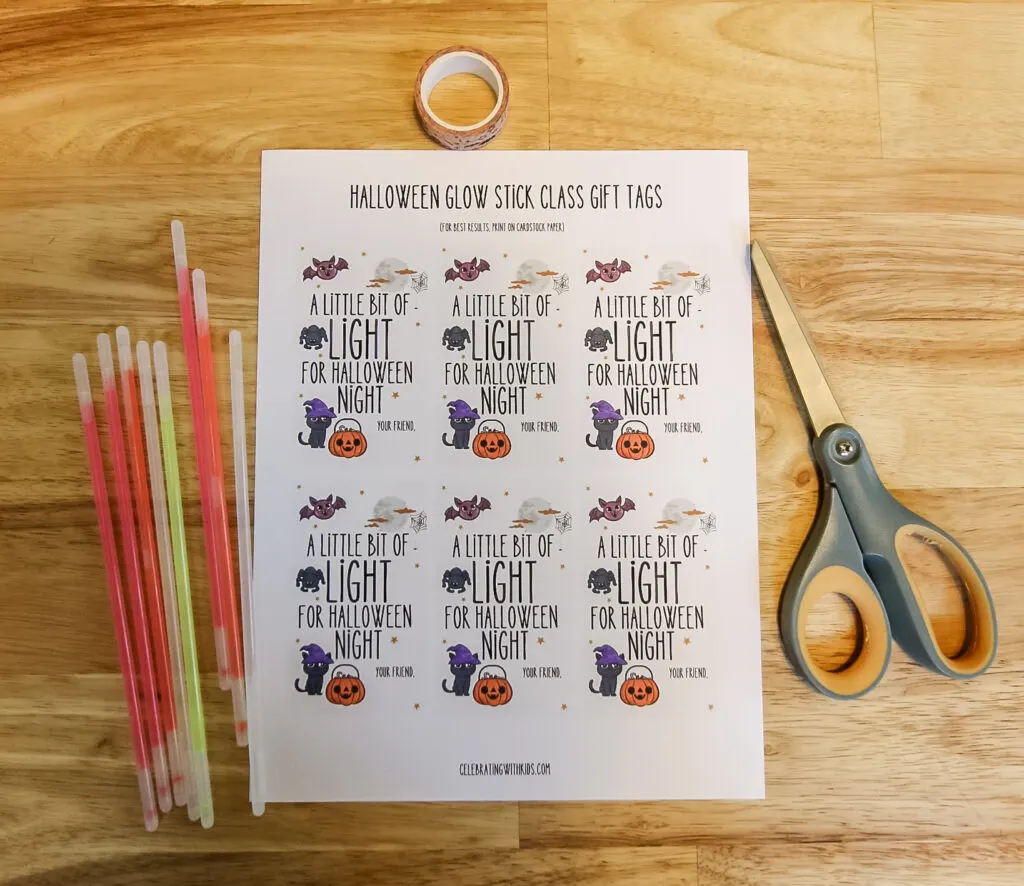 How to Assemble Your Halloween Glow Stick Gifts
Here's how easy it is to put together these glow stick class gifts!
Materials Needed:
Steps to Make Glow Stick Class Gifts:
Purchase glow sticks in various colors.
Print out the "A Little Light for Your Halloween Night" gift tags on white cardstock paper.
Cut out the tags and attach them to the glow sticks using tape.
Optional: Arrange the glow sticks in a jar or container for a visually appealing presentation, if you are giving them out to trick or treaters or as a party favor.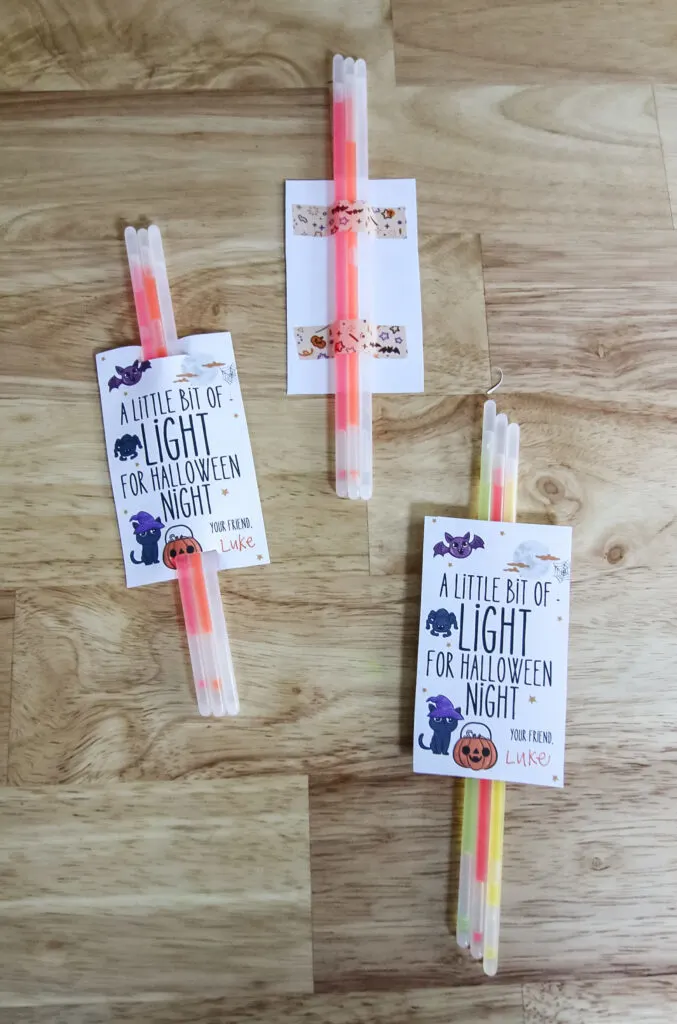 Free printable Halloween glow stick tag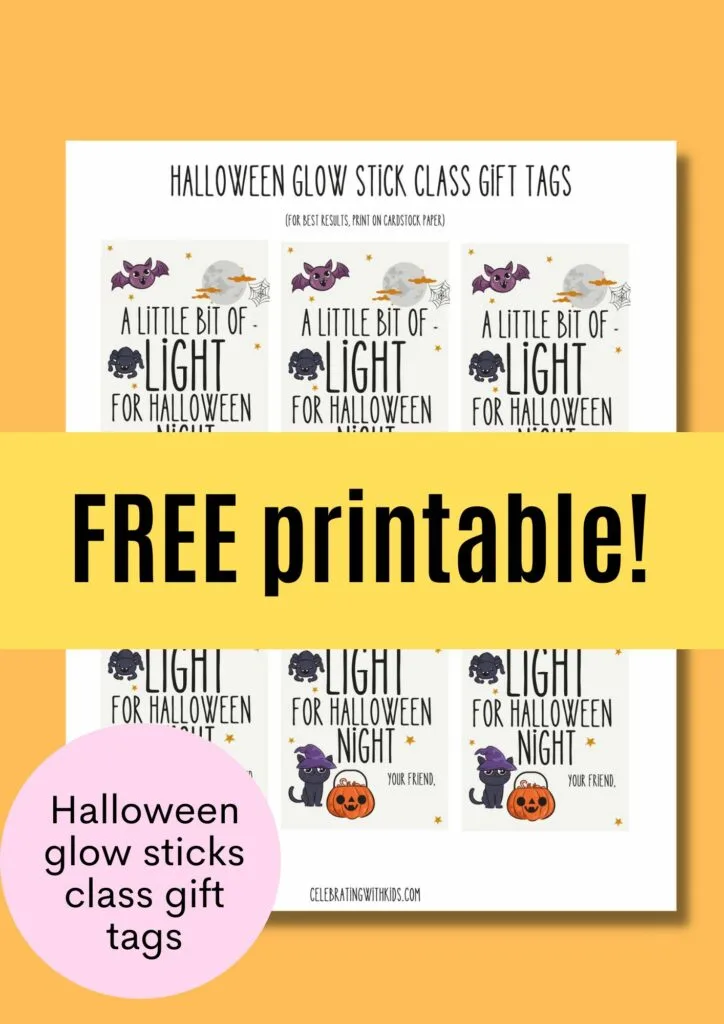 I designed a cute and simple tag that you can attach to your glow sticks! Simply cut a slit OR punch holes in the card to string on your sticks. Washi tape can help to hold it in place!
Download it using the widget below or by clicking here.
Adding a Touch of Safety to Halloween Night
Glow sticks are fun to mess around with, but they are also great for improving visibility in the dark. That makes them a super practical gift for helping kids stay visible and safe during nighttime trick or treating!
This Halloween, let's brighten up the night without adding stress to our busy schedules. With our easy and affordable glow stick class gifts, you can effortlessly spread the Halloween spirit.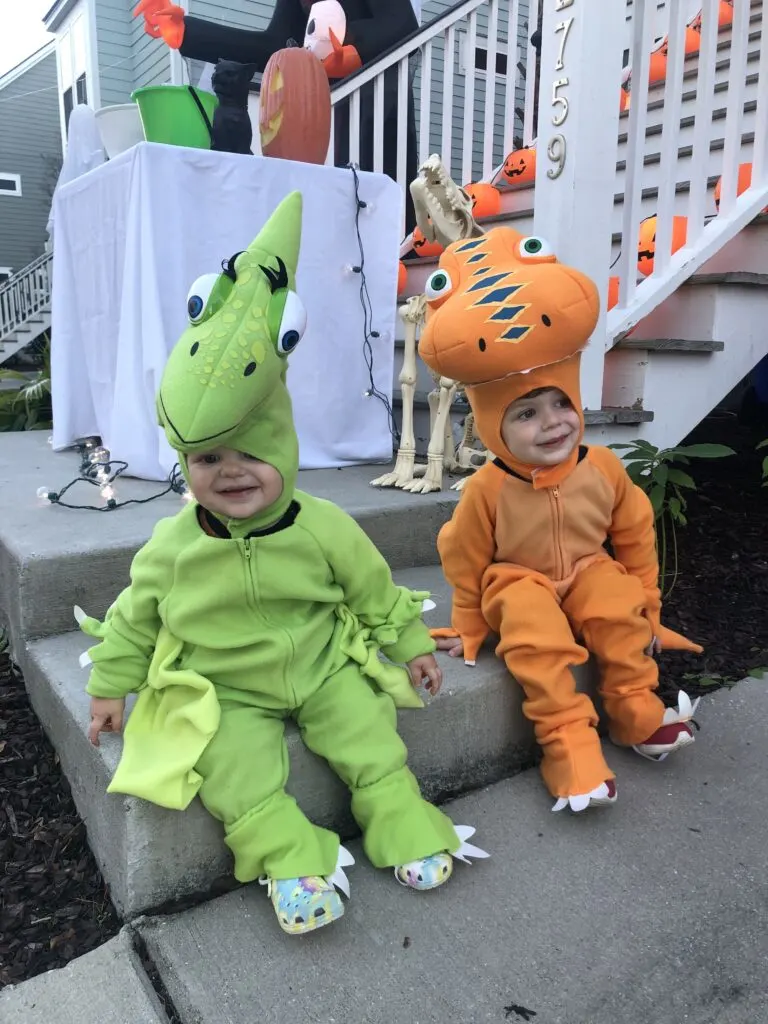 Remember, it's not about the size or cost of the gift, but the thought and creativity behind it.
Wishing you and your little ones a Halloween filled with a little light and a lot of fun!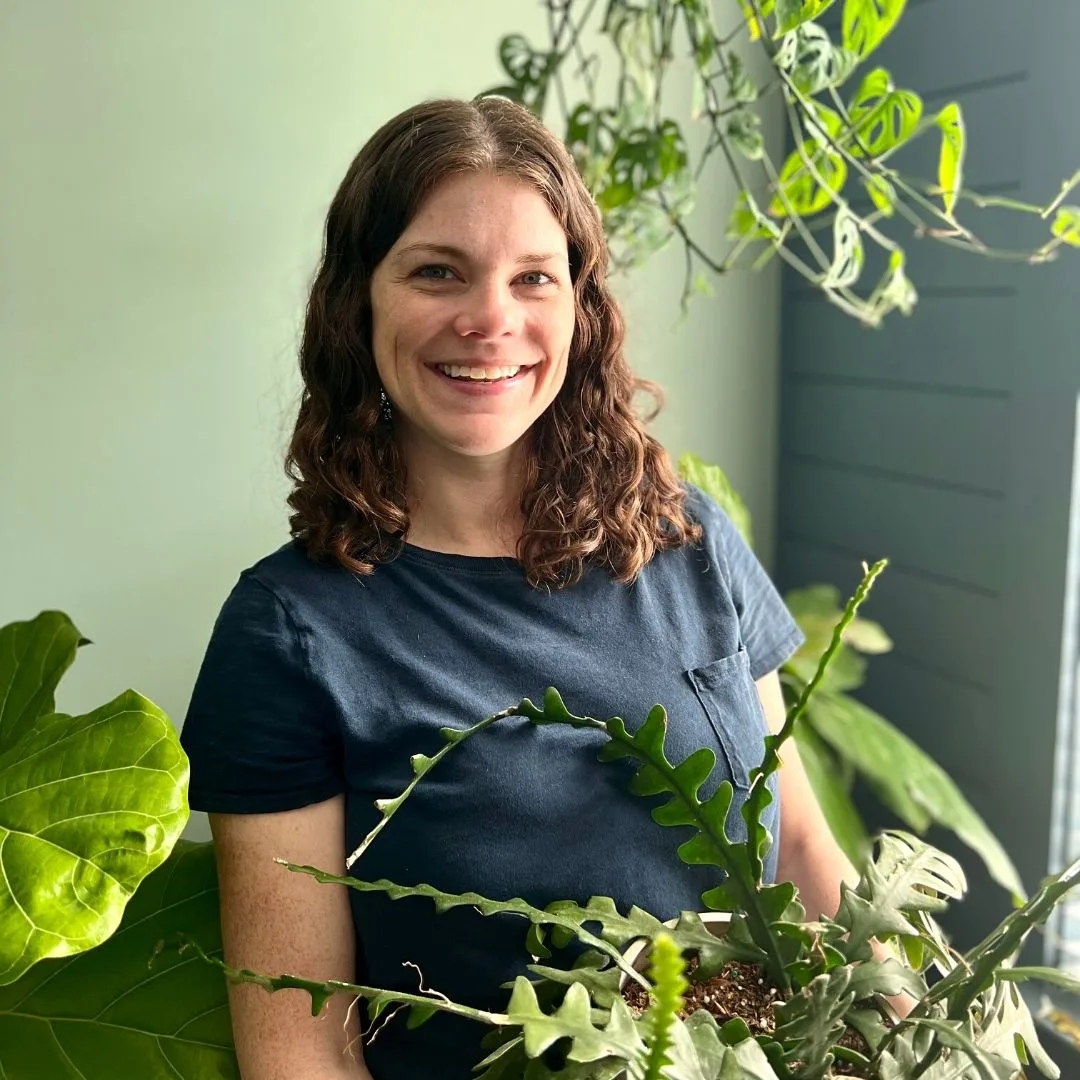 Hey there, I'm Morgan, the creative mind behind CelebratingWithKids.com! As a parent of two lively little ones, I've made it my mission to turn ordinary days into extraordinary adventures, sharing playful activities, thoughtful toy reviews, and delightful printables to help families celebrate every moment together. 🎉👨‍👩‍👧‍👦🎈