Are your kids obsessed with Frozen? Mine too! Here are the best Frozen toys and Frozen gift ideas for kids!
Frozen and Frozen 2 have completely taken over our house. Both my 2 year old girl and 4 year old boy are obsessed.
That means that we got a lot of Disney Frozen movie toys for Christmas.
We have gotten enough of these toys that I feel qualified to share my thoughts on the best Frozen gifts for any obsessed kid in your life!
If you are looking for a frozen themed unique gift idea for the little frozen fan in your life, keep reading!
Planning a Frozen party? Here are the best Frozen party favor ideas!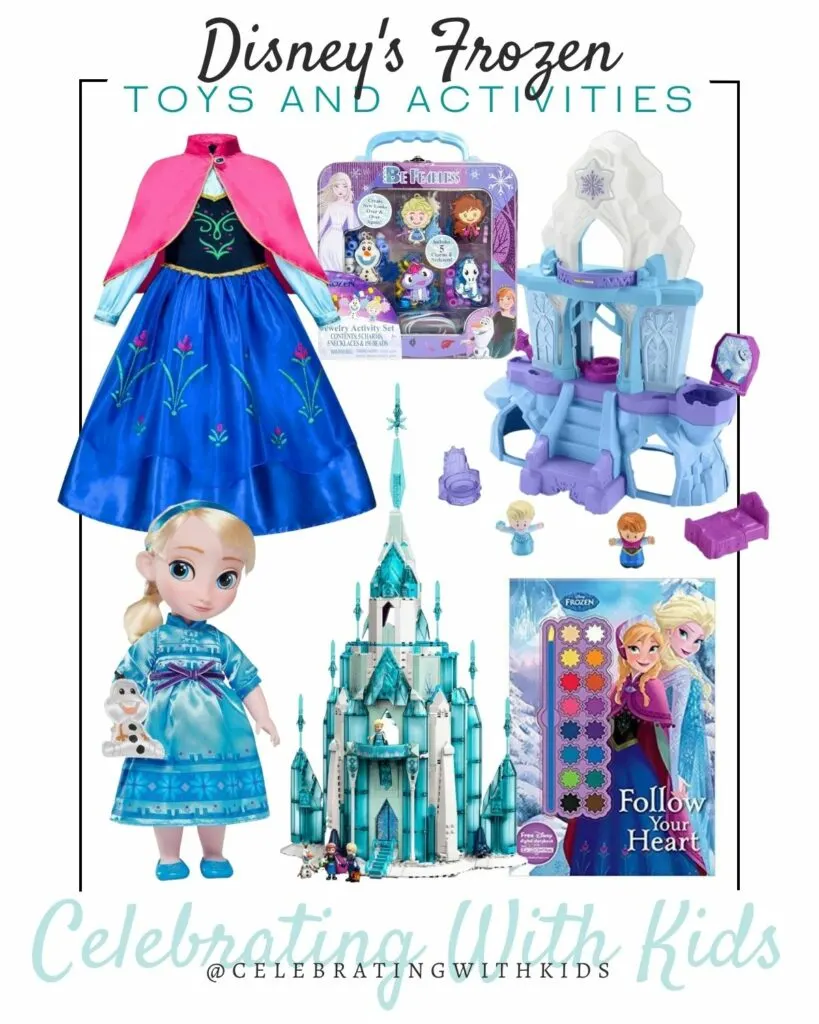 Click here to shop the items in this collage!
The best Frozen and Frozen 2 toys
Dolls
Dolls with hair
Dolls with hair are best for kids who are old enough to take care of them. Take it from the Elsa and Anna my 2 year old has tortured 😀
There are adorable Elsa and Anna dolls that look like little girls that we have. There are also more adult looking versions.
SHOP FROZEN DOLLS WITH HAIR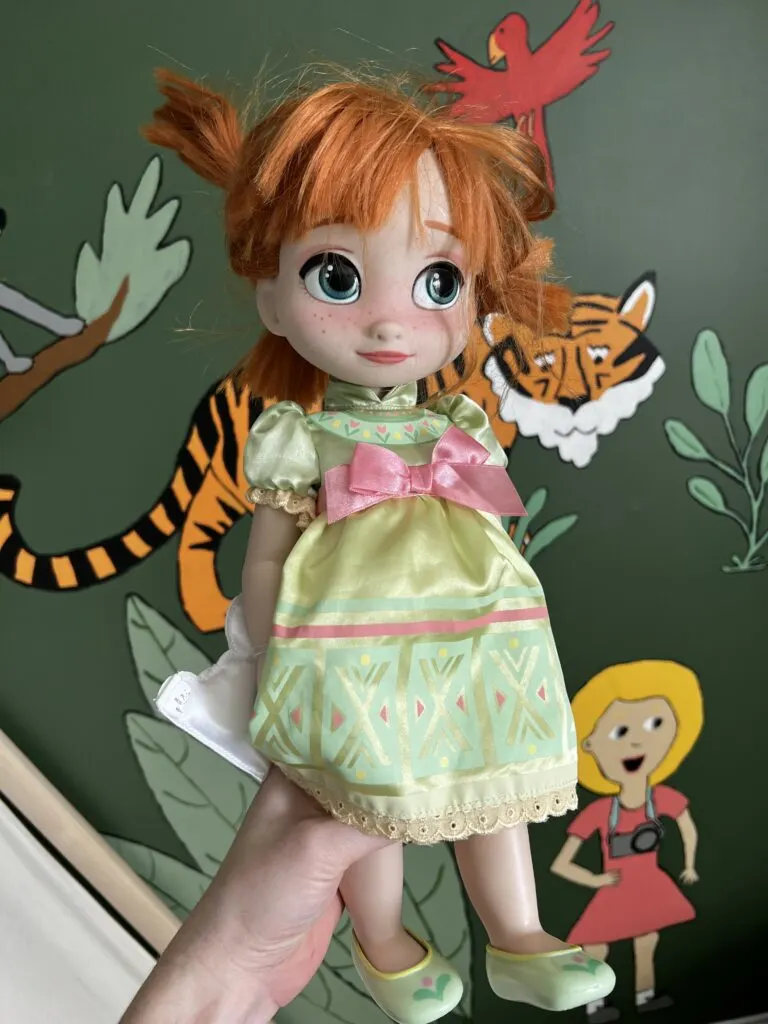 For younger kids, I highly recommend the plush, hair-free doll option.
SHOP PLUSH FROZEN DOLLS
These are more figures than fashion dolls, but they are a huge hit in my house. I highly recommend them for younger kids – maybe 3 and under – or to go with the little people castle and sleigh!
SHOP FROZEN LITTLE PEOPLE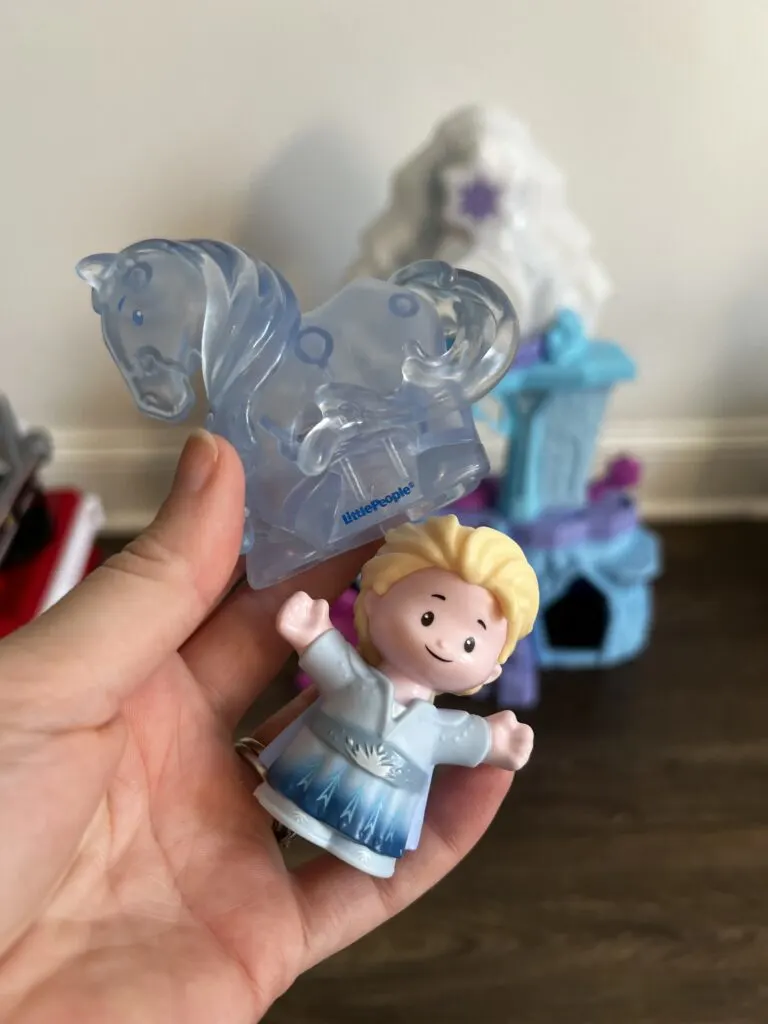 Not exactly dolls, but all kids love Squishmallows, why not grab them a squishy Anna!
Castles
My kids have this little people Arendelle castle and it's an absolute favorite, play with every day toy. There are a few slightly different versions of the castle, so be sure to shop around and find the one you like the best!
This is a much larger (but folds up) castle option, great for larger dolls!
SHOP FROZEN CASTLES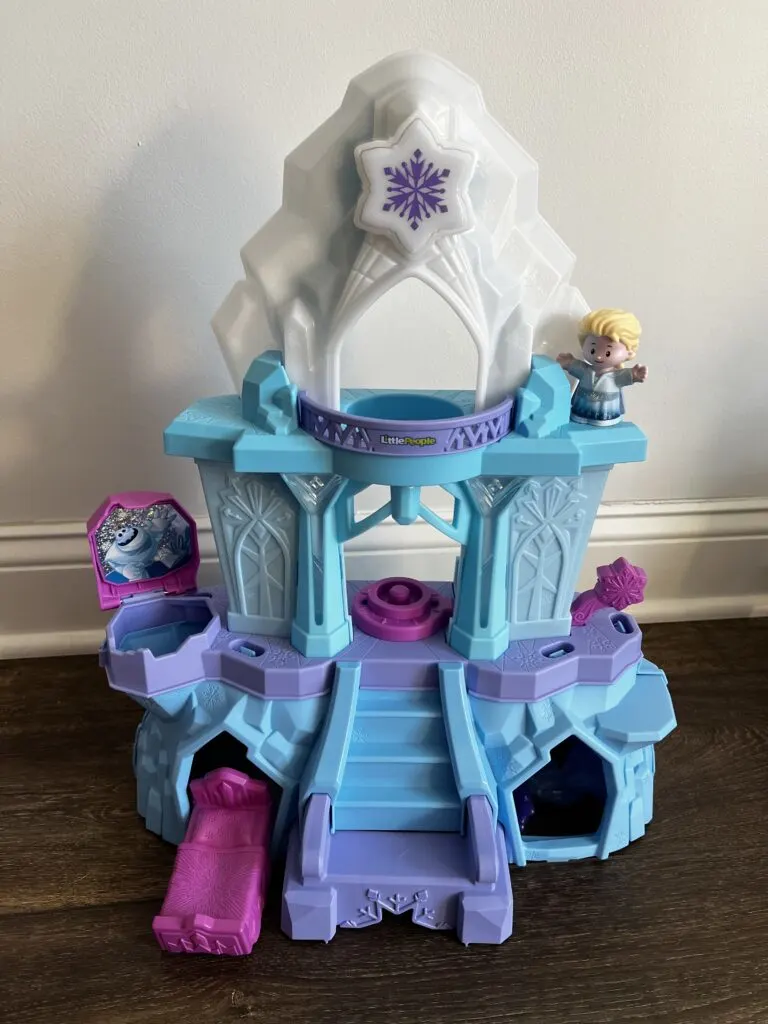 Plastic Toys
This is another Little People set. It really rolls and comes with a Sven and Anna and Christophe. This is a huge hit in my house, too!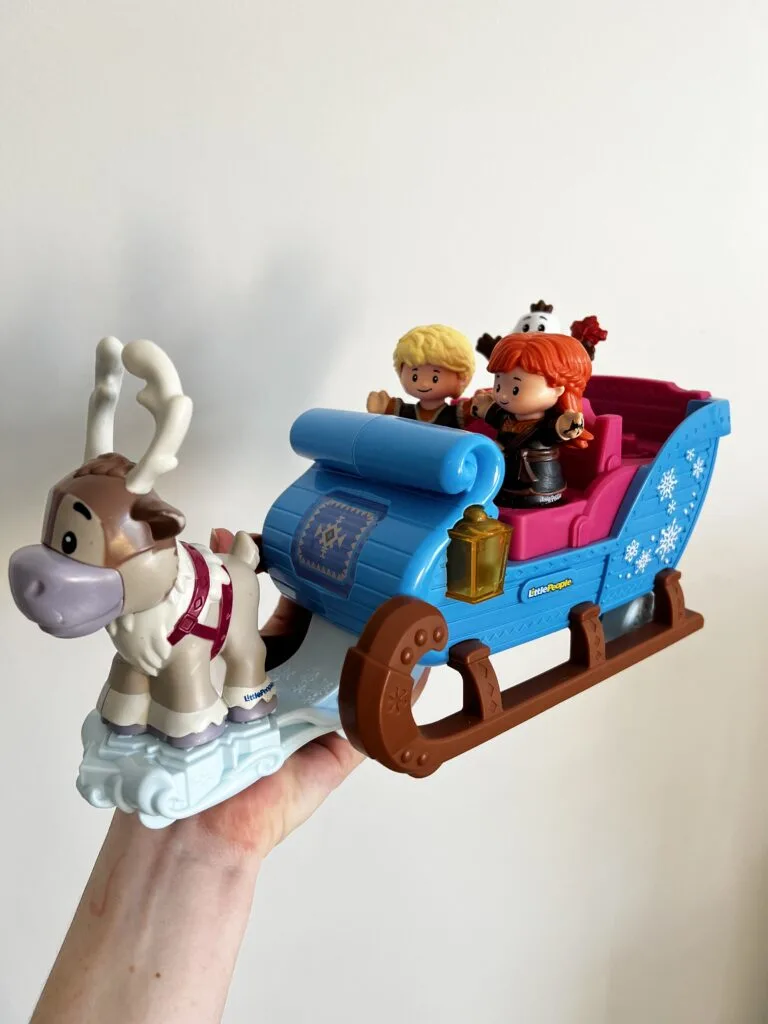 This pop up play set has 2 Elsa dolls and slides inside a suitcase. Perfect for playing on the go!
Clothing
Pajamas
There are a ton of options for two piece Frozen PJs, nightgowns, and even Frozen PJs for boys!
Dress
There are tons of more casual dresses and clothing sets for everyday wear.
SHOP FROZEN CLOTHING
There are also a few options for Anna and Elsa slippers. My daughter has these, but you can't go wrong with any of these choices!
SHOP FROZEN SLIPPERS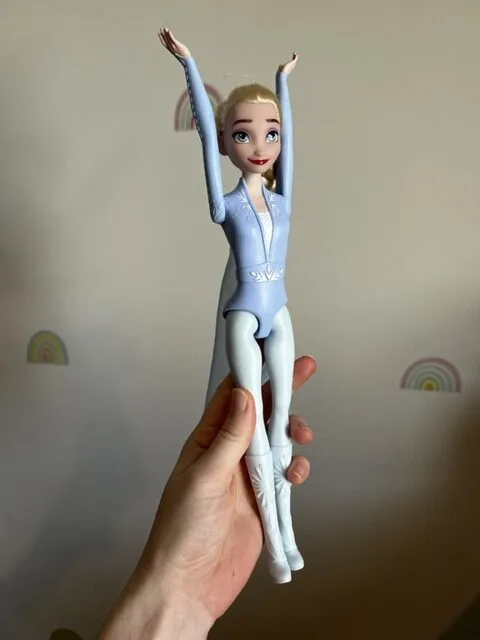 Don't forget the bike helmet! My daughter has one with reversible sequins and wow it's a huge hit!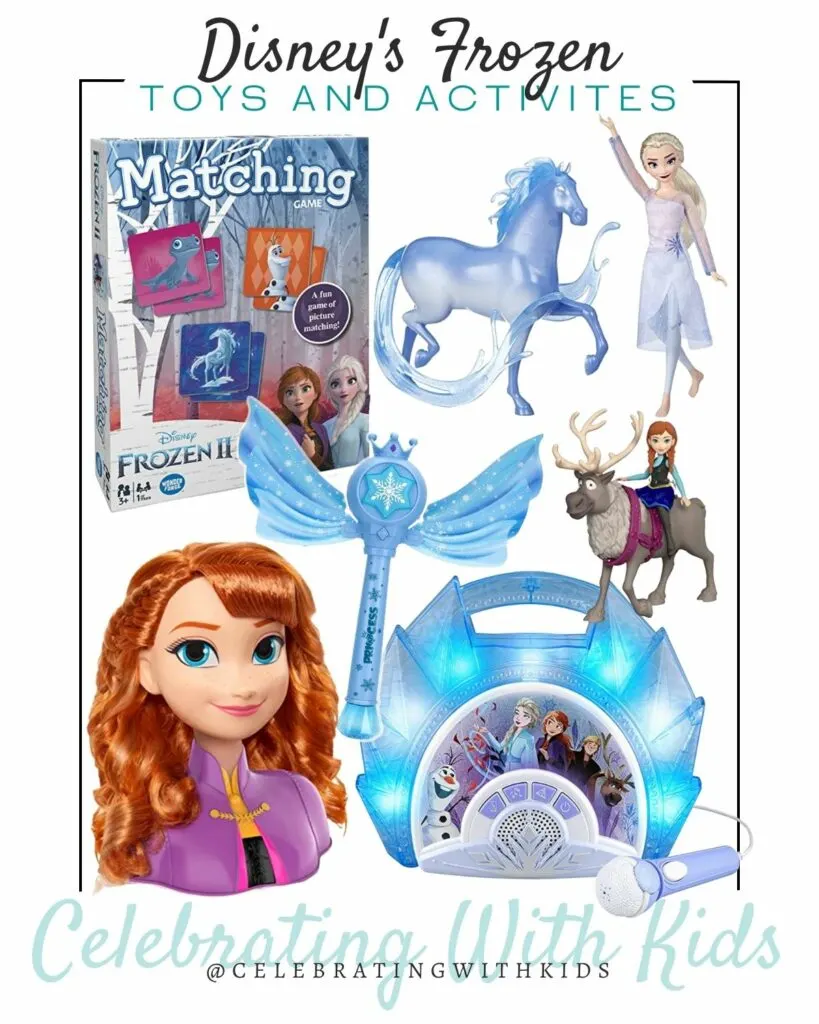 Click here to shop the items in this collage!
SHOP FROZEN HELMETS
Dress up clothes
There are a ton of dress up clothes for Anna, Elsa, and even Olaf! They are great for Halloween or everyday imaginative play!
SHOP FROZEN DRESS UP CLOTHES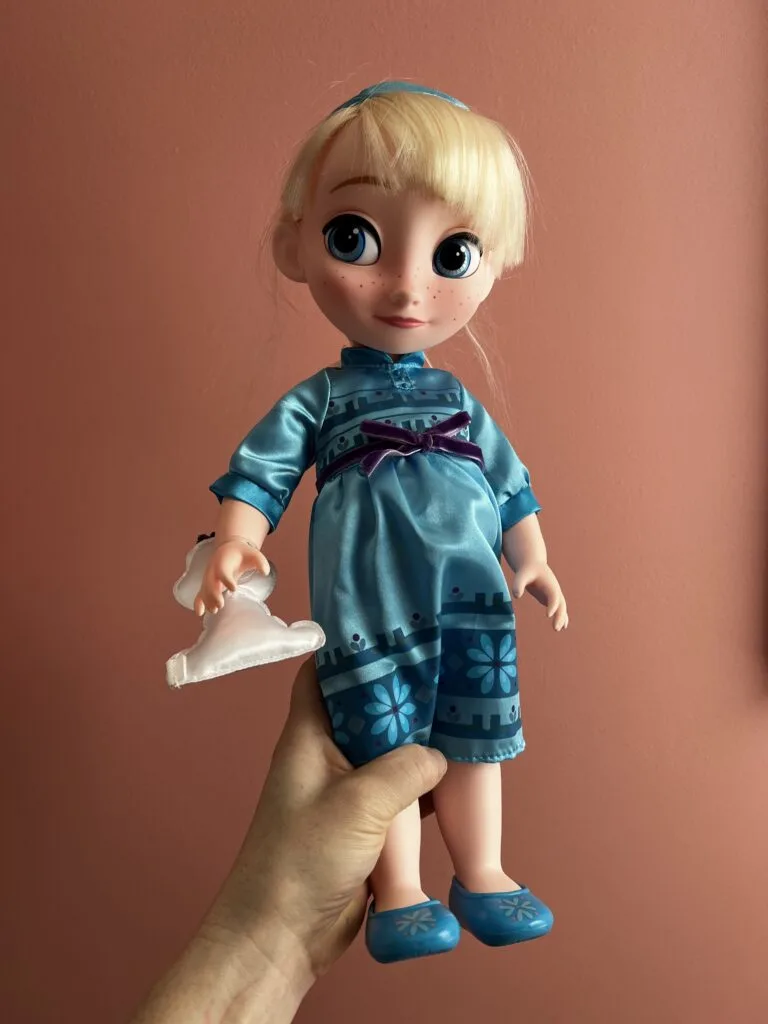 Books
My kids love reading and are always excited to receive a book as a gift. There are Frozen books from golden books to 5 minute stories to board book sets!
SHOP FROZEN BOOKS
Kits
There are a ton of Frozen kits from standard castles to duplo legos toy sets for smaller kids!
SHOP FROZEN LEGOS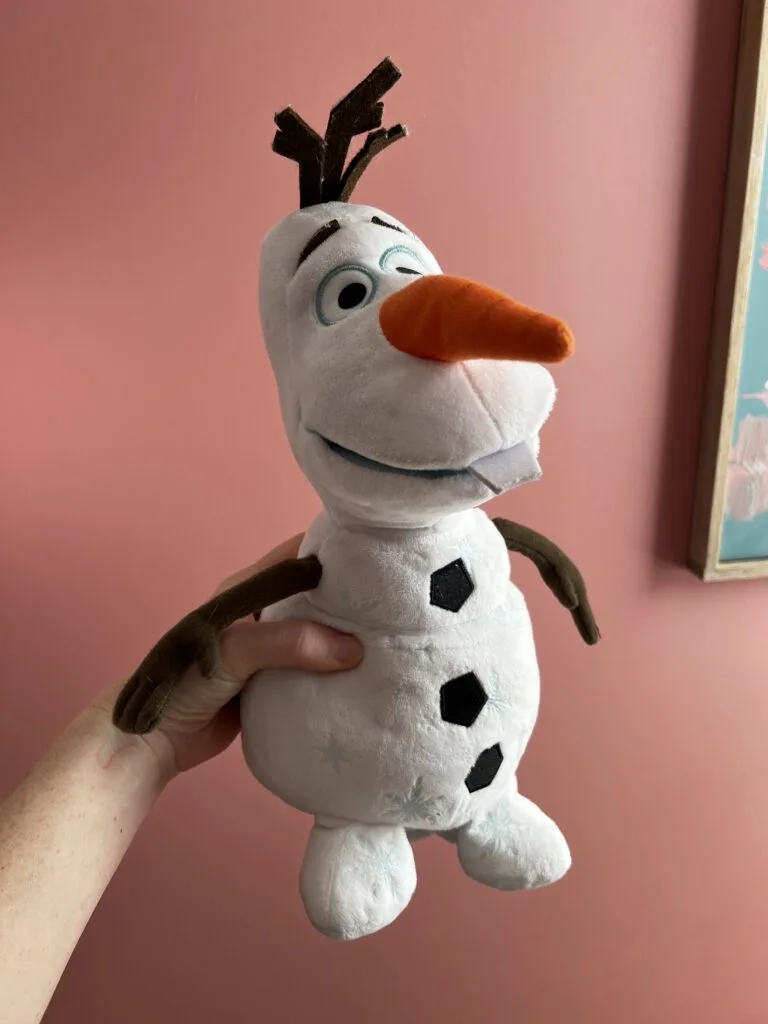 There are Frozen versions of a lot of board games including Memory and Monopoly!
SHOP FROZEN GAMES
If your child likes making jewelry and loves Frozen, you're going to need to grab them this kit!
If your kids love coloring, they will love a Frozen coloring book or coloring pages!
SHOP FROZEN COLORING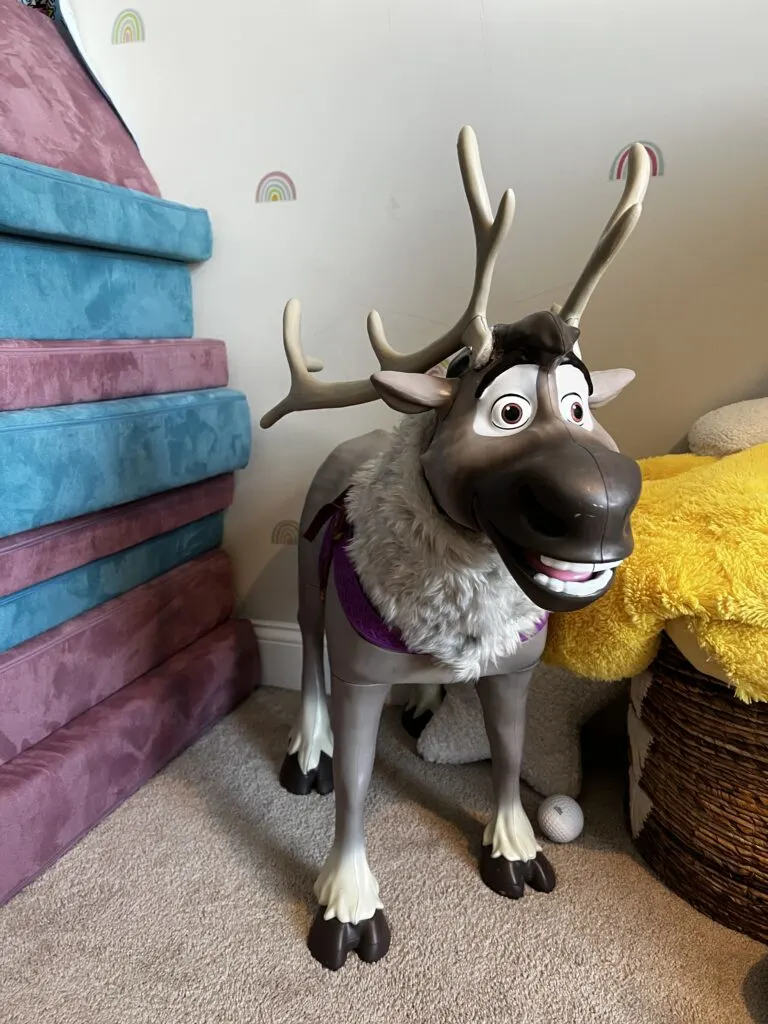 There are a ton of Frozen sticker books and sticker sets to choose from, too!
SHOP FROZEN STICKERS
Play doh loving kids will love using the various plastic pieces to shape play doh into Elsa's snow!
Other stuff
Disney knows dollar signs when they see them, and they have put Anna and Elsa on almost everything. Here are a few random favorites!
SHOP RANDOM FROZEN GIFTS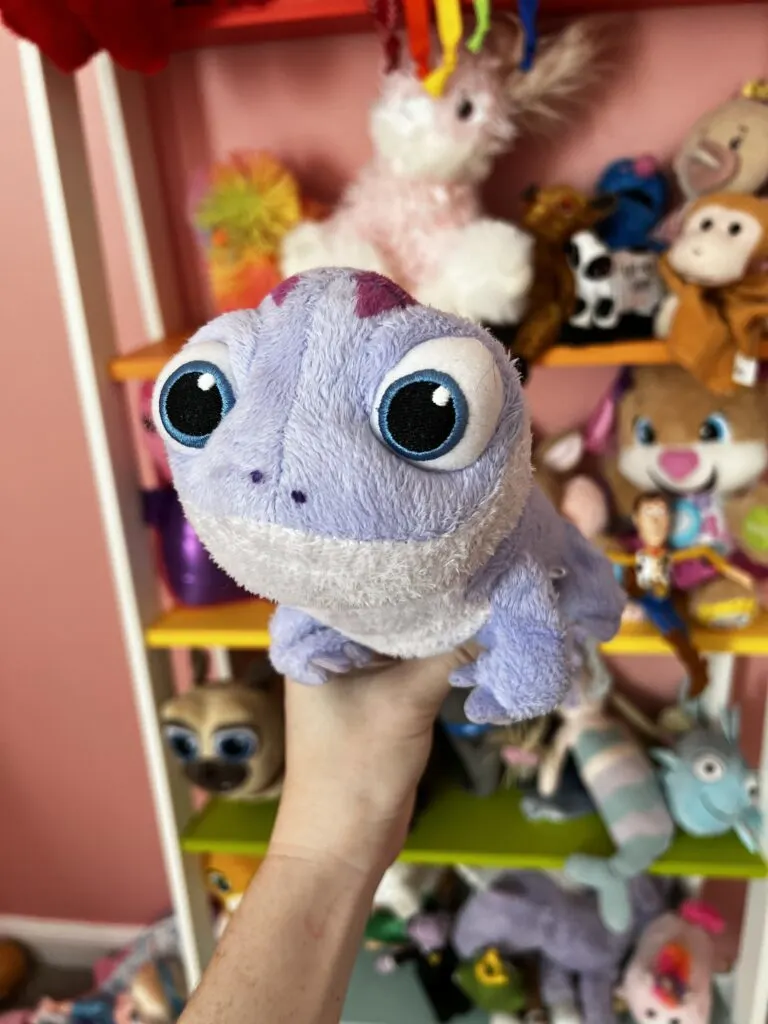 The best Frozen toys by age
The best Frozen toys for 2 year olds
The best Frozen toys for 3 year olds
The best Frozen toys for 4 year olds
The best Frozen toys for older kids
What are your favorite Elsa and Anna toys?!