Interested in planning or participating in a beer exchange on your upcoming Disney cruise? Here's all the tips and tricks we learned!
One of the best things about a Disney cruise is all of the camaraderie between people who have never met!
The unofficial "Fish Extender" program is wonderful, setting up groups to exchange little gifts between families on the cruise to keep everyone feeling involved.
Another great aspect is that there is a Facebook group set up before every cruise where people who are going on every specific cruise can join and discuss plans for the cruise, ask questions and get to know each other.
It was on this Facebook group leading up to our cruise on the Disney Fantasy that someone set up a beer exchange for anyone that wanted to participate.
A beer exchange is a great way to get to know other cruisers from around the country that are getting together for the same cruise.
Every adult cruise passenger is allowed to bring a six pack of beer on the cruise, so this is a great opportunity to bring your favorite beer, but swap them out to try beers from all over.
Let's talk about how to set up a beer exchange for your upcoming Disney cruise!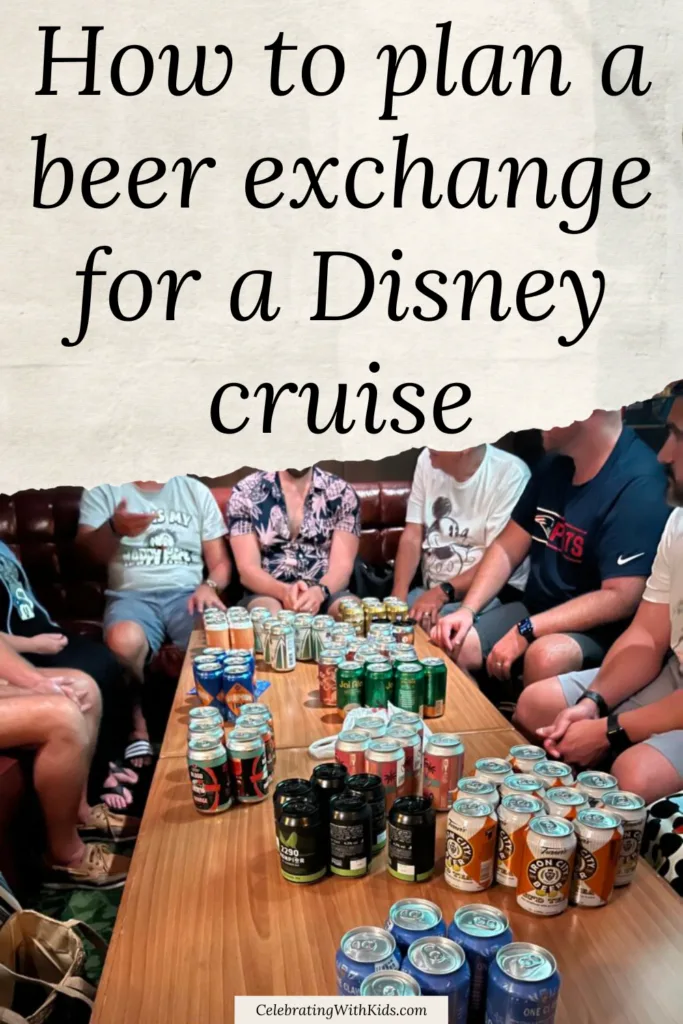 Disney cruise beer exchange
The beer exchange on our Disney cruise turned out so much better than I was expecting! Truly, I had no idea what to expect, but this wasn't it.
I signed up in advance to participate and got put into the group and we met on the first night of our cruise. Everyone had a great time and I was able to see the participants around the cruise lots of other times throughout the week and had someone to talk to.
Let's talk about what to expect, how to set up a beer exchange of your own, or just what you need to know to participate in one!
Keep in mind that these beer exchanges are not officially endorsed or set up by Disney, but are merely done by cruisers themselves. You'll need to make sure you're following all rules for bringing alcohol and where you're doing the swap.
Make sure you check out our full review of our 7 night Disney Fantasy cruise!
How to set up a Disney cruise beer exchange
If you're looking to set up a Disney cruise beer exchange, start out by going onto the Facebook group for your upcoming cruise.
Then, create a post about hosting a beer exchange and ask that anyone who wants to participate either comment or send you a private message with their email address.
After you've gotten all the emails you're going to get, you'll want to set up a meeting time. Remember that on a cruise, not everyone is going to have a wifi package and you won't be able to contact everyone, so set up the meeting place before the cruise starts.
Set up a free Doodle poll offering a few times and ask people to vote on what time will work best for them. Keep in mind that people on the cruise will more likely than not be there with their kids, so it's probably best to make the options for after kids go to bed.
Good times to set up a beer exchange would be 8-9 p.m., 9-10 p.m. or 10-11 p.m.
Also, the beer exchange should definitely occur on the first night. Remember that people will want to drink their beers, so make sure to set it up for the first night so people can have all week to enjoy their beverages.
After you've set up the time, send a final email out to everyone telling them the final time and the meeting location.
The meeting location can be inside of a bar, in a public area or outside at a common area. Our exchange happened inside of a bar on the ship that someone in the group booked because of their status with Disney.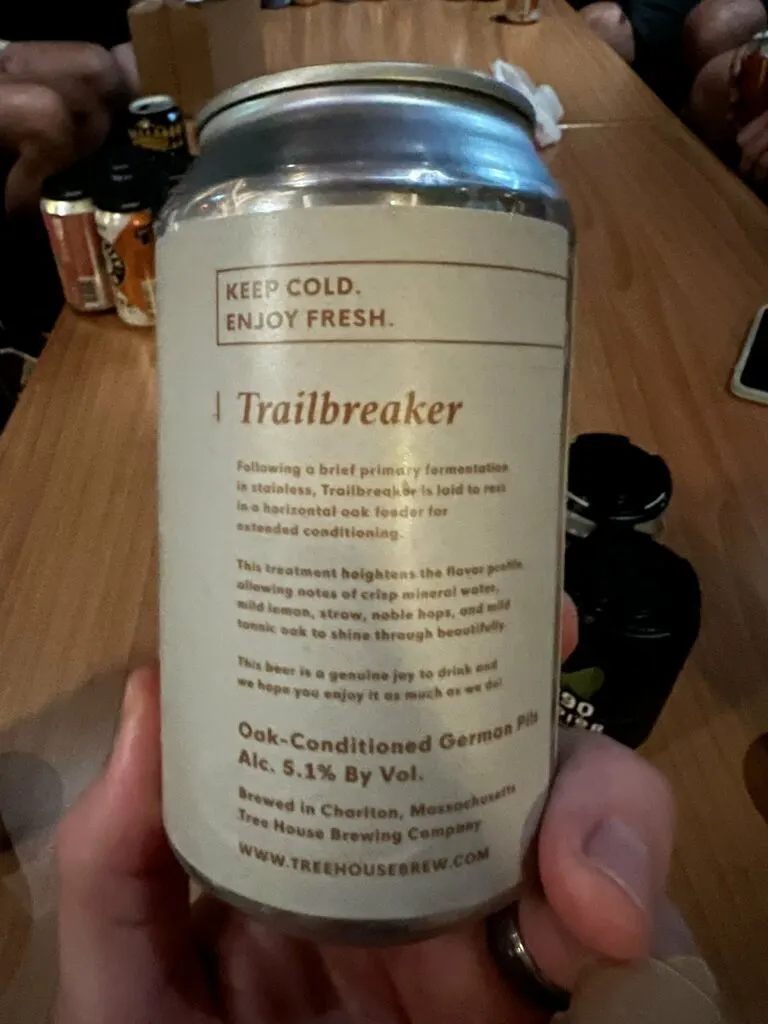 What beer to bring for a Disney cruise beer exchange
If you're participating in a beer exchange on your next Disney cruise, here's what you should bring!
Remember that the limit for each adult cruiser is 6 beers, no more than 12 ounces. At our beer exchange, the common theme was "I wanted to bring this other beer, but they only sell 16 ounce cans."
That's a common problem with bringing beers from local breweries, but that's the rules.
Speaking of local breweries, make sure you bring a local beer from where you live, not something mainstream. The point of the exchange is for people to get to try beers from all over the country.
For us, the coolest beer was one that a guy brought all the way from a brewery in Belgium. What a commitment from him to bring a 6 pack across international lines!
What to do at a Disney cruise beer exchange
Going into the beer exchange as a participant, I thought that there would be 6 other people in the group, 7 total including me, and that we would meet and each take one beer from every other person and go on our way. That's not how it went, and I'm glad for that.
After everyone gathers, put all the beers out on a table in the middle of everyone.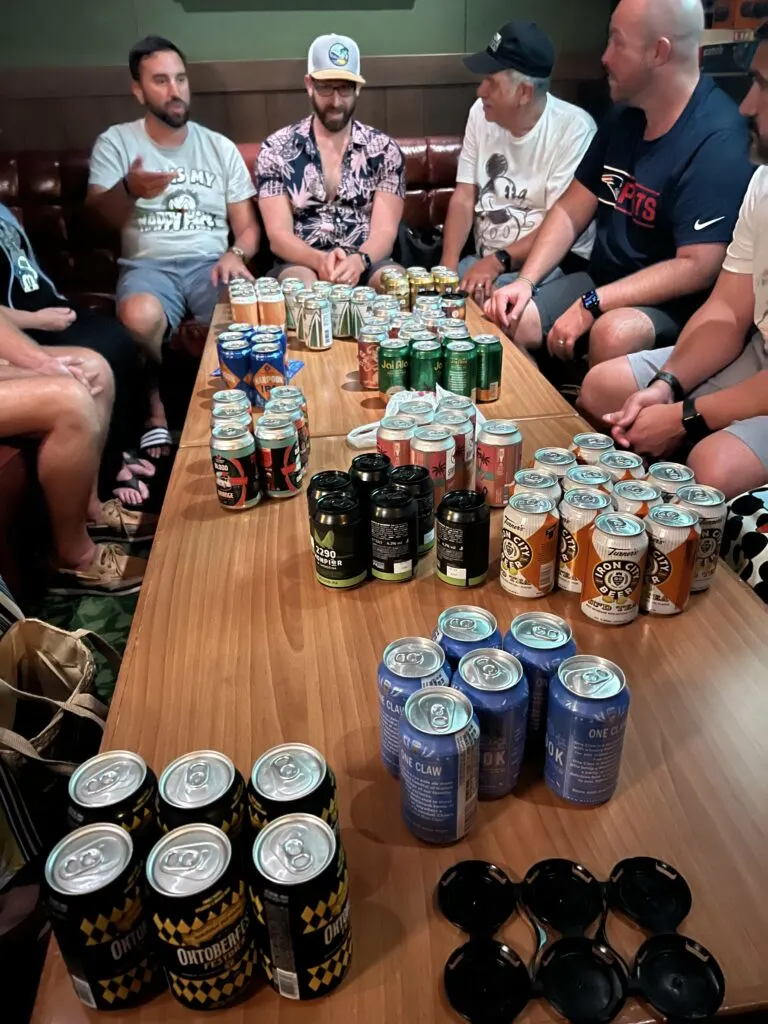 Then, go around the room and give everyone the chance to introduce themselves and talk about the beer that they brought. This will give everyone else information on all the available beer choices.
Then, hold a snake draft. Choose someone to go first and they get to pick any beer on the table.
Next, go clockwise around the group, each picking one beer until it gets to the last person. Then, that person gets to pick a second beer and the snake goes back around counterclockwise until it gets to the first person. They then get to pick two beers, and so on and so forth.
A snake draft is common practice for making picks because the first person gets the first choice, but they don't get to go again for awhile, but the person stuck with last gets to make two picks in a row.
Continue until everyone has selected their six beers to cover what they brought and then you're done!
Now the good part… enjoy one! Our group hung out for awhile and everyone drank one of the beers they chose. It was a great way to get to know each other.
A beer exchange is a great activity to put together or participate in on a Disney cruise and is a great way to get to know other people.
Before you go…
There's lots to know about a Disney cruise, like whether or not a Magic+ band is worth having on a Disney cruise or if the unlimited photo package on a Disney cruise is worth it.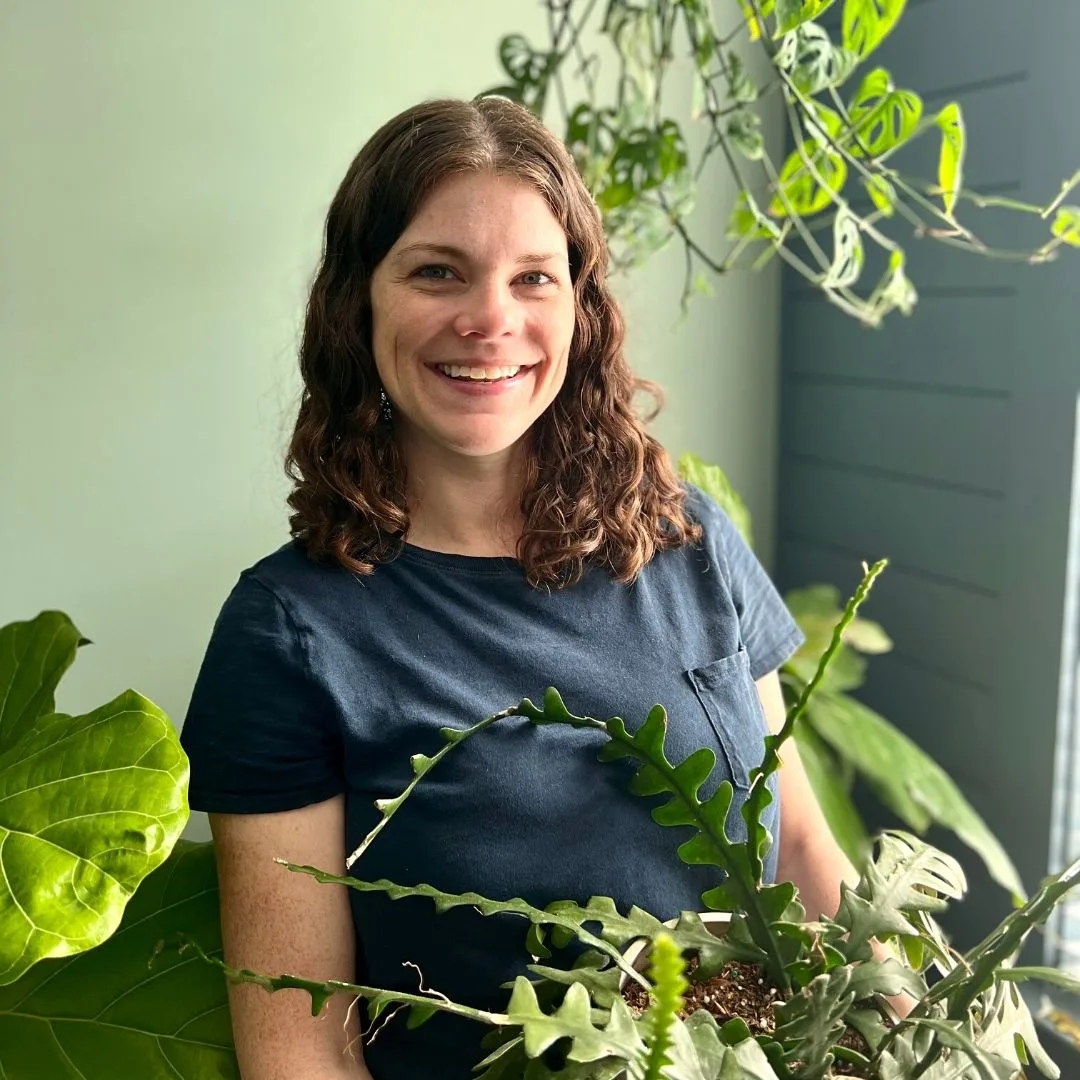 Hey there, I'm Morgan, the creative mind behind CelebratingWithKids.com! As a parent of two lively little ones, I've made it my mission to turn ordinary days into extraordinary adventures, sharing playful activities, thoughtful toy reviews, and delightful printables to help families celebrate every moment together. 🎉👨‍👩‍👧‍👦🎈