Discover the perfect outdoor gifts for 2-year-olds in our comprehensive guide. From sports-inspired toys to imaginative activities, explore engaging options designed to enhance your child's development and foster a love for outdoor play.
Shopping for a two year old can be tough, especially if it feels like your house is overflowing with toys as it is.
I love to encourage outdoor play with my kids and so I am always excited to gift them outdoor toys to encourage them to want to play outside.
I think, especially at the young age of two, playing outside is so important. That fresh air and sunshine is just good for kids.
Today I want to showcase some of our favorite outdoor toys that make great gift ideas for two-year-olds.
Hopefully, this will inspire you when shopping for gifts this season.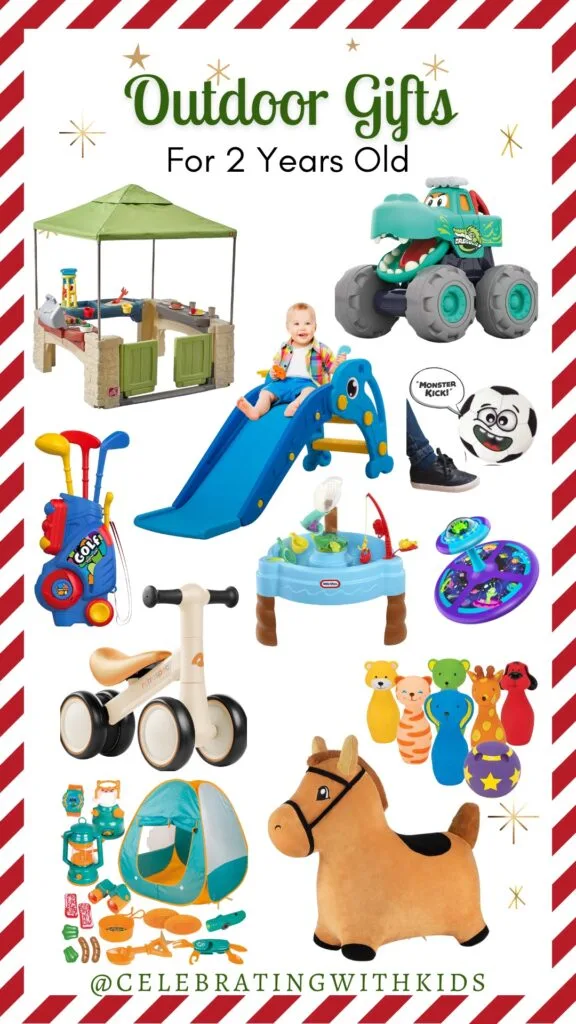 The Benefits of Outdoor Play for Toddlers
Outdoor play offers a lot of benefits for toddlers, shaping their cognitive, physical, and social development in many ways.
Cognitively, engaging with nature stimulates a child's curiosity and imagination.
Physically, outdoor play promotes gross motor skills, balance, and coordination.
Socially, outdoor play provides unique opportunities for toddlers to interact with peers and adults, fostering crucial social skills.
Criteria for Choosing Outdoor Gifts
There are a few things to keep in mind when choosing outdoor toys to gift a kid.
The most important thing is that they are age-appropriate. Consider safety, durability, and any educational or recreational value.
You want to choose toys that encourage physical activity, creativity, and imagination.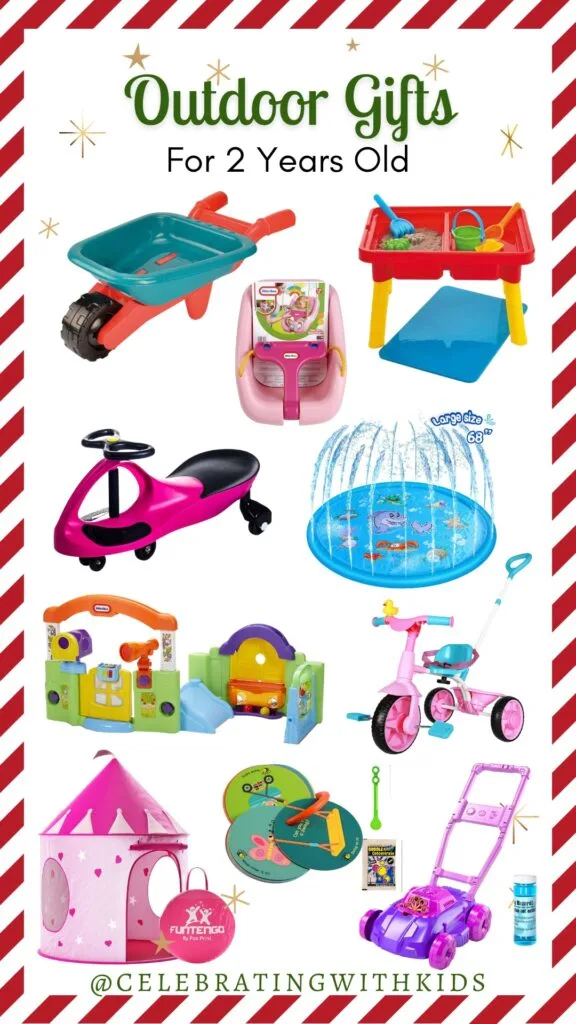 Outdoor gift ideas for 2 year olds
Here are our favorite outdoor toy gift ideas for 2 year olds!
Bubble Lawn Mower – Bubble fun in every step! This is great for early walkers and kids who love to zoom around after the real mower in the yard.
Bouncy Pals – These bouncy horses are fun for indoor or outdoor play. If you get two, you can let kids race in the grass!
Kids Gardening Tool Set – Kids will love joining the family in gardening with their own tool set!
Baby Walker Balance Bike – Boost your child's motor skills from walking to riding with the Baby Walker Balance Bike – a fantastic gift for 2-year-old girls and boys!
Little Tikes 2-in-1 Snug 'n Secure Swing – Give the perfect gift that swings fun into your child's playtime with the Little Tikes 2-in-1 Snug 'n Secure Swing featuring a high back and T-bar.
Little Tikes Fish 'n Splash Water Table – A splash table was my son's very favorite activity from 18 months to about 3 years old. This is really a must have if you can swing it!
Pop Up Tent with Kids Camping Gear Set – Set up the adventure with this Pop Up Tent and Kids Camping Gear Set, a perfect outdoor play experience for your little explorers!
Dinosaur Splash Pad Toy – Turn your backyard into a prehistoric splash zone with these Outdoor Sprinkler water toys.
Melissa & Doug K's Kids Bowling Friends Play Set – Bowling fun for your little ones! Set up and knock down the pins, all conveniently packed in a carrying case.
Interactive Toy Soccer Ball – Score big laughs and learning with this Interactive Toy Soccer Ball! Designed for toddlers, it's packed with music and sound effects that really draw this age in and get them interested.
2 IN 1 Slides with Basketball Hoop – Your little ones will love the excitement of the slide and the thrill of scoring baskets with the attached basketball hoop.
Light-Up Space Twister – With Light-Up Space Twister, toddlers can sit, twist, and spin in all directions. Featuring fantastic LED lights and an exciting outer space theme, this toy is a galactic adventure in every spin!
Monster Trucks – These Monster Trucks are perfect for 2-year-olds and offer friction-powered excitement (pull back and they zoon off!) Great if you have a driveway to roll them on, or they can play in the grass, they just won't roll as well.
Ride on Wiggle Car – Ride on Wiggle Car by Lil' Rider is the perfect ride-on toy for boys and girls. This is a great pre-balance bike option for getting kids used to rolling around.
Outdoor Toddler Scavenger Hunt Cards – Mix up your neighborhood walks with fun scavenger hunt cards. These encourage kids to pay attention to what's happening in nature around the,
Sand 'n Splash table – With the Sand 'n Splash table, the beach comes to your backyard! Let your kids dive into the sand and water with a variety of beach toys.
Princess Castle Play Tent – This pop-up pink playhouse is a dream come true for kids. It even features glow-in-the-dark stars for extra enchantment. And when playtime is over, it conveniently folds into a carrying case.
Toddler Golf Set – Tee up endless fun for your little ones! Perfect for ages 2-5, this set comes with a golf cart featuring a unique shoulder strap design, making it super easy to carry around.
2 in 1 Kids Tricycles – Multi-Mode Fun for Kids! This unique trike offers both parent-push and cycling modes, plus a nifty storage bin for their favorite toys.
All Around Playtime Patio – This is a great outdoor play kitchen with a cover. It includes a play grill, sinks, and lots of space for kids to play restaurant. It's great as a mud kitchen, too!
Little Tikes Activity Garden Playhouse – This little play house is a great option for small kids and even has a tiny built in slide!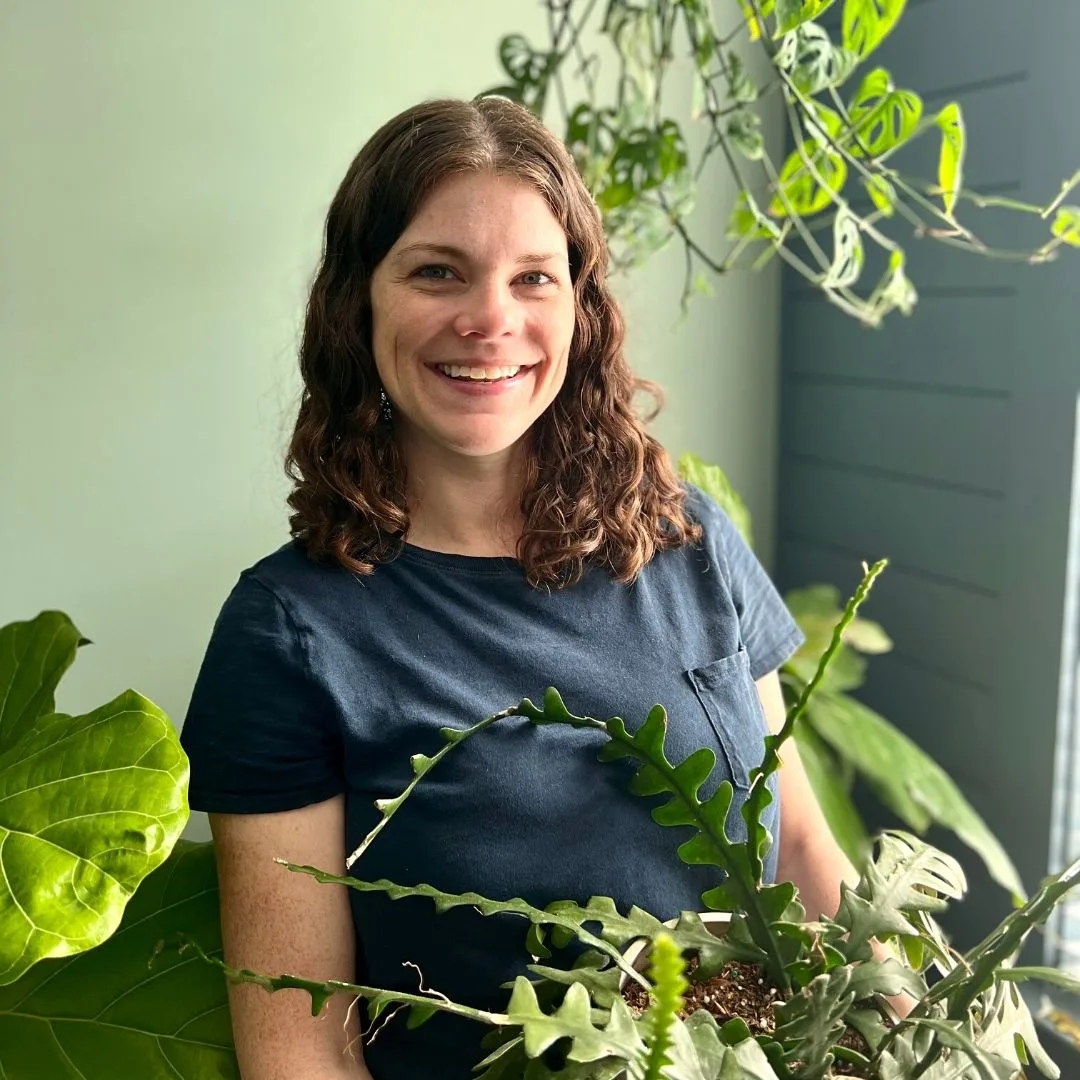 Hey there, I'm Morgan, the creative mind behind CelebratingWithKids.com! As a parent of two lively little ones, I've made it my mission to turn ordinary days into extraordinary adventures, sharing playful activities, thoughtful toy reviews, and delightful printables to help families celebrate every moment together. 🎉👨‍👩‍👧‍👦🎈