Planning your Christmas dinner? Here are some of the best Christmas vegetable side dishes ideas and recipes!
Planning a menu for Christmas can be overwhelming whether you are feeding just your family or a whole crowd.
I know that a lot of families like to do the same main dish each year (usually a turkey, ham, or seafood) and swap out the sides.
When planning Christmas dinner, don't skip the veggies! They are an important part of any balanced meal – even Christmas dinner!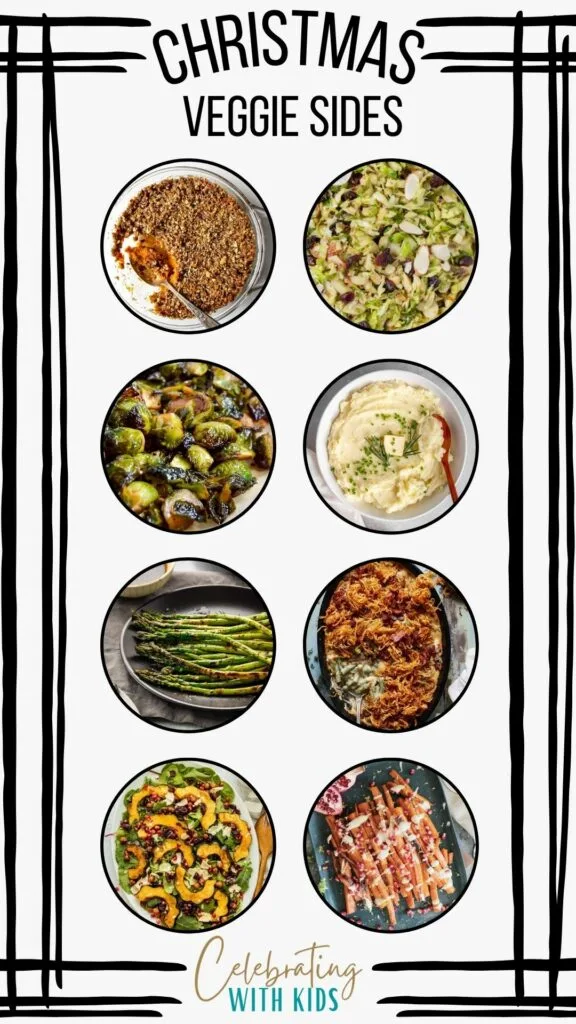 Be sure to check out my other Christmas foods for kids ideas:
Why Include Christmas Vegetable Side Dishes
When planning your Christmas menu, it's always good to account for a few veggie sides. I usually like to have 1 potato, 1 green, and one other veg – but obviously scale this up or down depending on how many people you are feeding!
Veggies complement the main dish, add flavor and texture to the meal, and a lot of times add really pretty color to your plate!
Quick and Easy Grab-and-Go Veggie Side Dishes
If your Christmas is too busy to have the luxury of cooking from scratch, here are ten zero-cooking vegetable side dish options that you can simply grab and go!
Pre-washed salad mix with a variety of greens, such as lettuce, spinach, and arugula, accompanied by a selection of dressings.
Fresh vegetable crudités, including baby carrots, celery sticks, cherry tomatoes, and cucumber slices, served with dip.
Ready-to-eat pre-cut fruit and vegetable platters, offering an assortment of seasonal produce like snap peas, bell pepper strips, and watermelon cubes.
Marinated artichoke hearts and roasted red peppers, available in jars, for a burst of flavor and vibrant colors on your holiday table.
Deli-style pickles and pickled vegetables, such as cornichons, pickled beets, or sauerkraut, for tangy and zesty additions.
Marinated vegetable salads, like Greek or Mediterranean-style, found in the refrigerated section of your grocery store.
Canned or jarred roasted peppers, a versatile ingredient that can be added to salads, sandwiches, or antipasto platters.
Hummus with an array of dippable veggies, such as baby carrots, sliced bell peppers, or sugar snap peas.
Ready-to-serve coleslaw or cabbage salad kits, conveniently pre-packaged with dressing and toppings.
Antipasto platter with an assortment of marinated vegetables, olives, and cheese cubes, creating a flavorful and fuss-free option.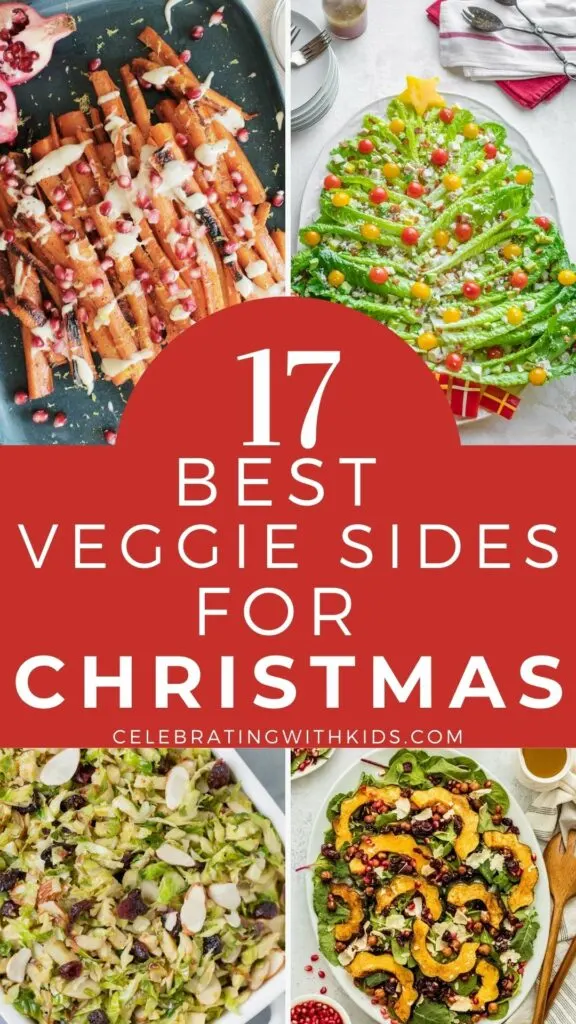 Recipe Ideas for Christmas Vegetable Side Dishes
Here are some recipes for delicious vegetable side dishes to make for Christmas!
Best Christmas vegetable side dishes
Here are the best Christmas vegetable side dishes to serve on Christmas!
What's your favorite veggie to serve on Christmas?!