Looking for easy but festive snacks to serve on Christmas Eve? Here are a ton of easy Christmas Eve snacks ideas!
Christmas Eve is such a fun time. No matter what your traditions are, it is filled with anticipation and excitement.
Some people host friends or family on Christmas Eve, some go to church, some open a few presents.
Whatever you plan to do, you can't go wrong with serving special Christmas Eve snacks!
This could be appetizers, finger foods, or more snacky treats. Either way, they are a hit!
Let's talk about some of the best easy and delicious snack ideas for a memorable Christmas Eve!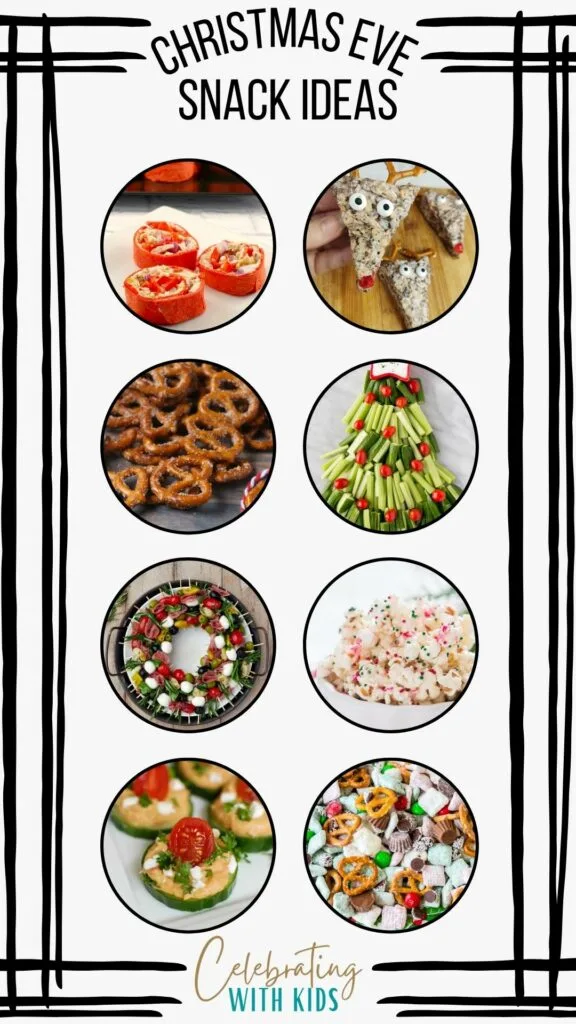 Be sure to check out my other Christmas foods for kids ideas:
The Appeal of Christmas Eve Snacks
Snacks are versatile, easy to prepare, and a festive touch for your Christmas Eve celebration!
Versatile options
Christmas Eve snacks offer a wide range of options that cater to the preferences of both children and adults. Whether you're planning a family gathering or hosting friends, these snacks can be enjoyed by everyone. From savory bites to sweet treats, there's something to please every palate.
Easy to prepare
With the hustle and bustle of the holiday season, simplicity is key. Christmas Eve snacks are designed to be easy to prepare, allowing you to spend more time enjoying the festivities and less time in the kitchen.
These recipes often involve simple ingredients and straightforward techniques, making them doable to even the busiest hosts.
Create a festive atmosphere
As guests gather around, nibbling on delightful treats, the aroma and flavors of these snacks set the mood for a memorable evening of togetherness and anticipation.
Additionally, serving Christmas Eve snacks can enhance specific moments of the evening. Whether you're opening presents, enjoying a casual gathering, or even snacking before heading to church, these treats provide a delightful accompaniment to the festivities.
They add an extra touch of magic to the occasion, making it even more special for everyone involved.
Convenient Pre-Made Snacks for Effortless Christmas Eve Celebrations
When time and energy are limited, relying on pre-made snacks from the grocery store can be a fantastic option to simplify your Christmas Eve preparations.
Here are some pre-made snacks to grab and serve on Christmas Eve!
Cheese and cracker platter with a variety of cheeses, such as cheddar, gouda, and brie.
Assorted deli meats, like sliced ham, turkey, and salami, for quick and easy sandwiches or charcuterie.
Fresh fruit platter with an assortment of berries, grapes, melon, and pineapple.
Vegetable crudité platter with ready-to-eat baby carrots, cherry tomatoes, cucumber slices, and bell pepper strips, served with dip.
Gourmet popcorn flavors, such as caramel, white chocolate, or savory options, for a festive and satisfying snack.
Antipasto skewers with marinated olives, cherry tomatoes, mozzarella balls, and slices of salami or prosciutto.
Mini quiches or tartlets available in various flavors, including spinach and feta, mushroom, or bacon and cheese.
Frozen appetizers like mini meatballs, chicken wings, or spring rolls that can be quickly heated and served.
Decadent dessert bites like chocolate truffles, mini éclairs, or assorted cookies for a sweet finale to the evening.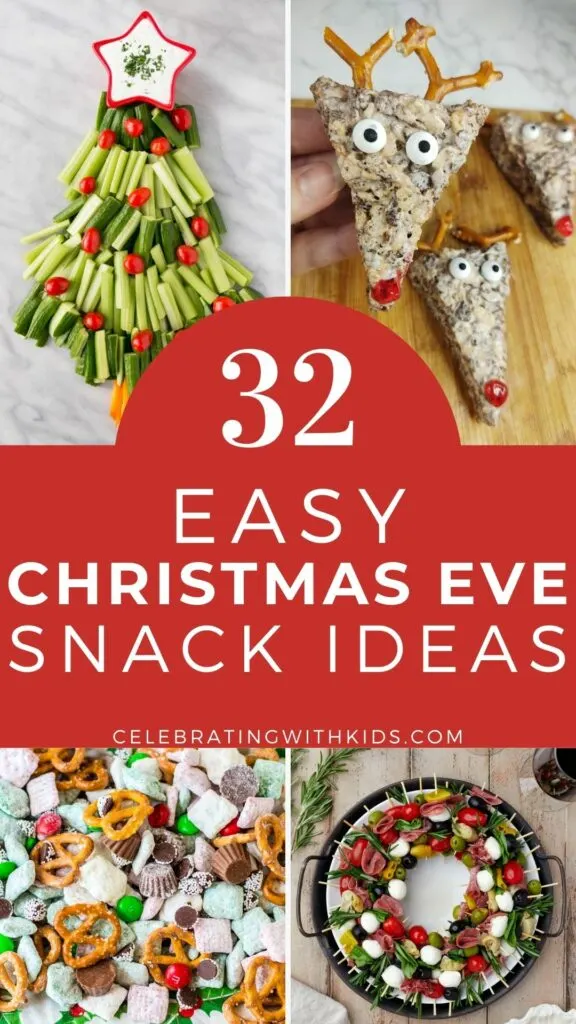 Ideas for Christmas Eve Snacks
Here are some specific recipe ideas for awesome Christmas Eve snacks!
Christmas Eve Snacks Recipe Ideas
Here are a ton of recipes for snacks that are perfect to serve on Christmas Eve!
What is your favorite Christmas Eve treat?