Looking for the best free baby boxes? Here are my favorite free goody bags for baby registries and other easy sign ups – and what's in them!
Today I want to talk about a baby-related freebie: Baby Boxes!
Several brands offer free boxes of sample-sized baby items for new moms to try out. It's a great way to sample new brands when you have no idea what you want or need.
There are tons of baby boxes available, but I have found that most charge you for at least shipping. I have done a lot of sample boxes in the past (like BirchBox) and have found that usually the sample sized products aren't worth the cost of shipping to me.
So, I decided to try only the free boxes. I have received boxes from Amazon and Baby List.
I signed up for a free Walmart box in… maybe April? It never came so it is not included in this review.
There's also a ton of brands that offer free items (such as baby moccasins) "just pay shipping". It is my experience that the shipping that they charge is more than the item is worth, but it's easy to get caught up and excited about "free stuff" such that you will pay it.
Just pause a moment, search how much the item is on Amazon, and assess whether it is really a good deal.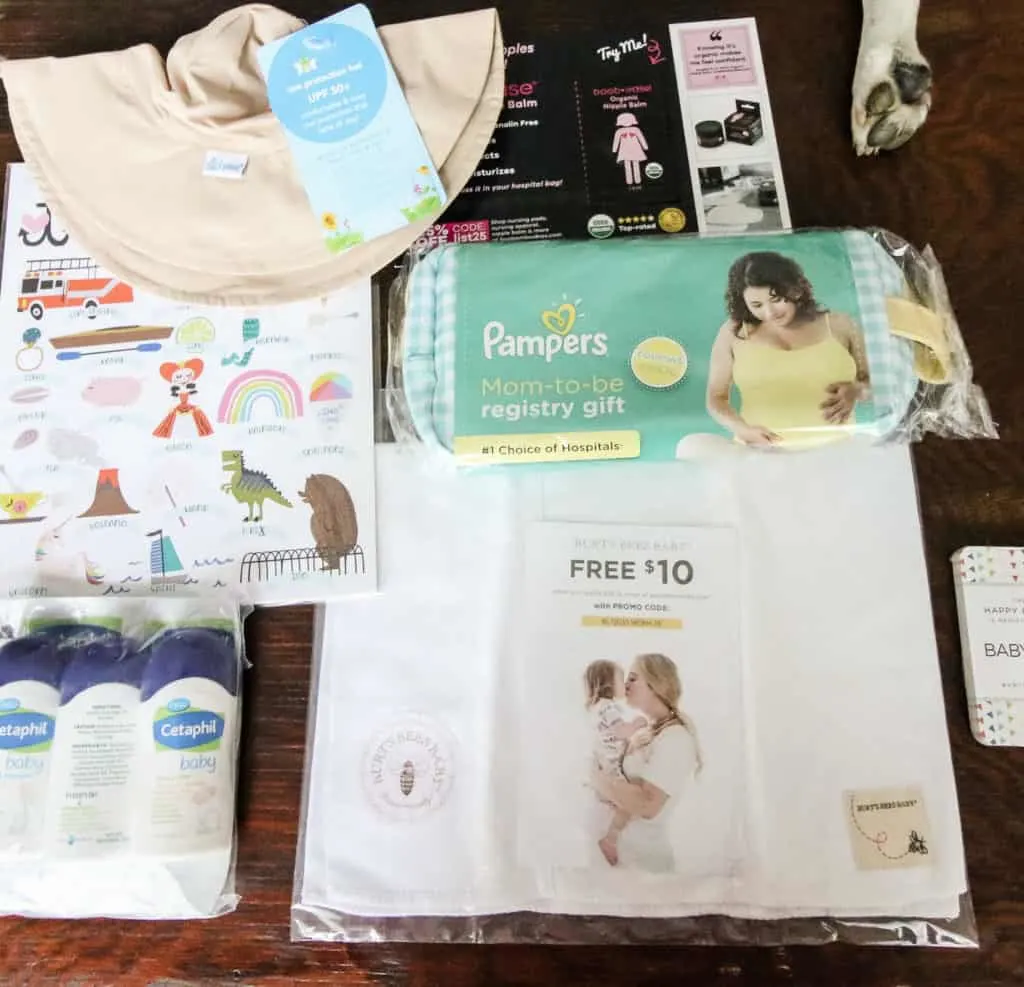 The Baby List Free Baby Box
Babylist is basically a universal registry.
You can add registries from different sites (Amazon, Walmart, Target, Pottery Barn, there is a huge list) and group them all in one place.
This could be very convenient if you want specific items from specific stores and one link to send to friends.
To qualify for a free box you need to: create a babylist with complete contact info, have a due date in the next 9 months, add 3 items to your registry from the babylist store, add 3 items from a non-babylist store, live in the USA.
Here's what my box included:
tan baby sun hat – really nice item, not a color I would ever pick, but great gift
nipple cream
small zipper bag with diaper sample,
burts bees burp cloth + coupon
babylist insert cards for shower invitations
3x travel sized cetaphil
ABCs poster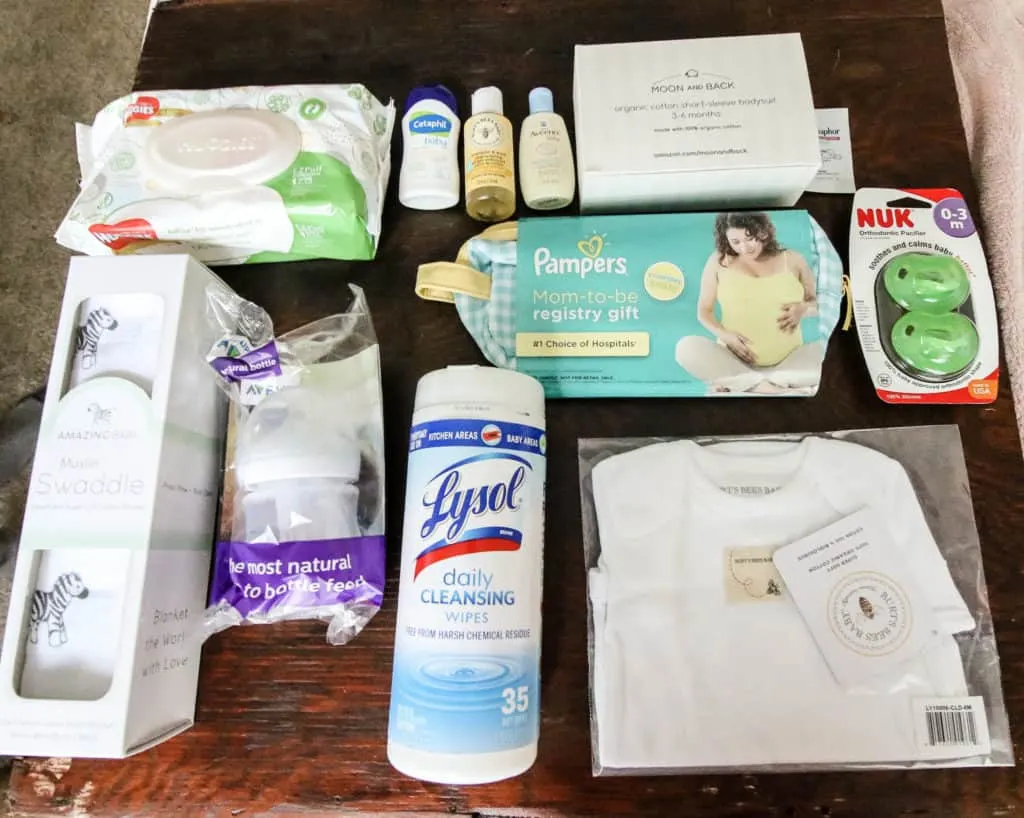 The Amazon Registry Free Baby Box
The best box was from Amazon. I intend for our actual, live registry to be on amazon anyways, so this was a given for me!
To qualify for the free box you need to: create an Amazon registry, have a Prime account, complete the registry by either adding an item for each category or just checking the box next to each category, and make a $10 purchase off of your registry.
The registry has a few other benefits. A week after ordering my box, I got a notification on my registry that I qualified for another free gift and selected a teething scarf. Also, if you spend $1,000 in qualified "Baby Bucks" eligible purchases off of your registry, you get $150 in free diapers.
I know that sounds like a lot, but we are planning to buy some large items including a car seat and a glider off of Amazon so it will not be that hard to hit.
My suggestion is to add any purchase of baby or pregnancy related items to your registry before you buy it for yourself. Every little bit helps!
Here's what was in my box:
full size pack wipes
3 travel size lotions – cetaphil, burts bees, aveeno
moon and back onesie
pack of 2 pacifiers
the same zipper bag with diaper sample
burts bees onesie and coupon
full size lysol wipes
a baby bottle
zebra swaddle blanket
I really enjoyed receiving these registry welcome boxes, but nothing was super great – it was definitely all sample quality.
It really reinforced that I am glad I didn't pay anything – even just a shipping fee – for these free baby samples!
Do you have any favorite freebies?