Embark on a festive adventure with our Golf Cart Scavenger Hunt! Download our FREE printable, and turn your neighborhood into a celebration of cheer. Get ready for laughter, surprises, and memorable moments with our convenient and exciting scavenger hunt for kids and families!
Having a golf cart is a ton of fun – we love riding ours around the neighborhood, taking it to the pool, and using it to check out holiday decorations.
A lot of people in our neighborhood have golf carts and so they have become a part of the neighborhood parties and holiday festivities.
There are golf cart decorating contests, golf cart parades, and even golf cart scavenger hunts!
Today I am excited to share more about golf cart scavenger hunts with you, and to share a free printable so you can plan a golf cart scavenger hunt yourself!
These treasure hunts are suitable for both adults and kids, and they bring people together in a unique way.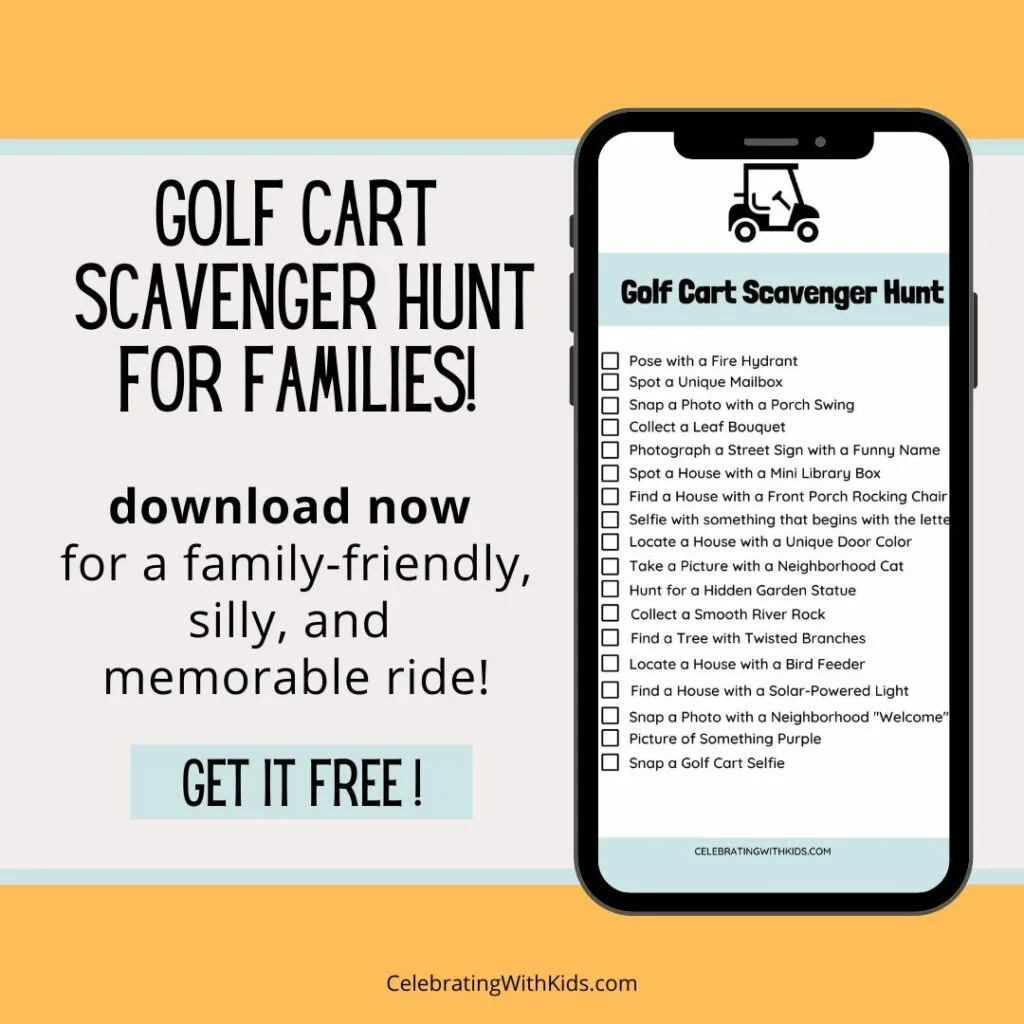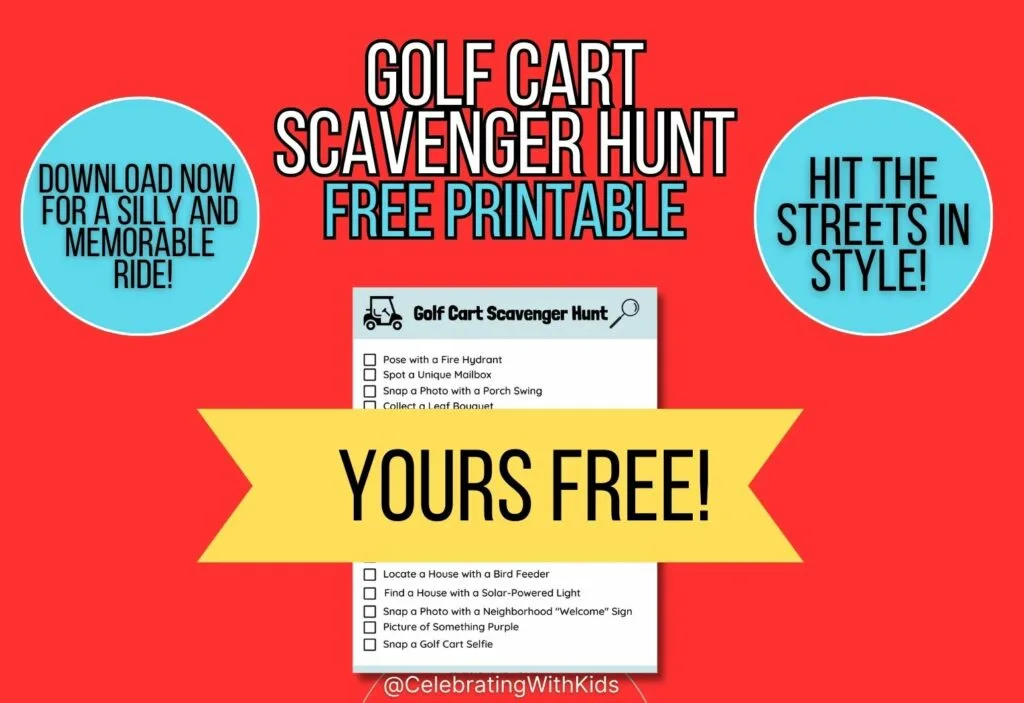 You can't beat the convenience of having pre-written clues to make the organization of your even even easier!
How to Organize Your Golf Cart Scavenger Hunt
Hosting on a golf cart scavenger hunt requires a bit of planning to ensure everyone has a fantastic time.
Here are some practical tips to make your adventure seamless and enjoyable:
Choose Your Route
Decide on the route for your scavenger hunt. Opt for a mix of residential areas and local points of interest to keep things interesting. Consider the length of the route based on the attention span of the participants.
Set a Time Limit
Establish a reasonable time limit for the scavenger hunt. This adds an element of excitement and keeps the activity from dragging on. Factor in the number of clues and the overall distance of your chosen route.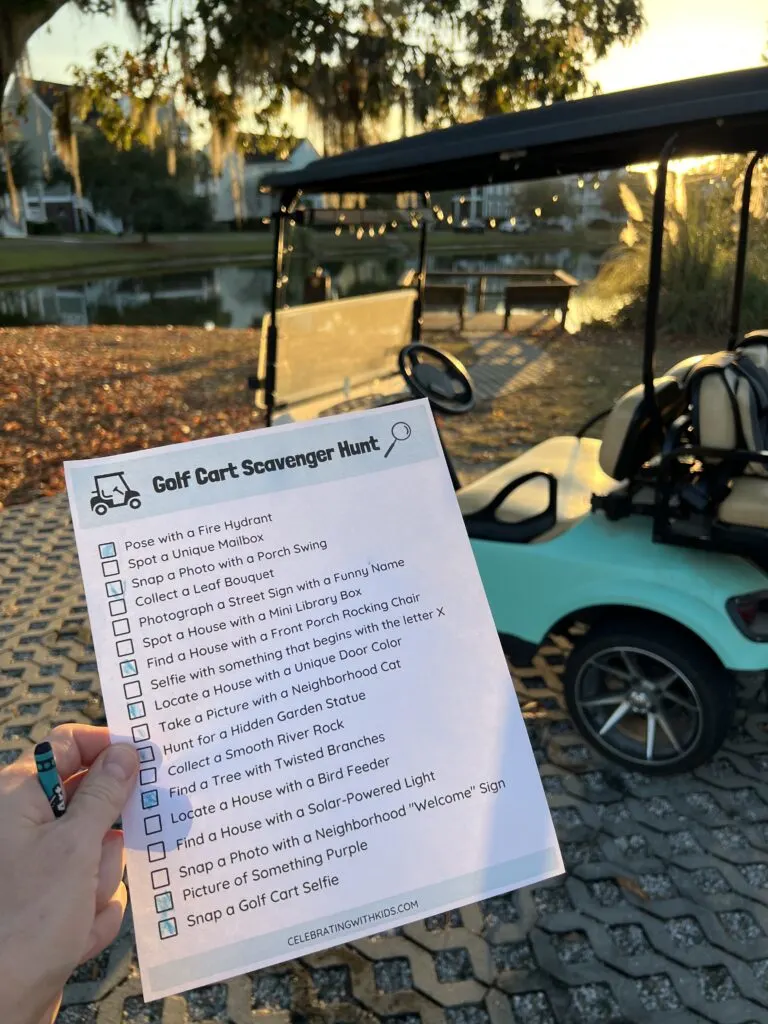 Involve Your Neighbors
Extend the fun beyond your immediate family by involving neighbors. Share the details of the scavenger hunt with others in your community, inviting them to participate. This not only creates a sense of camaraderie but also enhances the overall experience.
Consider Safety Precautions
Prioritize safety by ensuring that your chosen route is safe for golf cart travel. Avoid busy roads and ensure that participants are familiar with basic golf cart safety rules. If kids are involved, brief them on safe riding practices.
Prepare for Surprises
Embrace spontaneity by incorporating surprise challenges or bonus items along the route. This adds an extra layer of fun and keeps participants on their toes.
Coordinate with Participants
Communicate with participants beforehand to ensure everyone is on the same page. Share the starting point, route details, and any specific instructions. Encourage participants to dress up or decorate their golf carts for added festive flair.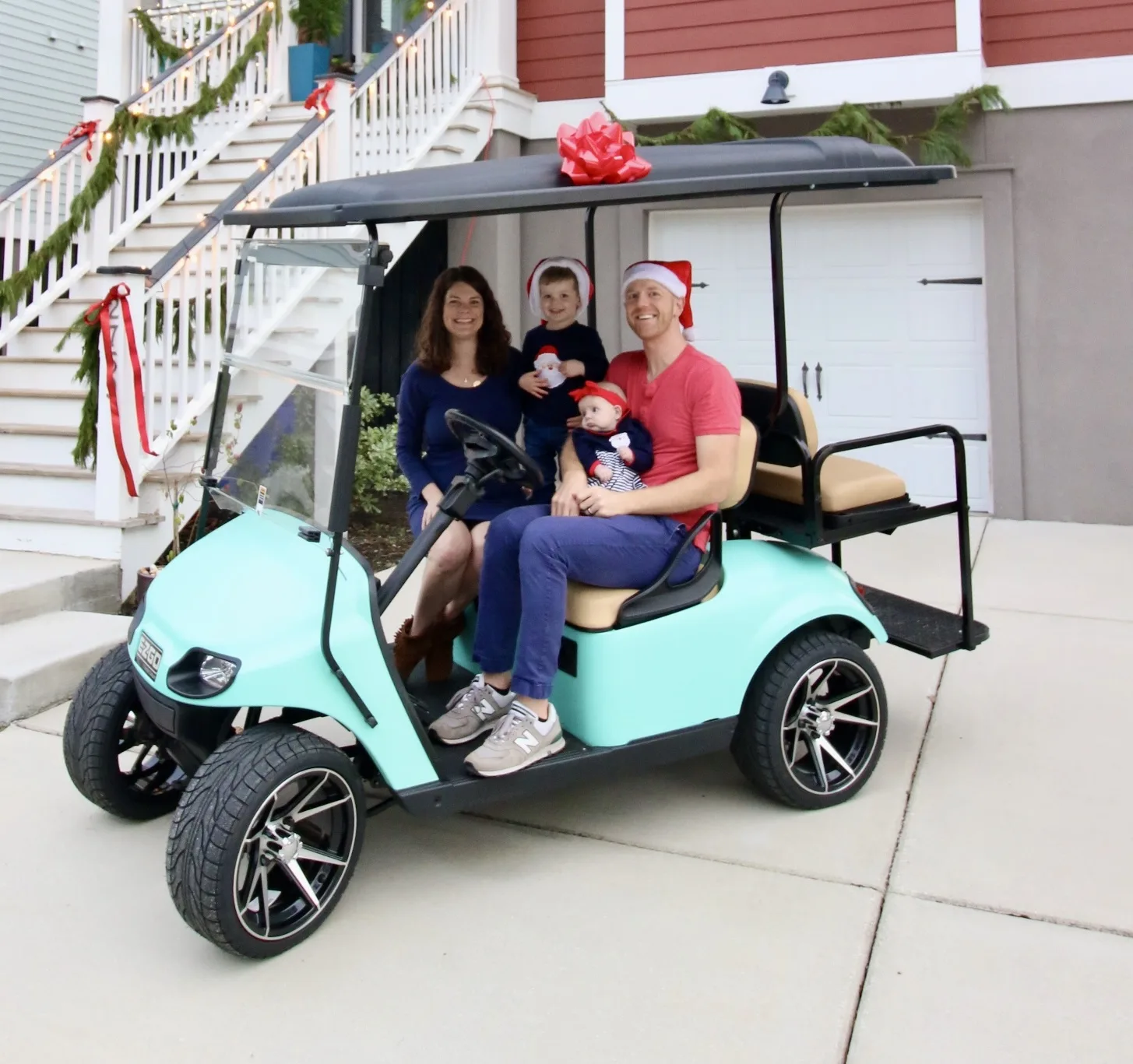 Golf Cart Scavenger Hunt Clue Ideas
The easiest way to do this picture challenge is to use our free printable! But, if you prefer, you can make your own clues.
I made this scavenger hunt assuming that you would be taking your golf cart around a neighborhood, and so the clues are all things that can be found in most neighborhoods!
Here are some golf cart scavenger hunt clue ideas:
Mailbox Decorated as a Character
House Featuring a Funny Doormat Message
House that Has a Fake Security Gnome
Pink Flamingo Lawn Ornament
House Featuring a Giant Inflatable Lawn Decoration
House with a Solar-Powered Light
Hidden Garden Statue
House with a Blue Front Door
Porch Swing
House with a Rainbow Flag
Creative Street Mural
Smooth River Rock
Neighborhood Cat
House with a White Picket Fence
Unique Outdoor Light
Pick Up a Fallen Feather
House with a Red Mailbox
Tree with Twisted Branches
Wind Chime
House with a Tire Swing
Collect a Pine Needle Bouquet
Funny Yard Sign
House with a Mini Library Box
Sunset Reflection on a Window
Front Porch Rocking Chair
Vintage Car
Snap a Photo with a Neighborhood Squirrel
House with a Butterfly Garden
Unique Doormat and Snap a Picture
House that has a Decorated Fence
Yard Display of Silly Halloween Decorations Still Up
Snap a Selfie with a Local Business Sign
House with a Vegetable Garden
Wacky Yard Ornament
Hanging Hammock
House Number in a Unique Font
Colorful Bird Feeder
Snap a Photo with a Neighborhood "Welcome" Sign
House with a Flower Box
House Featuring Window Shutters
Vintage Bicycle
Decorative Windsock
Yard Swing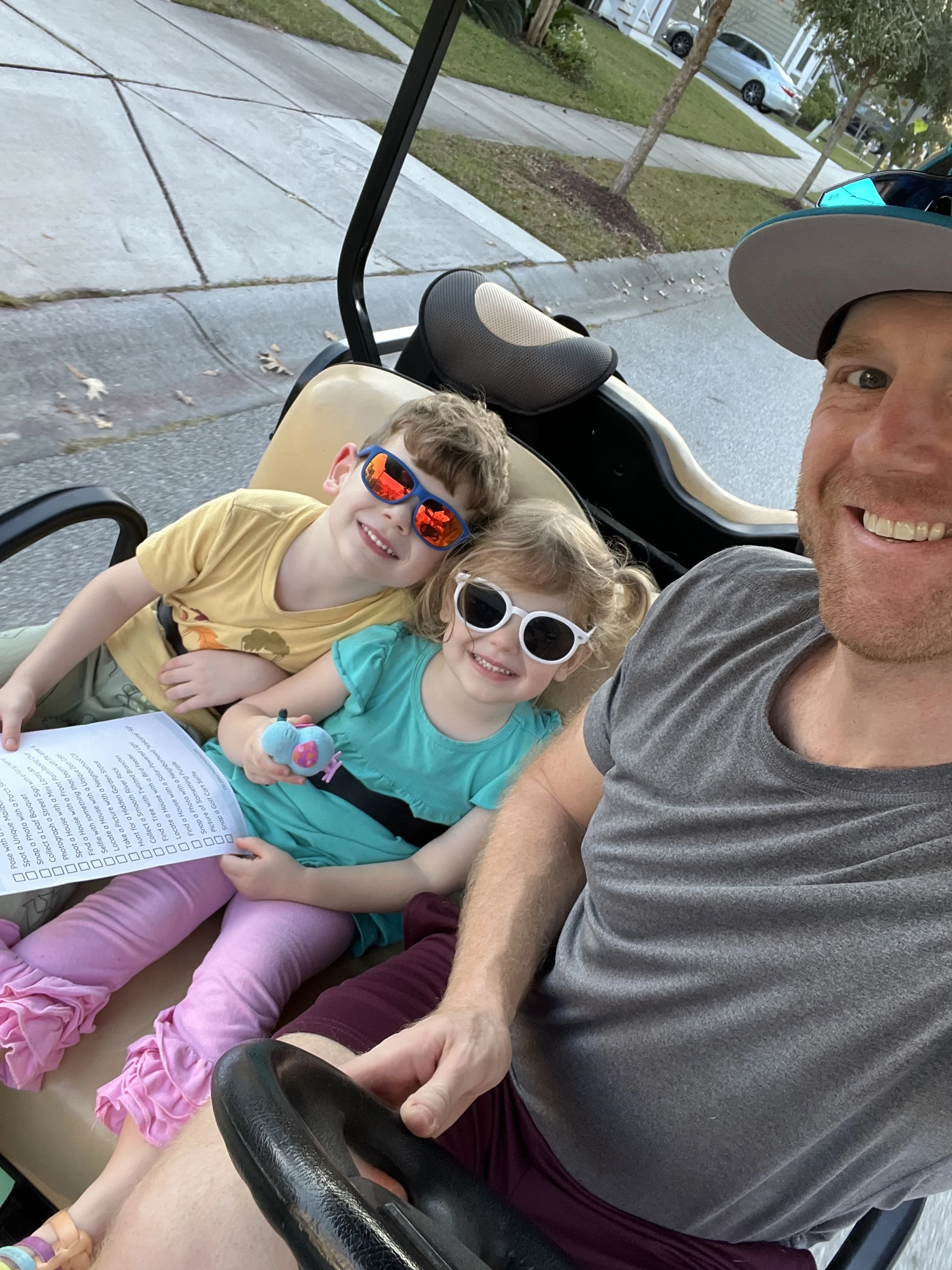 Community Building with the Golf Cart Scavenger Hunt
Treasure hunts are fun to do on your own or as a family, but they are more fun when there is a bit of competition to them with different groups racing to finish first.
This is a great community event, perfect for your neighborhood holiday party, too!
If you have a neighborhood facebook group, have the participants share their photos so everyone can see how much fun was had – and even more people will want to join in next year!
Check out all of my other outdoor scavenger hunt ideas: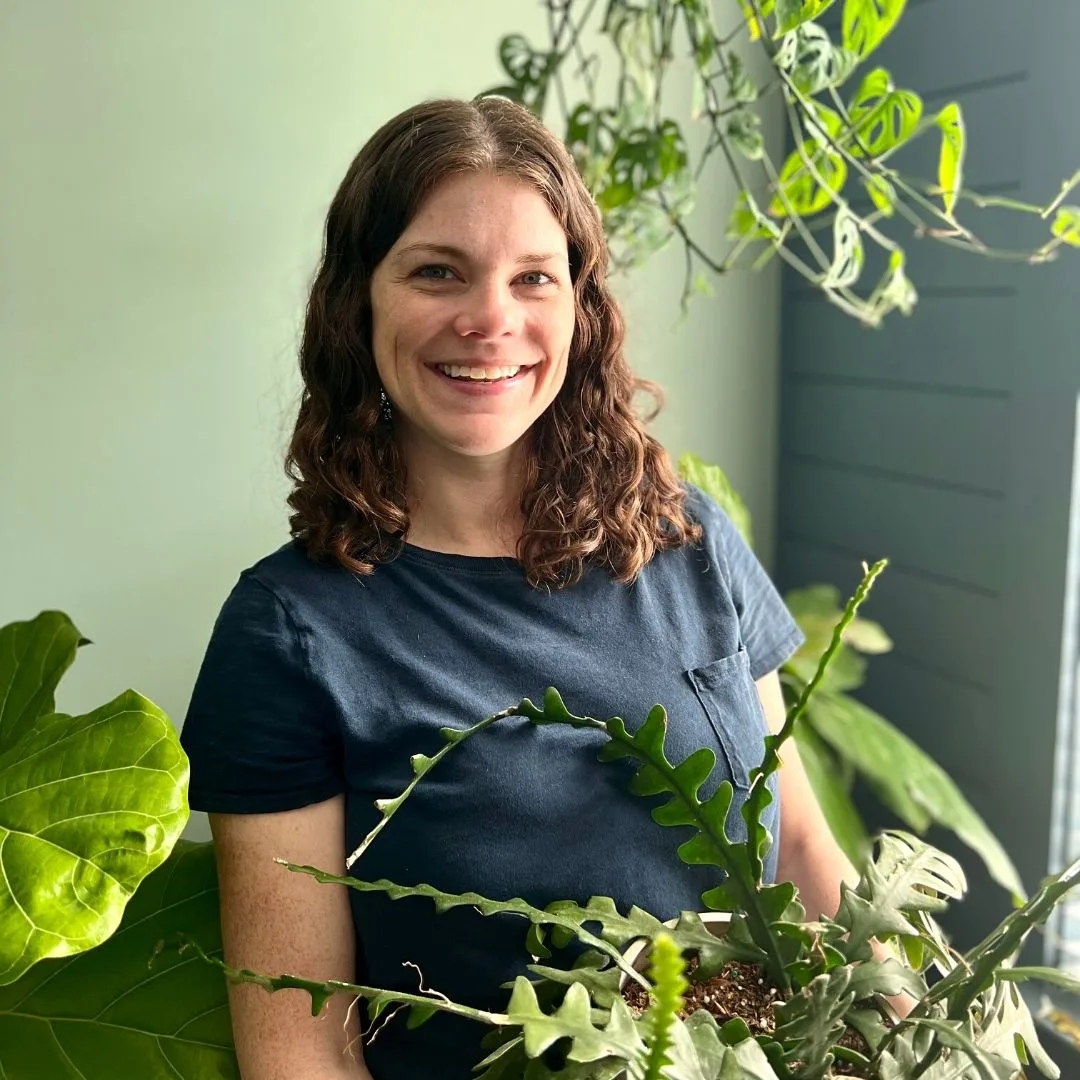 Hey there, I'm Morgan, the creative mind behind CelebratingWithKids.com! As a parent of two lively little ones, I've made it my mission to turn ordinary days into extraordinary adventures, sharing playful activities, thoughtful toy reviews, and delightful printables to help families celebrate every moment together. 🎉👨‍👩‍👧‍👦🎈