Crayons everywhere? I feel ya! Here are the best crayon storage ideas to keep them all in one place and minimize breakage.
I love that my son loves coloring and coloring books. It's a fun activity to do together and a good way for him to play independently, too.
What I don't love is crayons everywhere, getting lost, getting broken, and making a big mess.
Whether your playroom is a small space in your living room or you have a whole big craft room, you still need to figure out how to organize and store crayons.
Getting your crayons organized will make it easier for kids to get crayons out themselves and maybe – just maybe – put them away themselves, too!
Be sure to check out my marker organization ideas!
Here are some of my favorite crayon organization ideas!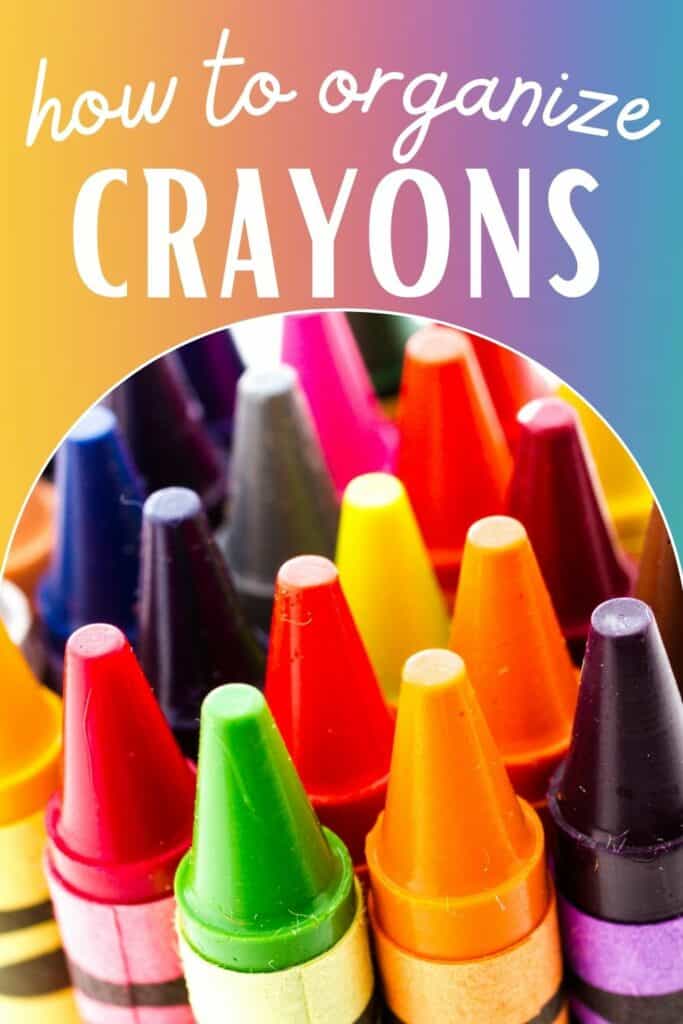 How to organize crayons
Here are my best ideas for organizing crayons.
Keep them in the box they came in
OK, haha, I get it, yeah right. But, the best way to organize crayons is in the box they came in.
This actually works for my kids for the first few months we have the crayons. Once they start getting broken, lost, whatever, not so much. But, it's worth a try!
Clear bin w dividers
I love using clear bins with dividers to store craft supplies. I really love this caddy style bin for moving crayons or markers from room to room. This bin with dividers is another good crayon storage solution for putting on shelves.
Big zipper bag
I love using these reusable zipper bags for art supplies and craft storage. You could of course use a large ziplock but I find that the re-usable bags last longer and are easier for little hands to zip.
Stacked bins
Stacked small bins or drawers are great for crayons. I love these angled bins for holding any kind of pen, marker, or colored pencil. Great on a shelf or on a desk, plus they will be useful as your kids age, too!
Vertical with dividers
Take a shoe box (or Amazon box, is that the current times version of a 90's shoe box?!) and place toilet paper rolls vertically in it. Then put in crayons!
You can wrap this with paper, paint it, jazz it up, or just leave it plain. Let's get real – your kids will probably destroy it anyways. I'd let them paint it if they are looking for things to paint.
Wood block with holes in it
It's a popular cutesy thing to make these "crayon organizers" that are blocks of wood with holes drilled for one crayon each. Cute maybe for a desktop, not super practical if you buy the gigantic bin of crayons like we do.
In jars on a lazy susan
I love organizing with lazy susans. The spinning makes it so convenient, especially on deeper shelves.
Place a lazy susan on your shelf (go as big as will fit) and top with jars or cups of your choice! Keep the crayons, markers, and color pencils vertical and sort by color if you want!
If you just want to buy something – this spinning crayola organizer works great.