Want to help build the excitement for Christmas with your kids? Download our free printable Christmas paper chain countdown as a simple and fun advent calendar idea!
Advent calendars are a super fun holiday tradition. They build excitement and help to make the entire month of December into a celebration.
But, so many advent calendars are expensive and just include sugary treats or plastic junk.
If you want to make an absolutely free advent calendar this year – how about a paper chain!
We have a free printable Paper Chain Advent Calendar template so all you have to do is print, cut, and hang it up.
You can personalize your chain with a special message or activity idea for each day of the month!
Let's turn these days leading up to Christmas into a joyous celebration that your kids will remember for years to come!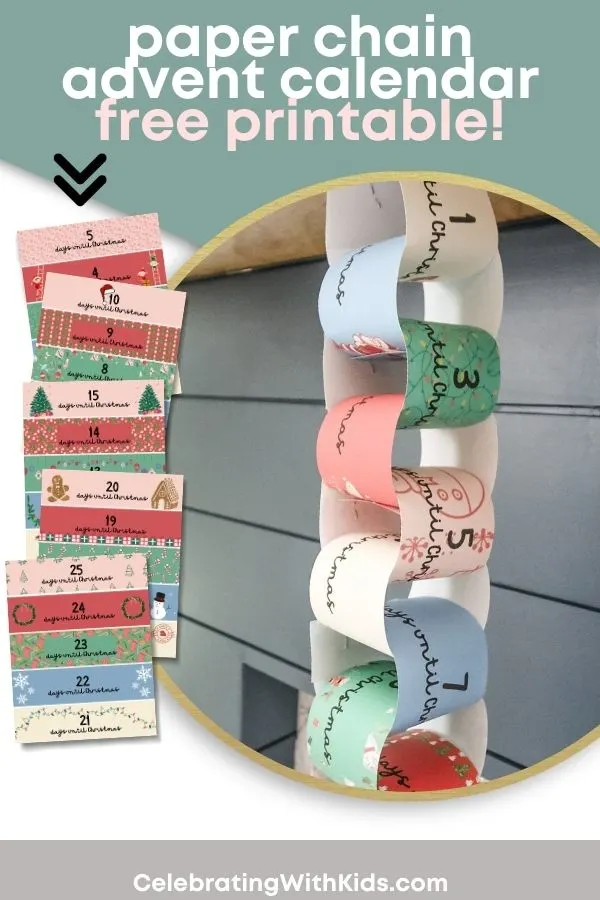 Free Printable Christmas Paper Chain
To make your Christmas countdown even more magical, we've crafted a FREE printable with delightful designs for each link.
Click here or on the image below to download and add a sprinkle of festive flair to your season.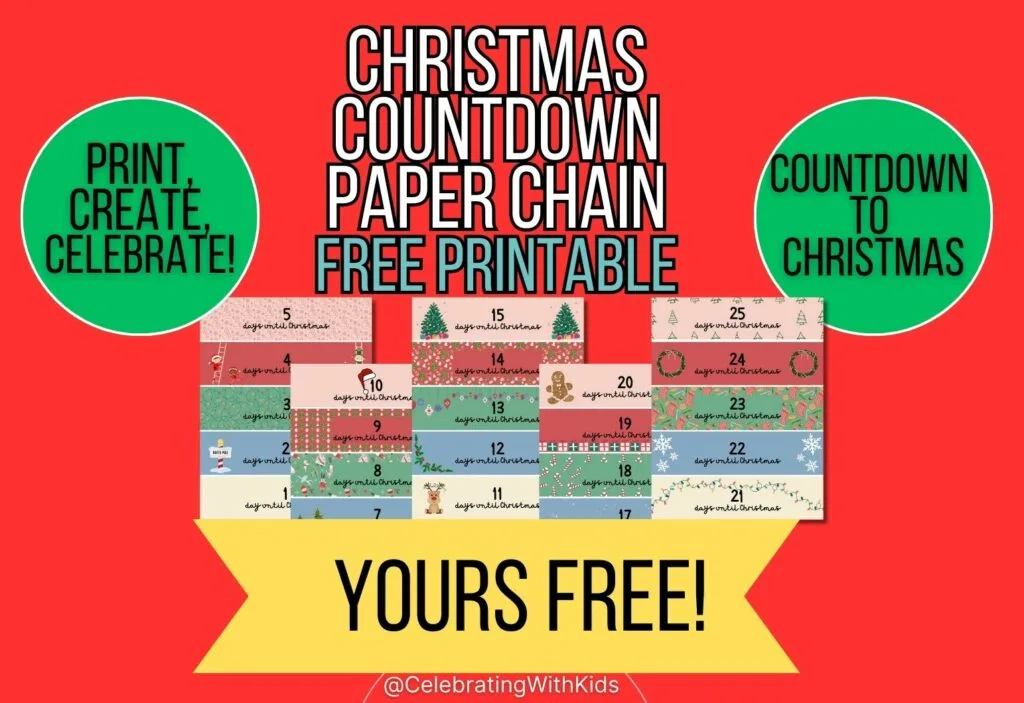 How to make a Paper Chain Countdown to Christmas
It's super easy to make an advent paper chain!
Materials You'll Need:
Paper: Choose white or a mix of festive colors to represent the holiday spirit.
Printer: Print out our free printable Christmas chain countdown
Scissors: A reliable pair for cutting paper into strips.
Stapler or Tape: To connect the paper strips and form the chain.
Markers or Pens: For adding personal touches.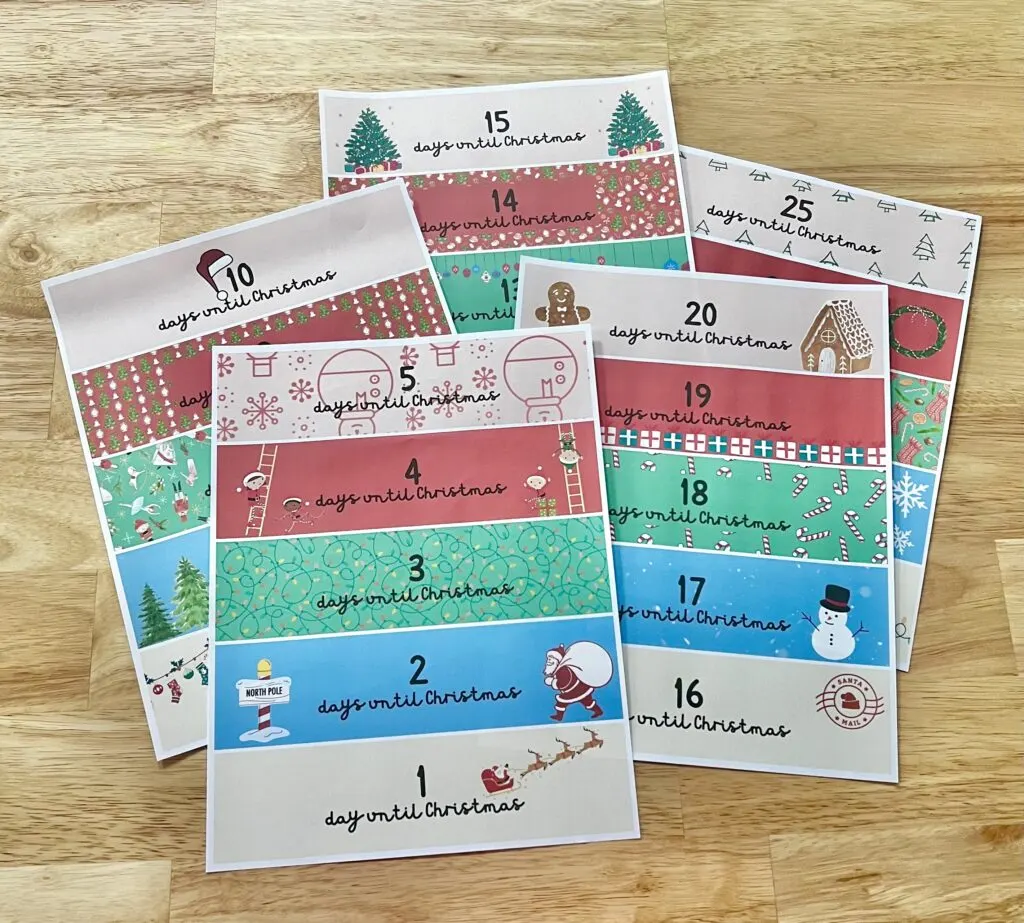 Crafting Your Chain Advent Calendar: A Step-by-Step Guide
Print: Print our template out on white paper or cardstock. Or, print in black and white on colored paper!
Cutting Strips: Use scissors to cut the colored paper into strips.
Add extra messages: If you want to add a message to the back of each Christmas countdown chain, this is the time to do so. Get creative! Consider writing holiday quotes, family traditions, or small activities on each strip.
Forming the Chain: Take the first strip and form a loop, securing it with a staple or tape. Before closing the loop completely, interlock the next strip through it. Repeat this process, connecting each strip to the previous one, forming a chain.
Hanging Options: If you plan to hang your paper chain, you might want to use a hole punch to create a hole at the top of each strip before forming the loop. Thread a ribbon or string through the holes, and your advent calendar is ready to be displayed.
Hanging Your Paper Chain: Find the perfect spot in your home to display your Paper Chain Advent Calendar. Whether it's across the fireplace, on a banister, or in the kids' room, choose a location where everyone can enjoy the festive countdown.
Daily Countdown Tradition: As each day arrives, gather your family to remove one link from the chain. This daily ritual adds excitement and builds anticipation for the upcoming holiday.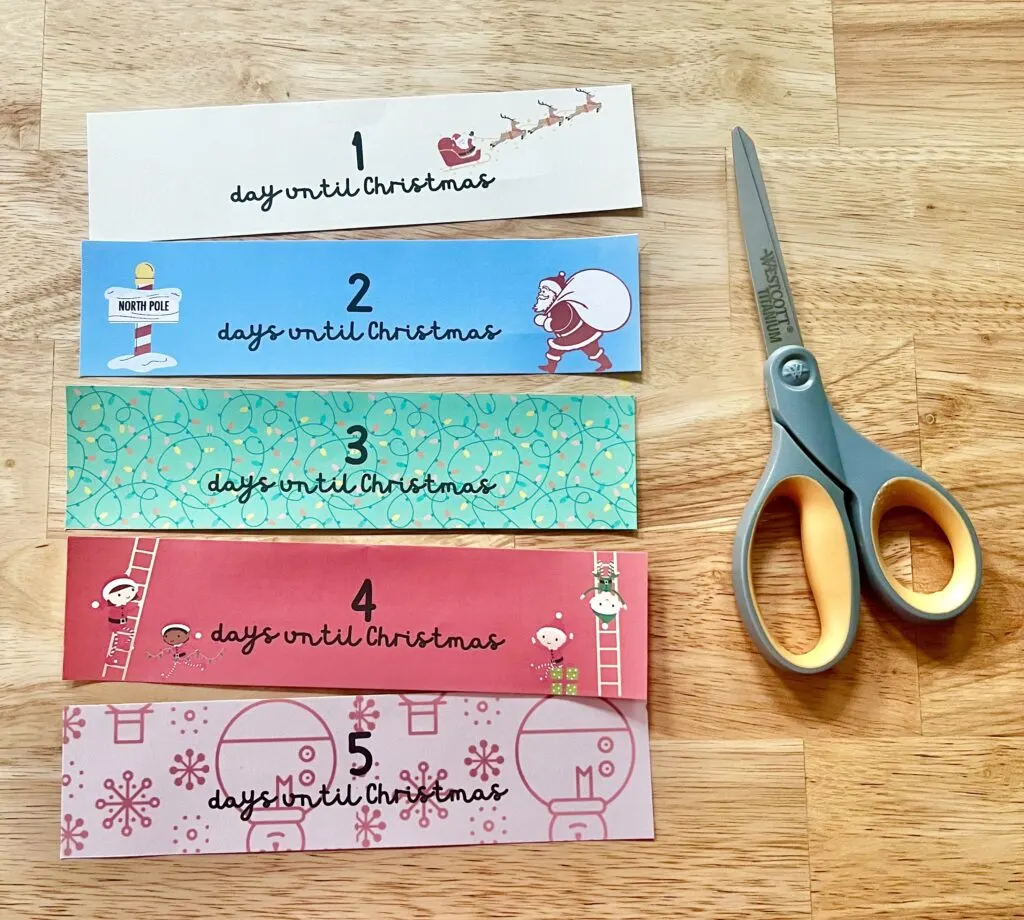 Remember, the beauty of this crafting process lies in the simplicity and personalization.
Let your imagination run wild, and create a Paper Chain Advent Calendar that reflects the unique spirit of your family's holiday celebration!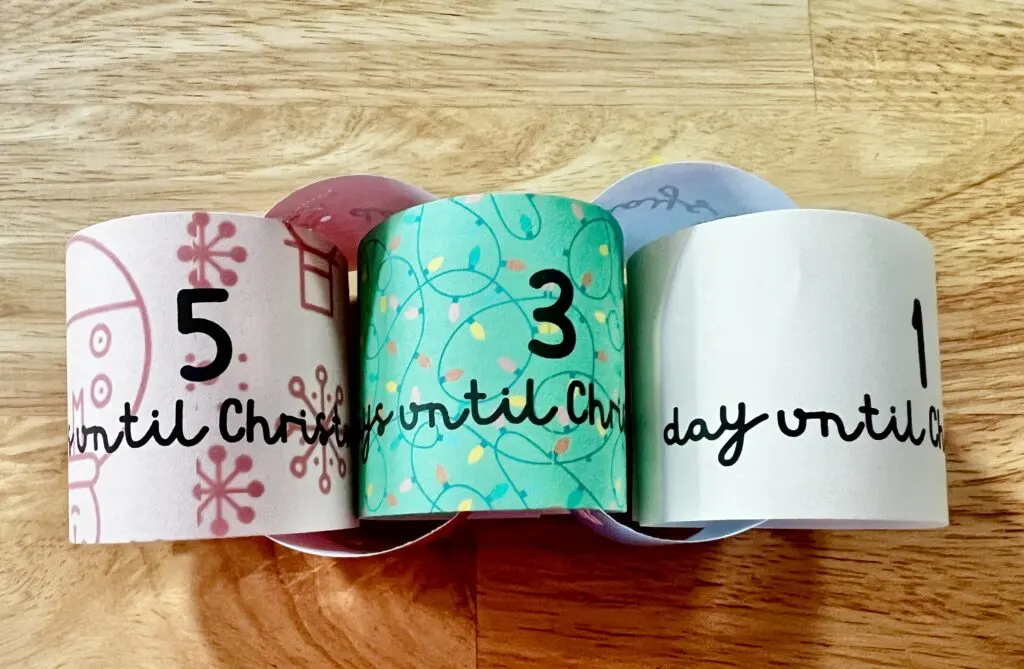 Creative Ideas for Personalizing Paper Chain Links
Our free printable is good to use as is, but if you want to take it to the next level, consider writing on the back of each strip.
You could write:
holiday trivia
festive quotes
a fun activity or surprise to do
small acts of Christmas kindness
relevant bible verses
As each link is torn away, the excitement builds, bringing you closer to the joy of Christmas.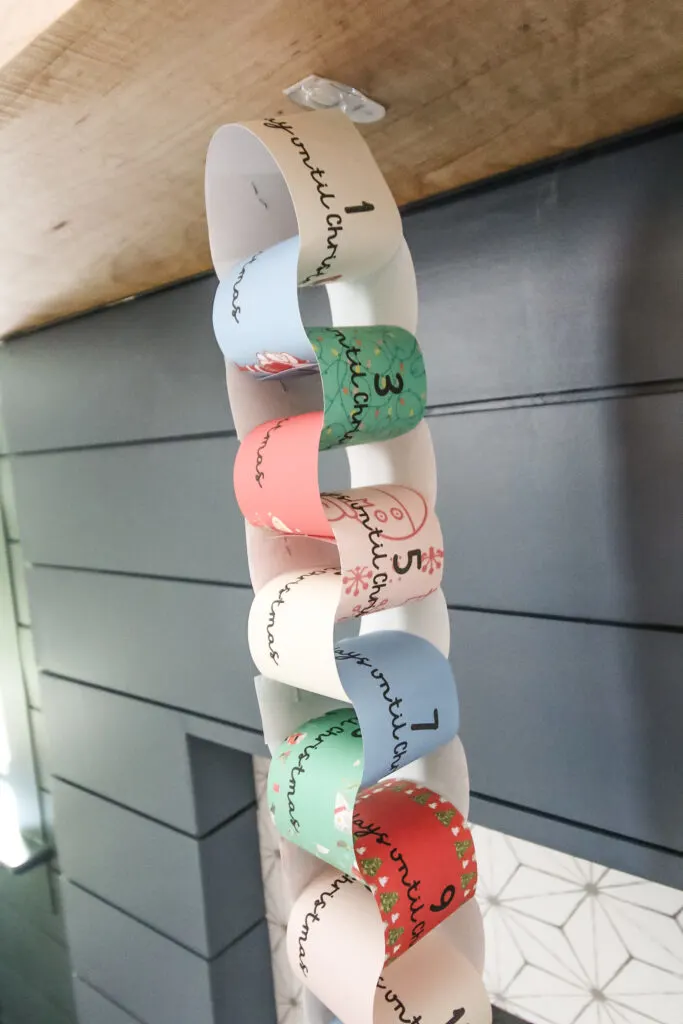 In the spirit of making every day a celebration, your Paper Chain Advent Calendar becomes more than a countdown—it turns into a cherished tradition.
Embrace the magic of crafting, creativity, and family togetherness as you welcome the holiday season with open arms.
Happy crafting and joyful counting down to Christmas, fellow moms!
Check out all of our free printable Christmas scavenger hunts!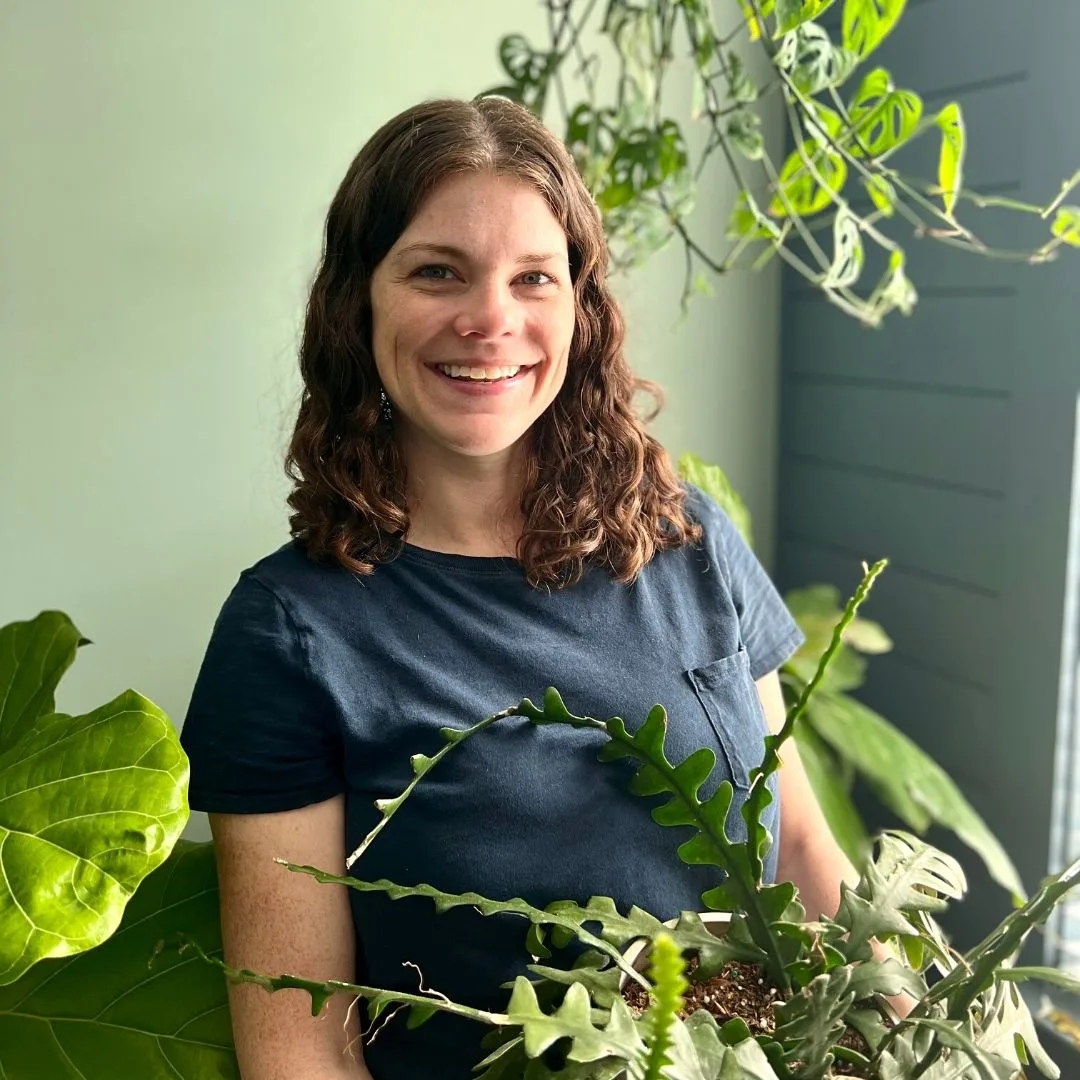 Hey there, I'm Morgan, the creative mind behind CelebratingWithKids.com! As a parent of two lively little ones, I've made it my mission to turn ordinary days into extraordinary adventures, sharing playful activities, thoughtful toy reviews, and delightful printables to help families celebrate every moment together. 🎉👨‍👩‍👧‍👦🎈