Looking for the best cheese fondue dippers? Here are my family's favorite cheese fondue dipping ideas!
There are few things in this world more comforting than melted cheese. Whether you are celebrating or sad, melted cheese just hits the spot.
Personally, cheese fondue is our Christmas Eve tradition. Prior to getting married, we made cheese fondue our last night together before we parted ways for Christmas.
Since then, it has become our Christmas Eve dinner. And our kids LOVE it. It is such a treat to share with them and really is delicious.
This is our go-to cheese fondue recipe!
Making cheese fondue is pretty easy, but choosing what to eat with cheese fondue can be a bit trickier.
Whether you are having a fondue party or just cooking for your family, here's the best things to dip in cheese fondue!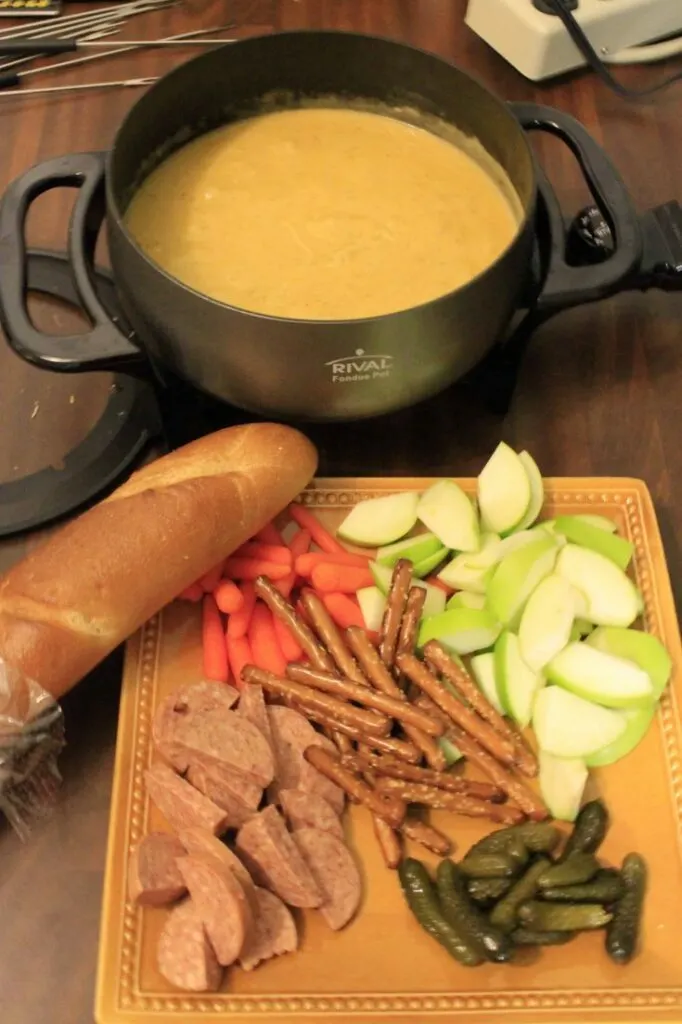 What makes a good dipper?
There are a few characteristics that a good fondue dipper has!
It's easy to stab
It needs to be easy to stab and keep your food item on a fondue fork
It tastes good with cheese
Ok, most things taste better when dipped in a cheese mixture. But, some do not. This is a matter of personal taste but keep it in mind.
It's bite sized
Fondue dippers really need to be one biters. The exception to this might be pretzel sticks. Even then, larger pieces –> double dipping. This may be OK with your group or not. Set the ground rules before you set down the fondue pot 😀
It doesn't get soggy
See above about the innards of your bread loaf, but things that will go limp and soggy with melted cheese are just a downer and not a hit.
Check out our favorite chocolate fondue dippers!
The best bread for fondue
Bread is a super popular fondue dipper for a reason. It's warm and comforting and delicious.
I personally prefer a crusty french bread cut into bite sized pieces. No one wants a piece without crust – it's hard to keep on the fondue fork and just feels limp and sad.
You can use any bread. I like to get it same-day from the bakery. You can also get frozen or fresh take-and-bake loaves.
Other great bread options for fondue include:
Sourdough bread
French bread
Rye bread
Pumpernickel bread
Brioche
Olive bread
Focaccia bread
Ciabatta bread
Naan
Challah
I say anything with a nice crust of a bit of a chewiness to it is best!
How many dippers should I serve?
This is an important thing to take into consideration. We have had years where we had too many dippers. While variety is great, it's overwhelming and the true favorites get eaten while others get wasted.
So, I suggest sticking to 4-5 dippers for a family fondue party. If you are having more people, you can have more dippers. But, keeping it more simple is always good!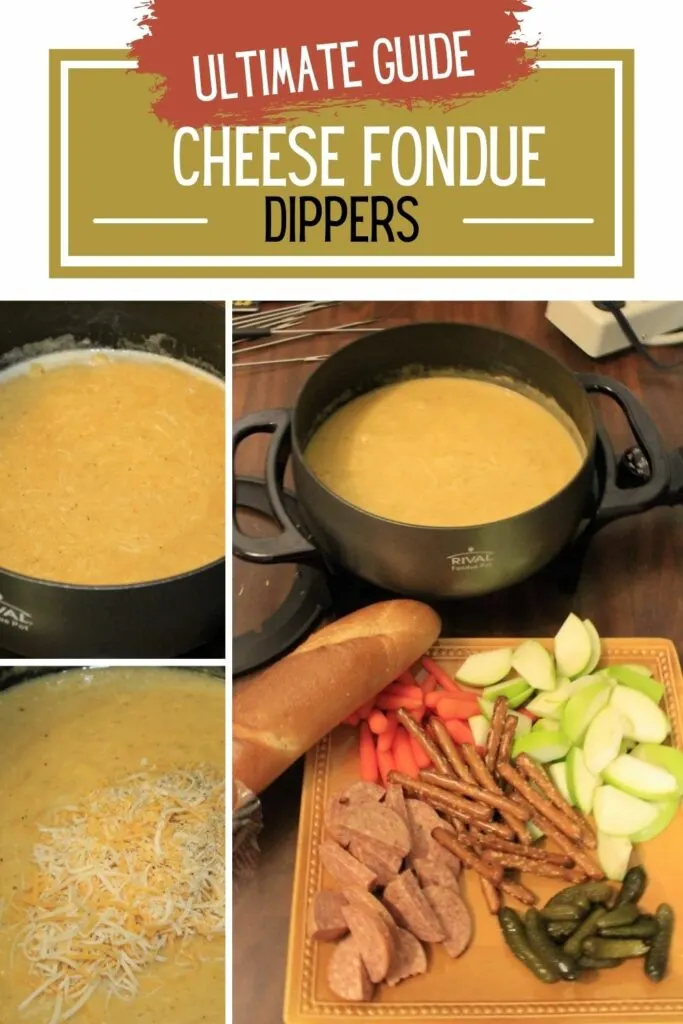 The best cheese fondue dippers
Bread
Bread is the classic cheese fondue dipper and is popular with kids and adults alike. As I said above, I personally prefer a crusty french bread loaf. Cube it or slice it up in advance so it is ready to go.
Bread is also great for "combos". Our kids love to dip a piece of french bread in cheese and then top it with a pickle, apple slice, or piece of meat. Yum yum!
Pretzels
Pretzels are another top cheese fondue dipper option. You can use either hot, soft pretzels (homemade or frozen) or bagged pretzels.
For bagged pretzels, I prefer sticks, not rods. Rods are a bit too thick.
Green apples
Sliced green apple is a bit tangy and the perfect contrast to cheese. Slice it in advance so it is ready to go!
Pickles
My kids are obsessed with pickles, so we had to have to have them with fondue. My pick is sweet petite gherkins. They have the perfect crunch and are a great size for dipping and eating.
Alternatively, consider sliced pear or grapes, too!
Vegetables
Vegetables aren't really my pick to dip in fondue, but they are an OK option if that's what you are into. Vegetables are usually dipped raw. Condsider:
Broccoli
Green beans
Green bell pepper
Carrots
Asparagus
Any kind of (cooked) potato
Meats
Meat is another good option for dipping. Meat should be fully cooked and not leaking any juices you don't want to get into the fondue – IE let steak sit before dipping it.
Popular meat options for fondue:
Mini cocktail wieners
Sliced sausage
Chicken
Steak
Ham
Pepperoni
Meatballs
Pasta
Mac and cheese is awesome, so dipping pasta in cheese is awesome too. This is a great option for picky kids who might not be into other dippers or their food combining.
Cheese
One year, we cubed up a block of cheese and dipped it into the fondue. It was delicious. Ten out of ten, would dip again.
Potato chips
This is a little more casual, and honestly a great option for leftover or re-heated cheese fondue the next day. Potato chips or nacho style corn chips are great!
Roasted potatoes
Roasted potatoes are a fancier version of potato chips. They take a little prep time, but do seem a bit more upscale – and taste delicious. Great for a party or as part of a larger meal!
What are your favorite things to dip in fondue?!