Looking to make fondue night special? Here are the best chocolate fondue dippers!
Fondue is a super fun way to celebrate a holiday.
While fondue can have romantic vibes, it is also a HUGE hit with kids.
I mean, hello, melted chocolate, what's not to love!
We are making chocolate fondue a Valentine's Day tradition with our kids and I am so excited about it.
Here is the chocolate fondue recipe that we use!
Let's talk about what to dip in chocolate fondue!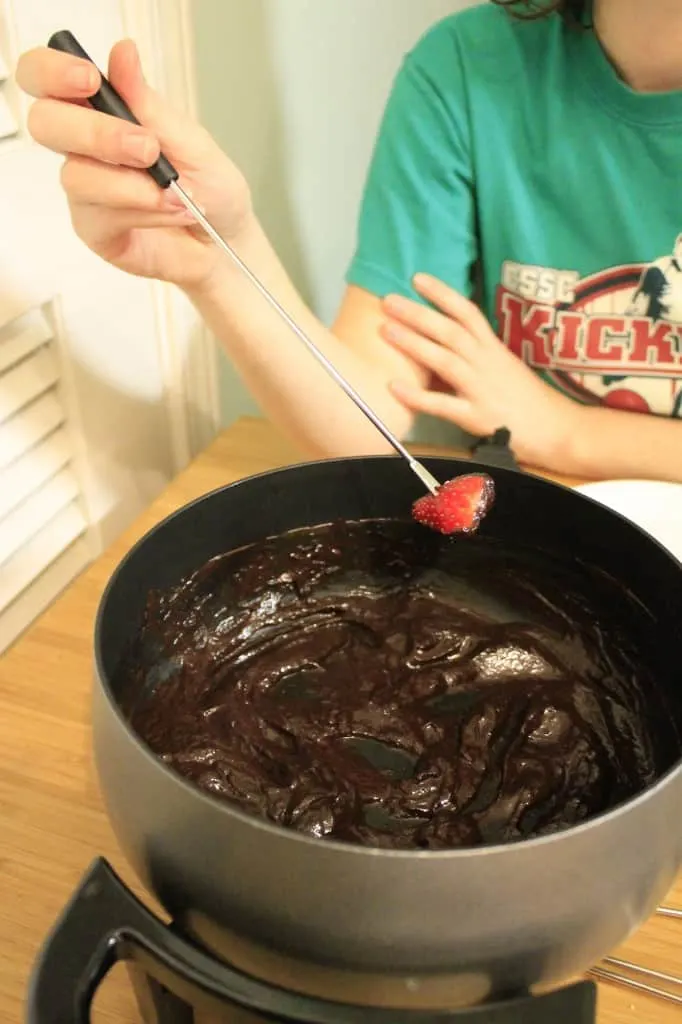 What makes a good dipper?
There are a few characteristics that a good fondue dipper has!
It's easy to stab
It needs to be easy to stab and keep your food item on a fondue fork
It tastes good with chocolate
Ok, most things taste better when dipped in melted chocolate. But, some do not. This is a matter of personal taste but keep it in mind.
It's bite sized
Fondue dippers really need to be one biters. The exception to this might be pretzel sticks. Even then, larger pieces –> double dipping. This may be OK with your group or not. Set the ground rules before you set down the fondue pot 😀
It can hold up when dipped
You don't want anything so soft that when you dip in chocolate, it breaks apart. It needs a certain level of stability!
Be sure to check out my cheese fondue dippers ideas!
Sprinkled on top
For an extra special touch, serve a topping to go on your items after dipping them in chocolate! Consider:
Sprinkles
Chocolate chips (double chocolate!)
Crumbled oreo
Chopped nuts
Coconut flakes
Cereals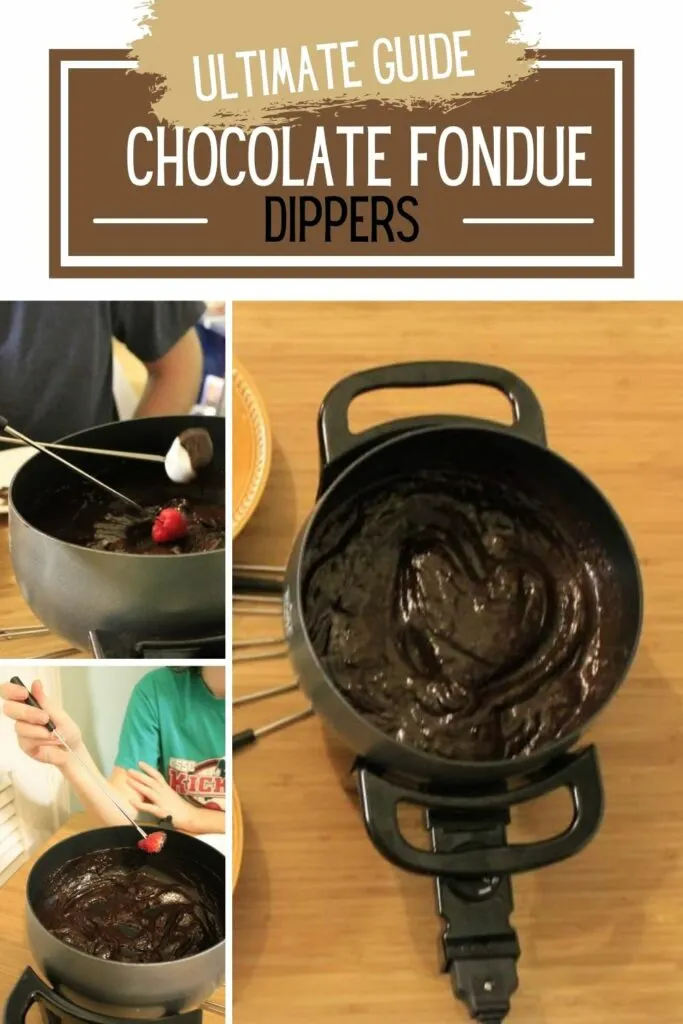 What are good dippers for chocolate fondue?
Pretzels
I love pretzel sticks dipped in chocolate. Get the sticks and not the rods – the rods are too crunchy for my taste.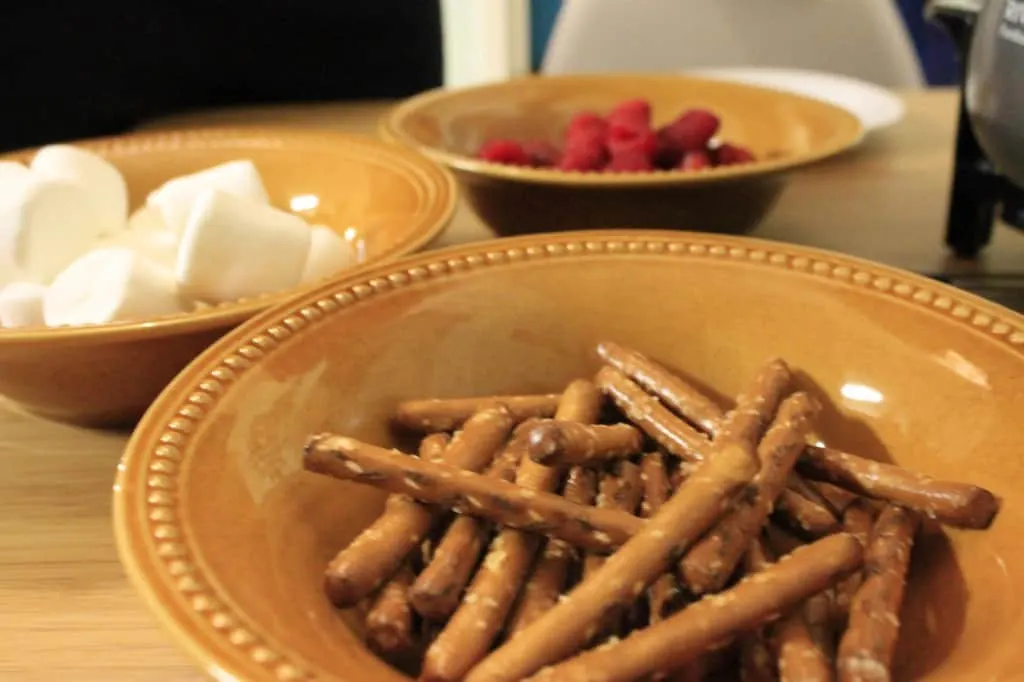 Fruit
Fresh fruit is great dipped in chocolate. Some of my favorite fruit for chocolate fondue includes:
Strawberries
Raspberries
Pineapple
Sliced bananas
Kiwi
Mango
Blackberries
Dried fruit
Dried fruit is another great chocolate fondue idea, mostly for adults. Consider dried papaya or plums for a slightly-healthy snack.
Marshmallows
Marshmallows are another classic chocolate fondue dipping item. Get smaller marshmallows for kids and larger ones for adults!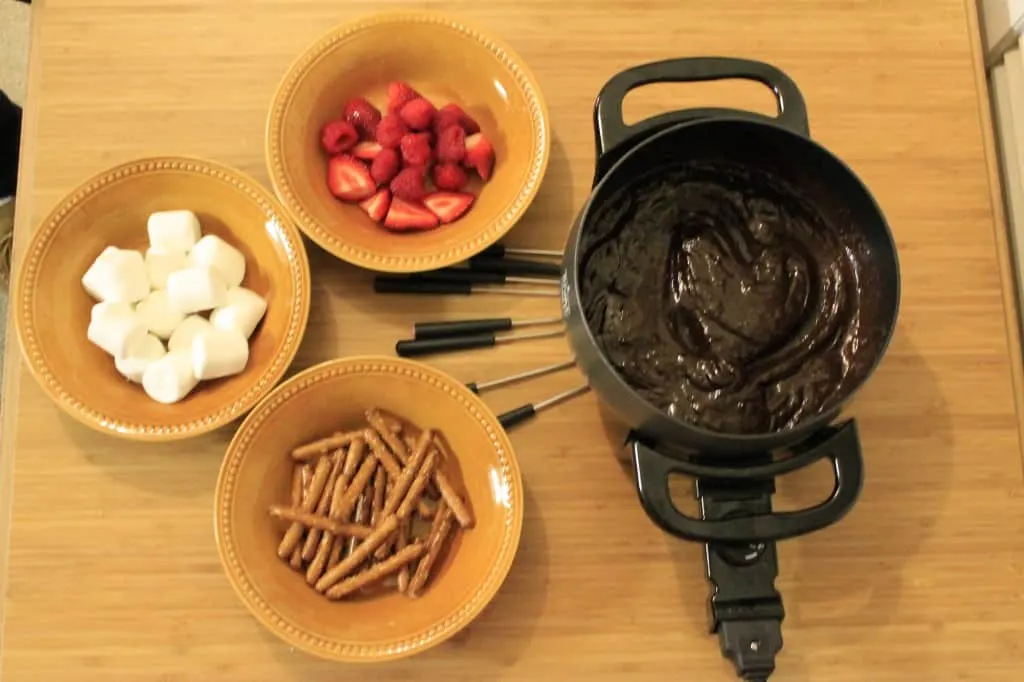 Rice krispy treats
Rice crispy treats are a great chocolate fondue dipping idea because they are very solid and hold together, but their sweetness and chewy crunch is unmatched.
Graham crackers
Graham crackers go great with melted chocolate. Top with mini marshmallows for instant smores vibes.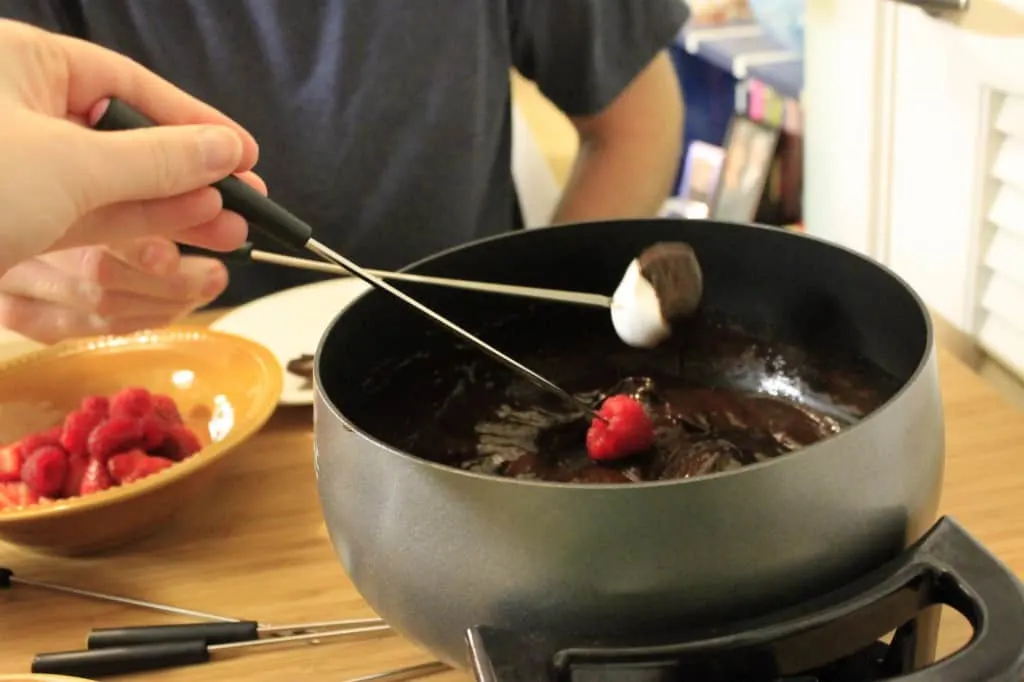 Cookies
A chocolate chip cookie dipped in chocolate? Or, an oreo? Yes, please! Cookies are one of my kids favorite dipping items!
Pound cake or angel food cake
Cubed, either of these items works great dipped in chocolate. Make sure it's fresh so it's not too crumbly.
Donuts
Fondue for breakfast? Why not! Try dipping donuts or donut holes!
Savory items
If you want something a little more unusual, there are some good things to dip in chocolate fondue that are more on the savory side. Consider:
Potato chips (plain flavor)
Bacon
Waffles
What are your favorite things to dip in chocolate fondue?!