Little Poppy Co is a monthly subscription service for kids hair bows and accessories for adults and kids. Here's my review after getting it for almost a year!
I was so excited to have a daughter. I have always dreamed of matching outfits, girly dresses, and of course hair bows.
If having a boy and a girl less than 2 years apart has taught me anything, it's that baby boys and girls are really not very different from each other.
But, one thing that is different, is that I can put big bows on my daughter.
She has worn a bow literally every day of her entire life.
When she was a few months old, my friend told me about Little Poppy Co. I subscribed and have been obsessed ever since!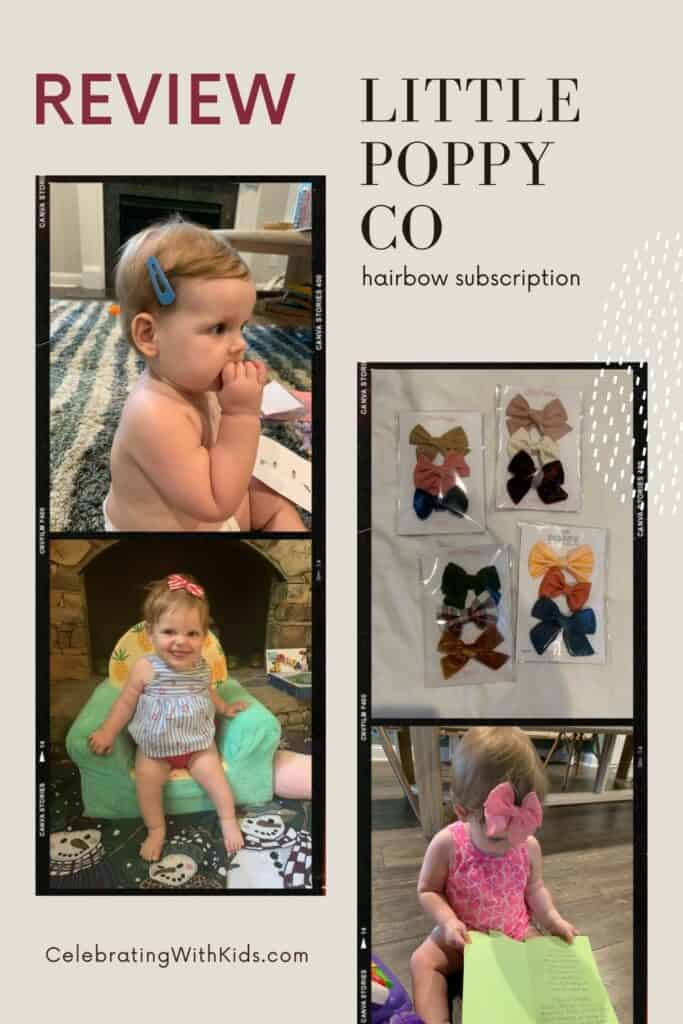 Little Poppy Co review
Little Poppy Co is a baby bow box subscription service. They send you a set of 3 curated bows each month.
What are the pros of Little Poppy Co bow club?
I think that it is a great price, including shipping, for three high quality bows. I like the variety of the bows, both fabrics and shapes.
I enjoy being surprised and getting a new baby bow subscription box each month.
What are the cons of Little Poppy Co bow club?
The main con is that you can't pick what you get. So if you don't like a bow, too bad. That being said, you can skip months.
How much does Little Poppy Co cost?
For one month, $17.99 a month.
For 6 months, $16.99 a month.
For 1 year, $14.99 a month.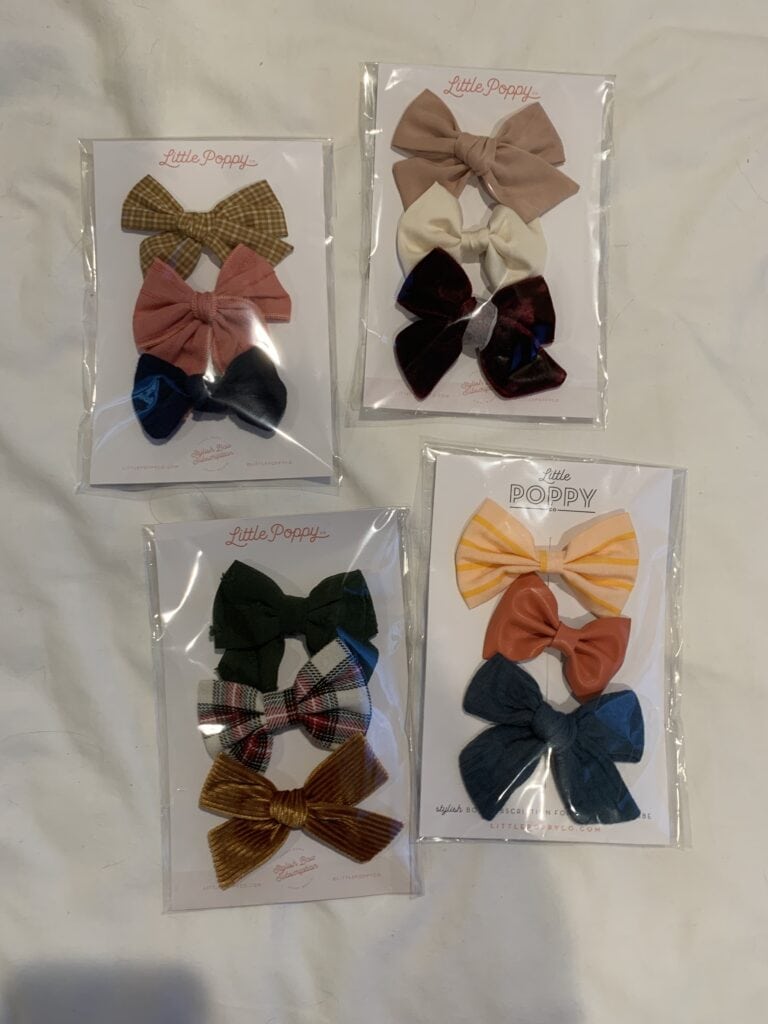 What are the options?
You can order hair bows on nylon bands (original or mini) and on alligator clips (original or oversized).
They also have an add-on accessory package (headband + scrunchie each month). You can subscribe to monthly seed beed bracelets. You can add on monthly elastics.
Here's my guides on how to convert a baby headband to a hair clip and how to convert hair clips to headbands!
As a subscriber, you also get exclusive access to monthly add-on options. I will say that I think that the add on month bows are a little bit pricey, especially compared to the monthly box prices.
A great thing about add ons, though, is that they ship for free with your monthly subscription.
What are the Little Poppy Bow Sales?
Little Poppy Co has 2 types of sales.
The first is their semi-annual sale, held twice a year. There are big discounts on past bows, and the discounts increase as the week goes on. Friday was 75% off so it's big deals!
The second sale is $1 bows! They sell single bows from the past for $1, added on to your subscription. These are announced via email and on Instagram so be sure to follow along!
Little Poppy Co Discount Codes
They ALWAYS have discounts for new subscribers. Just look for a banner at the top of their site with a discount code!