Are you trying to choose an excursion for your cruise to St Thomas, US Virgin Islands? Here is our complete and honest review of the Kon Tiki Harbor and Beach Cruise!
Choosing excursions on your cruise is tough. In some cases, there are tons and tons of good choices.
In other situations, you might have a consideration – small kids, lack of mobility, or personal preferences – that leave you with a very limited selection
On our recent Disney Cruise to the Virgin Islands, we had a day stop in St Thomas in the US Virgin Islands.
My husband and I were traveling with our 3 and 4 year olds, and a lot of excursions offered by the ship were limited to ages 5+.
We wanted to go to the beach – and the Kon Tiki boat seemed like a great way to get there.
Here is our honest opinion of this cruise excursion!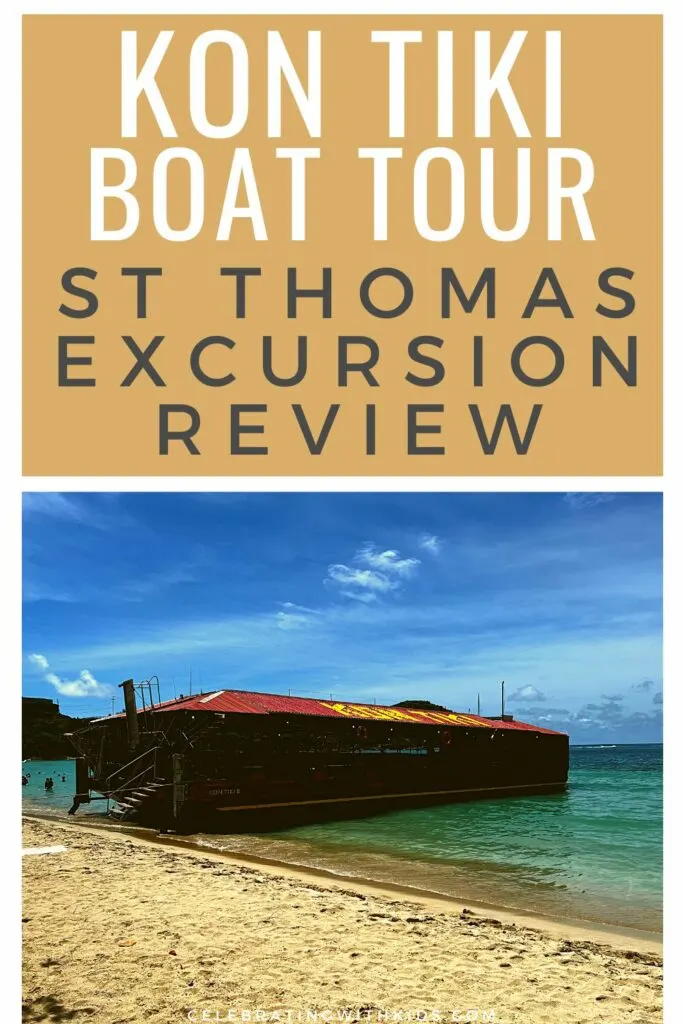 Kon Tiki Harbor and Beach Cruise – St Thomas excursion review
Here are all of our thoughts on the Kon Tiki boat cruise.
Booking and Preparations
We booked our excursion directly through Disney and booked it before we left on our cruise. A lot of excursions can be booked privately, often for a small savings.
When Sean and I went on a cruise a decade ago, we saved some money by booking off-boat cruises.
However, this time, since we had our kids with us, we wanted the smoothest possible experience and stuck to official Disney-supported excursions.
This made the process extremely easy.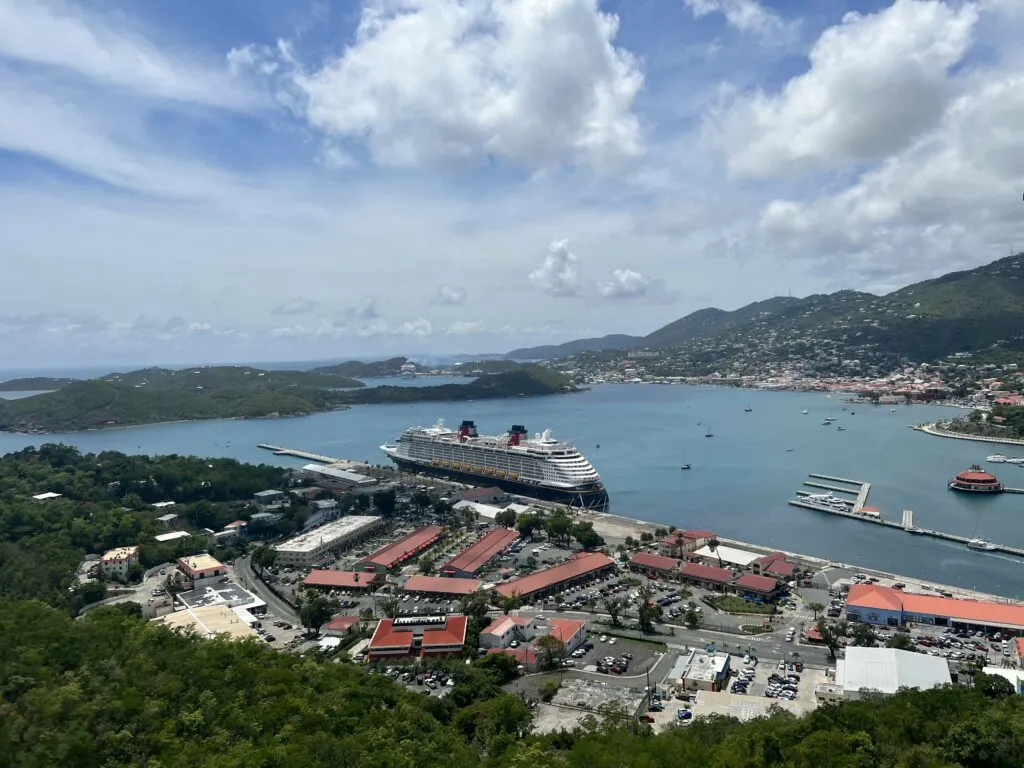 What to bring on the excursion
Here is my suggested packing list for this boat tour:
beach bag
beach towels – get them as you walk off the tip
sunscreen
hat, sunglasses, etc
wear a bathing suit + cover up
cash for the bar and tips
snacks
beach toys for kids – we loved these collapsable buckets on this trip!
waterproof camera – if you want it
optional: pack a change of clothes if you want to change on the ride back. This was convenient for us because we wanted to go see the town and ride the chair lift before getting back on the ship and were more comfortable in clothes.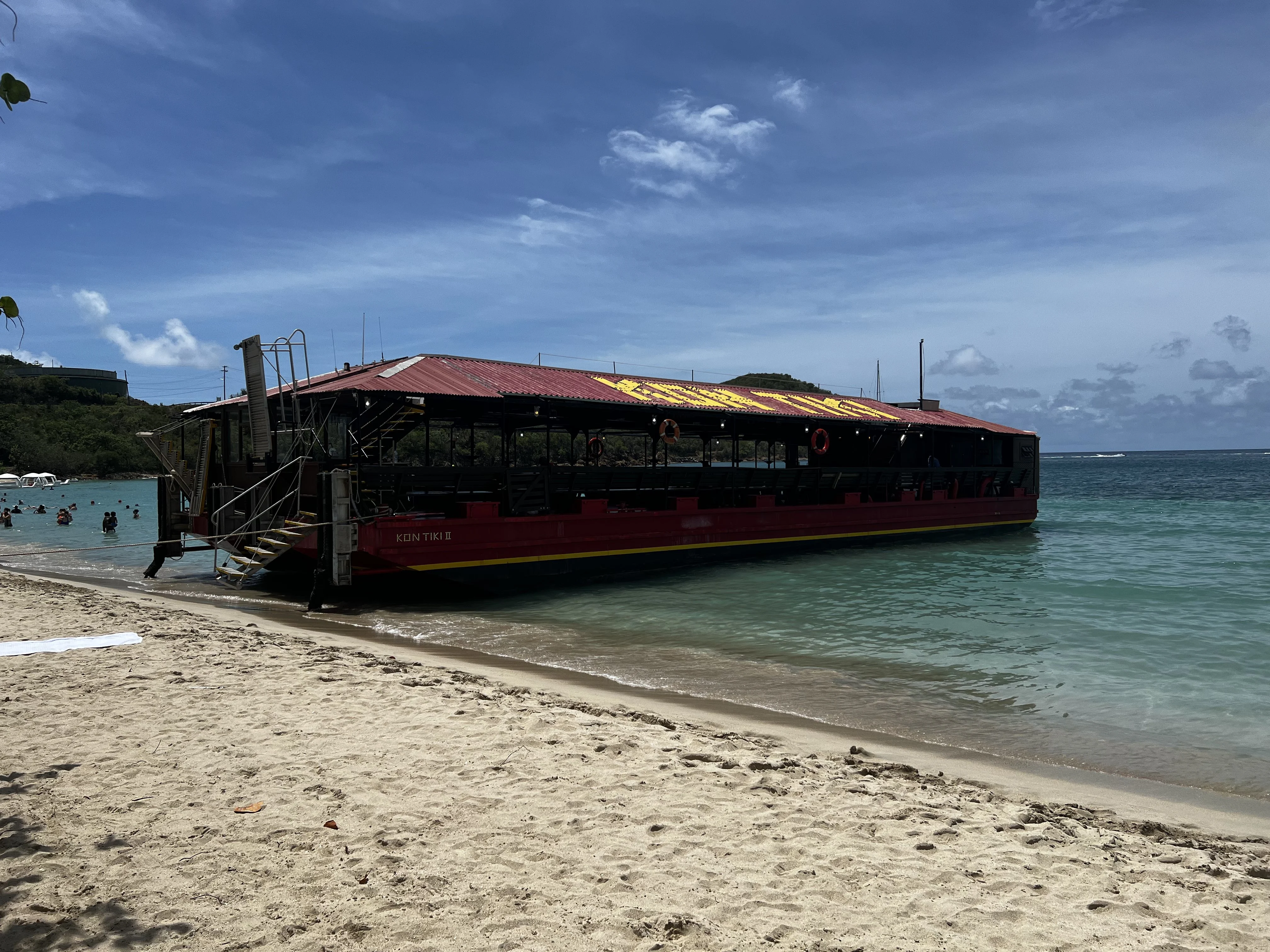 Departure and Boarding
The cruise line made getting to the excursion super easy. We met up at a designated point in the auditorium and waited for the whole group to arrive. We were then all herded off the ship in a line.
The Kon Tiki boat was tied up on the same dock as our ship – it could not have been easier to get to.
The boat did have maybe 6 steps down to get onto it, so it was not wheelchair friendly.
The Kon Tiki boat is wide and flat with a cover. There are benches along the sides and glass bottom viewing areas in the center, that are covered for most of the trip.
The benches do get crowded, and you can be at the mercy of others to scoot over and make room for your group. I will say we saw some people being rude about this – both people with bags on the benches and others walking up and rudely demanding people move.
Just remember to be kind when you speak to others – people want to be accommodating but it can be overwhelming when people are so abrupt and rude to each other.
We started with a quick safety demonstration and then did a harbor cruise.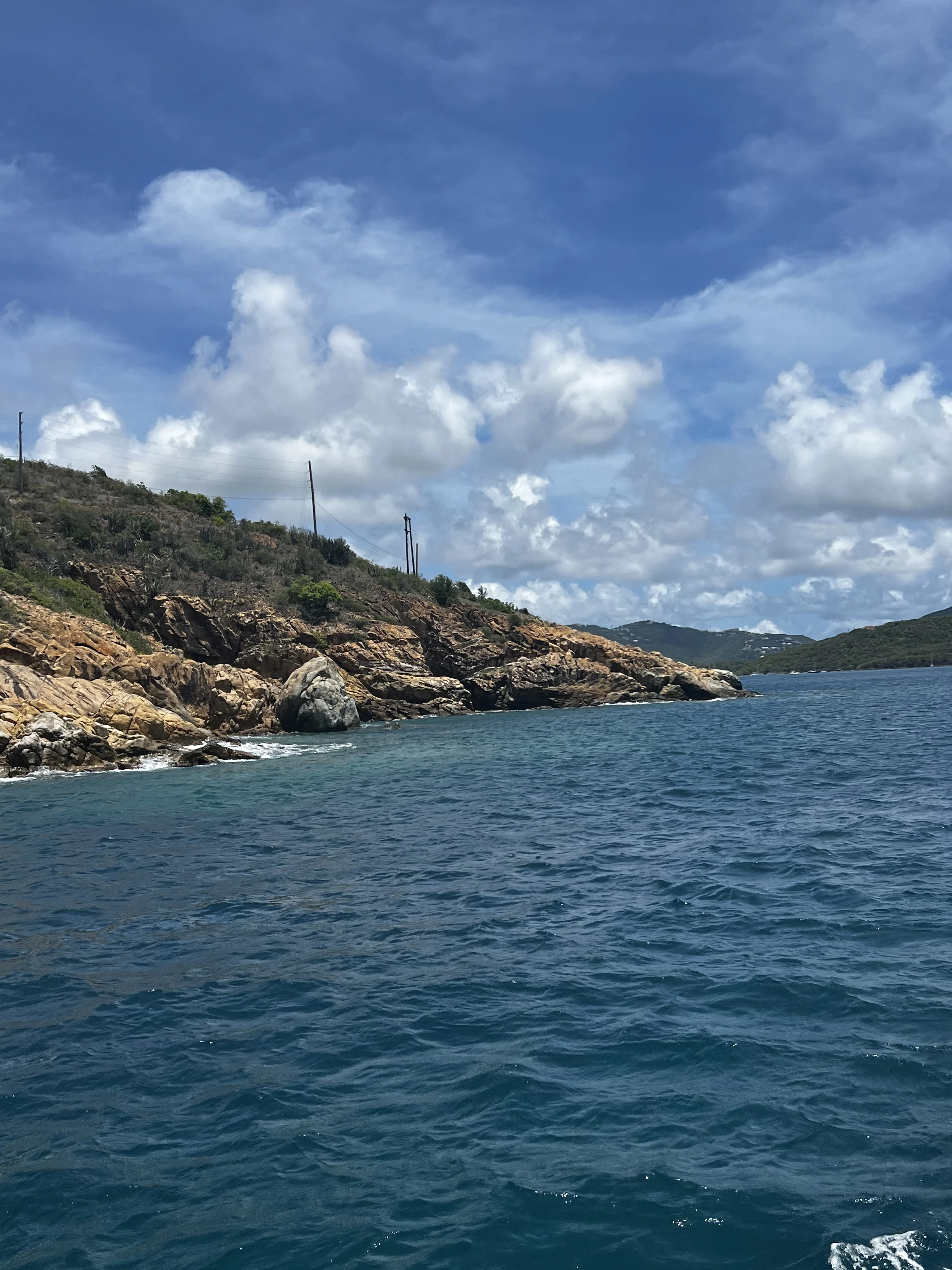 Harbor Cruise
The trip started with a harbor cruise and history tour of the St. Thomas Harbor.
Without being too harsh, this was the low point of the trip.
The guide was not super engaging, his jokes fell flat, and it was very drawn out. The sun was hot, people were standing and awkward, and kids were very restless.
I get what he was going for – perhaps a few people were interested in the geography and history of the harbor. Most people wanted to go to the beach.
So, if you have small kids, I suggest you come prepared for a 30-45 minute idle at the beginning of the trip. Bring snacks, a game or a toy, or something to keep them occupied.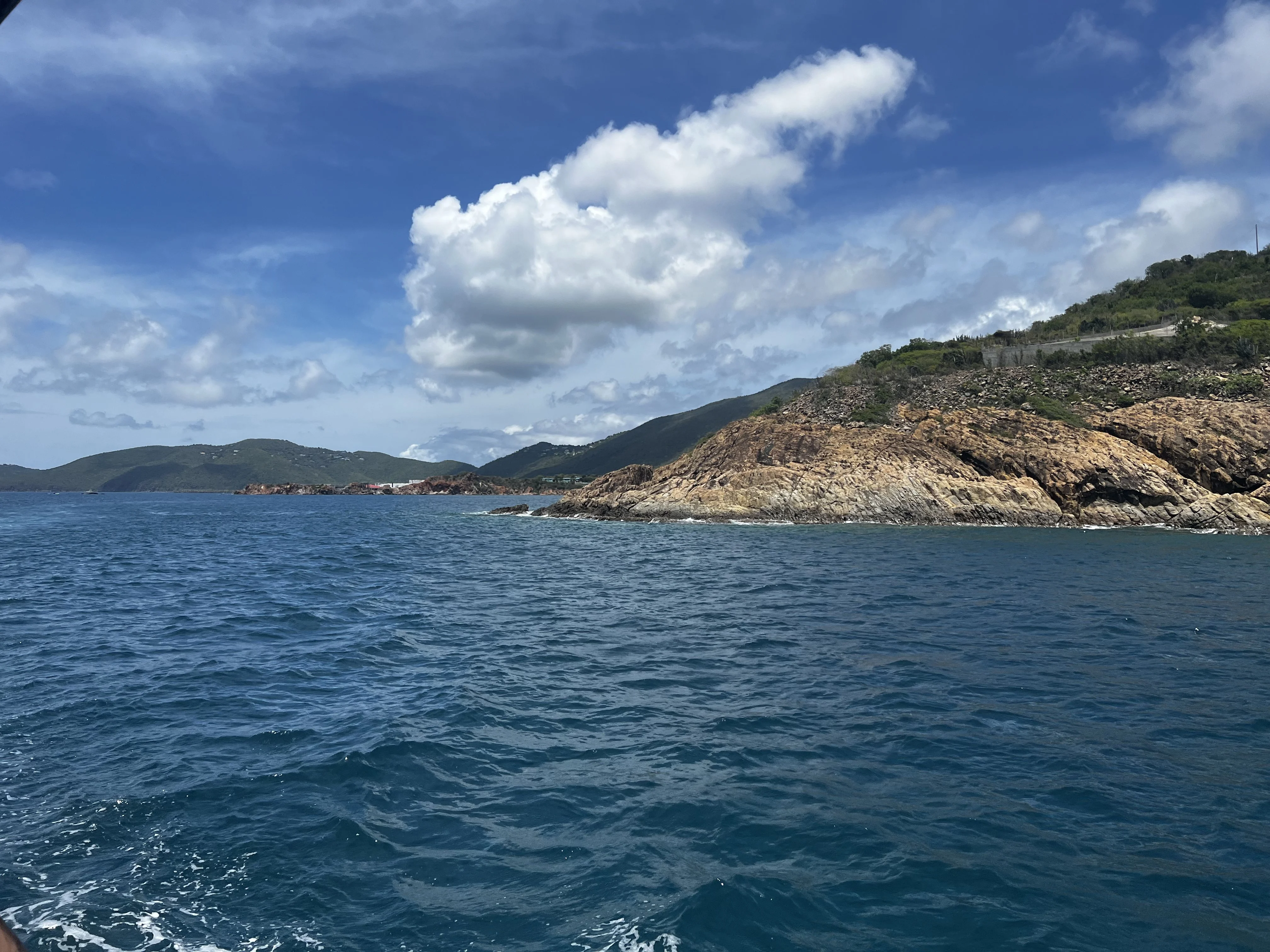 Glass bottom viewing
Once we got going, we got to a cove area and they stopped to let us look through the glass bottom viewing areas of the boat.
There are 2 glass areas and the crew had to remove the covers and lower the glass sections into the water.
There was a high ledge around the glass sections, I assume for safety, but it did make it hard for our kids to see. We had to lift them up to look in.
And, there just wasn't much to see. Clear water, white sand, some sea weed. An occasional silver to "clear" looking fish (according to my 4 year old, haha).
This was fine but certainly not a trip highlight.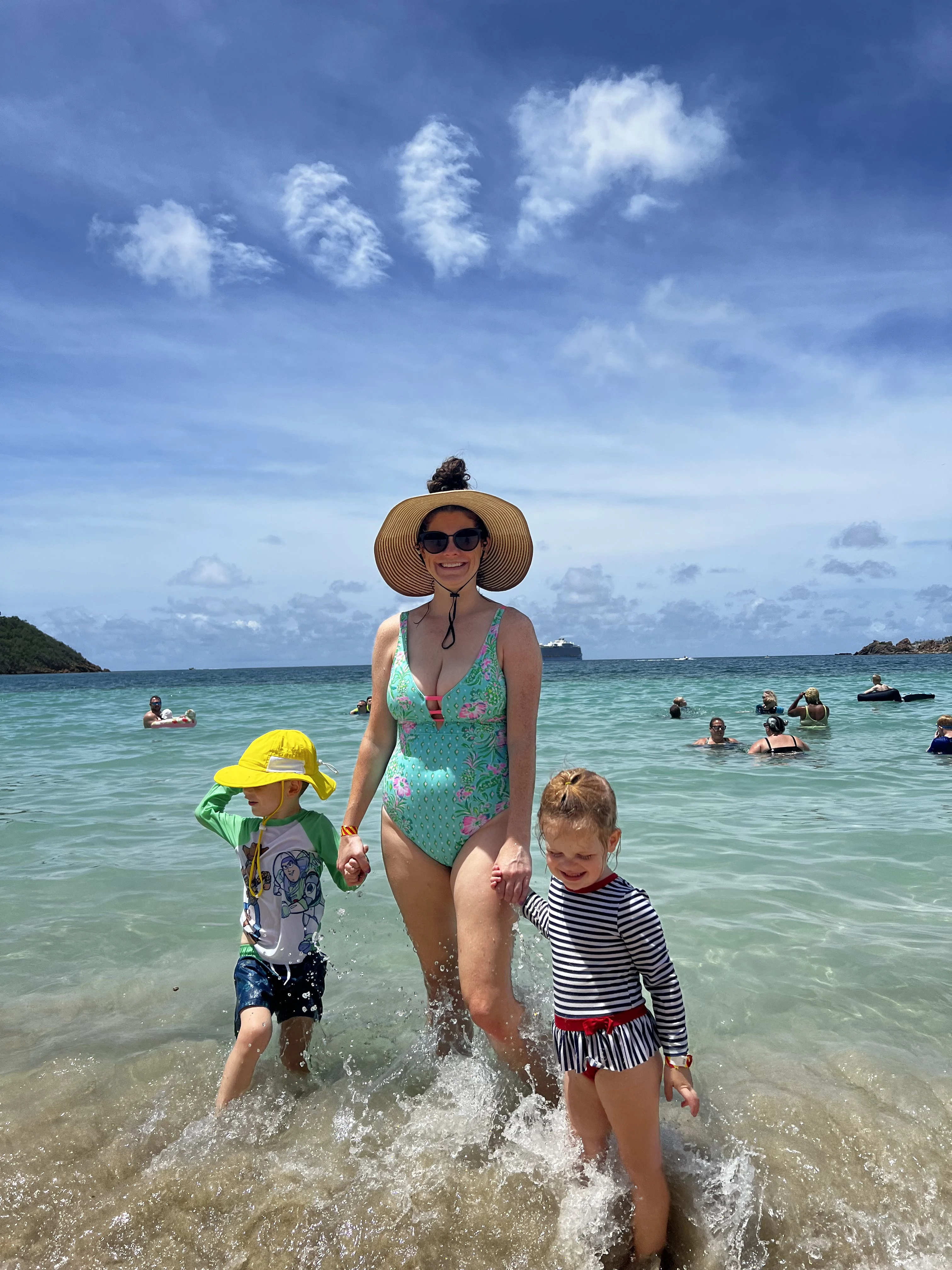 Beach Stop
The boat then stopped at Lindbergh Bay Beach. It pulled right up to the sand and we walked down the steps to the beach.
This was a small beach, not super deep, right along the airport runway.
The waves were a bit rough, but clear with white sand.
On either side there were some amenities on either side – chairs for rent and a floating obstacle course (that was closed while we were there).
There might have been food available if you walked – we didn't see any. We just plopped right down on the beach.
This beach was fine – it was not as good as Jost Van Dyke the day before. This beach was smaller and had less shells and the water was a little rough for small kids.
We stayed for about an hour and a half before being herded back onto the boat.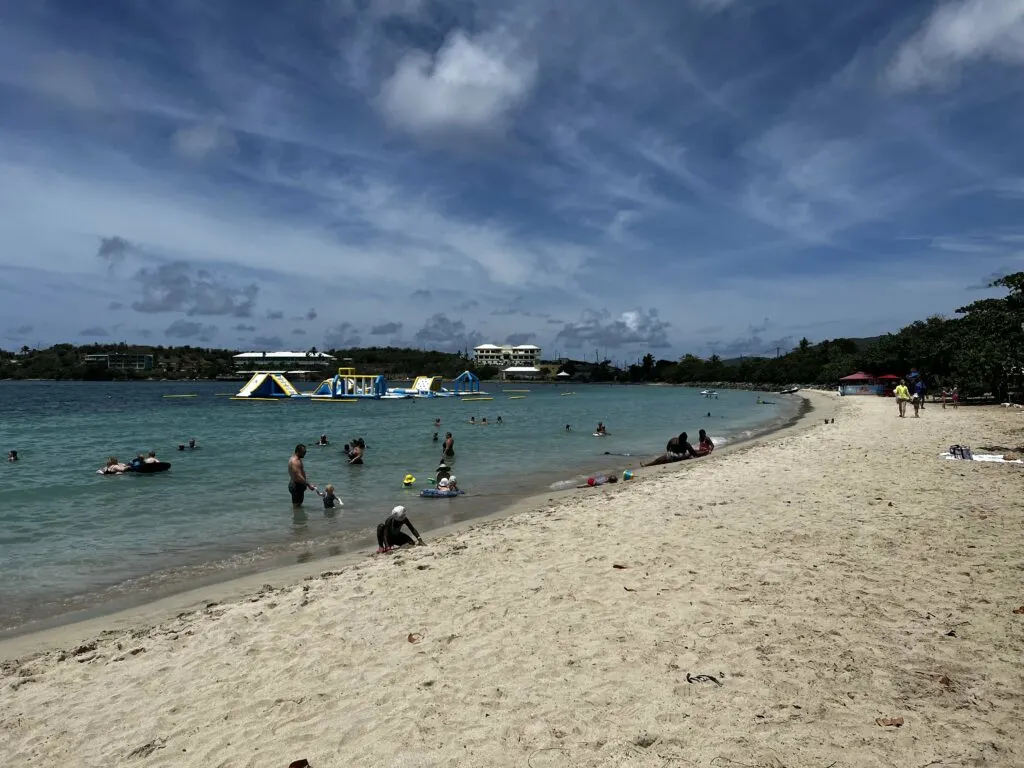 Entertainment and Atmosphere
On the ride back, there was no presentation and just music and a ride. They opened up the bar where you could purchase beers or sodas.
They also had potato chips for sale and hamburgers and hot dogs. We did not see a grill so I assume these were microwaved, haha. I didn't see anyone with a burger.
During the ride back, the band played music and people danced, there was a limbo contest, and a congo line.
We used this time to dry off and change clothes in the (really gross) bathrooms.
I was also glad that we had brought our own snacks for the kids.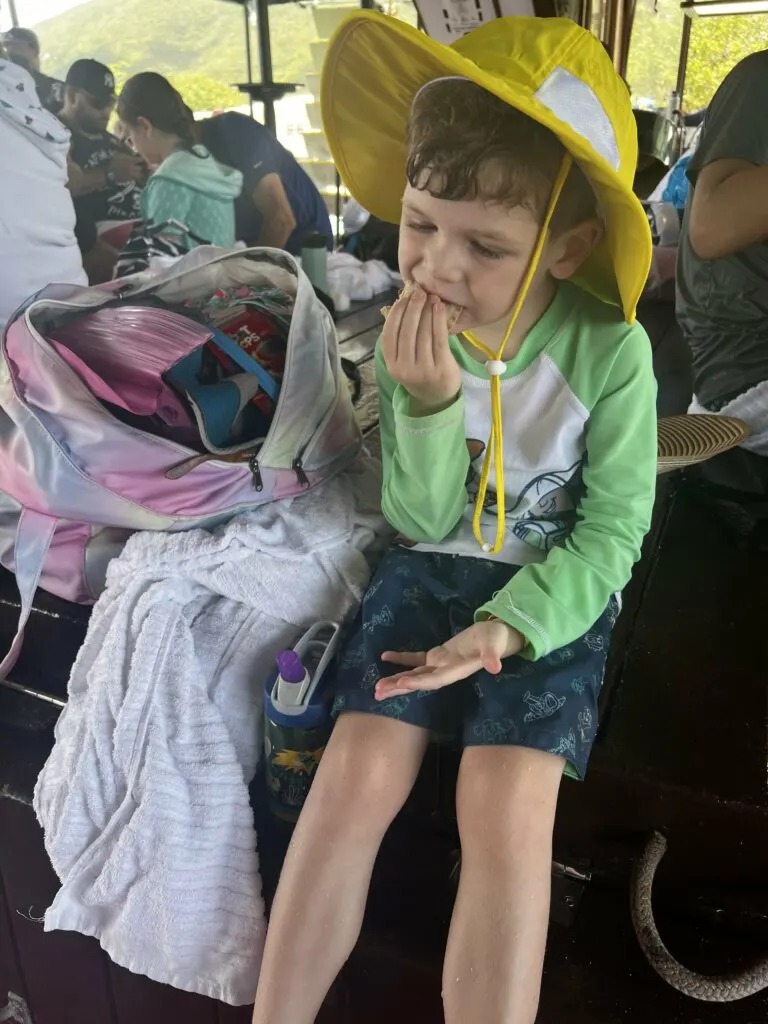 Hot tip if you are on a Disney cruise – order room service breakfast the night before and request Uncrustables sandwiches. They are not on the breakfast menu but they will bring them to you and they are free. We did this for every excursion and my kids LOVED them. It held them over until we could get back to the ship for lunch.
Is Kon Tiki boat a party boat?
I saw some warnings in advance that this was a party boat – and even saw people on our cruise facebook group cancel their excursion because of it. Maybe this varies by cruise, but for our Disney cruise it was NOT a party.
I mean – it was a party, sure – but it was not rowdy in the least. There was a band (that was great!), rum punch (that was watery) and both limbo and a congo line. It was kind of like an afternoon wedding in a church reception room, if you know what I mean.
Now, a Carnival cruise stop during spring break might have a different vibe. That's just our experience.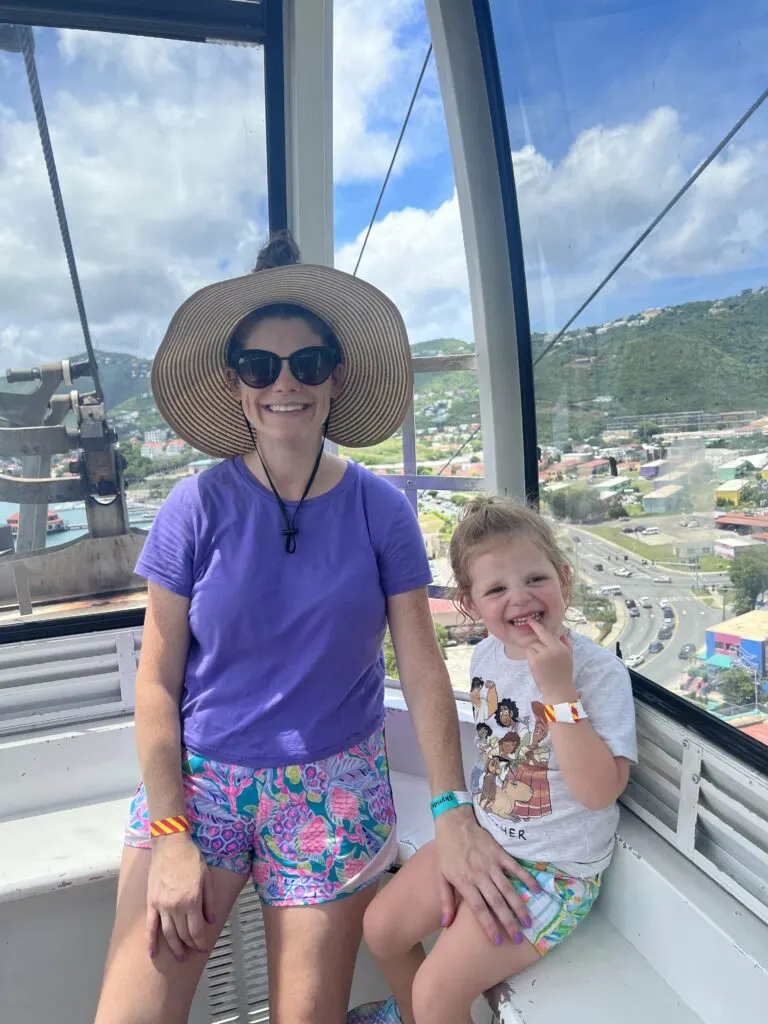 Return to Harbor
When you get back to the dock, you are right next to the ship. They checked everyones cards to be sure we all went with the ship.
After this, we walked directly (maybe a 15 minute ride) to the base of the Skyride to Paradise Point. This is a lift that takes you to the top of the hill. I HIGHLY recommend it – if I could only do 1 thing I'd do this over the boat cruise.
At the top of the hill there are a few gift shops and a restaurant. We ordered drinks + french fries, but it is really about the sweeping view. It was stunning and so fun to be up high!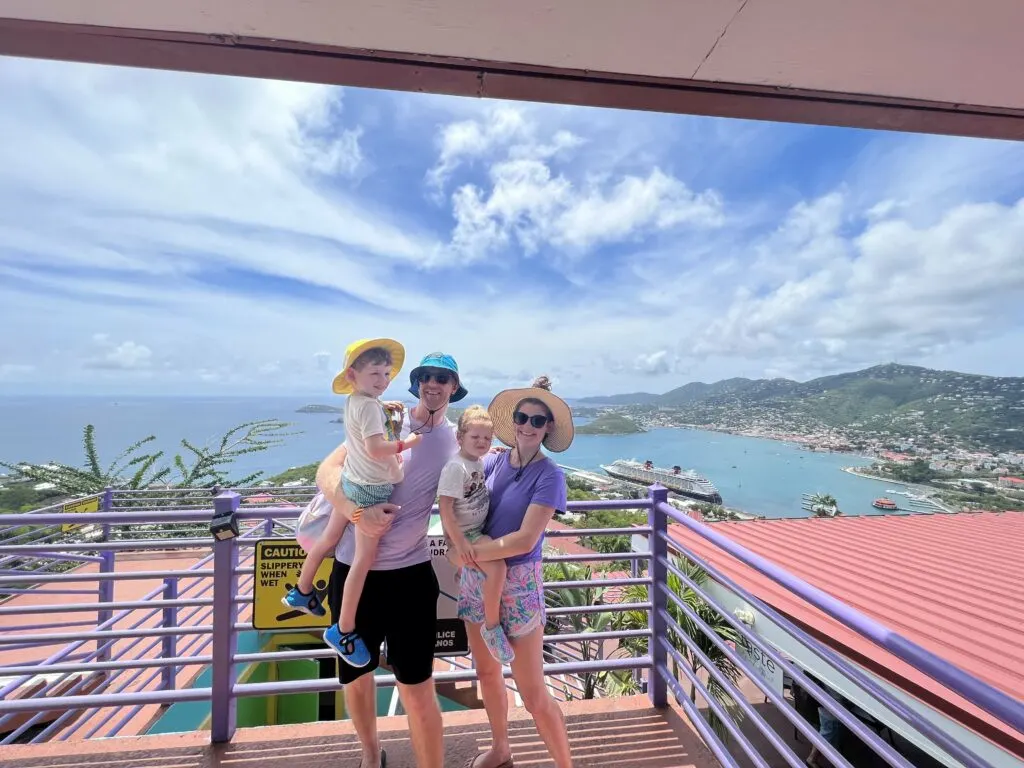 Overall Experience and Impression
Overall, we had a good but not great time on the Kon Tiki Harbor and Beach Cruise. It was an easy and convenient way to get from the cruise ship to the beach.
I think if there had just been a boat taxi, my kids would have preferred it. The history tour, glass bottom viewing, and entertainment were all pretty meh.
If you are looking for a beach cruise excursion in St Thomas that is kid-friendly, this is not a bad option and might be the best bet of the official cruise excursions available.
Any more questions about the Kon Tiki boat tour?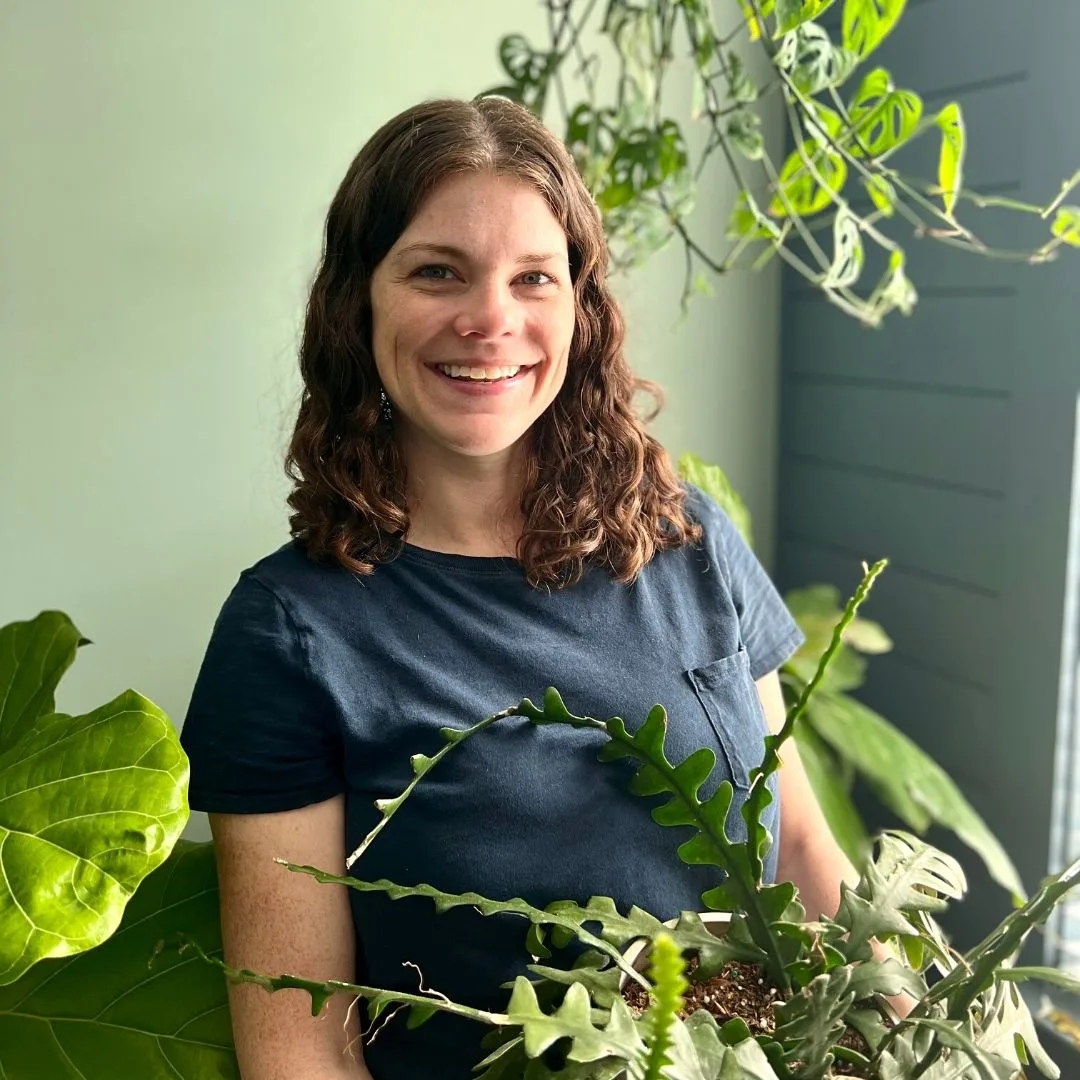 Hey there, I'm Morgan, the creative mind behind CelebratingWithKids.com! As a parent of two lively little ones, I've made it my mission to turn ordinary days into extraordinary adventures, sharing playful activities, thoughtful toy reviews, and delightful printables to help families celebrate every moment together. 🎉👨‍👩‍👧‍👦🎈