Considering buying or adding an Ubbi diaper pail to your registry? We have bought it twice – and here's why it's worth the price!
Baby shopping is this weird time. You feel like you need to buy so much STUFF but you don't know what you need, or even which of each thing to get.
It's a lot!
Whether you are making a registry or shopping for yourself, I am there with you!
I didn't have siblings with kids or much guidance so I did all of my baby shopping research on good old Google. If you're doing that too, I hope this helps!
Today I want to talk about the Ubbi diaper pail – an admittedly pricey option to hold dirty diapers.
So, here's my Ubbi diaper pail review – my honest feedback after having 2 of these for three years!
Be sure to check out my Snoo smart bassinet review!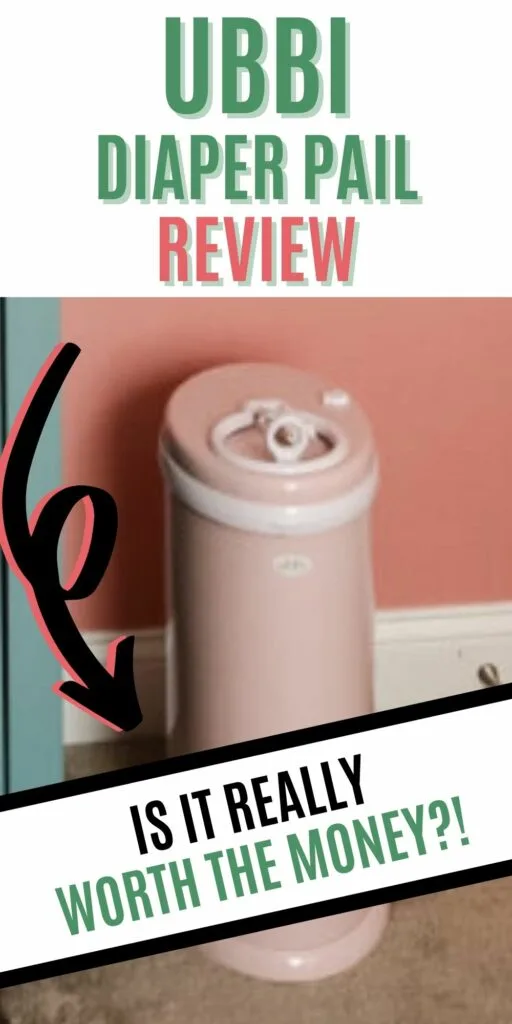 What is the Ubbi diaper pail?
This is basically an Ubbi trash can for dirty diapers. It's meant to be kept next to the changing table so you can throw dirty diapers out immediately and trap any odors in there.
What are the pros of the Ubbi diaper pail?
There are a lot of pros of the Ubbi diaper pail!
Style
The Ubbi diaper pail is sleek and modern looking. This might not matter to you, but as a professional home decorator, it was important to me!
It also comes in a variety of trendy, beautiful colors.
Quality
It is maid of stainless steel and other high quality materials. My kids have knocked them over many times and they haven't dented or scratched! They are good for the long run.
Traps in smells
The Ubbi definitely traps in smells. When it is closed, I smell absolutely nothing.
It really has maximum odor control!
Uses regular trash bags
Many other diaper disposal systems like the diaper genie have special bags you have to use. The Ubbi is designed to work with any brand trash bag. This is clutch!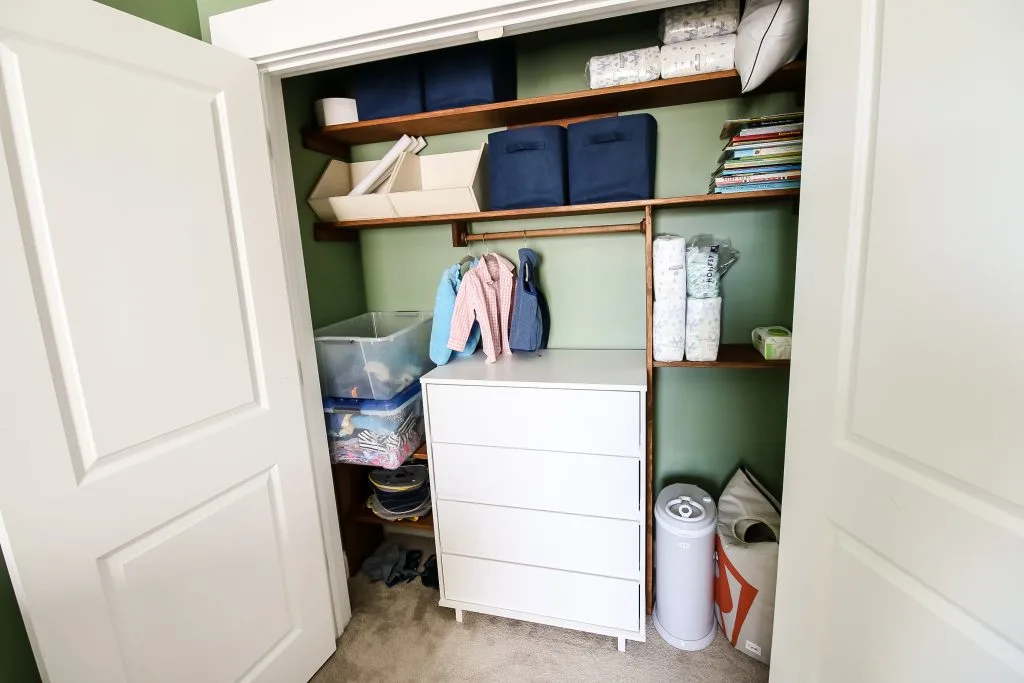 What are the cons of the Ubbi diaper pail?
The Ubbi diaper pail is not perfect, here are the biggest cons!
Cost
The Ubbi runs about $80 – but prices can vary online – they are often on sale or sometimes the pink costs extra.
They are definitely pricing it at the top of the market for diaper pails.
Hard to change the bag
When the trash bag is very full, it's really hard to pull the full bag out. Plus, frankly, it stinks horrifically so changing the bag is a traumatic experience.
No step/hands free option
There's no foot pedal to open it to put a diaper in. This is good for keeping toddlers out, but can be a slight problem if your hands are full or covered with poop.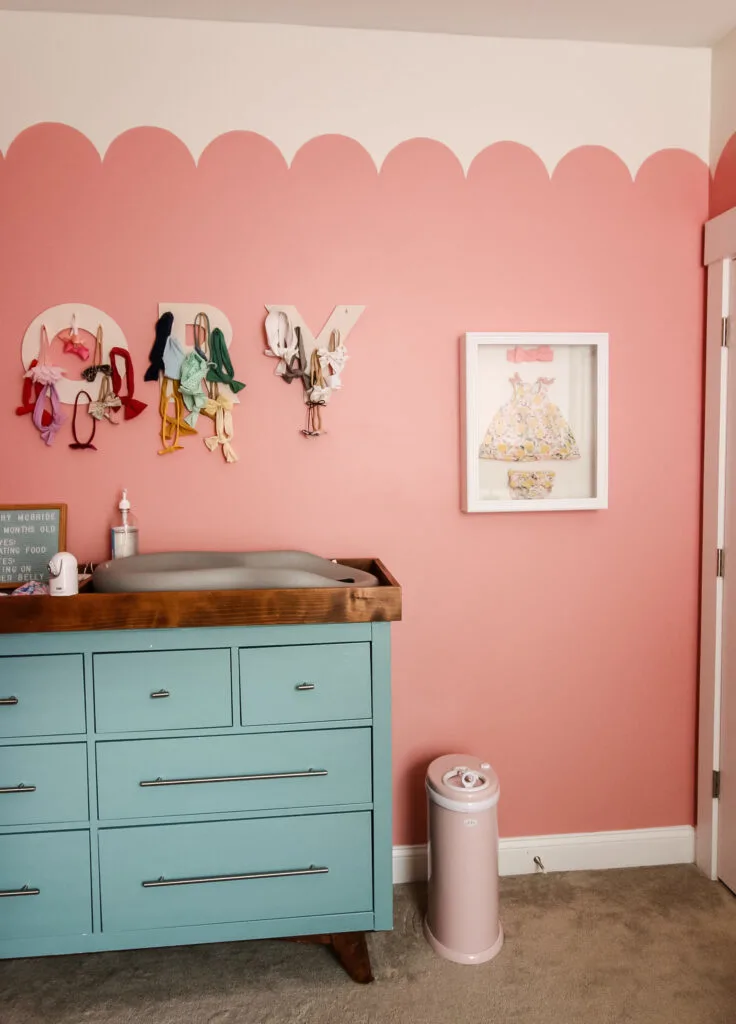 Is the ubbi diaper pail worth it?
These diaper pails are beautiful, odor controlling, and work great. If you can afford them, they are 100% worth it. Put it on your registry! However, I would not go into debt to buy one. It's not going to make or break your baby-having experience!
I loved our Ubbi so much I bought a second one for our second kid. This is notable because I didn't buy two of hardly anything else. I didn't buy a second changing pad even! But a second diaper pail was a must.
How do you keep a UBBI diaper pail from smelling?
Your best bet is to keep the can closed – no smells should get out when it is closed. Change the bag regularly to keep it from getting too stinky. You can add an air freshener underneath the bag if it gets too bad.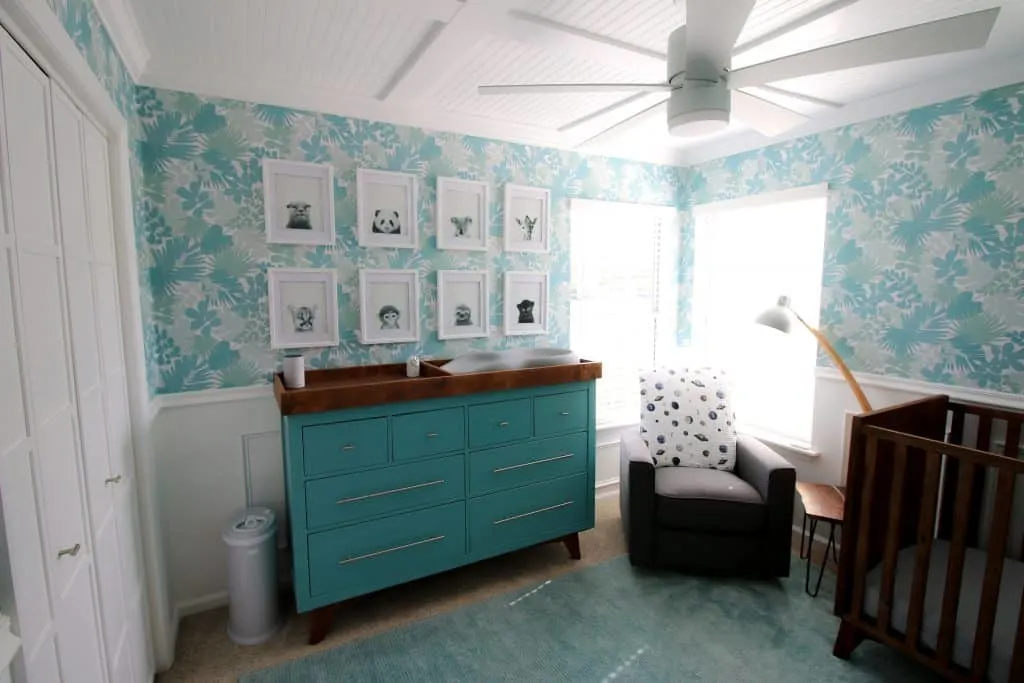 Why does UBBI diaper pail smell?
To be obvious, it stinks because it's filled with festering feces. It shouldn't smell when closed. If it really stinks, change the bag. I only smell an odor when opening and closing the lid.
If it's a big issue, clean it out with white vinegar and baking soda and consider adding an oder absorber underneath the bag in the bottom of the pail.
What do you put in a UBBI diaper pail?
You can use any trash bag in a Ubbi diaper pail! That's a big benefit.
You can add an air freshener or odor absorber to the bottom, but I just keep mine closed and see no need.
If you use cloth diapers, they sell a washable cloth diaper pail liner, too!
Is it worth getting a diaper pail?
A lot of people I have talked to don't use a diaper pail at all. They put dirty diapers in a plastic shopping bag and immediately throw them out.
If you are broke as a joke (lol no hate we've been there) then I get this.
However, if you have the option to get a diaper pail – get one. Trust me, you won't be taking diapers to the outdoor trash at 2am. They will pile up and stink!
Any more Ubbi steel diaper pail review questions?