Considering getting a crystal ball toy for your kids? Here's my complete Magic Mixies Magical Misting Crystal Ball toy review!
It seems like every round up review I see for the Top Toys for Christmas 2022, the Magic Mixies Magical Misting Crystal Ball is at the top of the list.
I kept seeing it over and over again, and since I like to review popular toys, I decided to order one for my kids to try it out and review it for you!
Now, this is one pricey kids toy, especially when you get it in your hands and check it out. Let's talk about what this toy is and if it's worth the hype – and the steep price tag.
Be sure to check out my Magic Mixie Genie Lamp review, too!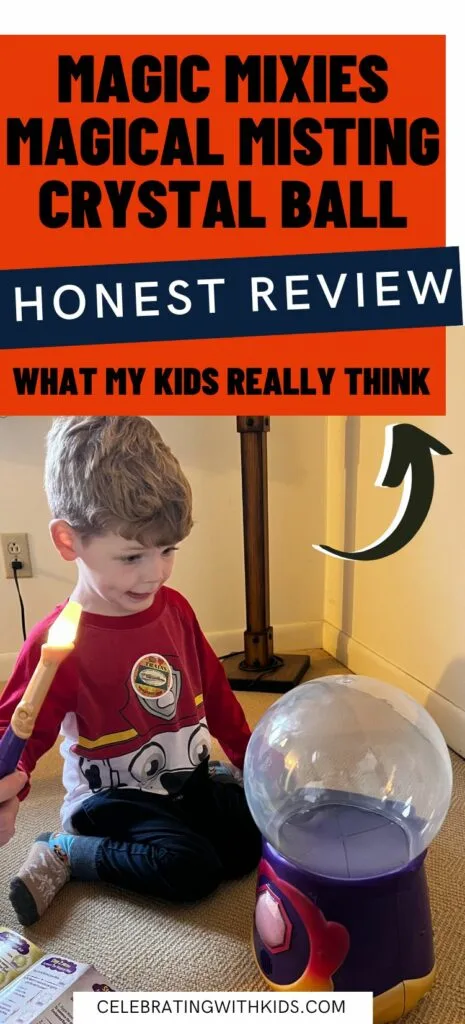 Magic Mixies Magical Misting Crystal Ball Review
The Misting Crystal Ball is a toy that lets kids do a magic spell using a wand and then a toy appears. They can then play with the toy that was inside the ball.
My overall impression of this toy after using it with my kids is that it is overly (unnecessarily) complicated and that they payoff (toy revealed) is not worth the difficulties.
My 4 year old son loves the lights and smoke from the crystal ball – and couldn't care less about the toy inside. The smoke show got old after doing it 4 times consecutively, and I'm yet to see him reach back to try this toy again.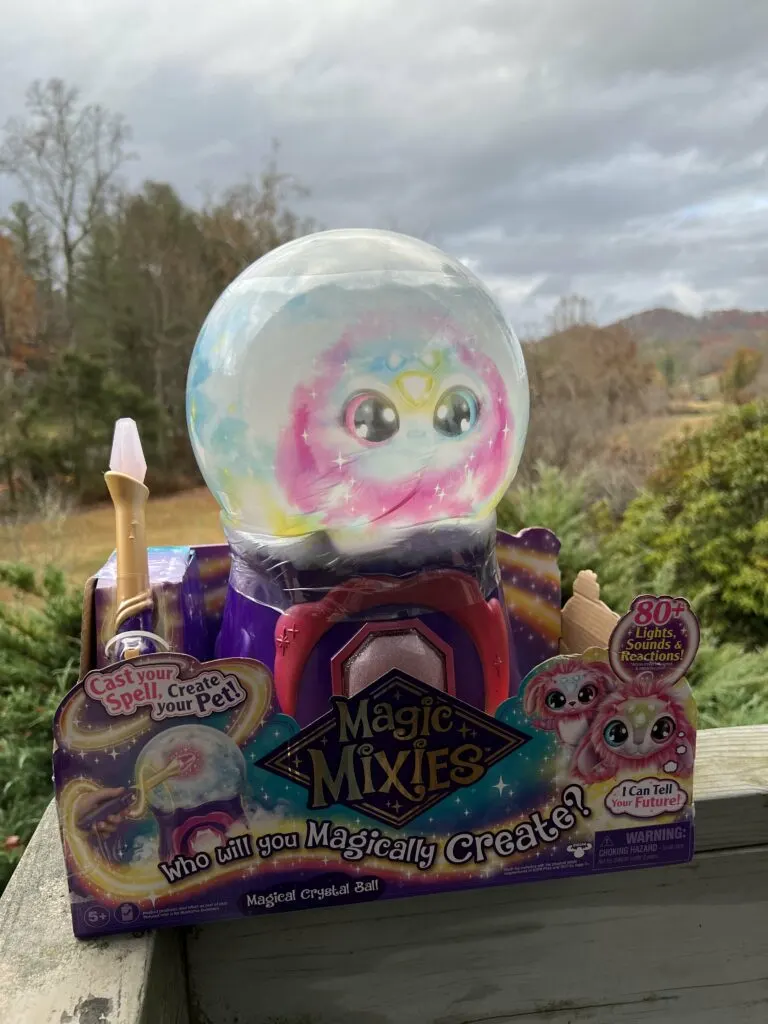 What even is this thing?
This toy is a crystal ball and wand combination. You have to do a certain routine with the wand, pushing buttons and waving it in different directions, before it reveals a magic mixie toy inside the crystal ball.
Then, you unscrew the ball and cut out the toy. There are games the mixie toy can play, but they are pretty lame.
Overall, this toy was a whomp-whomp for me. My kids fought over the wand (a lot), the spells were too complicated for them to do alone, and the resulting toy was boring.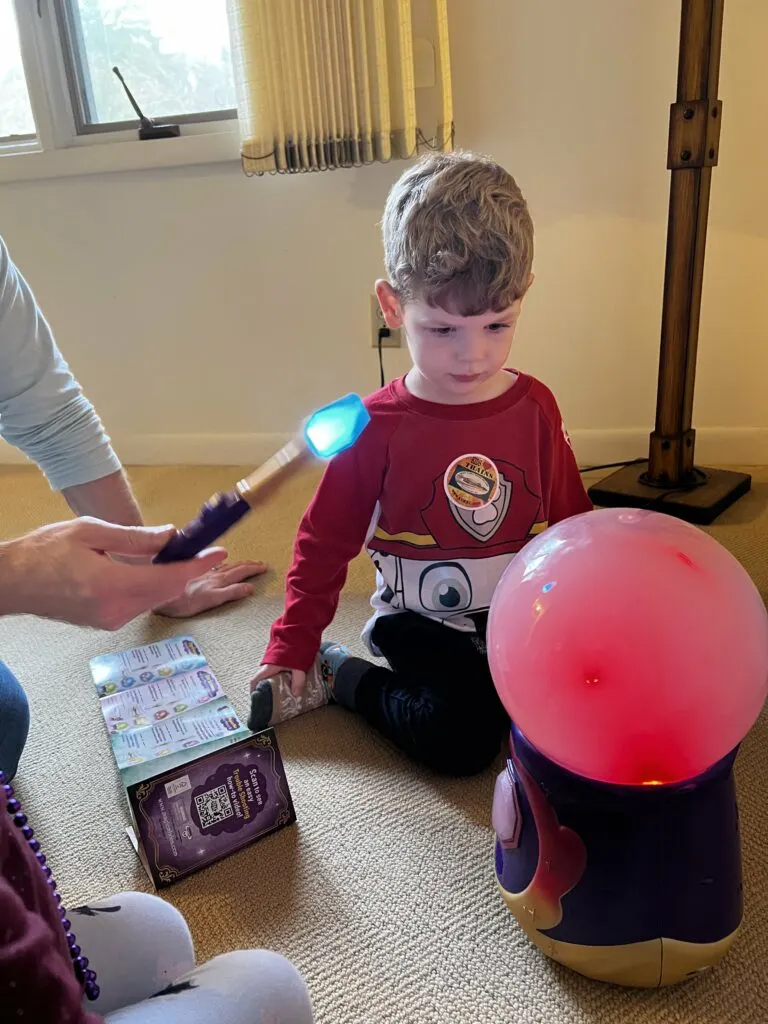 The Crystal Ball + Wand
This toy comes with TWO instruction manuals – one for revealing the mixie in the ball and one for the mixie itself.
I will start by saying this – the whole crystal ball reveal process was way over complicated and a bit confusing for my kid (aged 4).
Once you reveal your mixie, you can actually re-do the sequence and put any toy inside the crystal ball. My son got WAY more enjoyment out of putting his old toys in the ball, making them disappear and reappear, than the actual mixie.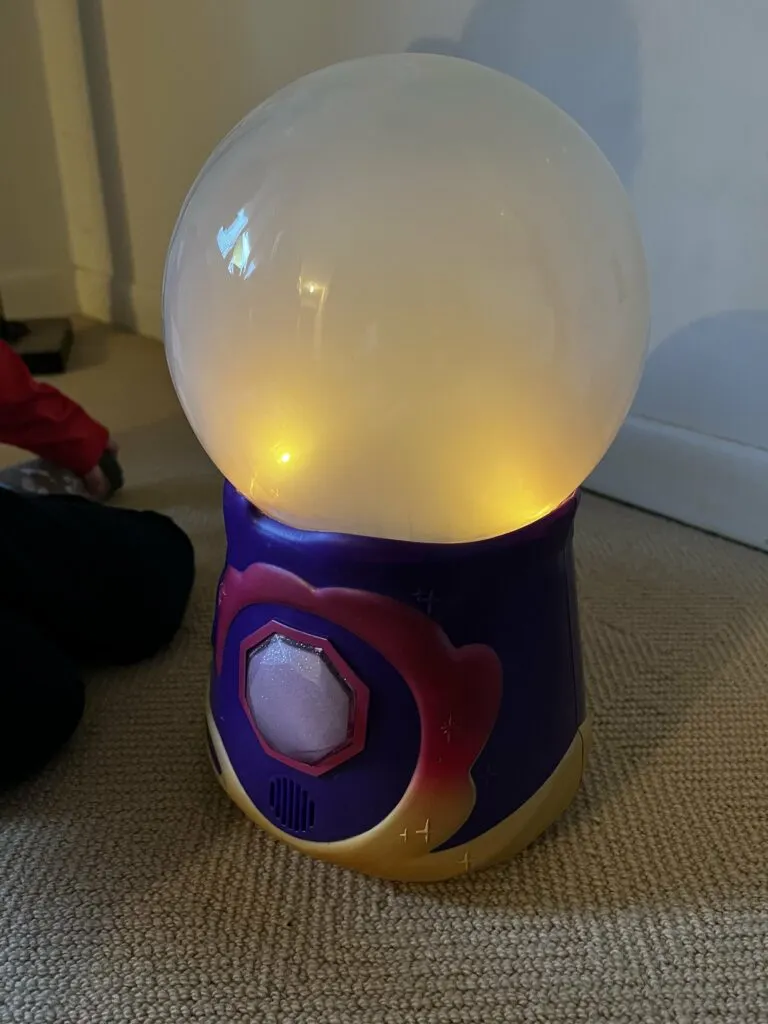 Even after doing it 4 times, we were still having to do the motions with or for the kids. The wand isn't super accurate or responsive, and it just isn't friendly towards preschool aged kids.
Additionally, it's the same pattern for each of the 8 steps, which means you're just repeating the same thing over and over to drag out the time.
I will also say that the smoke that comes off of the crystal ball smelled like burning. I assumed it was steam and still don't know what it is, but it made the room visibly smokey. The packaging says that normal, but I really didn't like this!
Looking at the Amazon reviews – most people seem to agree with me. This toy is too complicated and confusing, and in the end not a good long term or independent play toy for kids.
The Magic Mixie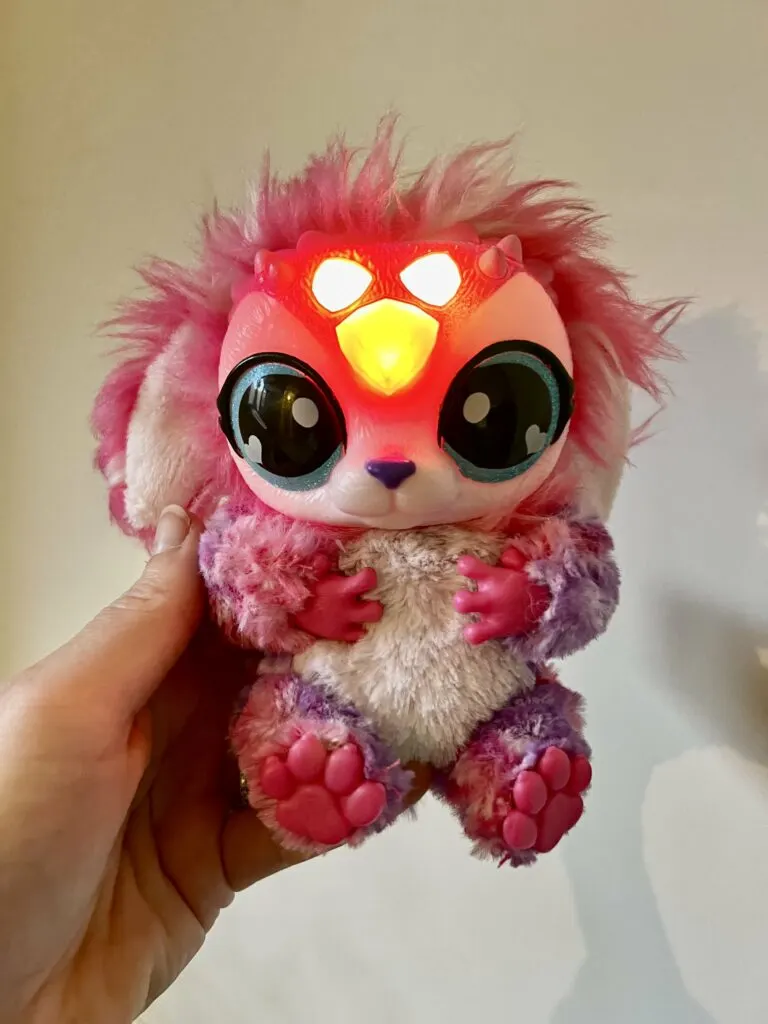 The toy that comes inside the ball is a mixie. It has a few "games" it can play. I expected more to be honest!
Fortune telling – ask a yes or no question, push it's belly, and its head light will turn green for yes, red for no, or yellow for maybe
Tickling – tickle its stomach and it laughs
Matching game – its head lights a color and you are supposed to shake the wand until the color matches the head light color. We never got this to really work.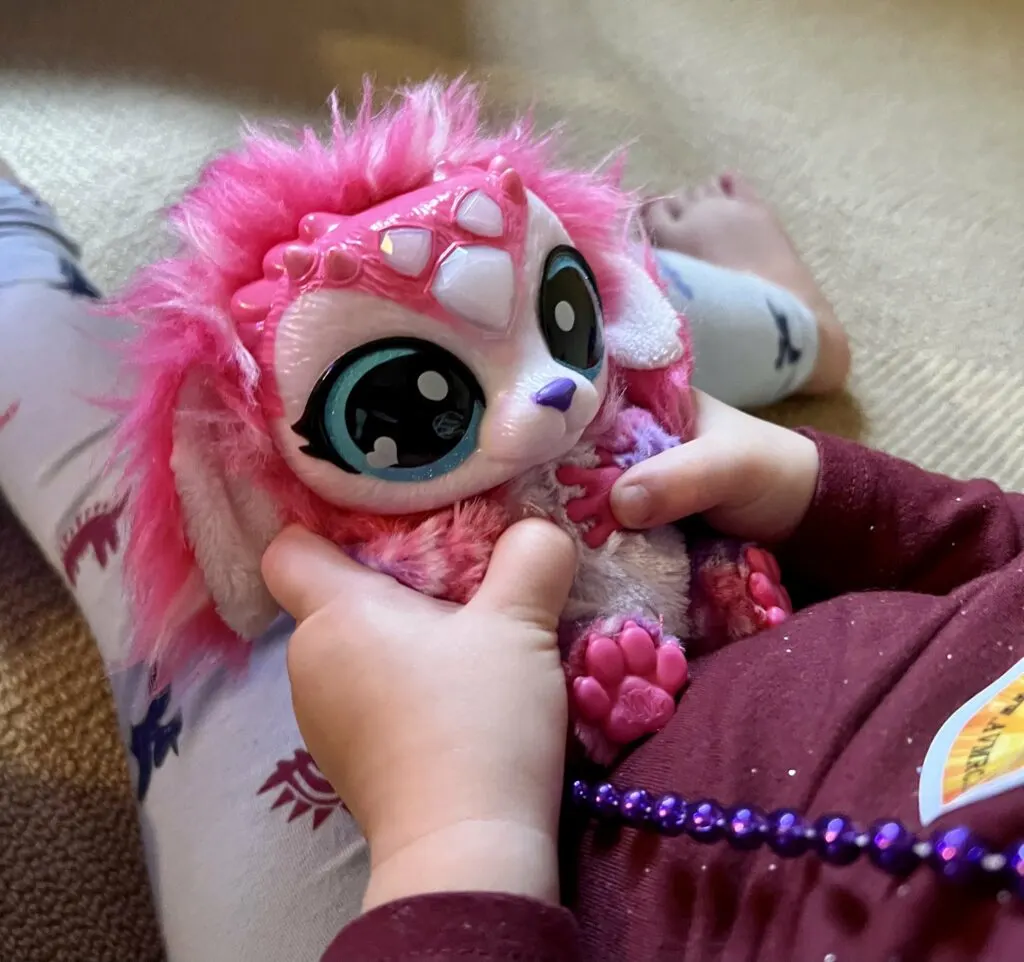 The toy itself is OK – my 2 year old likes carrying it around – but as far as the interactiveness goes, we have cheap talking stuffed animals that do more tricks.
Is Magic Mixies a one time use?
No, you can re-do the magic ball with any toy or the mixie again, do the spells, and have it smoke up and appear. It has enough juice in there for 40 times for the smoke to come out, or you'd need a refill pack.
I would say that the 40 times is an estimate because if you don't do all the steps correctly in the right time period, it just keeps smoking, so it could run out sooner.
Are batteries included with the Magic Mixies magical misting crystal ball?
YES, batteries for the wand and ball and toy are included – for that price, they better be.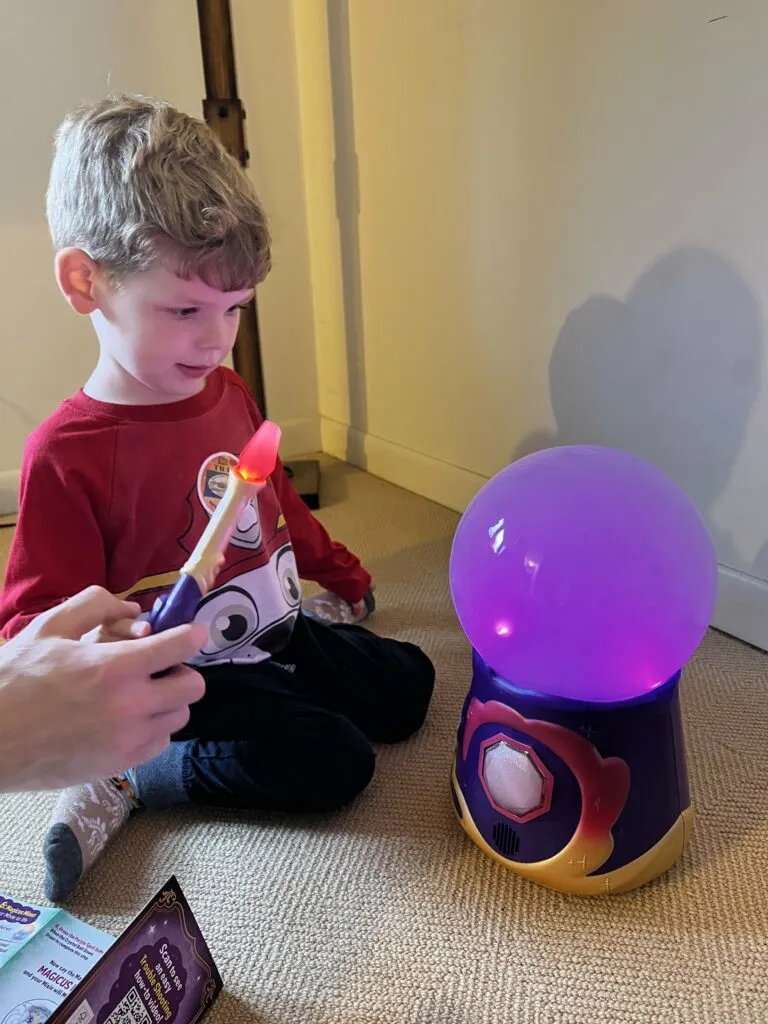 How long does it take Magic Mixies to work?
It takes about 5 minutes to get through the whole spell process to get the magic mixie to appeal. The process is specific and elaborate. Too precise and elaborate for kids this age.
When making your own toys disappear, you add a few minutes to the process for that part.
What is the point of Magic Mixies?
The various Magic Mixie toys are supposed to help kids enjoy magic. They mix magic with colorful toys and bright lights to try to really be appealing.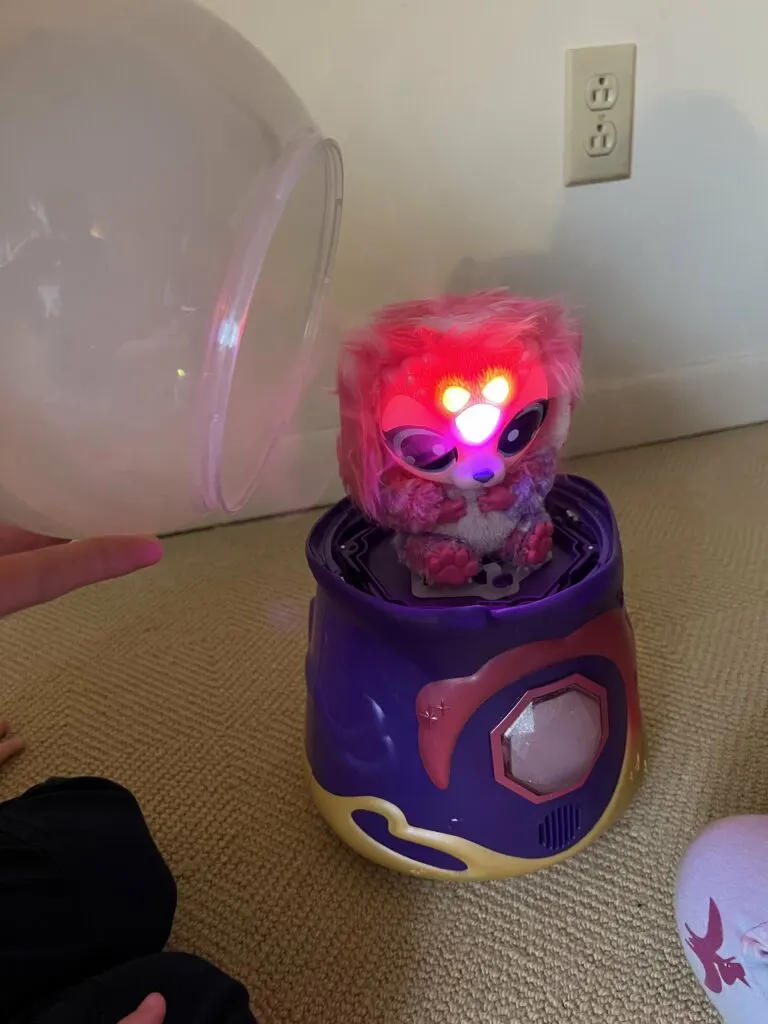 Is the Magic Mixies Magical Misting Crystal Ball worth it?
I'm going to answer this with a resounding no. The crystal ball and wand are a bit confusing and overwhelming for kids to work – and the results are truly underwhelming. The toys themselves seem like they are worth about $30 total to me.
When we bought it, there was a $20 off Amazon clickable coupon. I assume that, since these toys are so hyped, there will be big Black Friday deals. Don't pay full price! Please don't.
That being said – if this is what your kids really want, and you have the budget, I won't tell you not to get it. It's not terrible – it's just not super impressive and doesn't keep them entertained for long.
For $75, there are a lot better toys you can get.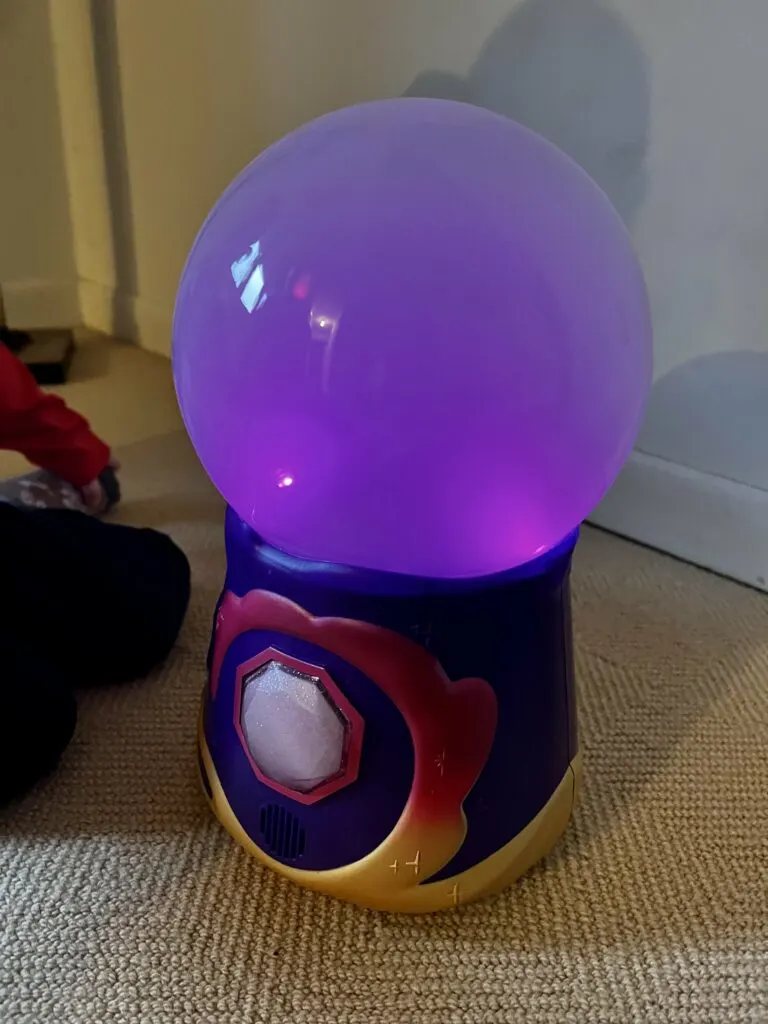 Any questions about the Magic Mixies magical misting crystal ball?