Getting ready for baby number 2? Depending on how old your older child is, you may have a lot of saved baby clothes to sort, purge, and organize. Here are my tips for getting it done!
I was SO excited when I found out our second child was going to be a girl! I have always wanted a girl (sorry Luke!) and Sean was glad to have "one of each" and be officially done 🙂
However, having a girl meant that not all of our left over baby clothes from Luke would work for this new baby. Don't get me wrong – I am all for defying gender stereotypes and dressing girls in dinosaur and truck shirts.
But somethings were just not going to work. Plus, I know myself. If I have a drawer full of pink frilly options and a few boy or neutral outfits, I am going to reach for the pin every time!
Since we are prepping to move at this same time, it was the perfect excuse to purge.
Luke is only 19 months old but we had 6 large plastic bins of clothes he has outgrown in the attic!
Here is the process that I used to purge and organize his old clothes to get ready for the new baby.
How to purge and organize baby clothes for baby #2
1. Sort by type
First, I pulled everything out of it's current bins. I went one bin at a time and sorted all of the items into categories:
Onesies
Sleepers
Shirts
Pants
Toys
Gear
I repeated this process on all six bins of clothes. I ended up with big stacks of clothing and a pile for each of the toys and gear.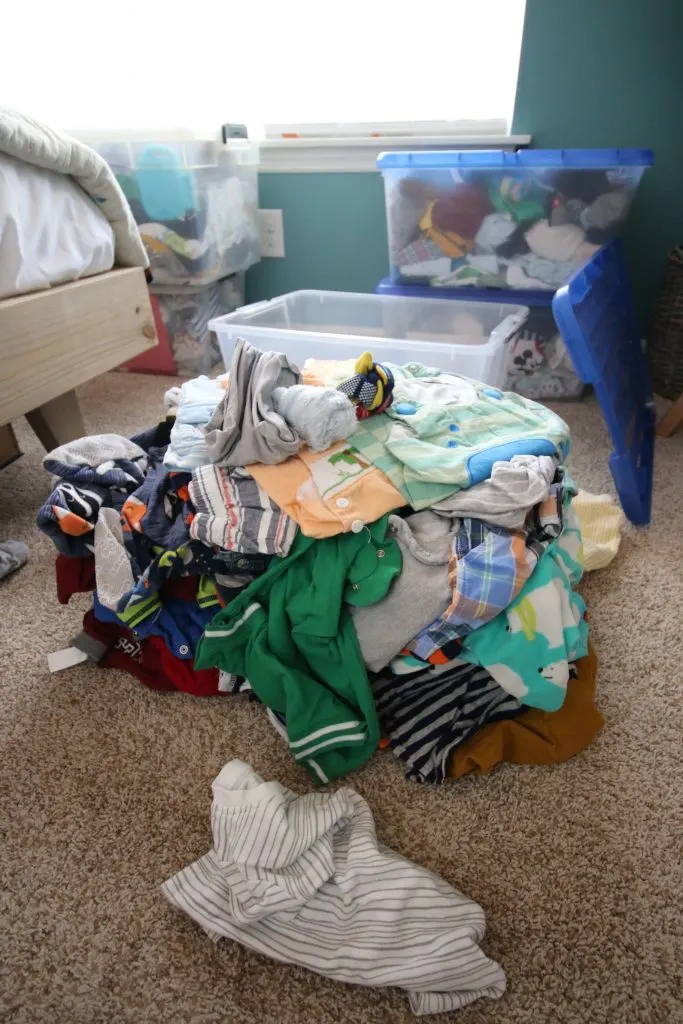 2. Pull out any definite "no"s
Look through each pile and pull out anything that was a definite no. There are a lot of reasons to not keep something. Maybe it:
Will not work for the gender of the new baby
Is damaged, stained, ripped, or broken and you don't want to or know how to fix it
If you know you don't want to keep it, removing it from the pile gives you a better idea of what you DO want to keep.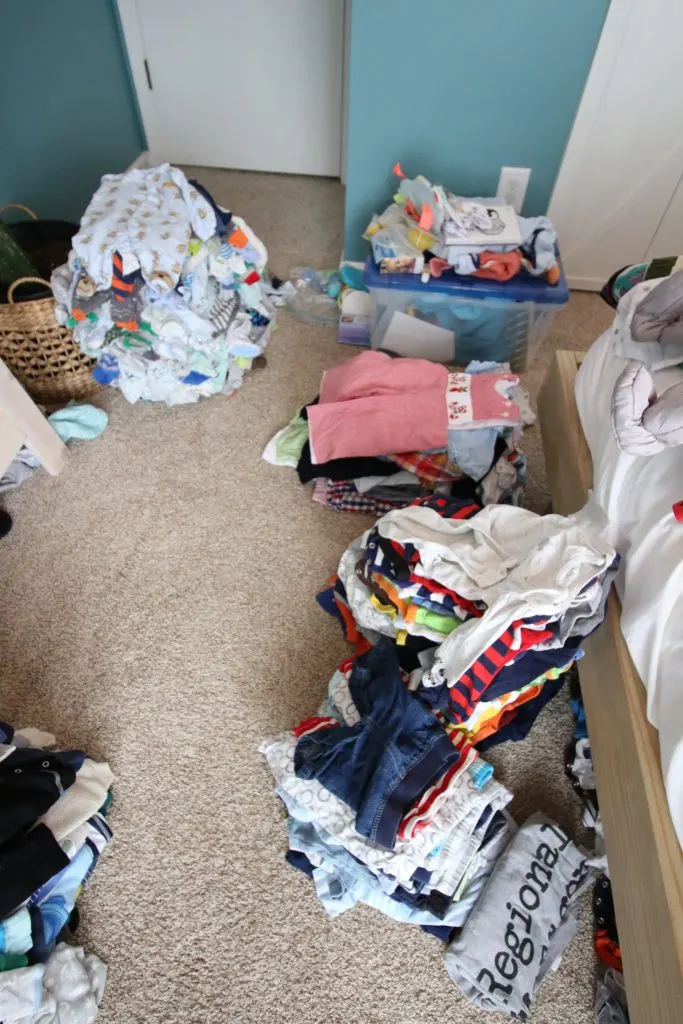 3. Sort into piles by size
Now take each pile of item – such as onesies – and sort it into piles by size.
This will give you a good idea of how much of each item that you have on hand.
4. Purge each pile
Go through each pile (it should be 1 type of clothing in 1 size). Pull out anything you don't love or want to re-use for your next child.
Sometimes it helps to see that you have 25 size 3 month pajamas, to encourage you to get rid of some that you don't love as much.
I know that I didn't like baby pajamas with snaps (vs. zippers) but felt bad getting rid of them. Until I realized I had PLENTY of zipper pajamas and could totally live without the snap ones!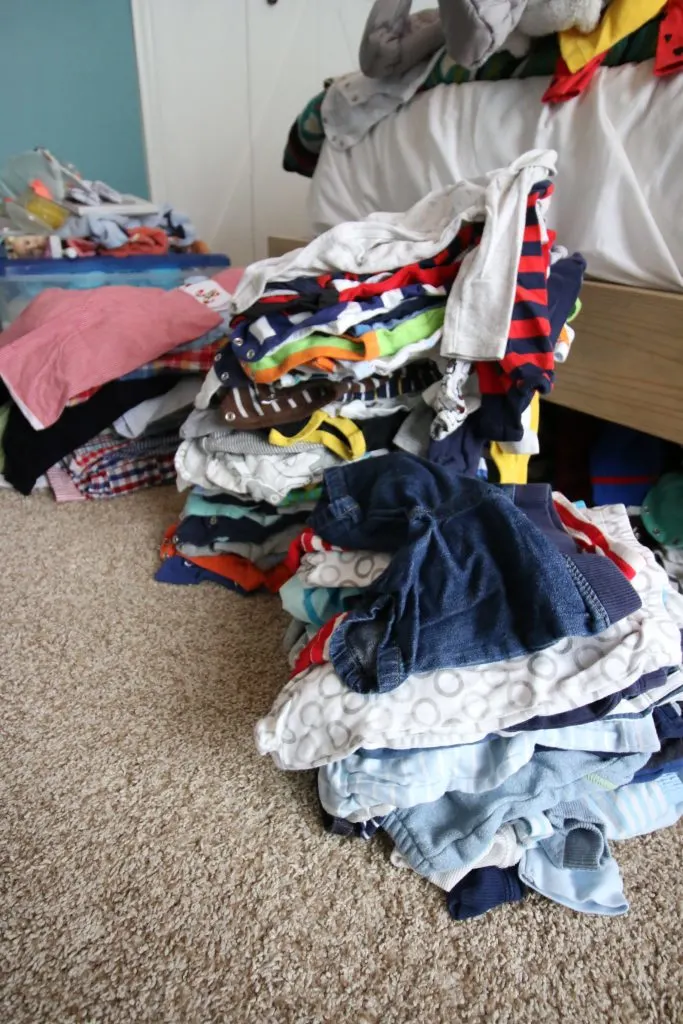 5. Store clothing by size
Once you have purged each pile, add it to your storage bin. This could be a bin for the attic or closet, a big tote bag, or even to go in dresser drawers in the new baby's room.
It's definitely best to sort clothes that you want to keep by size so you can easily pull them out together as your child grows.
Repeat this process until all the "keeps" are put away and all you have left are "no's".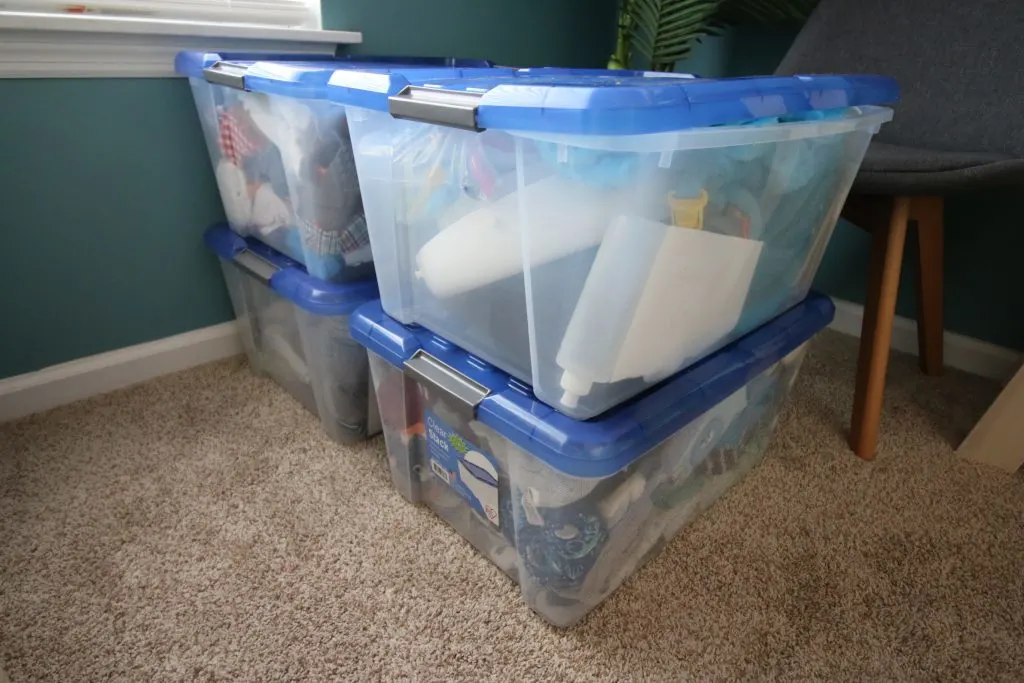 6. Sort those "no's" into piles
As you decide not to keep things, sort them into piles. I made piles for:
Trash
To donate/give away
Things to try to sell in bulk (such as onesies)
Things to try to sell one-off (higher end name brands or "fancy" outfits)
7. Throw out the trash
Do not delay. Bag it, trash (or recycle as appropriate) and get it out of your house.
8. Actually sell/donate what you say you will
If you decided to sell or donate some items, do it right away.
Donations
Bag them up and take them to your local donation center. Don't try to donate anything damaged – it just wastes those charity's resources. Here's a guide on whether you should donate something.
Selling in bulk
One of the easier ways to sell baby clothes and toys is in bulk. Basically, group together similar items – such as onesies size 3-6 months, or sleepers size 6-9 months – and sell them as a lot.
A lot of the time, it's not worth people's time to buy one item of baby clothing for a dollar or two. Selling in bulk saves everyone time!
Remember to price well – $1-2 per item – for best results.
You can sell bulk "lots" of clothing on Facebook Marketplace, eBay, or similar sites.
You can also drop off large lots of clothing at places like Once Upon a Child. They do not pay very much – but it can add up if you have a lot of things, especially if you trade it for store credit.
Selling one-offs
If you have name brand items, it might be worth your time to sell them individually.
Check each item and take note of any flaws or damage. People paying $20+ for one item of baby clothing expect it to be in great condition – and at least know of any flaws in advance.
Your best bet is to look for Facebook groups that specialize in the brand or style of items that you have to sell. These are great places to post "purges" or "closet clean outs". Be sure to read and follow any group rules.
Other options for high end clothing online include eBay and Poshmark, as well as Mercari. Note any fees or shipping costs and include them in your sale price.
Your final option is to take these items to a consignment store. They are usually very picky about what they buy, and take a large percentage of the sale. Most do not pay until the item sells. But, it's very hands off for you.
Click here to read about how I store + organize my son's baby clothes!
Any questions about purging baby clothes?