Whether you are broke or just don't want to spend money, here are great ideas for how to celebrate Mother's Day for free!
Mother's Day is meant to be a happy celebratory day where you give thanks for the moms and mother-figures in your life.
However, like everything else, it has gotten wrapped up in commercialism and become another expensive holiday.
There's pressure to buy flowers, lavish gifts, expensive meals.
Whether you are a kid without a bank account, or an adult that just doesn't have extra cash, it can be discouraging.
Have no fear – the real point of Mother's Day is togetherness and thoughtfulness. Making an effort is literally the entire point.
Plus, your mom almost certainly knows your financial situation and does not want you blowing money you don't have on her. Trust me there!
So, let's talk about free ways to celebrate Mother's Day!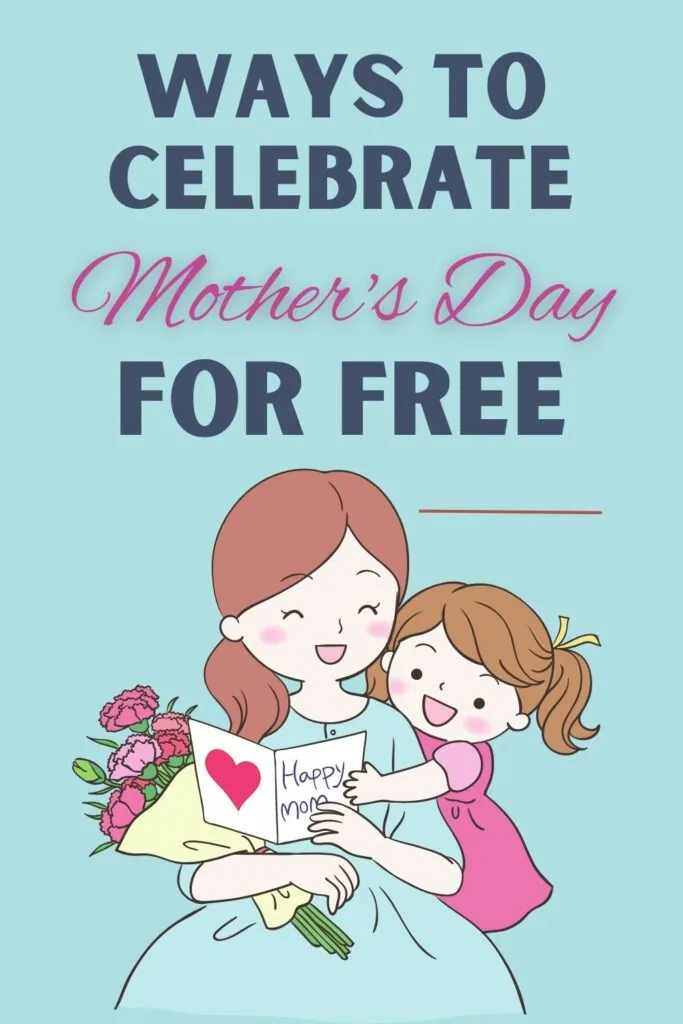 How to celebrate Mother's Day for free
Here are my best ideas for how to celebrate Mother's Day when you're broke:
Go walk somewhere – consider a (free) botanical garden or park with flowers in bloom
Make a card – definitely DON'T spend $5 on a card if you're broke. Please do not 😂. Fold a sheet of paper in half and get creative.
Let her sleep in – take over any early morning responsibilities so she can sleep or take a long bath
Picnic – nothing fancy, homemade sandwiches at the park are special!
Plan a movie marathon or binge watch her favorite show (bonus points for making or serving her favorite snack!)
Have a game night or a game tournament – board game or yard games like corn hole or ladder toss
Bake a cake, cookies, or her favorite treat
Paint a rock – she can set it on her desk and always think of you
Make her breakfast in bed (check out my easy recipe suggestions!)
Make a slideshow of photos – even better if you have some older ones – and set it to cheesy music. Put on a show, playing it on the TV is even better!
Clean the house – pick up a mess she's always complaining about, clean your room, vacuum the rug. She will be shocked and overjoyed!
Do a load of laundry – and fold it and put it away, too
Do the dishes – sensing a pattern? Picking up a chore only costs you some elbow grease!
Go for a bike ride
Make your mom a playlist she will love
Have a tea party – serve tea or coffee in simple cups and eat cookies and act fancy
If you have small kids – have them do a handprint craft. Or have older kids do it for a laugh!
Wash her car – bonus points for vacuuming it out, too
Give her a big hug
Offer her an at-home massage, manicure or pedicure. Maybe not a haircut unless you know what you are doing 😀
Volunteer somewhere together
Write out a story from your past – if you have favorite funny memories or stories, type or write them out and make a little book something like "my favorite memories with mom".
Do a mother's day photo shoot. Dress up nice and go somewhere outdoors with pretty plants or flowers. All you need is a phone camera to get great shots she can post on Facebook!
Re-create a photo fo you/your siblings as kids. If possible, print it for her alongside the original!
"I Love You" jar with slips of paper with reasons why you (or other family members) love her
Do something she loves – what is her best hobby or favorite activity? Offer to do it with her one day, especially if she asks you to do it but you usually pass.
Tell her you love and appreciate her. Give a specific reason why to show you mean it!