Trying to figure out what to give your adult daughter for a gift this year? Here are a ton of ideas for thoughtful gifts for an adult daughter!
Shopping for other people can be so hard. Shopping for other adult women can be even harder!
You don't want to waste your time and money, and you certainly don't want a gift to be a disappointment!
Today I want to talk about gift ideas for adult daughters and daughters-in-law.
Whether is it a Christmas gift, birthday gift, or other holiday celebration – it's natural to want to find the perfect gift for your daughter. Here are some ideas to get you inspired!
Understanding her interests
The worst thing that a gift from a parent to an adult child can be is generic. You want to feel like your parent listens and remembers your interest.
If it helps, keep a note on your phone or in a physical journal where you jot down any hobbies or activities they express interest in.
Once, I told my grandma I liked cheetos. She then gave me a can of cheetos every time I saw her – for over 20 years. It became kind of a joke, because while I liked Cheetos I wasn't obsessed or anything, but it was sweet and very very thoughtful and I always appreciated it.
What I mean to say is, try to remember your daughters' interests, big and small. Picking gifts that align with her likes will be much more meaningful, and more likely to be enjoyed.
Note: these gifts are assuming your grown children have a job and their own money and don't "need" anything. If they need something or are short on cash, I encourage you to ask them what they want and buy them that!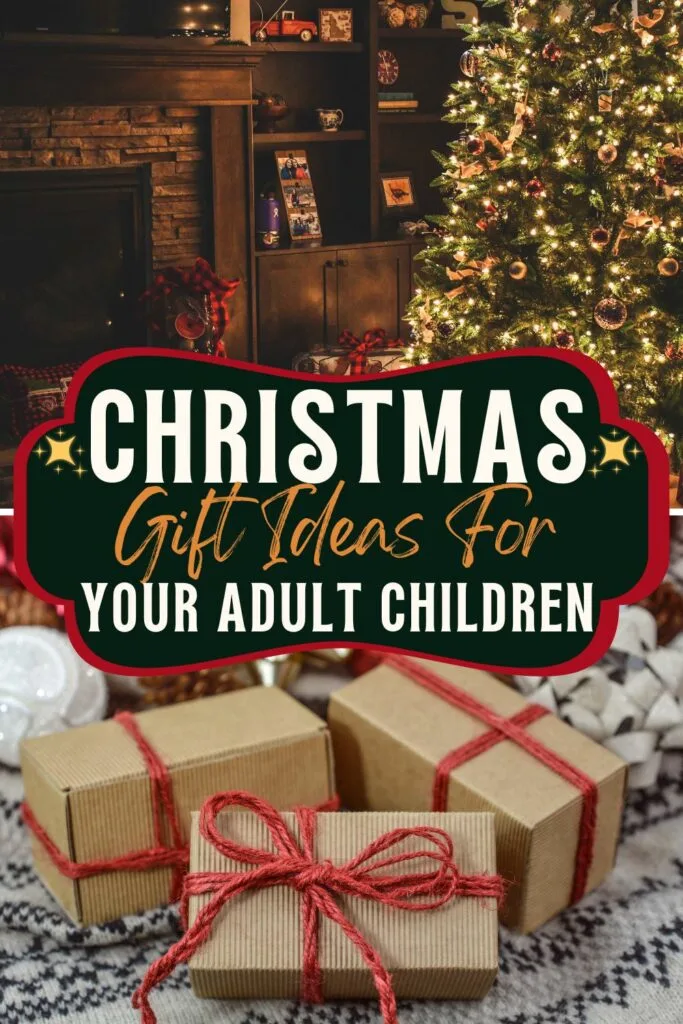 Experience gifts for your adult daughter
My first suggestion for gifts will always be experiences. As an adult, I definitely want less stuff and more time together.
Some cool experience gift ideas could include:
A cooking class

Dance classes

Spa services
Restaurant gift card (to somewhere special or a treat – not Wendy's)
Sports, music, theater or event tickets
Painting class
House cleaning services

Hot air balloon ride
I give extra plus marks to any experience that you might do together or if you offer to watch their kids while they do the activity with their spouse.
Memberships
Memberships are a great gift to give to adults. I'd be excited to be added to someone's Costco membership!
Other memberships you can gift include:
CSA membership to a local farm
Gym or exercise class membership
AAA membership
Warehouse like Costco or Sam's Club
Local membership like tickets to a summer music series
A weekend away
The ultimate gift for me would be a weekend away. You can do this a few ways.
First of all, if they have kids, offer to keep their kids while they take a weekend away!
Or, you can plan a weekend away for them and you together.
Finally, just gift them a stay at a BnB or hotel. If you have a ton of hotel points, offering them a weekend at the Marriott of their choosing is a really nice gift!
A chance to do something together
If you don't spend a lot of time with your kids any more, planning an event together could be a great gift.
This could be as simple as lunch and a mani-pedi or as elaborate as a weekend away together.
Think of something that you did together in the past that you have really good memories of. Pairing a fun activity together with a healthy dose of nostalgia is always an awesome gift.
Wrapable gift ideas for your adult daughter
Here are a ton of ideas for physical items to gift your adult daughter, if you prefer to go that route!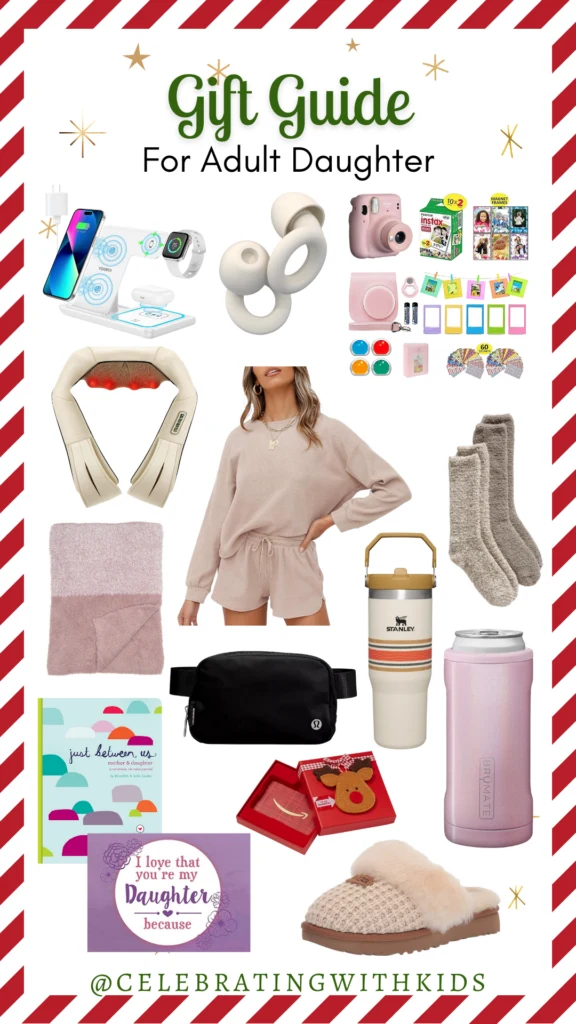 Give your daughter the gift of soft, hydrated lips with a Lip Sleeping Mask. This little jar of magic is packed with Vitamin C and antioxidants to keep her lips nourished and beautiful.
The perfect gift for your tech-savvy daughter. Keep her phone, smartwatch, and earbuds charged up and ready to go. It's the gift that keeps her powered all day!
This hot and cold therapy hat is designed to soothe away tension, stress, and migraines, providing comfort when she needs it most. A thoughtful gift for her well-being!
Perfect for carrying essentials on the go, it's a chic accessory that adds both fashion and function to her daily life. She'll love it!
It's the perfect place for her to store and display her favorite jewelry pieces, and the built-in mirror adds an extra touch of convenience. A thoughtful present she'll cherish!
Sometimes words alone can't express how much we cherish our daughters. This 'I Love That You're My Daughter' Fill In The Blank Book is a beautiful way to show your love.
Share your heart and create a treasured keepsake together.
This Shiatsu Neck and Back Massager will melt away stress and tension, providing soothing relief after a long day. It's like a warm hug in the form of a massager!
Help your daughter find tranquility in the midst of chaos with Loop Quiet Ear Plugs. These super soft, reusable earplugs offer her a peaceful night's sleep and serenity in noisy environments.
Give your daughter the gift of sweet dreams with this Silk Sleep Mask. It cocoons her face in padded luxury, ensuring she sleeps in total darkness.
Get your daughter travel-ready with these chic and spacious makeup bags. Stylish checkered design in a lovely shade of pink!
Strengthen your bond with your daughter through heartfelt conversations and shared memories with a Mother & Daughter journal.
Wrap your daughter in warmth and comfort with this Barefoot Dreams throw blanket. Perfect for snuggles and chilly nights
Upgrade her loungewear game with this cozy Waffle Knit Pajama Set – comfy and cute, with pockets for added convenience.
Pamper her feet with these super-soft CozyChic Socks by Barefoot Dreams – a perfect addition to her cozy collection!
Treat her to Elasti-Cream – a luxurious blend of collagen and squalane that pampers her skin, keeping it radiant and youthful.
Help her stay refreshed in style with the Stanley IceFlow Stainless Steel Tumbler. This vacuum-insulated water bottle from the varsity collection comes with a handy straw, making every sip a cool and convenient one.
Elevate her sipping experience with a Slim Can Cooler. This stainless steel drink holder is tailored for 12oz slim cans (like so many popular drinks – Truly or White Claw), keeping her beverages refreshingly cold in style.
Give her the gift of luxurious beauty sleep with the Kitsch Satin Sleep Set. This set includes a softer-than-silk pillowcase, an eye mask, and a volume scrunchie for hair – the perfect combination for a night of elegance and comfort.
Elevate her beauty routine with these elegant pink ultra-soft makeup brushes sets. Complete with a cute brush holder case, she'll have everything she needs for a touch of everyday glamour.
Pamper her with these 6 adorable pink heart-shaped makeup puffs for flawless makeup application. A perfect stocking stuffer that adds a touch of sweetness to her daily routine.
Elevate her skincare routine with this Facial Steamer Spa Kit, complete with 8 complimentary skin care tools. A delightful way to rejuvenate and pamper herself.
Treat her feet to the cozy comfort of UGG Women's Slippers, a warm hug for her toes on chilly days.
Keep her skin radiant and hydrated with Burt's Bees Everyday Essentials Set – the perfect self-care package for a natural glow.
Gift your daughter the Fujifilm Instax Mini 11 Instant Camera in Blush Pink and watch her capture memories with this fun bundle.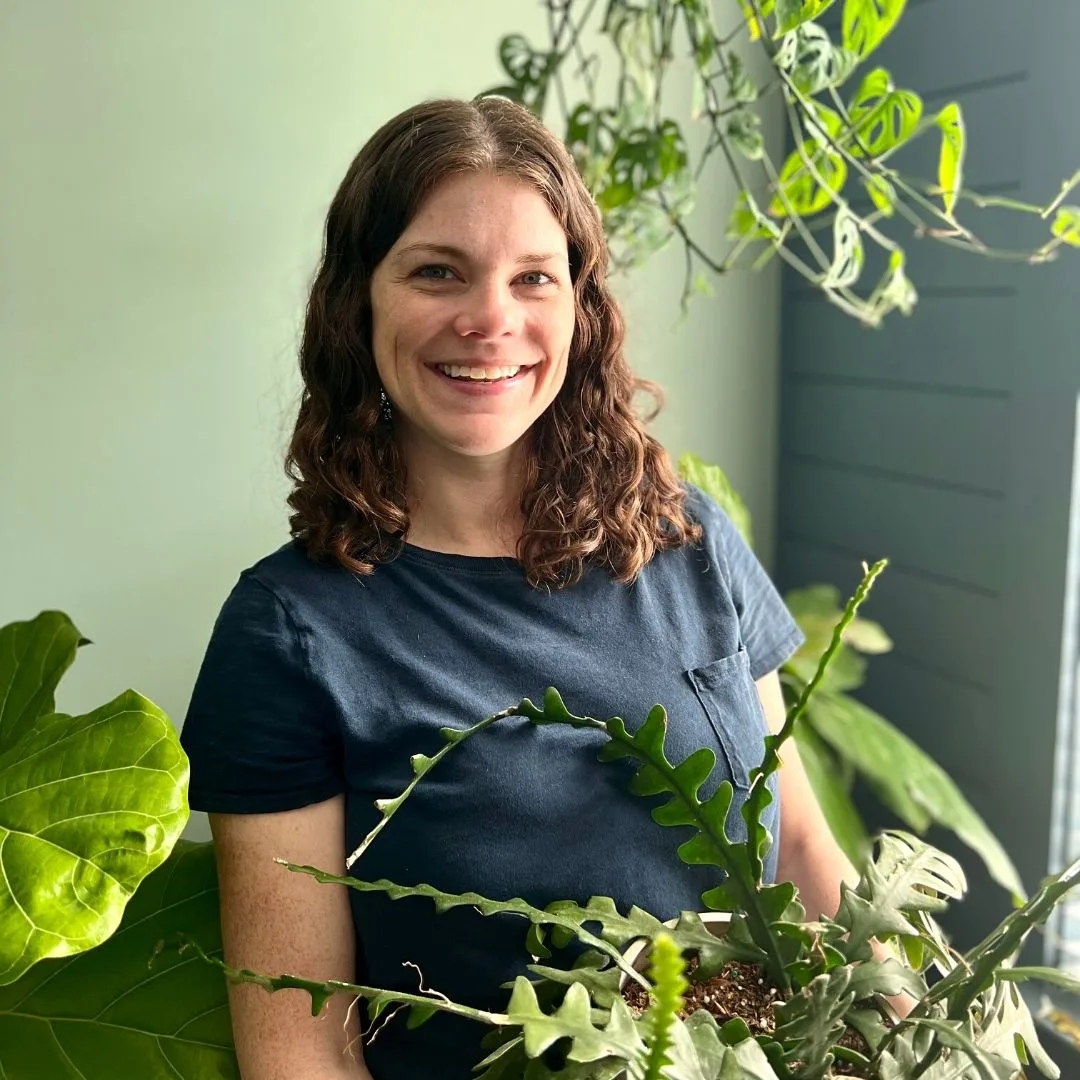 Hey there, I'm Morgan, the creative mind behind CelebratingWithKids.com! As a parent of two lively little ones, I've made it my mission to turn ordinary days into extraordinary adventures, sharing playful activities, thoughtful toy reviews, and delightful printables to help families celebrate every moment together. 🎉👨‍👩‍👧‍👦🎈