Buying gifts for your kids is fun, but buying gifts for adult children can be really hard. Here are some of my best Christmas gift ideas for adult children!
I honestly hate Christmas shopping. It's so hard to find the perfect gift for people.
Espcieally when shopping for adults with jobs and their own money – it's hard to feel like you aren't wasting yours.
While you can exchange specific lists – that's not super fun. To us at least, it starts to feel like you're just trading money.
If you are looking for gifts for the grown up kids in your family, hopefully these ideas will inspire you!
Note: these gifts are assuming your grown children have a job and their own money and don't "need" anything. If they need something or are short on cash, I encourage you to ask them what they want and buy them that!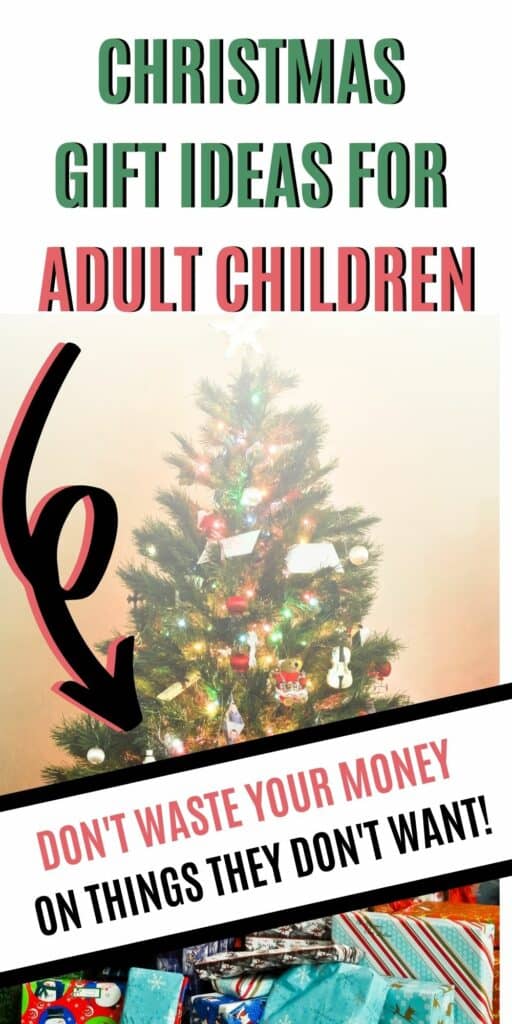 Christmas gift ideas for adult children
Experience gifts
I'm just going to say it – I am anti-gift card.
Ok, some times gift cards are good. For example, gift cards are great teacher gifts.
However, they are impersonal and when given to an adult child feel like just exchanging money, which as I've mentioned, is not the spirit of gift giving in my opinion.
An exception to that is a gift card for an experience, especially something that your son or daughter might not think of doing for themselves.
Some cool experience gift ideas could include:
A cooking class

Dance classes

Spa services
Restaurant gift card (to somewhere special or a treat – not Wendy's)
Sports, music, theater or event tickets
Painting class
House cleaning services

Hot air balloon ride
I give extra plus marks to any experience that you might do together!
Memberships
Memberships are a great gift to give to adults. I'd be excited to be added to someone's Costco membership!
Other memberships you can gift include:
CSA membership to a local farm
Gym or exercise class membership
AAA membership
Warehouse like Costco or Sam's Club
A weekend away
The ultimate gift for me would be a weekend away. You can play this a few ways.
One, if they have kids, offer to keep them while they take a weekend away!
Or, you can plan a weekend away for them and you together.
Or, just gift them a stay at a BnB or hotel. If you have a ton of hotel points, offering them a weekend at the Hilton of their choosing is a really nice gift!
A chance to do something together
If you don't spend a lot of time with your kids any more, planning an event together could be a great gift.
This could be as simple as lunch and a mani-pedi or as elaborate as a weekend away together.
Think of something that you did together in the past that you have really good memories of. Pairing a fun activity together with a healthy dose of nostalgia is always an awesome gift.
Custom house painting
If you have a home that your child grew up in, capturing that home in a custom portrait is a really great gift.
Be sure to plan ahead on these as they do have some lead time to get them painted, especially right around the holidays!
What do you give a grown child for Christmas?