Looking for a unique gift idea for mom? Here are my best gift ideas for moms who have it all!
As moms, we often prioritize our family's needs over our own, which makes it all the more special when someone takes the time to find a thoughtful gift just for us.
It's super important that the mom in your life does not want you to spend a ton of money on her (unless you're rich, in which case, let me direct you to the diamond store). It is truly the thought that counts and the effort that is so meaningful and special in making a great gift.
Whether you're a kid looking to surprise your mom or a dad seeking gift ideas for your partner, this ultimate gift guide will help you navigate through the wide array of options, making sure you find something truly memorable.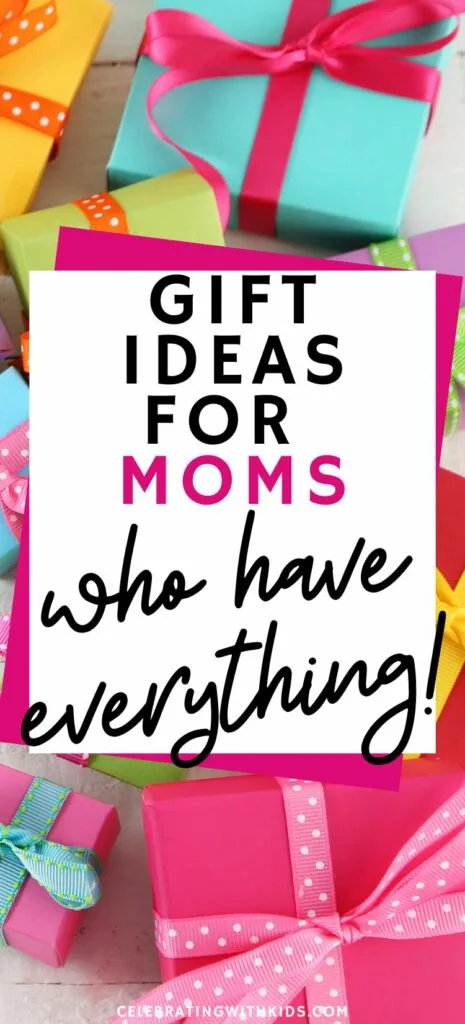 Gift ideas for mom who has it all
The perfect gift will vary by person, but I have found that moms in general love:
experiences and reminders of memories
personalized keepsakes
hobby accessories
subscription boxes
technology
wellness and relaxation
Experiences and Memories
Sometimes, the best gift is not a physical item but rather an experience or a special memory. My very favorite gifts are experiences because they are clutter-free and really can create wonderful memories.
Plan a surprise day out for your mom, such as a spa day, a picnic in the park, or a cooking class she's always wanted to attend. These shared experiences create lasting memories and show your mom how much you value spending time together.
Cooking class
Outdoor adventure – could be a free hike or something like renting kayaks for an afternoon
Wine tasting
Weekend getaway – which could be you visiting her if you live far away
Concert tickets (to go together of course)
Foodie tour – I love to plan a DIY foodie tour with apps one place, dinner the next, and desert at a third location for a fun night.
Garden tour – find a local garden and go look at flowers! This is great in the spring around mothers day!
Volunteer together – does your mom have a special cause that is close to her heart? Plan a day of volunteering to show her that what is important to her is important to you, too.
Personalized Keepsakes
When someone has everything, it's the personalized gifts that hold the most sentimental value. Consider customizing an item with a special touch, such as engraved jewelry, monogrammed towels, or a photo album capturing precious family memories.
These unique and heartfelt gifts will remind Mom of the love and thoughtfulness behind them.
Custom family portrait – check your neighborhood facebook group for a local family photographer
DIY recipe book – gather her favorite family recipes and turn them into a book!
Personalized wall art – like a painting of your childhood home
Drawn out family tree – you could do this yourself or hire it out!
The perfect playlist – make her a playlist of songs that bring back memories
Personalized Hobby Accessories
If your mom has a particular hobby or interest, consider getting her something that complements it.
For example, if she enjoys gardening, gift her with personalized gardening tools or a beautiful plant stand. If she loves painting, surprise her with a high-quality set of brushes or a new canvas.
These special gifts demonstrate your attentiveness to her interests and passions.
Gardening
Cooking
Reading
Books, wrapped up as a book a month or other surprises
Subscription Boxes
For moms who enjoy discovering new products or indulging in self-care, subscription boxes make fantastic gifts. Choose from a variety of options like beauty boxes, book clubs, gourmet food samplers, or even gardening kits.
One thing that I love about subscription boxes is that they keep coming after the holiday is over and the gift giving time has passed.
These subscription services deliver a monthly surprise to Mom's doorstep, providing a delightful experience that keeps on giving.
Thoughtful Technology
If your mom is tech-savvy or could benefit from smart devices, consider gifting her with thoughtful technology.
From smart home assistants to fitness trackers, e-readers to instant cameras, there are plenty of gadgets that can simplify her daily life or enhance her hobbies.
Find out what interests her the most and surprise her with a device that aligns with her passions.
Wellness and Relaxation
Moms often need a break from their hectic schedules, so gifts that promote relaxation and wellness are always appreciated.
Treat your mom to a luxurious spa set, a cozy robe and slippers, or a subscription to a meditation or yoga app. These gifts show that you care about her well-being and want her to take time for self-care.
Aromatherapy or candles
Bath bombs or other bath supplies
Workout equipment or classes
Spa certificate or at-home supplies
Herbal tea
When it comes to the mom who has everything, it's the thought and effort behind the gift that truly counts.
Whether you choose a personalized keepsake, an unforgettable experience, a subscription box, thoughtful technology, wellness gifts, or personalized hobby accessories, make sure to convey your love and appreciation for all that your mom does.
Remember, the best gift of all is knowing that you've taken the time to find something special just for her. Happy shopping!