Want to make some holiday treats for your family? Here are a ton of ideas for cute Christmas snacks for kids!
Christmas is a wild time, especially for kids. It can feel magical and busy – but also overwhelming.
One way to slow down and enjoy the season is with little festive treats and foods. Making holiday treats lets you combine creativity with deliciousness. And hey, we've all gotta eat, right?!
Today I wanted to explore cute and festive snack ideas perfect for kids during the Christmas season!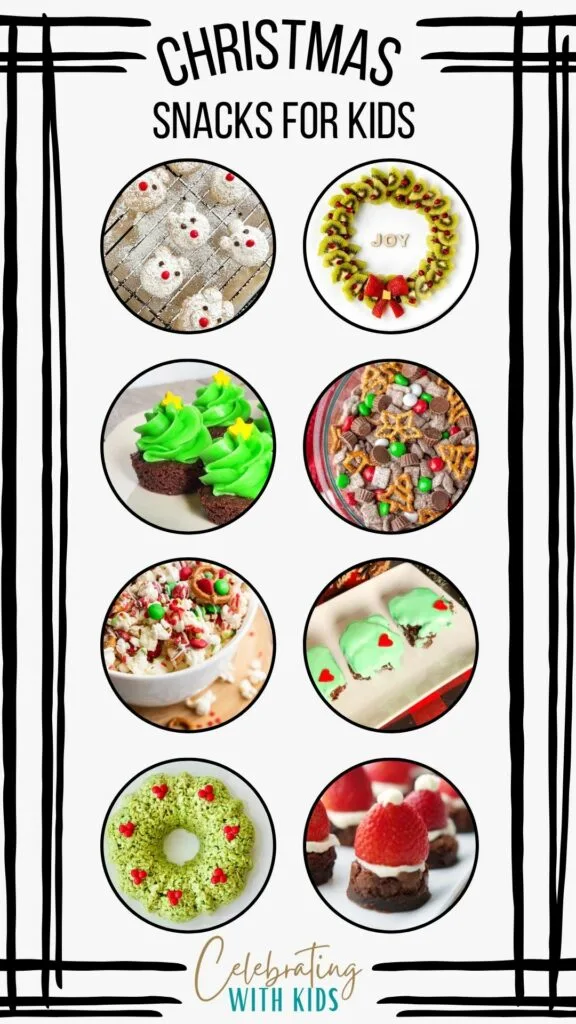 Be sure to check out my other Christmas foods for kids ideas:
Why Cute Christmas Snacks for Kids
I love making and serving fun themed snacks for different holidays. It's an easy way to make holiday moments memorable.
Remember, kids are picky and weird. Do not use this as a time to pull foods out of their comfort zone. It will lead to disappointment all around! Stick to slight tweaks on favorites for best results.
I also suggest allowing your kids to participate in the making of the treats. I find them way more likely to eat it if they helped make it!
Grab and Go Snack Items with a Festive Twist
When time is limited, choose pre-made snacks and add a touch of Christmas magic with a simple tweak.
Christmas-themed Fruit Cups: Pack individual fruit cups with red and green fruits like grapes, strawberries, watermelon chunks, or kiwi slices for a festive touch.
Santa Hats: Create Santa hats by placing a small round cracker or cookie on a strawberry using a toothpick, resembling Santa's iconic hat.
Snowman Cheese Sticks: Use string cheese and attach small googly eyes and a small piece of carrot to create adorable snowman faces.
Candy Cane Pretzel Sticks: Dip pretzel rods into melted white chocolate or yogurt, then sprinkle with crushed candy canes for a sweet and crunchy treat.
Reindeer Snack Mix: Combine cereal, pretzels, and chocolate candies in a snack bag or container, adding small edible candy eyes to represent reindeer faces.
Festive Popcorn: Toss plain popcorn with red and green M&M's or sprinkles for a colorful and simple snack.
Christmas Tree Fruit Skewers: Thread green grapes or kiwi slices onto small skewers, and top them with a star-shaped pineapple chunk for a fun and healthy snack.
Santa Strawberries: Dip whole strawberries in whipped cream or yogurt, then use chocolate chips or mini M&M's for the eyes and a small dot of whipped cream for the pompom on Santa's hat.
Wreath Rice Krispie Treats: Shape Rice Krispie treats into small wreaths and decorate them with red and green sprinkles or candies.
Holiday Trail Mix: Create a mix of dried cranberries, mini marshmallows, pretzels, and holiday-themed cereal for a delightful snack on the go.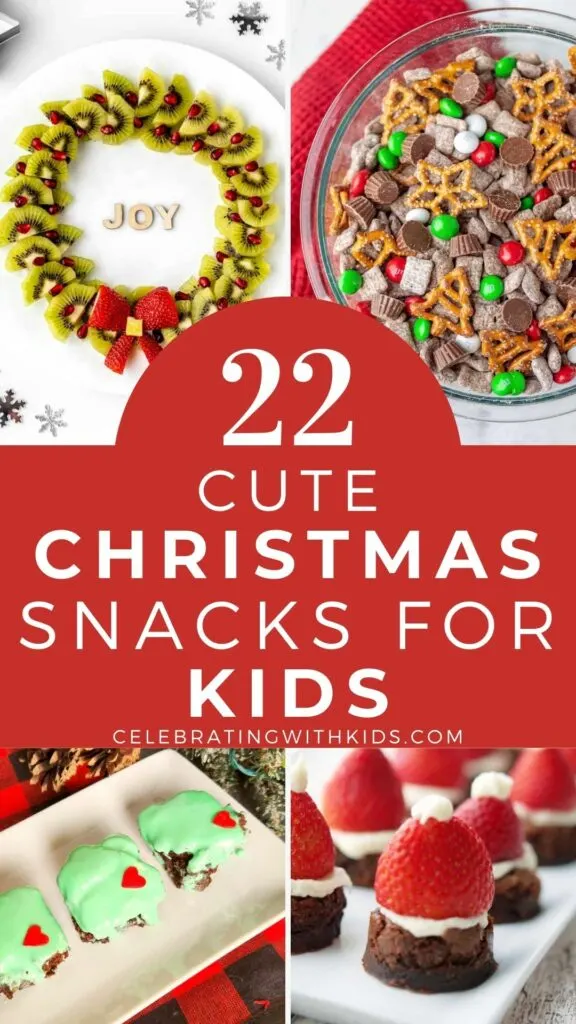 Cute Christmas snacks for kids recipe ideas
Here are some step by step recipes for kid-friendly Christmas snacks.
Cute Christmas snacks for kids
Want to make snack time festive this holiday season? Here are a ton of cute Christmas snack ideas for kids!
What's your favorite Christmas snack?