Wondering what special activities you can do with babies at Christmas time? Here are a ton of ideas to inspire you!
I've had a baby-baby at Christmas twice now. My kids have August and October birthdays, so they were both very little at their first Christmas!
Babies are special and snuggly and sweet, but Christmas is a lot more exciting with a toddler than with a newborn! 😂
Babies obviously don't understand what's going on, they don't understand presents or religious ceremony.
They are what I affectionately call potatoes and that can be kind of a downer if you've spent the past nine months plus however old they are looking forward to their first Christmas.
Enough baby hate, let's talk about some things that babies actually CAN do and might enjoy for their first Christmas!
Here are some baby's first Christmas ideas!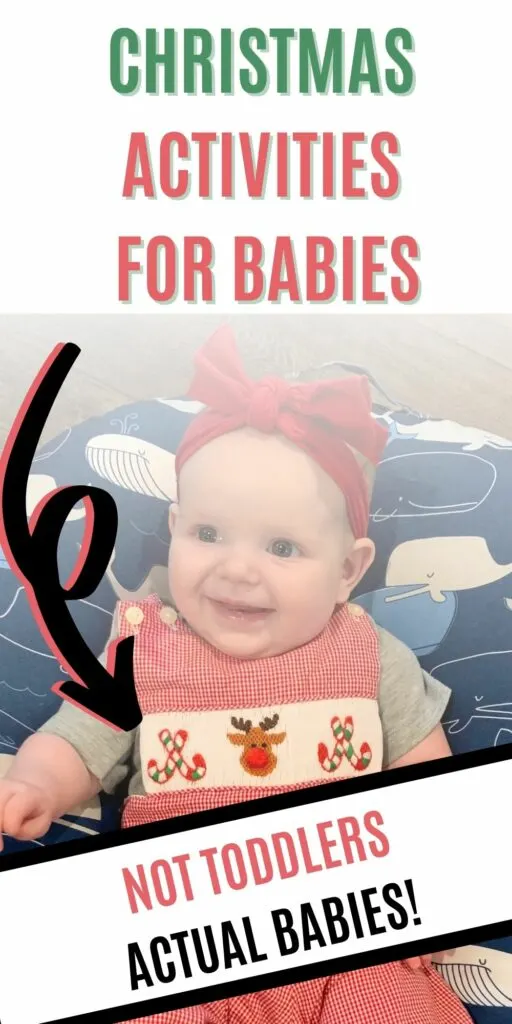 Christmas activities for infants and babies
Look at lights
Luke was OBSESSED with Christmas lights his first Christmas. He was less than 2 months old and it was the first time we really saw him "notice" something.
I ended up putting white lights on shelves in our living room and I would hold him on my shoulder (me standing backwards haha) and let him stare and stare.
We actually left those lights up until March he loved them so much! That was my first real time sacrificing "beautiful decor" for a kid 🤣
Focus on smells if they can't taste
So much of Christmas is about food! If your baby is less than 6 months old, they can't eat food.
But, they can enjoy smells.
Gingerbread, peppermint, whatever Christmas smells like to you, bring it to your baby!
I was shocked at how my kids responded to smells at such a young age.
Just hold things under their nose and they will smell it. Older babies might try to take a bite, but younger ones usually don't!
Here's my list of foods babies (over 6 months) without teeth can eat!
Let them play with a gift bow
If they are old enough to hold a small toy and pay it any attention, hand them a gift bow, a ball of gift wrap, or a piece of tape. They will be enthralled!
Play Christmas music
We play Christmas music all December long. Remember to pick music you like (I love Pentatonix Christmas!) because next year they'll be a toddler and be demanding Sesame Street songs instead!
Dance with them and sing to them, let them really enjoy the music!
Read Christmas books
I always loved readying to tiny babies because they just lay there and listen. Grab some Christmas classics and start some new traditions with your kiddo!
Do a painting
This 100% depends on the age of your baby and they need to be able to sit up honestly to participate. But, here are a ton of Christmas painting ideas! They are more geared towards toddlers but some can work for infants.
Christmas crafts for infants are usually very hit or miss. I suggest strapping them into their high chair (if they are old enough) and just going with the flow!
Do footprint or handprint crafts
Take the opportunity to make some tiny handprints or footprints. We use model magic (it's super light weight) and do Simple round circles with a handprint or footprint.
They can be used for ornaments, Grandparent gifts, or just keepsakes!
Look for baby Christmas events
I started taking my son to the library for story time when he was 3 months old! He sat in my lap and didn't get it at all, but it was good for him to see other babies!
Check out your local options for holiday season story times and other Christmas themed infant holiday activities!
Capture the moment in time
Take too many photos, extra videos, then save them to a hard drive as backup! Trust me on this one – you can never go back in time and get that picture, take that video. Capture it!
What do you like to do with itty bitty babies for Christmas? Any other infant activities for Christmas?