Trying to serve your kids an at least semi-well rounded meal? Here are the best side dishes to serve with pizza for kids!
If your kids are much like mine, when I ask them what they want to eat, they will yell back either CHICKEN NUGGETS or MAC N CHEESE.
The basics are king around here.
One thing we eat at least once a week is pizza. However, pizza is not a whole meal (usually).
I serve my 1 and 3 year old in these divided silicone plates so they get 1 "main dish" and 2 sides.
One of our sides is always cut up fruit: berries, sliced apples, sauteed apples, sliced banana, mandarin oranges, something like that.
The second side is what is up in the air. For breakfast, it's a yogurt pouch. For lunch, it's either goldfish or chex mix. For dinner, I try for more of a side dish.
But, if you are like me, when it's time to make food your brain goes completely blank as to what to cook.
If you are wondering what to eat with pizza, there are loads of possibilities!
Below I am rounding up my best ideas of what to serve with pizza. I will round up a general list of ideas and then keep scrolling to links to actual recipes for some great ones!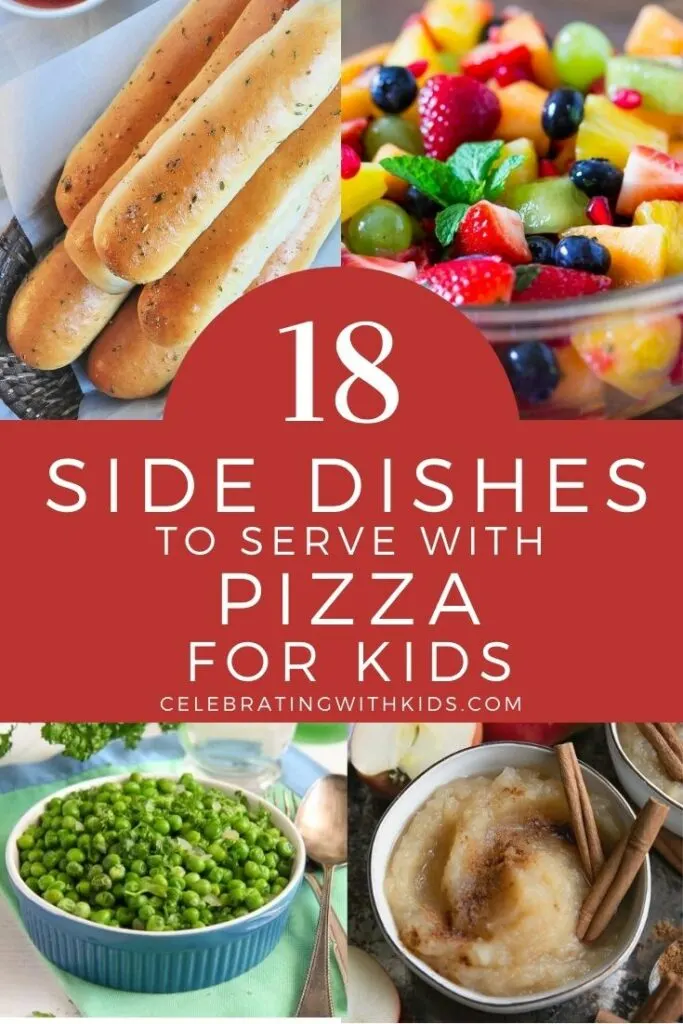 The best side dishes to serve with pizza for kids
Here are my general favorite sides with pizza.
Cut fruit
Chex mix, pretzels, chips
Veggie sticks
Chopped raw veggies – my kids like tomatoes and cucumbers
Cheese stick or babybel cheese
Baked carrots
Green peas (I make frozen ones in the microwave, and add butter)
Mac n cheese
Yogurt
Corn
Pickles
Applesauce
Bread/rolls (when in doubt, give my daughter a hawaiian roll.. or 3)
If you are wondering what goes with pizza for adults, consider:
Green salad

Grain salad like cous cous, quinoa, etc
Caprese
Raw or cooked veggies – roasted broccoli or asparagus is great
Olive tray
(And if your kids will eat those things, more power to you! Mine will not.)
Here's what I'd serve with pizza for a party:
Dips for the pizza (bbq sauce, red sauce, ranch dressing, etc)
Veggies + dip
Green salad
Garlic bread
Meatballs (in the crock pot is easy!)
Fresh fruit
Pasta salad
Chicken wings
Cheese plate/charcuterie

Easy dessert like cookies, cookie cake, cupcakes
Here are some mouth watering recipes for pizza sides!
The best side dishes to serve with pizza for kids
Want to turn pizza into a balanced meal? Here are the best side dishes to serve with pizza for kids!
What's your favorite pizza side dish?