Stumped when it comes for Christmas present shopping this year? Here's what to get your grown son for Christmas!
As our children grow into adults, finding the perfect Christmas gift can be a challenge.
Gone are the days of random trinkets; most adults appreciate meaningful and practical presents that align with their interests and lifestyle.
If you're a parent or grandparent seeking inspiration, we've curated a list of thoughtful gift ideas in various price ranges to help guide and inspire you.
Remember, personalization is key, and when in doubt, communicate with your son to ensure the gift is actually something he's interested in.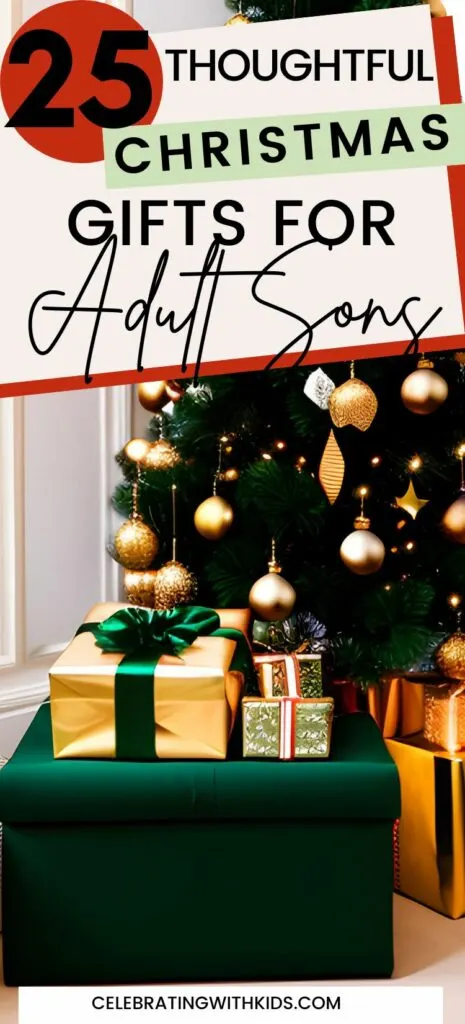 What to get your grown son for Christmas
Here are some gift ideas for adult men at each price point.
Gifts in the under $25 Range:
A personalized coffee mug featuring his favorite sports team, hobby, or an inside joke that brings a smile to his face each morning.
A stylish phone case that reflects his personality or interests, providing protection and a touch of individuality to his device.
A subscription to a streaming service or a digital magazine that matches his interests, ensuring he has access to an endless array of entertainment or informative content.
A book by his favorite author or a title that aligns with his hobbies, providing an engaging read for leisurely moments.
A high-quality pocket notebook or journal, encouraging him to jot down ideas, reflections, or goals in a compact and convenient format.
Gifts in the $25-$50 Range:
A trendy and functional gadget accessory, such as wireless earbuds, a portable charger, or a smart home device, making his daily life more convenient.
A personalized wallet or money clip, adding a touch of sophistication while keeping his essentials organized.
A gourmet food or snack subscription box, allowing him to discover new flavors and indulge in delicious treats throughout the year.
A high-quality grooming or skincare set tailored to his specific needs, elevating his self-care routine.
A board game or puzzle that he can enjoy with friends or family, fostering quality time and friendly competition.
Gifts in the $50-$100 Range:
A stylish and versatile messenger bag or backpack, suitable for work, travel, or everyday use.
An experience gift, such as concert tickets, a cooking class, or a sports event, creating lasting memories and unique adventures.
A premium coffee or tea set, complete with a quality brewer and a selection of gourmet blends.
A fitness tracker or smartwatch to help him stay active, monitor his health, and track his progress towards fitness goals.
A personalized piece of jewelry, such as a pendant or cufflinks, engraved with his initials or a special symbol.
Gifts in the $100-$250 Range:
Gifts in the $250+ Range:
A weekend getaway or a vacation package to a destination he's been longing to visit, offering relaxation and new experiences.
A high-performance tech gadget, such as a top-of-the-line smartphone, a gaming console, or a virtual reality headset, providing him with cutting-edge entertainment and functionality.
A professional-grade camera or lens for the enthusiastic photographer, unlocking endless creative possibilities and capturing memories in stunning detail.
A premium quality sound system or home theater setup for the music or movie lover, transforming his space into an immersive audio experience.
A fine piece of craftsmanship, such as a luxury watch or a handcrafted leather item, representing timeless elegance and exceptional quality.
Remember, while these gift ideas offer inspiration, the most important aspect is personalization.
Consider your son's unique interests, hobbies, and preferences to find the perfect gift that will make him feel loved and appreciated.
When in doubt, open up a conversation and ask him directly what he wants or if there's anything specific he's been eyeing.
With your thoughtfulness and his input, you'll surely find the ideal Christmas gift that will bring joy to his heart.