Love watermelons for summer? Here are watermelon recipes for kids that are perfect for getting in that summer mindset!
It's always fun to do themed activities with your kids! I like to pair a craft with a learning activity, a book, and a fun recipe for a fun-packed theme day.
One great theme for the hot summer months is watermelons!
Watermelons are sweet and juicy, perfectly refreshing in the summer. They are a kid friendly food and their bright colors and unique seeds make them perfect for hands on activities!
Be sure to check out my favorite watermelon crafts and activities for preschoolers!
Is watermelon a good snack for kids?
Watermelon is fun to eat, refreshing in hot weather, and good for you! It's also great for staying hydrated in hot weather. Watermelon is also a great food for babies with no teeth!
What snack goes with watermelon?
I love making watermelon caprese with mozzarella cheese, basil, and a balsamic swirl.
My kids love eating watermelon with yogurt.
Watermelon also pairs well with most fruits!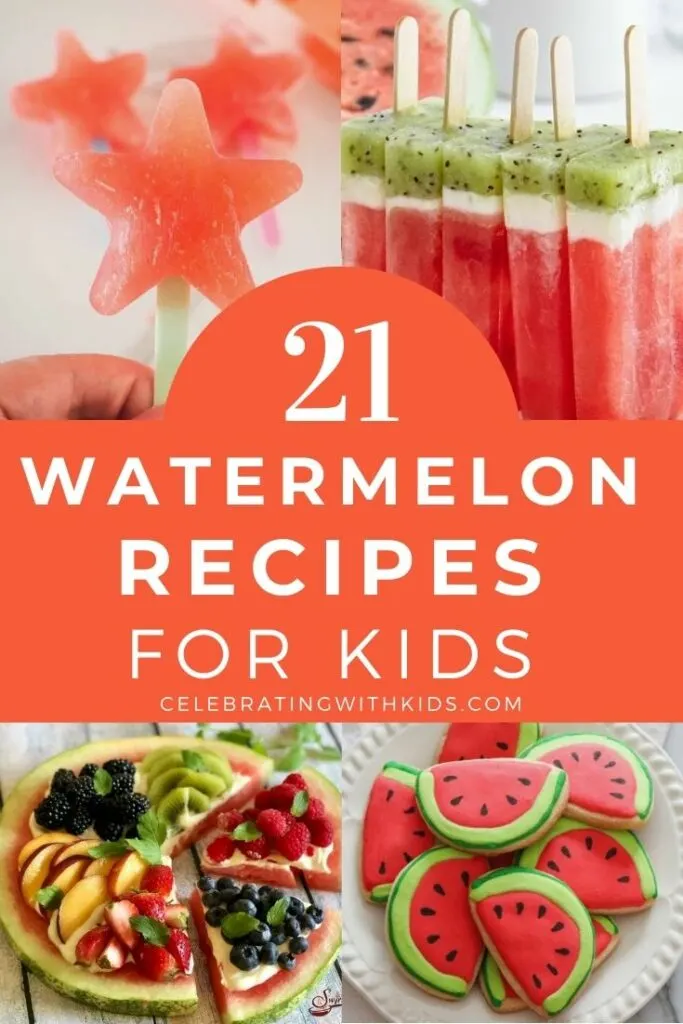 Watermelon snack ideas for kids
Did you know that August 3rd is Watermelon Day?! It's a silly holiday, but make it fun for your kids with these fun watermelon recipes!
Here are some watermelon recipes for kids for you to try!
Watermelon recipes for kids
Here are tons of fun watermelon themed recipes for kids!