Buying toys for babies is so hard! They can't tell you what they want. But, around six months, you can really start to see what they enjoy.
I loved when Luke was six months old. I feel like he really started to be a little guy at that age and really was so much fun.
Of course, you want to get your baby toys that are not only fun but will also help to boost their development. The first two years of their life are so important for brain development!
What's going with your baby at six months?
Physical Development at 6 months
The most exciting development at six months is that your baby is going to start sitting up. First, they will need to hold themselves up but soon they will be sitting unassisted! Luke went from sitting "tripod" with his hands on the ground to sitting unassisted in less than 2 weeks.
He also started really reaching for toys and of course putting them directly in his mouth.
Cognitive Development at 6 months
At 6 months, your baby is probably making noises like "bababababa". They also might start recognizing their name and words for other things. They are turning into real little humans!
Social Development at 6 months
At six months, babies start to really recognize you and smile when they see you. They also start smiling to get your attention. Six months is such a fun age!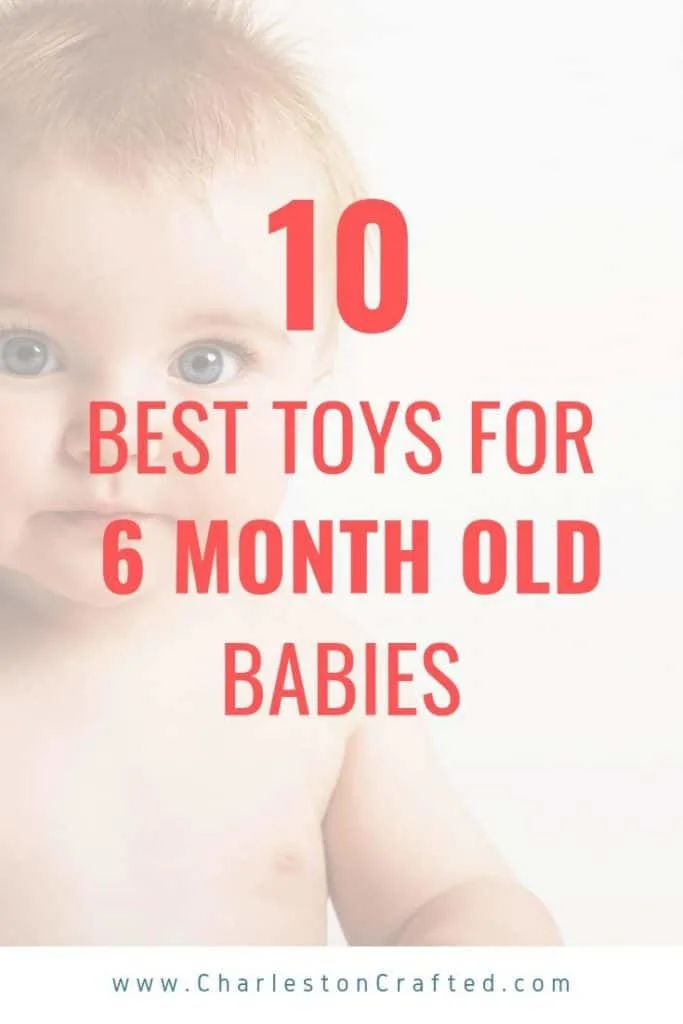 The Best Toys for Six Month Olds
Looking for the perfect toy for the six month old in your life? We have done the research for you! Here are the best toys for six month old babies!
At six months, a lot of babies are getting teeth! Whether they are actually teething or not, they love putting things in their mouths. We tried a ton of different teethers, and this carrot shaped one was by far Luke's favorite.
At six months, the newborn pacifiers started being too small for Luke – he could fit the whole thing in his mouth, which scared me. We moved him to these 6-16 month silicone pacifiers. I love them and he really loves the big handle – perfect for tiny hands!
Luke started drinking water when he was 6 months old, and he loved drinking from this water bottle! It has a rubber straw which is really easy for him to drink from. The straw also folds down for easy transport. We actually got two of these – one for the house and one for his diaper bag!
Once your baby is six months old, they will start sitting and playing with toys a bit. Crawling is right around the corner, so this is the perfect time to buy a play mat. This will keep them safe and sort of contained while playing. This play mat is on the pricey side, but we tried a few – nothing beats this one for comfort, ease of cleaning, and quality.
Once your baby can hold their torsos in a seated position, I really recommend an activity center. I think it is a baby toy you need!
This Skip Hop one is great because it can grow up with your baby. The little activities are so cute and Luke seems to really enjoy it.
Around six months old Luke really started getting obsessed with looking in the mirror. I love this floor mirror – for tummy time or just for sitting!
We first discovered these musical egg shakers at music time at the library. Luke loves them! They are big enough that they can't fit in his mouth, but they make a great shaking noise that he loves. These eggs can last a long time, too, and be transitioned to music time as he gets older. These are a great unique gift for 6 month olds!
At six month, babies are starting to really enjoy different textures and materials. This ball has little nubs that all feel different in their little hands.
These round rattles are some of my favorite for smaller babies. They are so easy for their little hands to hold, big enough to not fit fully in their mouths, and soft so when they inevitably whack themselves in the face, you don't have to worry about bruising.
Luke learned how to sit up independently because of his activity cube! I sat it in front of him. At first, he leaned on it heavily, but he wanted to play with his cube so badly that soon he started sitting up fully. I love this toy and think it is one of the best toys for baby development.
Are there any awesome gift ideas that I forgot?