Looking for the perfect spring craft idea for your kids? Check out this super simple tutorial for how to make cupcake liner flowers!
My son loves bringing his mama flowers. Whenever he and his dad go to Costco or the grocery store, he is always asking to buy me a bouquet!
I can't complain because he is right – I do love flowers!
But, he loves making me crafted flowers, too.
This is one of my favorite simple crafts for toddlers and kids. There is a lot of room for personalization in the colors and exact materials that you choose.
Plus, all of the supplies are things that we readily have on hand. If you don't keep paper straws (we literally have hundreds left over from our wedding haha) use a pipe cleaner or kebab skewer instead!
Get creative and your kids will love getting creative with you.
These would make a great mother's day or father's day gift idea or are just a great way to surprise mom or dad any day of the week!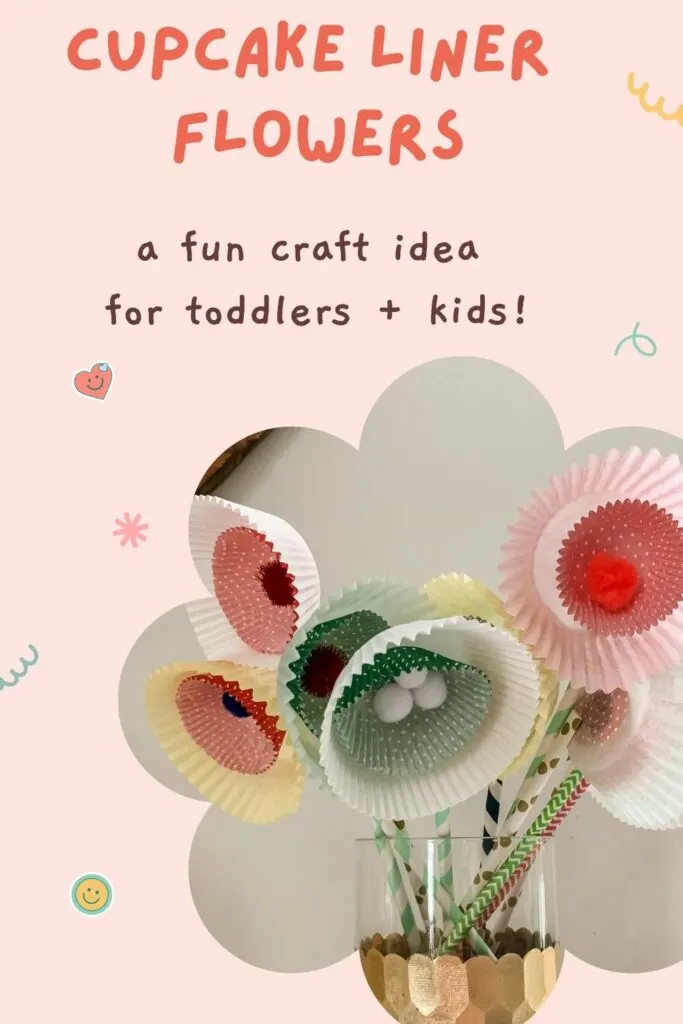 How to make cupcake wrapper flowers
Cupcake wrapper flowers are a fun and easy craft that your kids will love creating!
Supplies needed to make this cupcake liner flower craft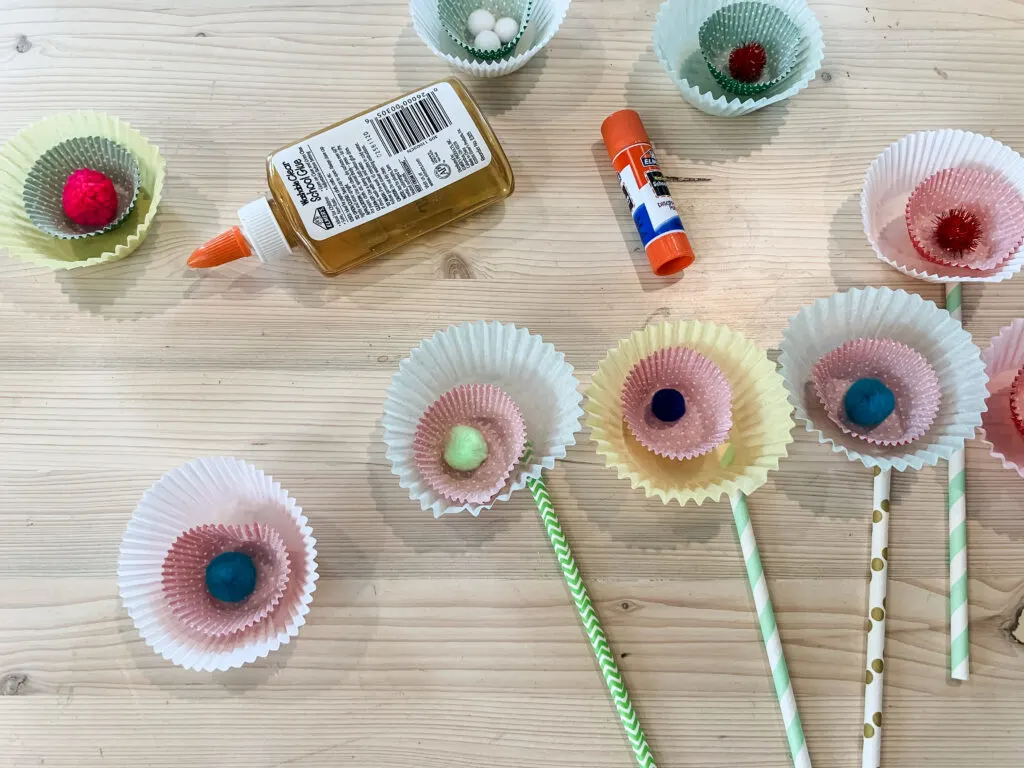 Steps to make cupcake paper flowers
STEP 1: Attach the cupcake liners
Use glue stick to secure the small liner inside the larger one.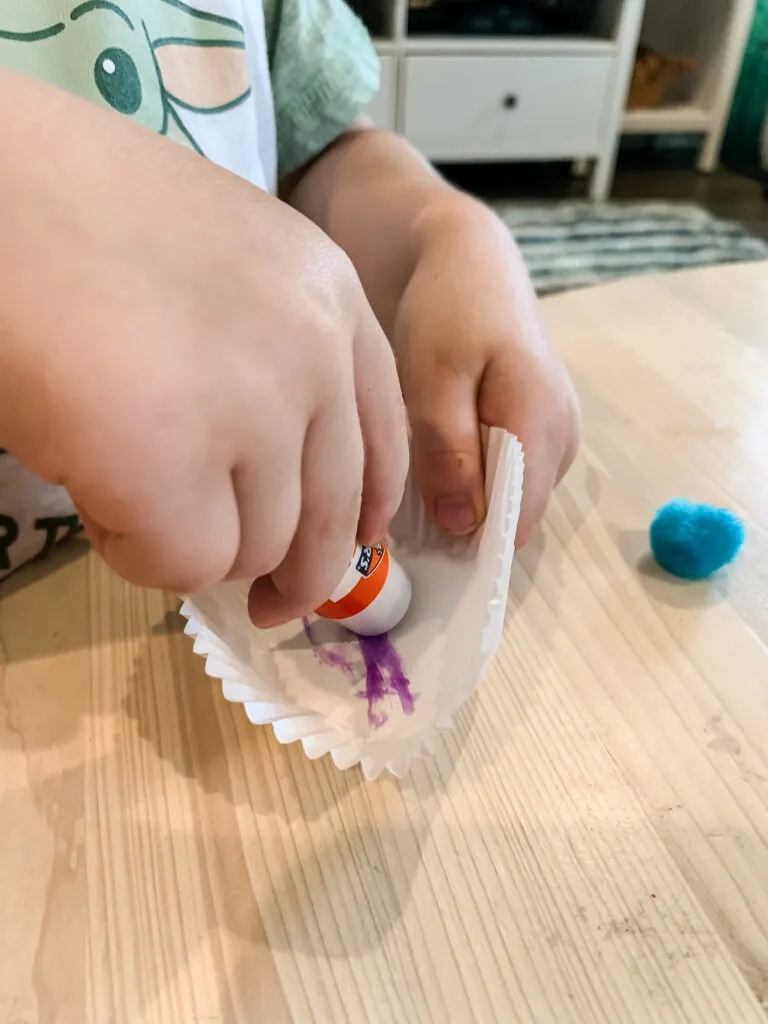 STEP 2: Add the pom pom
Apply elmers glue to the center of the small liner. Place pom poms (or buttons, or anything small and round!) on the glue.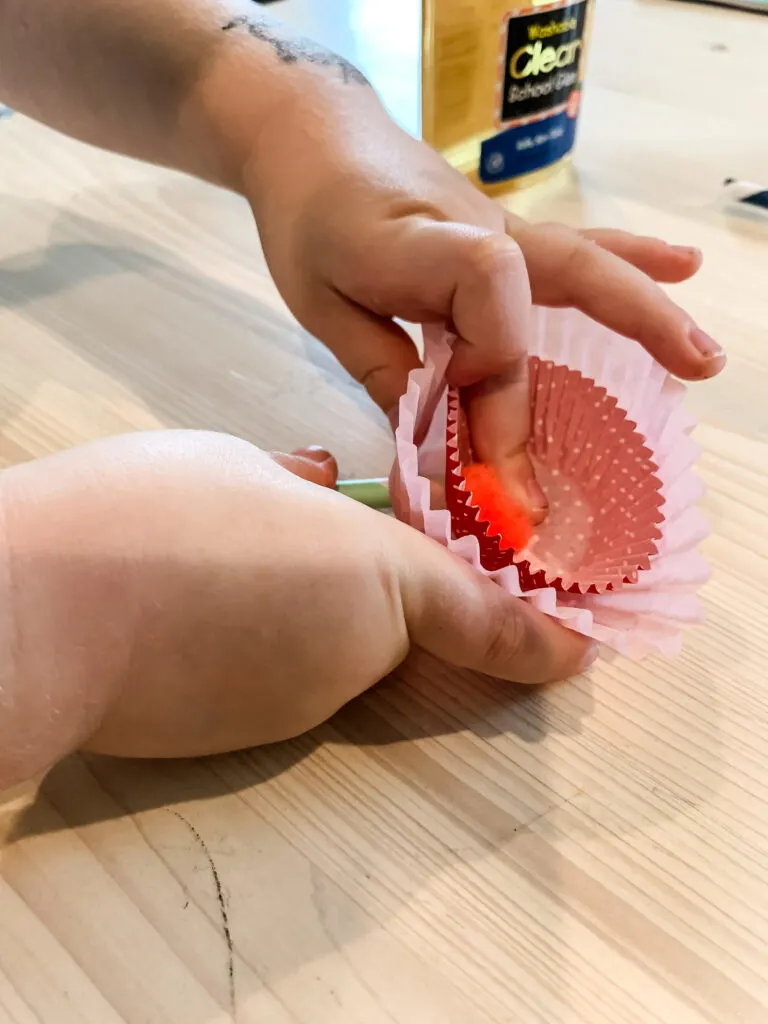 Press down and let sit to dry about 15 minutes.
We batch made all of our flowers up to this step and then had a snack break!
STEP 3: Attach the straw
Flatten the end of the straw and then apply elmer's glue. Press the flower onto the glue and side to the side to dry.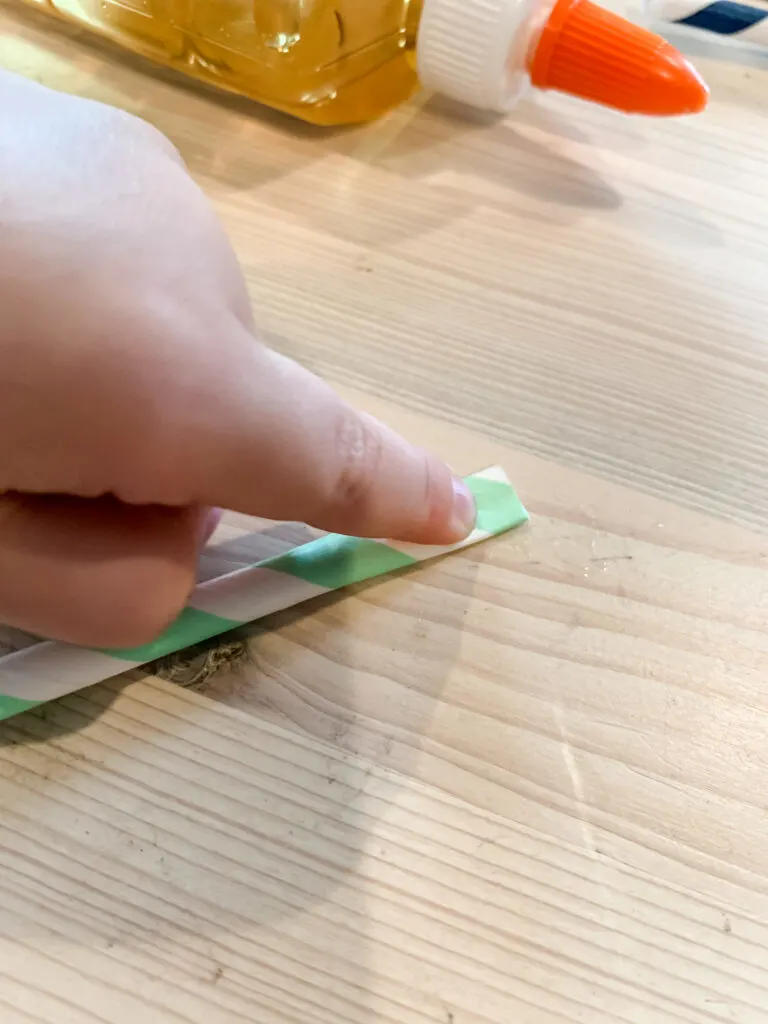 Hot glue would dry faster than elmer's glue, my son is just 2 and I don't want him getting burnt by hot glue!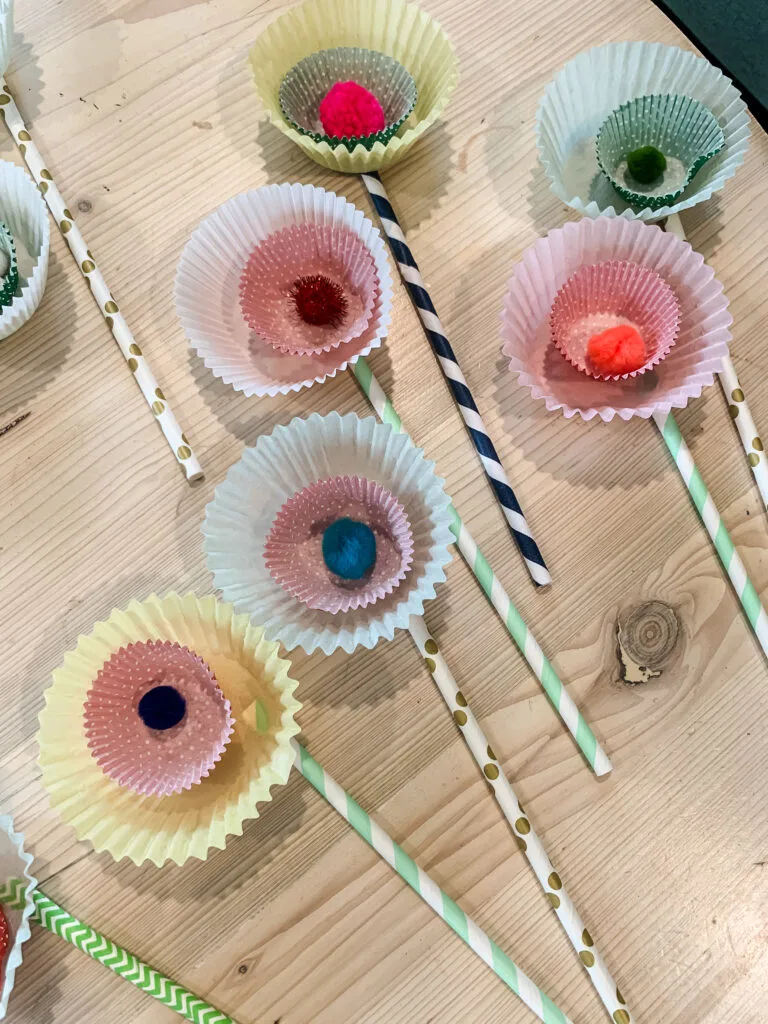 Older kids can use scissors to fold and cut the large cupcake liners (like a paper snowflake!) for more or a petal shape look! Flowers made from cupcake liners are great for any age!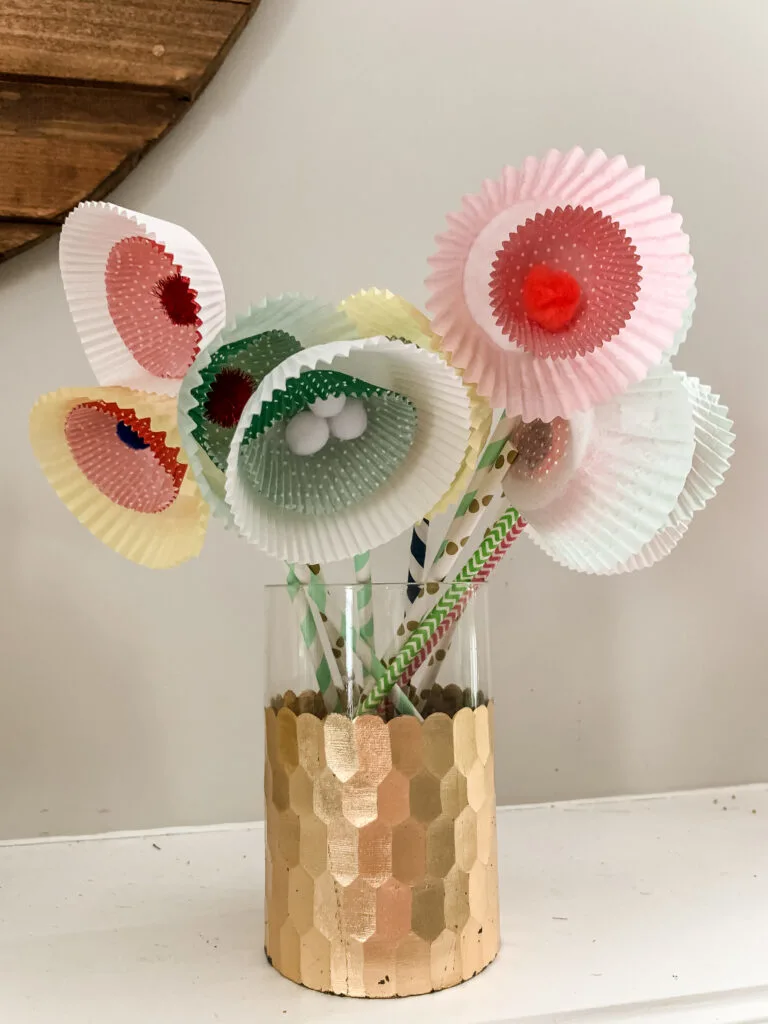 Any questions about this cupcake liner flowers tutorial?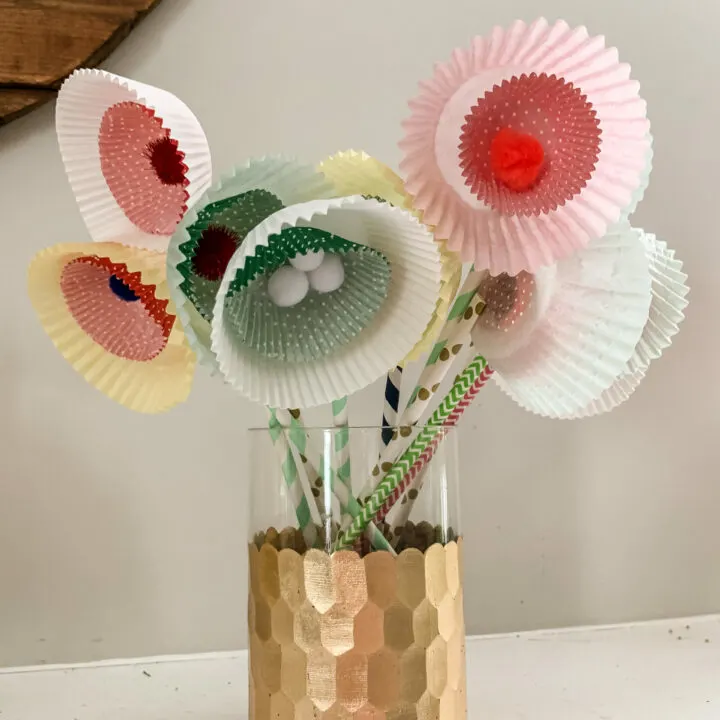 How to make paper flowers from cupcake liners
Yield:
1 bouquet of flowers
Kids love these simple and beautiful paper flowers made from things I bet you already have on hand!
Materials
Large cupcake liners
Mini cupcake liners
Glue stick
Elmers glue
Pom poms
Paper straw
Instructions
Lay out the large cupcake liner and put glue stick inside it
Stick the small liner to the glue
Put elmer's glue on the inside of the small liner
Press a pom pom into place
Flatten the end of a paper straw
Apply elmer's glue and press the flower onto the straw
Let dry and display in a vase!
Recommended Products
As an Amazon Associate and member of other affiliate programs, I earn from qualifying purchases.