Considering buying an Osmo learning system for your kids? Here's my honest Osmo review!
This past Christmas I purchased an Osmo Genius Starter Kit for my son.
He no longer naps in the afternoons, which is often my work time. I was looking for an alternative activity for him to occupy himself after resting in his room while I worked.
We are able to set up the Osmo set at one seat at my desk while I sit opposite him. I do help him occasionally, but usually he is occupied and learns/plays by himself for about 30 minutes at a time, while his little sister naps and I work on my laptop.
I consider this a huge win and am glad he's not just staring at the TV!
Let's chat about the Osmo learning set and what we like and dislike about it.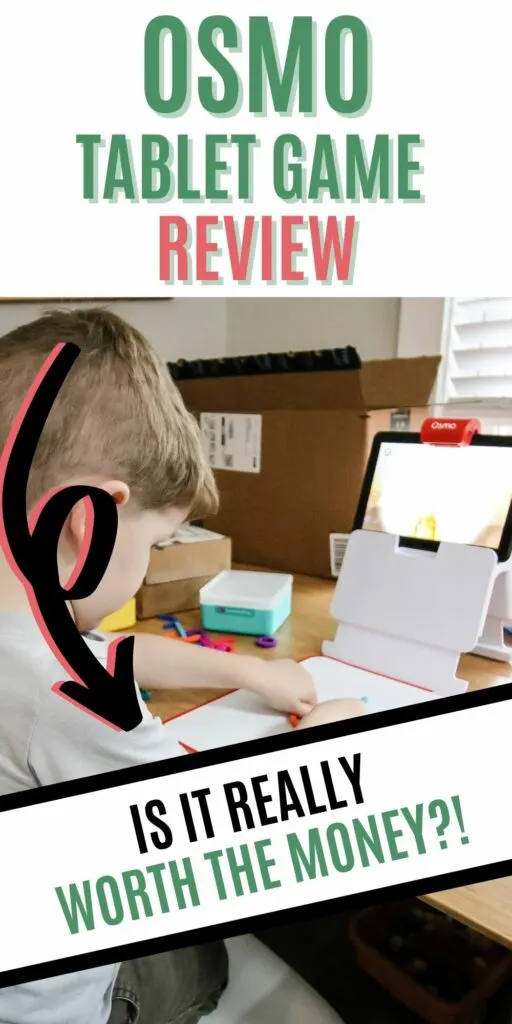 What is Osmo?
Osmo is an interactive learning game. It involves placing a tablet on a stand and placing a small piece with a mirror over the camera. The tablet can then see what your kids do on the table and reflects that on the screen.
There are games about numbers, letters, and fun play. It's a great way for kids to learn about technology and basic learning skills at the same time.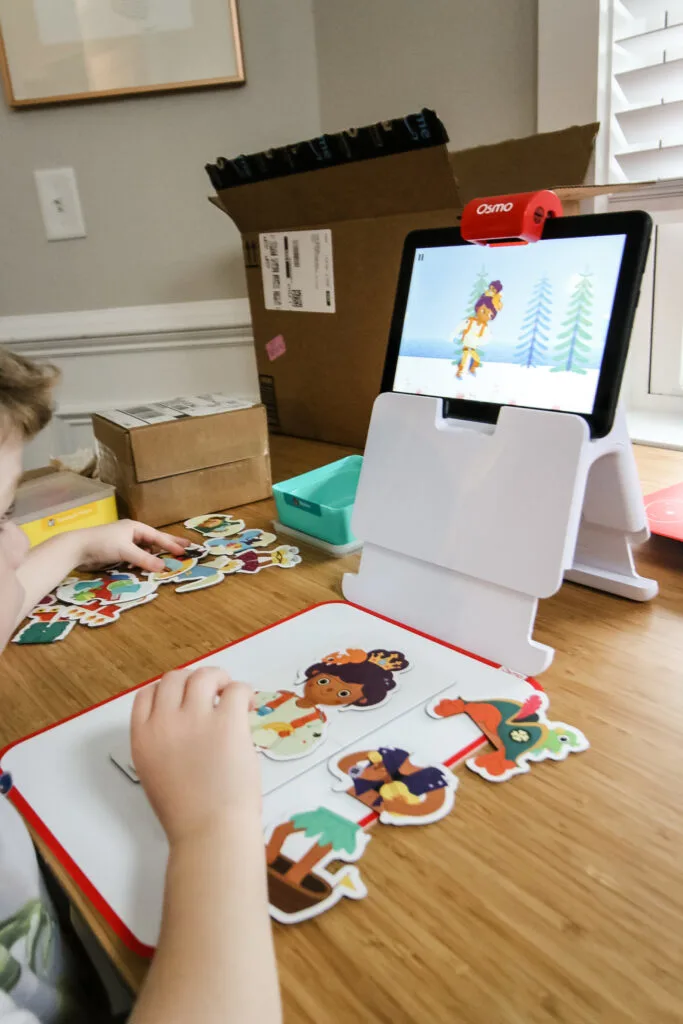 What age is Osmo for?
Osmo games are designed for ages 5-12, and the junior set for ages 3-5.
Is Osmo safe for kids?
Yes. There is no advertising or ability for external parties to contact your kids through the app.
Is Osmo good for homeschooling?
I think that Osmo would be a great addition to a homeschool curriculum. It is, however, not a whole curriculum in itself and not something I'd want my kid to sit on for hours at a time.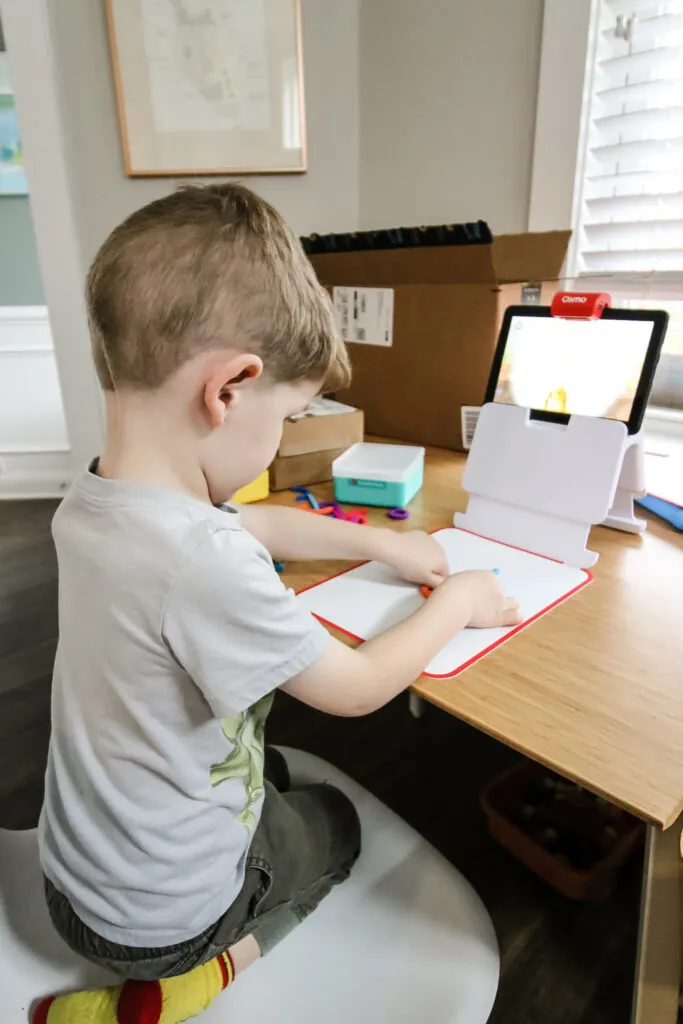 How to use Osmo
It's easy to get started with Osmo. You need a tablet and the included hardware.
You set the white triangular base on the ground and the tablet goes in it, camera side up. You then slide the red reflector over the camera.
What do I need to play Osmo?
Tablet – compatible iPad or Amazon tablet
Osmo base reflector
Osmo playmat
Game pieces (come with various sets)
Wifi access
Does Osmo require an iPad?
No, Osmo works with either an iPad or an Amazon Fire Tablet. My kids have Fire Tablets that we otherwise only use on long car rides to watch movies.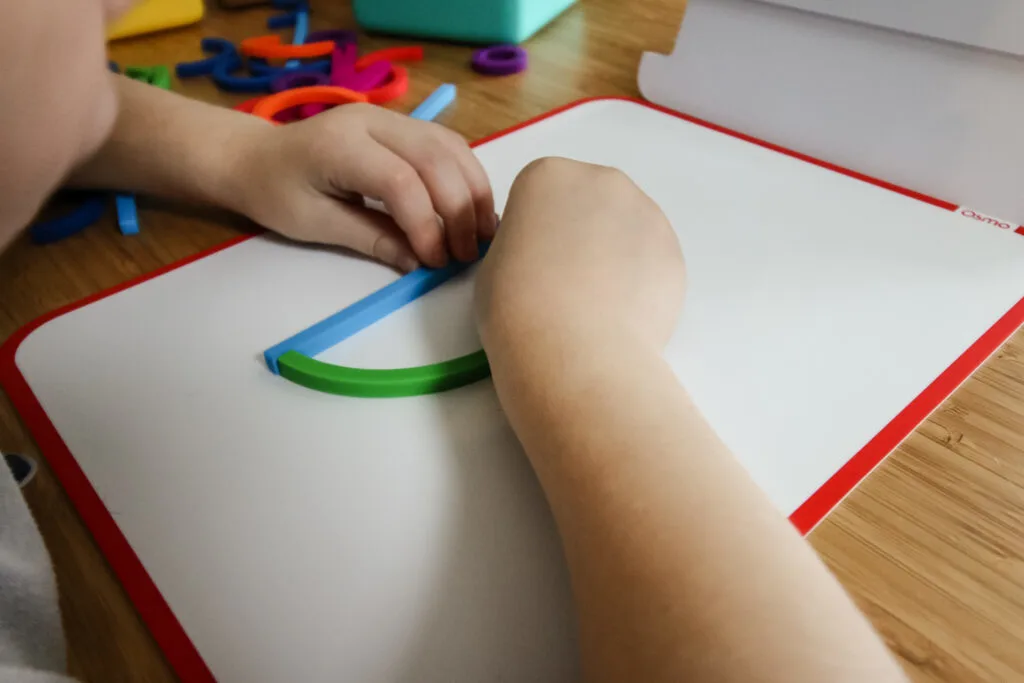 Osmo Genius Starter Kit Review
Overall, we love our Osmo. There are a few pros and cons, however.
What we love
I love that the Osmo is easy enough that my 4 year old can do it himself
The games encourage physically moving objects like the shapes or cards, so it's not just staring at a screen
My son thinks it's so cool that he does things on the table and they are reflected on the screen
It feels safe, age appropriate, and like a good way for him to get accustomed to technology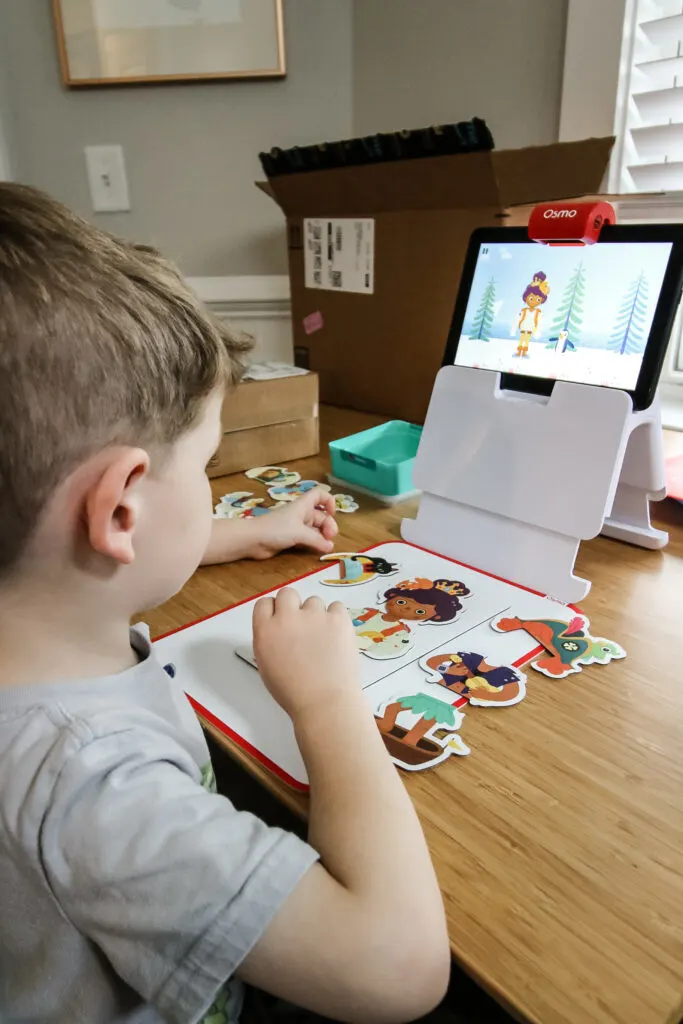 What we don't love
Set Up
Set up on this thing was a beast. First of all, I got the wrong reflector. Apparently Fire tablets changed the camera layout and Osmo had to update their reflectors. They sent a free replacement, but it was frustrating.
Installation of the games and apps was also a lot. I would suggest setting it up before giving it to your kids. Each game is its own app, which just took a while to download and get going on our tablet.
Once it was set up, this end was good to go.
Case compatibility
The tablet won't fit into the base if it's in a case. So, I have to take it out of the case each time. This is annoying and kind of hard to do – definitely too much for my 4 year old. I wish they offered a wider or more adjustable base.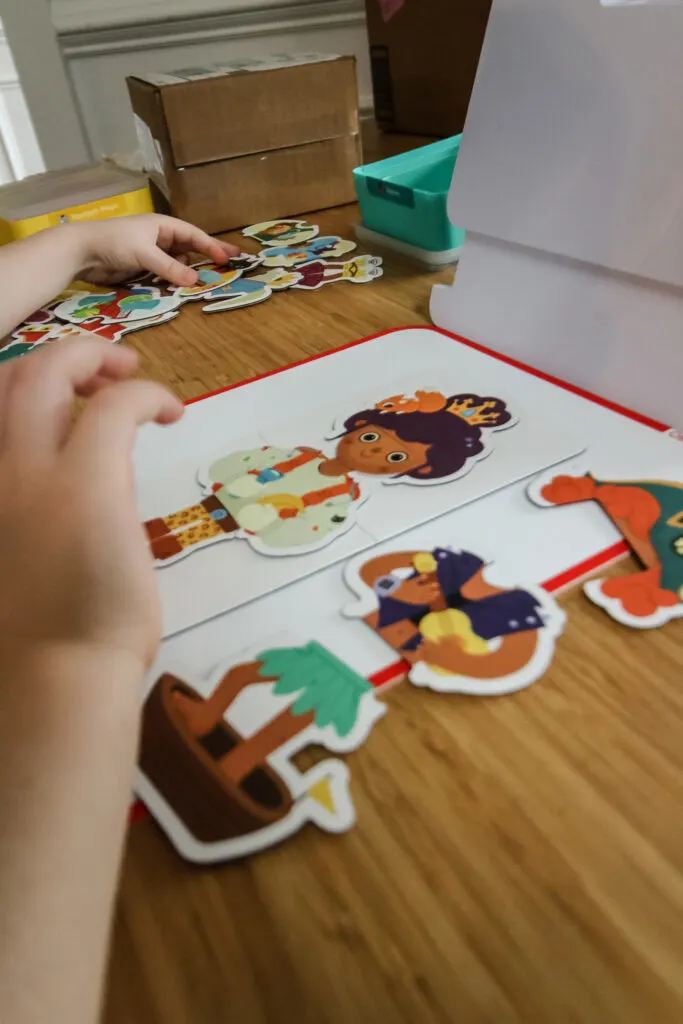 Which Osmo kit should I buy?
I suggest buying the kit that is most age-appropriate for your child. My son is 4 and the Osmo Little Genius Starter Kit is perfect for him.
Sets available include:
Be sure to get the right set for either iPad or Fire Tablet – they are not compatible!
Osmo vs Leapfrog
Leapfrog is another super popular learning game brand. Leapfrog offers their own tablets that would be great if you don't already have a tablet, and they offer apps. It's just a different experience compared to the hands-on nature of the Osmo!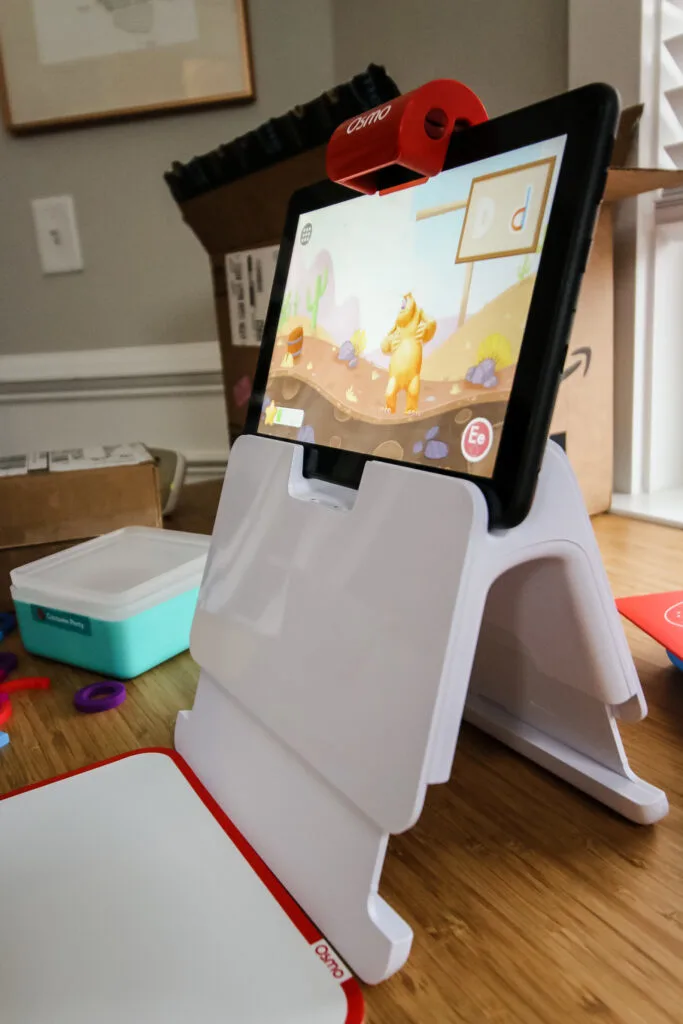 Is the Osmo worth it?
I think that the Osmo game is great and totally worth it if you have the budget and you already have a tablet on hand. I would not buy a tablet just for this, and I would not say that you need to push your budget to make this happen.
In other words, it's nice to have and a great activity for kids to learn independently, but certainly not a must-have.
I will also add – there are almost always coupon codes, sales or discounts on the Osmo. Don't pay full price!