Want to DIY a maternity photoshoot to commemorate your pregnancy? Here's a ton of tips for awesome photos – for free!
DIY maternity photoshoots are so bad after all! I wanted to get maternity photos taken on our recent babymoon to Bermuda, but I didn't want to pay $600+ for a session with a professional photographer.
I understand that photographers are artists and business people and don't want to take away from their value – it just wasn't in the cards for us on this trip. So, we decided to do a DIY maternity photoshoot.
We also DIYed our pregnancy announcement photos, so we had a little bit of experience. I learned a lot through our DIY maternity photoshoot and wanted to share some tips and advice with you here today (as well as some of the photos!)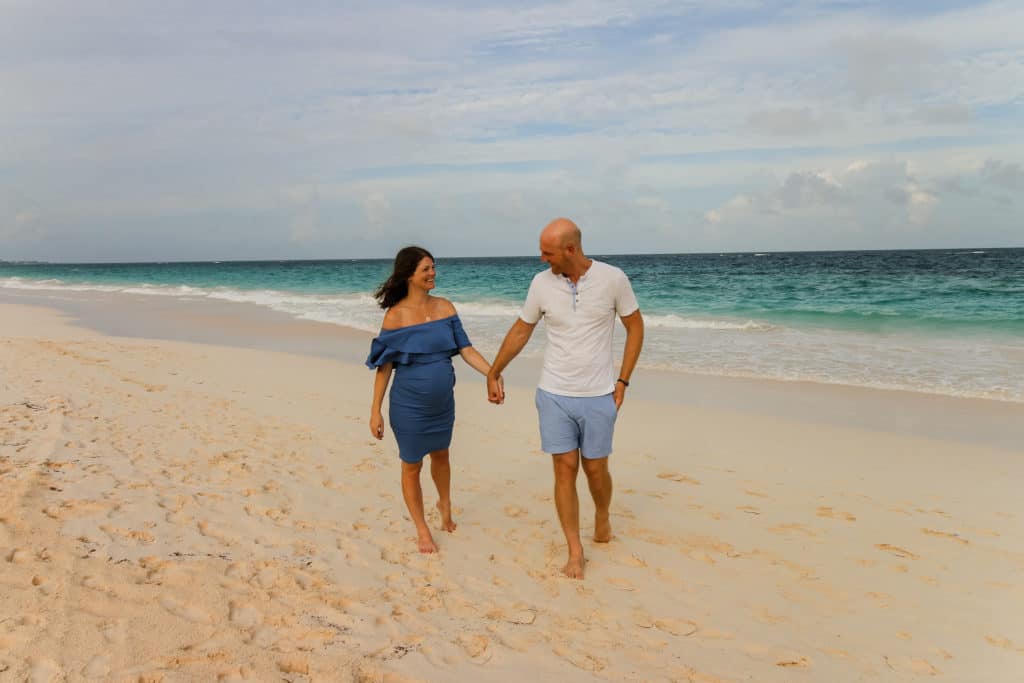 How to DIY a Maternity Photoshoot
Here are some tips for DIYing a maternity photo shoot at home even if you are NOT a maternity photographer!
Get the right equipment – To DIY a maternity photoshoot, you will need a camera and a tripod. We loved using a remote control as well.
Pick the right time of day – Sunrise and sunset are the "golden hours" with the best warm indirect light. Try to schedule maternity photoshoots for those times!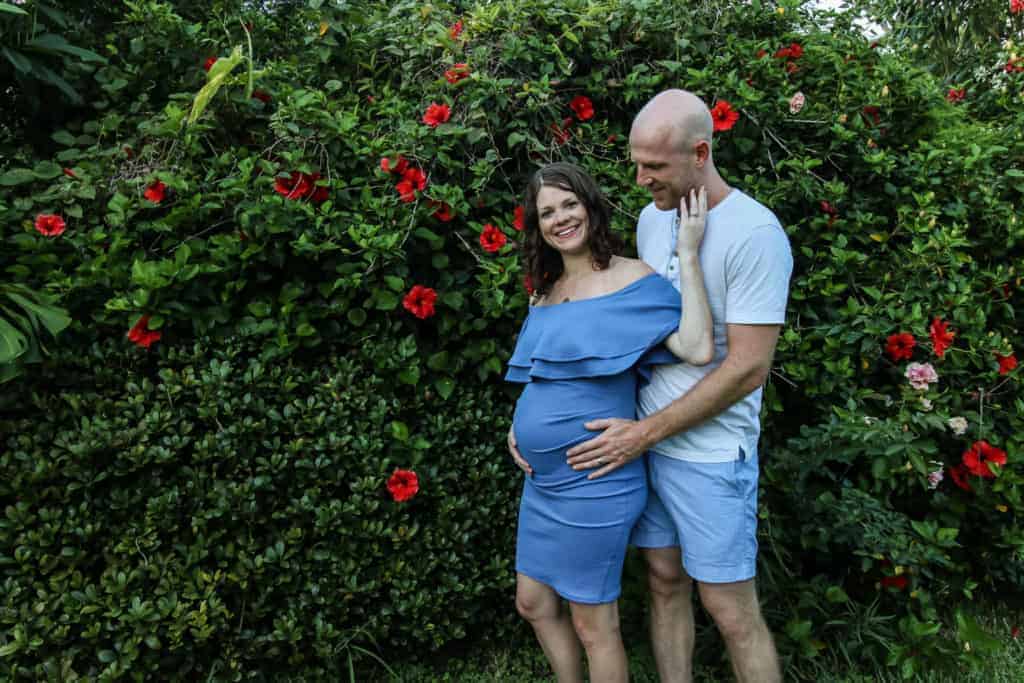 Scout out your location in advance – Once you pick a place, check it out in advance. Pick good spots and see how busy they are. A popular photo spot in Charleston is by the lighthouse, but it can be crawling at sunset! You just need to allow extra time if that is the case to give other people turns at the prime real estate.
Plan out poses in advance – and have screenshots on your phone.
Give yourself plenty of time – we thought we would take photos on the beach for about 30 minutes, but ended up spending over an hour! Things just take longer than you might think. Don't start taking maternity photos thirty minutes before a dinner reservation – you will regret being rushed!
Take way too many photos – just expect that 95% of them will turn out weird in some way. You can always delete them later!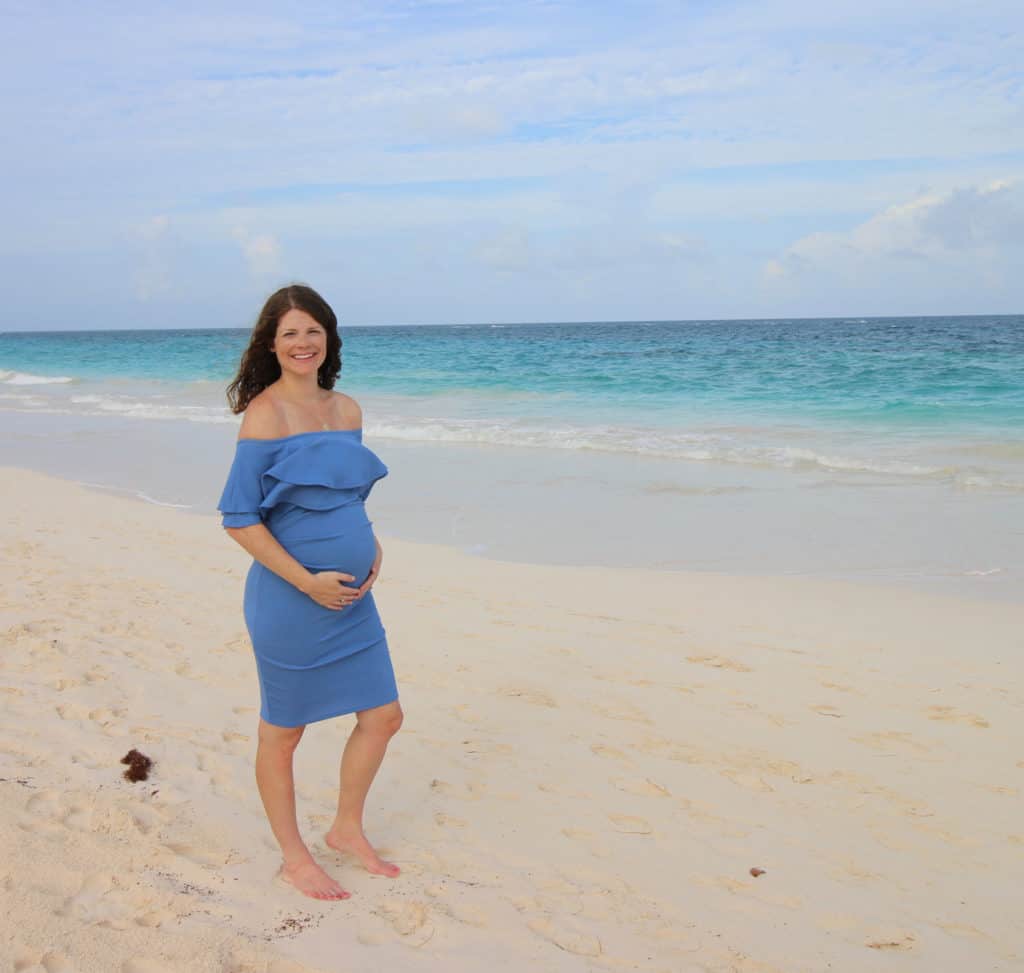 Check yourself as you go – look at your camera frequently to check that you aren't cropping anything out and to see how you like the posing.
Take some of just the bump – your face is great, your partner is beautiful, but this is really all about the bump. I love a few "artistic" photos of the bump straight on and in profile. You don't get to rock it for long, so enjoy it!
Other things to think about when planning your maternity photos?
What to do with maternity photos
Knowing what you are going to do with maternity photos might change what you do with them!
If they are for public consumption, you might not want a lot of kissy photos – or maybe you do!
If you want an album, you might need to focus on getting a wider range of poses or backgrounds.
If you just want one really good one to frame or for an announcement, you might focus your time on getting one perfectly posed shot.
What month should you do maternity pictures?
For the ultimate bump while still comfortable, 30-34 weeks seems to be the perfect time to take maternity pregnancy photos.
However, if you have a trip planned or will be in a specific location at a specific time, take them then! Every stage of pregnancy is special.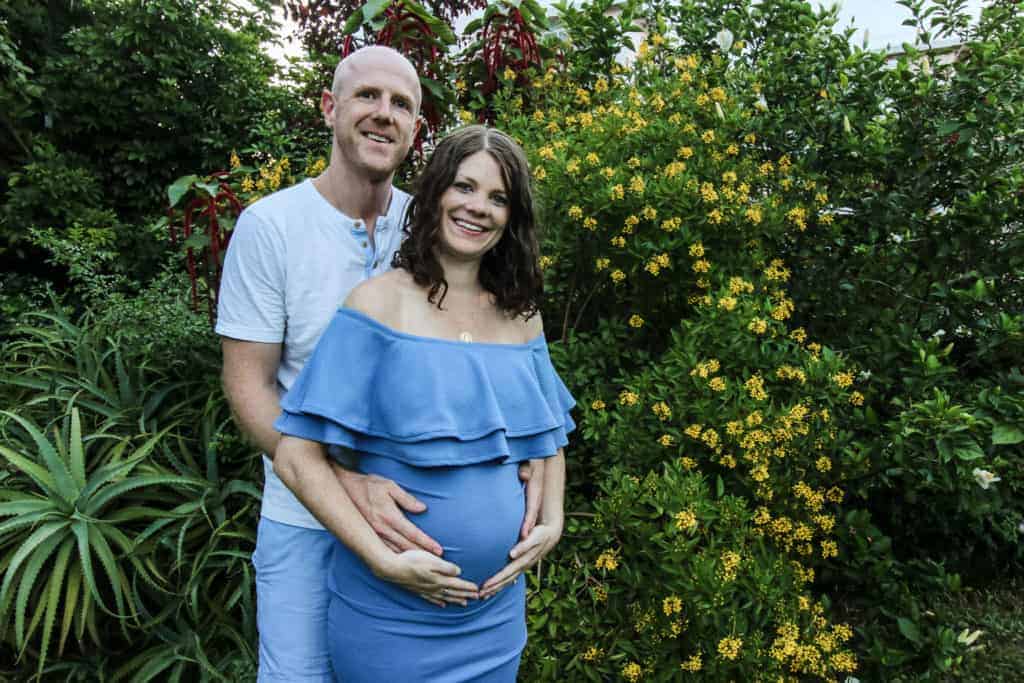 What to wear for maternity photos
(by popular request – here's my dress! #NotAFashionBlogger)
The #1 rule is to be comfortable!
If you want to bare your belly, do it! If you prefer to be more glam, or more casual, dress to match your personality and venue.
Solid colors tend to photograph best and try to pick something for your partner (if they are in the photos as well) that is complimentary but doesn't match exactly.
Keep in mind any colors of your surroundings – you want to pop out from the background!
If you wear makeup you might want a little more than usual so your features pop on camera, but of course do what makes you feel like you.
Should your partner be in your maternity photos?
I vote yes! It makes them feel included in a process that they are only kind of included in 🙂 but of course, do what makes you both comfortable.
It also helps to have a second set of hands for taking and looking at pictures as you go.
Should you use maternity photoshoot props?
This is up to you. Personally, I vote to let the bump be the prop.
Baby shoes or an ultrasound can be cute if you have less of a bump or feel awkward with your hands.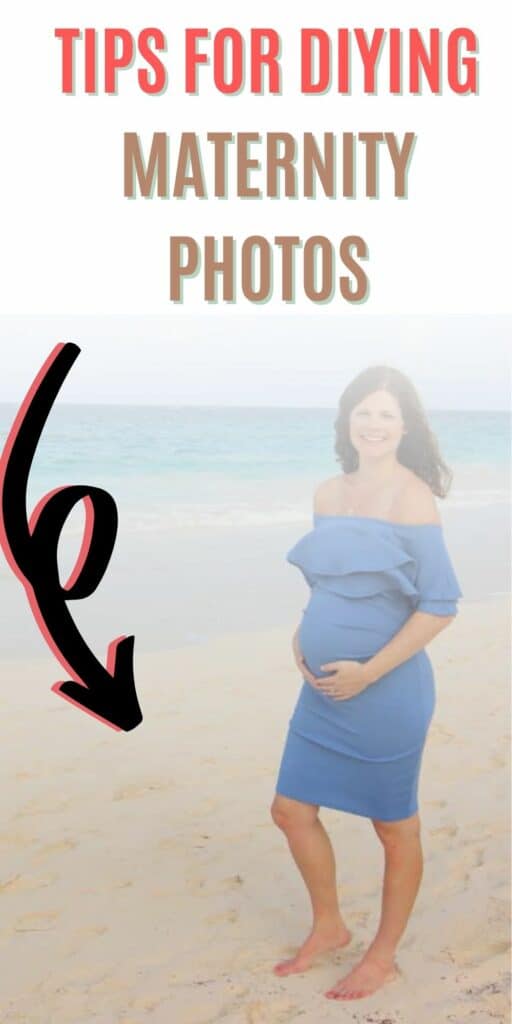 How do I take good maternity pictures with my iPhone?
You can absolutely take great photos with your iphone. You will need either someone to take your photo or a phone tripod. A remote helps so you don't have to run back and forth!
Try portrait mode for beautiful pictures
Always wipe the lens of your phone off to eliminate fingerprints
Don't use a flash – use natural light instead – in front of a window if you are indoors
Tap on the phone to focus on specific spots (like your face!)
Try for a neutral background – like greenery outdoors or a blank wall
Have you DIYed any photoshoots? Please share any tips!