Want to treat your teacher this Halloween? Here are the best Halloween teacher gift ideas!
Teachers are some of the hardest working people. I think that is so important that we show our appreciation to teachers throughout the school year.
Halloween is a crazy time for teachers. School has just been winding up for a couple of months and they might be starting to feel a little bit burnt out.
Plus, all of the kids being on sugar doesn't help.
Today I want to share one of my favorite ways to show appreciation to teachers – with small gifts.
Let's talk about some great Halloween teacher gift ideas!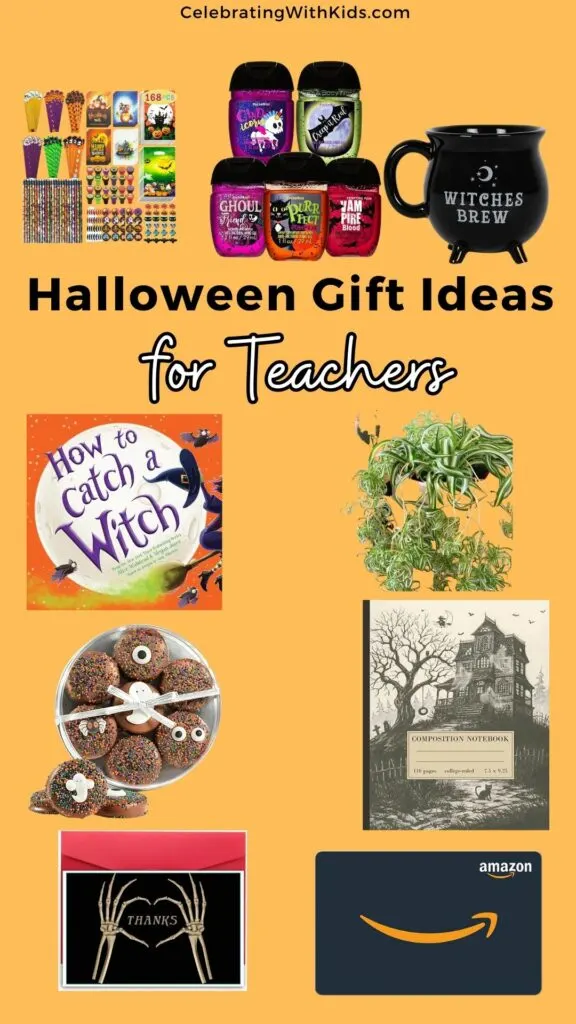 The Significance of Teacher Appreciation
Teachers have such an important role in our kids lives. They put in so much hard work and dedication day after day.
Small gifts of appreciation don't come close to covering it, but I think a thoughtful gift is a good way to show a teacher that you see them.
The Charm of Halloween Teacher Gifts
Halloween is a great chance to treat your teachers. First of all, it's a really fun holiday. There's a lot of creative and unique holiday theme ideas to play off of.
It's also a good time into the school year, about halfway to Christmas and the holiday season.
Creative Presentation and Packaging
When it comes to giving Halloween teacher gifts, the presentation and packaging play a crucial role in making the gesture extra special. Here are some tips to consider:
Choosing the right wrapping materials:
Halloween-Themed Wrapping Paper: Opt for wrapping paper with spooky and fun Halloween patterns like ghosts, pumpkins, or witches. This sets the tone and adds a touch of festivity to the gift.
Treat Bags or Boxes: Use Halloween-themed treat bags or boxes for smaller gifts like homemade cookies, candies, or classroom supplies. These can be found in various designs and sizes to suit your gift.
Reusable Totes: Consider using Halloween-themed reusable tote bags or canvas bags as an eco-friendly and practical gift wrap. These bags can be reused by teachers for carrying books or other classroom essentials.
Ribbon and Bows: Add a finishing touch with colorful ribbons and bows in Halloween colors like black, orange, and purple. A well-tied bow can make even a simple gift look more elegant.
Adding a heartfelt note or card:
Handwritten Notes: Take a moment to pen down your appreciation in a heartfelt note or card. Express your gratitude for their hard work and dedication. Mention specific moments or qualities that make them an exceptional teacher.
Halloween-Themed Cards: Consider using Halloween-themed cards to keep the festive spirit alive. You can find cards with witches, bats, or friendly ghosts that match the theme.
Student Involvement: Get your child involved by having them draw or write a message on a card. This not only makes the gift more personal but also helps students express their gratitude.
Thoughtful Halloween Teacher Gift Ideas
Here are some great halloween themed teacher gift ideas, broken down by budget!
Budget-Friendly Options
If you're looking to show your appreciation without breaking the bank, these budget-friendly Halloween teacher gifts will delight your educators without straining your wallet.
Homemade spooky treats
If your teacher likes treats or to snack, sending in Halloween treats can be a great way to show appreciation.
Handmade Halloween-themed cards
Handmade cards are always a sweet and appreciated gift. For best effect, have your child make or decorate the card and write a heartfelt message.
Themed classroom supplies
As a practical and appreciated gift, put together a Halloween-themed classroom supplies kit. Include items like Halloween-themed stationery, colorful pens, markers, and a pack of sticky notes with cute pumpkin or ghost designs.
Teachers always need supplies, and this gift ensures they have some fun and festive items for the classroom.
Classroom Hand Sanitizer
A supply of Halloween-themed hand sanitizers for the classroom is a good small gift idea. This practical gift not only supports a healthy learning environment but also adds a touch of seasonal flair.
Teachers can place these hand sanitizers at strategic locations in the classroom, making it easy for students to maintain good hygiene practices while enjoying the Halloween spirit.
Desk Plant
A small potted plant, such as a succulent or mini spider plant (spooky!), to brighten up the teacher's desk.
It's a thoughtful and decorative addition that can bring joy and a sense of tranquility to their daily routine.
Thank You Notebook
A simple yet heartfelt notebook where students can write notes of appreciation and thanks to the teacher. This gift encourages students to express their gratitude in their own words, creating a collection of heartfelt messages that the teacher can treasure for years to come.
It's a meaningful and personal gesture that reminds educators of the positive impact they've had on their students' lives, making it a wonderful Halloween gift.
Mid-Range Gifts
Step up your Halloween teacher gift game with these thoughtful mid-range options that strike the perfect balance between cost and thoughtfulness, ensuring your teachers feel truly appreciated.
Personalized Halloween mugs
A personalized Halloween mug can feature Halloween-themed designs like witches, pumpkins, or ghosts, along with the teacher's name or a special message.
With every sip of their morning coffee or tea, your teacher will be reminded of your thoughtful gesture, making it a perfect way to express your gratitude during the Halloween season.
Books for the classroom library
Books for the classroom library are a gift that keeps on giving. By adding new, engaging titles to the collection, you're not only providing educational resources but also nurturing a love for reading among students.
Choose books that align with the grade level and interests of the class. Whether it's a set of spooky tales for Halloween or timeless classics, your gift will enhance the learning experience and create lasting memories for many students to come.
Halloween-Themed Gift Basket
Create a spooky-themed gift basket filled with a variety of treats and goodies. Include items like gourmet chocolates shaped like Halloween creatures, a scented candle with a Halloween scent, a small plush toy in a Halloween costume, and a handwritten note expressing your gratitude.
Splurge-Worthy Presents
For those looking to go above and beyond in expressing their gratitude, these splurge-worthy Halloween teacher gifts are the ultimate way to show just how much you value the hard work and dedication of your favorite educators.
Gift certificates to bookstores or office supply stores
Gift certificates to bookstores or office supply stores are a practical and thoughtful way to show appreciation to your teacher. I put them as a "splurge" but there is 0 shame in giving a $5-10 gift card if its a place you think they will shop anyways, like Amazon or Target.
With a bookstore gift certificate, your teacher can indulge in their love for reading, whether it's by picking up a new bestseller, educational resources, or personal favorites.
On the other hand, an office supply store gift certificate enables them to stock up on classroom essentials like pens, notebooks, or art supplies. These versatile gifts are a fantastic choice to say "thank you" during the Halloween season.
Spa or self-care packages
Teachers work tirelessly to educate and nurture their students, often neglecting their own well-being. A spa or self-care package is a luxurious and thoughtful gift designed to help your teacher unwind and relax.
These packages can include spa day vouchers, soothing bath products, scented candles, skincare essentials, or cozy bathrobes.
It's a perfect way to express your gratitude for their hard work and dedication while encouraging them to take some well-deserved "me time" this Halloween.
Any more favorite Teacher Halloween gift ideas?