Want to gift your kids an amazing climbing toy? Here is our complete Goodevas Indoor Wooden Playground Review!
It is great to have your kids play outside, but I think it is very important to have active play toys inside your home too. Whether it is raining, snowing, or super hot, some days you just can't go outside.
Having active play toys inside also can help kids stay occupied safely while parents work from home or do chores around the house.
I love indoor climbing toys and love getting to try different climbing toys out with my kids who are currently three and four years old.
We loved getting to try the Goodevas 4in1 climbing set, so we were super excited to get a chance to try out their Indoor Wooden Playground, too!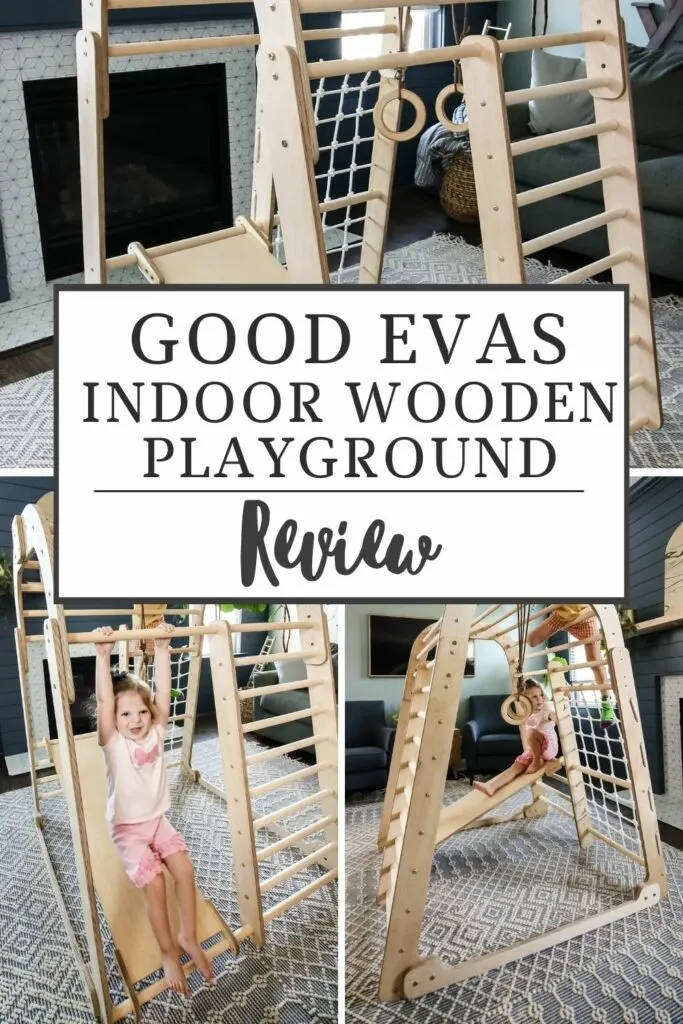 Goodevas Indoor Wooden Playground Review
Goodevas is a brand of wooden kids toys that particularly focuses on climbers and climbing sets. We tried out the Indoor Wooden Playground for Children, which is a 6in1 Playground + Swings Set + Slide Board.
This set is SO fun and was a huge hit with my kids. It's a little bit different and more extensive than a traditional Pikler triangle inspired set, so that made it more interesting to them.
I love that it is wide enough that 2 kids can play on it at once without issue. I think you could get away with 3 preschool aged kids playing at once!
It has plenty to do – there is climbing, swinging, and sliding – which is enough to keep kids busy and entertained for a while.
Plus, this is a beautiful set. It is really well made, from super high quality materials. I really love this brand and this product!
Origins
The Goodevas company is located in Kyiv, Ukraine. It was founded by parents who wanted to promote health, agility, endurance, independence and curiosity in kids. Goodevas controls all of their own production in house.
They have warehouses in the US, UK, and Europe to ensure that shipments can arrive quickly.
Company Values
I'm fortunate enough to be able to pick and choose the brands of toys my children play with so I have been trying to focus on supporting brands that align with my personal values.
Our Goodevas set came with a flier that mentions that Goodevas channels a part of the funds from each purchase to provide support to low income families, including orphans and humanitarian aid in the Ukraine. Now, more than ever, I see that as a huge need.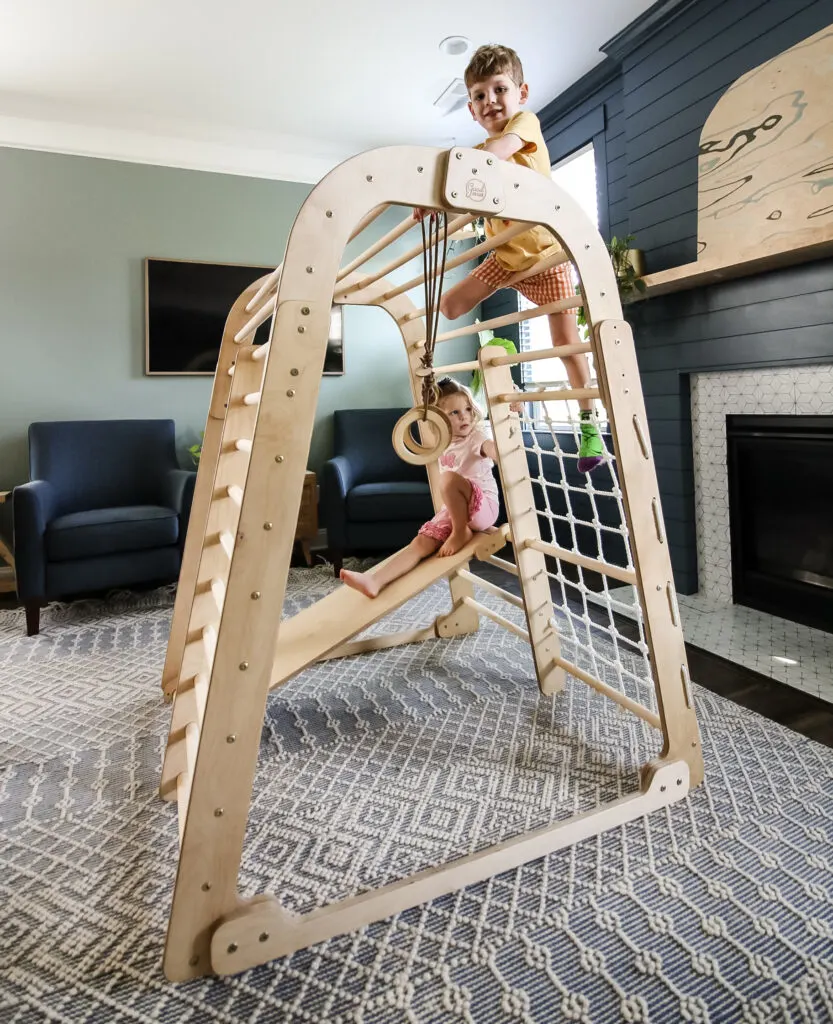 Included components
The indoor playground is primarily one large arch piece. Either side is a ladder climbing up and over the top. My kids were able to confidently and safely climb up and over the arch.
The playground also includes a wooden slide and a rope climbing wall.
The rope climbing wall is built into the framework of the set and is part of the climbing option on one side of the structure whereas the slide is removable. It easily hooks to two different dowels on the play set and can be adjusted for the steepness of the slide.
There are 3 additional add-on accessories that can be hung from the underside of the arch: a rope ladder, a wooden swing, and hanging rings.
I also see this playground as a great use for imaginative play, where your kids could turn this into a fort, a castle or a battleground for action figures.
Size
The assembled size of this playground is 42.5″x47″ base, 56.5″ height. Yes, it is large!
This is a TALL climber – the kids are over my head when they climb over the top. If you have a large playroom space, this is a super cool set to add to your collection, but it will take up a lot of space.
If you don't have a large, open, dedicated space, this might not be the set for you. It does not fold for storage!
You also have to take it apart in half to be able to get it through a doorway, so ideally you need to set it up in the room you plan on using it.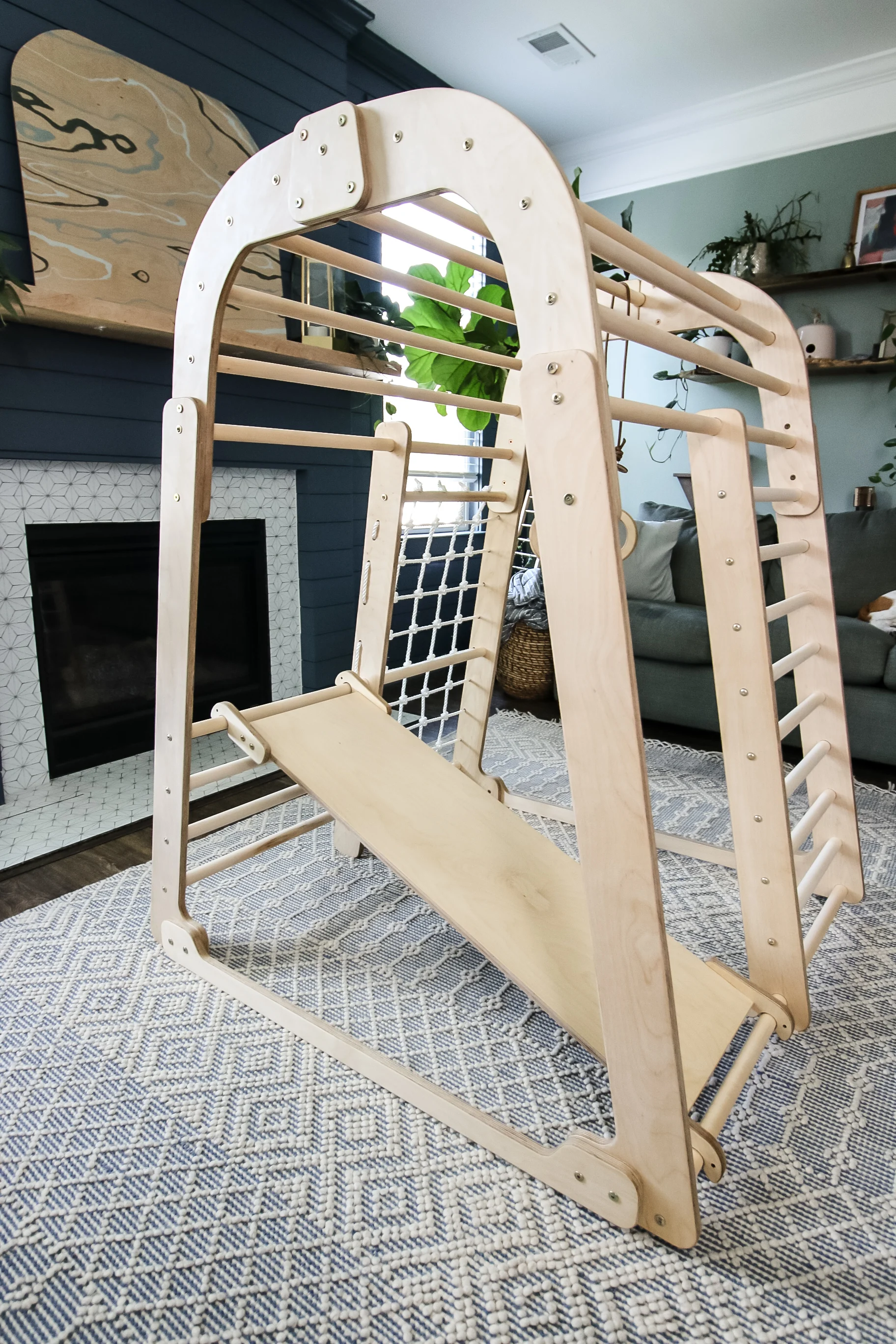 What is the difference between this and a pikler triangle?
This is significantly taller than a pikler triangle, and includes more elements. I think that this makes this set perfect for slightly older kids or multiple kids to use at once!
One other difference is that pikler triangle sets usually separate or fold up. The slide comes off of this set, but otherwise it does not fold up or separate to store (unless you totally disassemble it).
What age is it for?
This set is designed for ages 3 to 8 years old.
I think that kids starting at age 18 months could enjoy the lower parts of this set – such as the slide and lower rungs. But, you most likely want them to be 3 or close to it to confidently climb over the top.
Additionally, the kids I know that are 8 years old seem like they would be a little too big for this set, so I would personally say it's better in line for ages 18 months to about 6 years.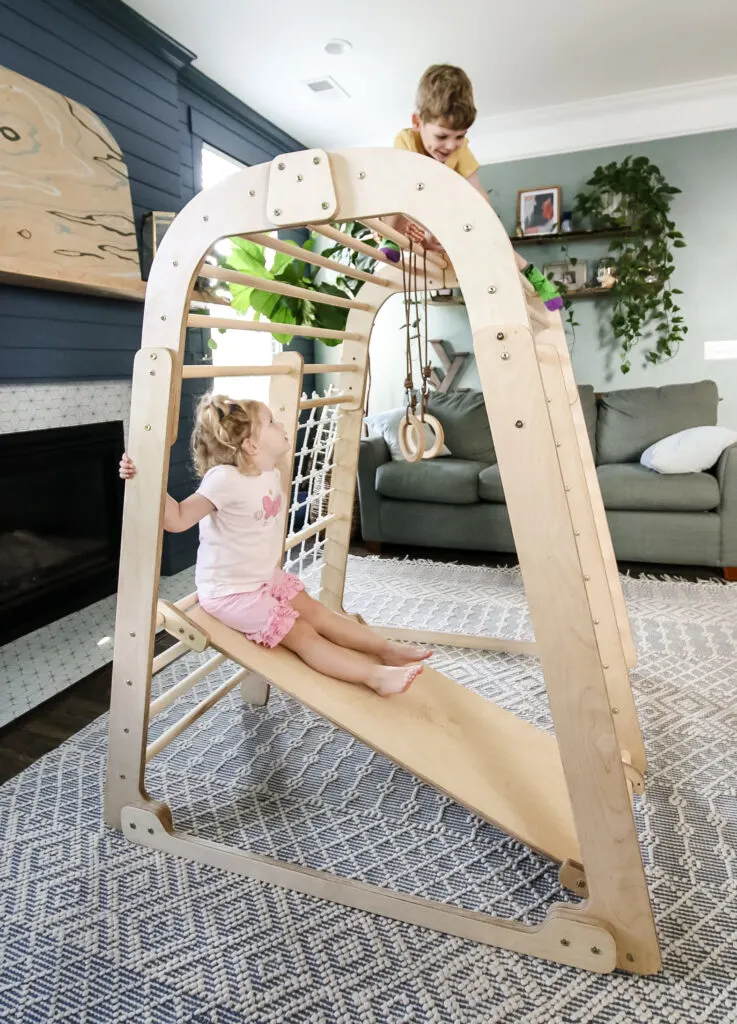 Material Quality
These pieces are made from premium hardwood covered with 100% linen oil with beeswax. Their products are all made from 100% FSC certified Karelian birch plywood and beech dowels. The beeswax oil finish makes them easy to clean with a damp cloth and super smooth.
Assembly
Assembly on this set was not difficult, but it did take my husband and I about 1 hour after our kids were in bed.
Please note that there are several different lengths of dowels that you are working with and two of them are very close in length, so it's easy to get confused. For this set, I think it is super important to take all of the pieces out of the box and sort them before building. This is the best way to keep from getting confused between the pieces!
I will also share that it will NOT fit through standard doorways once assembled (ask me how we figured this out!) so assemble it where it will go, or assemble the sides first and do the final assembly in place.
The whole set is assembled with screws and an Allen wrench that is included. However, that was taking a long time to do by hand. A drill with a hex bit can make assembly go faster but you have to be very, very careful not to over-tighten and strip the screws, which will make them not work.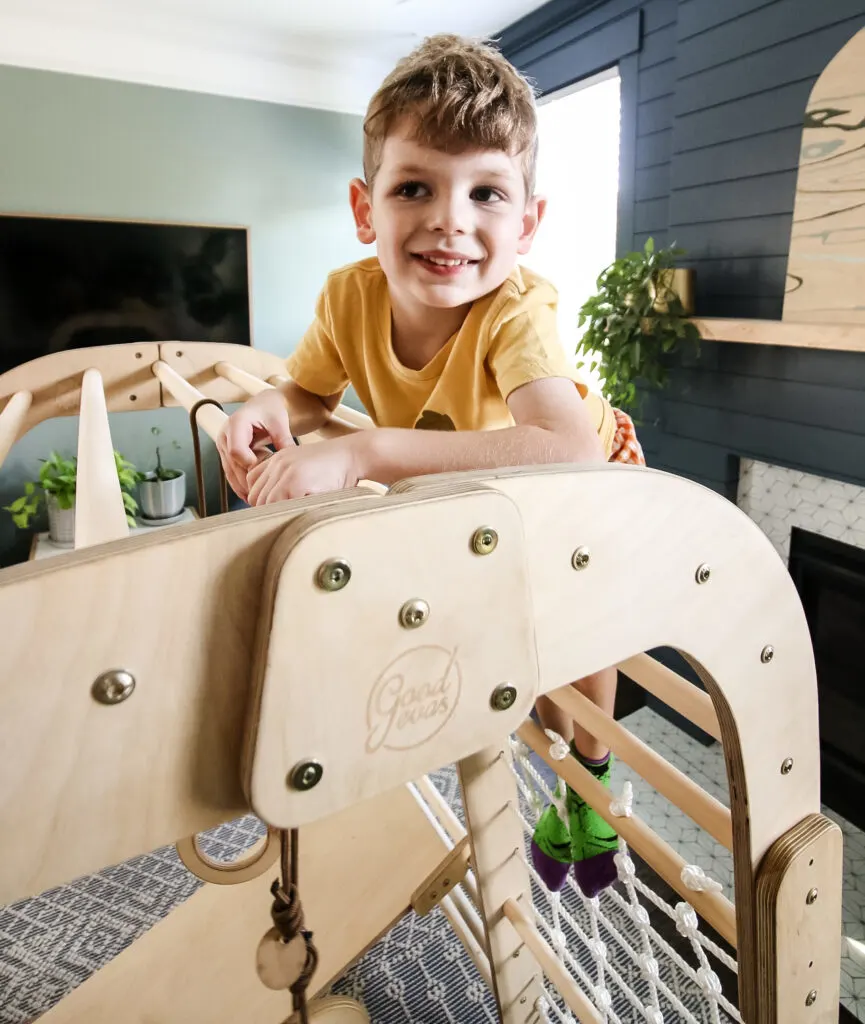 Price
This set is listed for full price at $499, though they do run sales and discounts. This price is pretty comparable to similar sets by other brands.
Plus, this set includes the swing, rope ladder, and rings, which are about $100 in value on their own!
While it is a lot to spend on a kids toy, it is a large item that can entertain several kids for many years. It's about $100 more than the pikler triangle set, but since it's designed for slightly older kids, it will last you longer!
Shipping
Shipping is super quick and we received our set in just a couple of days. It is all bundled in one box that was super heavy, so be prepared to have a helper move it to your assembly area.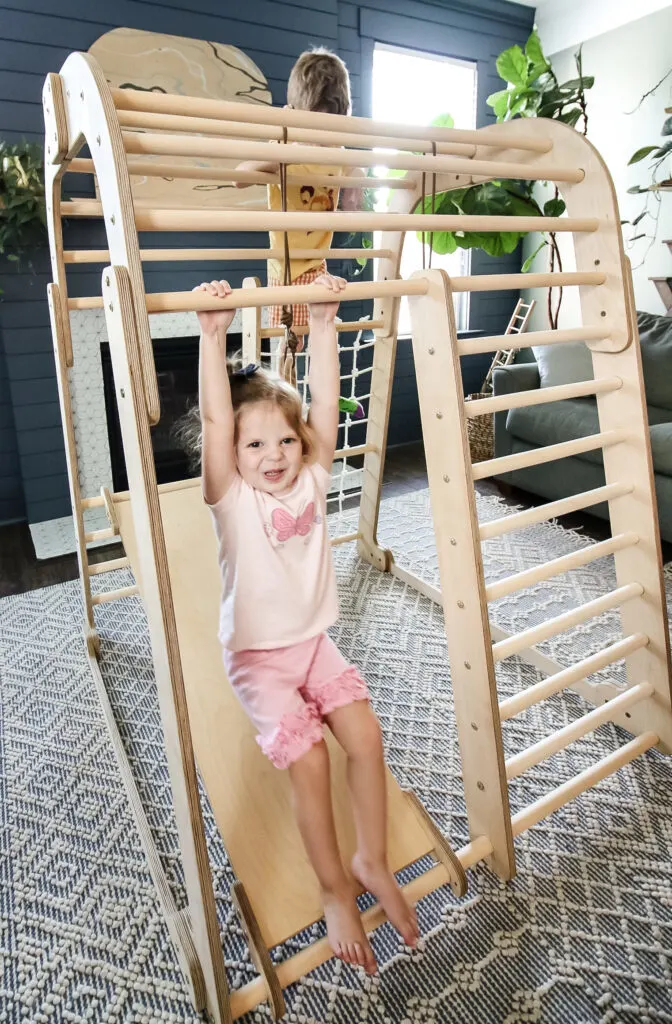 Overall impressions
Overall, I think that this is a super cool indoor climbing toy for preschool to lower-elementary aged kids.
If you have a large play space, this is an excellent addition. I also think it's a great option for families with 2-3 kids who want to play all at once.
This would be an epic surprise to wake up to on Christmas morning! Maybe just don't save all the assembly for Christmas Eve 🙂
Any more questions about this indoor playground?