Hosting a birthday party can get expensive, quick. Here are some ideas for free and cheap places to throw a birthday party – or any party – for kids or adults!
Birthdays are really exciting, but they can add up really quickly.
Whether you are on a tight budget or just trying to save money, it can be really hard to stomach the cost of many large birthday party venues.
But, of course you want your kid to be happy and to have a fantastic birthday!
So, let's chat about inexpensive birthday party places and the best places to have a party on a budget!
How much should a birthday party cost?
Birthday parties can be done on any budget. From a casual dinner at home with family to a Kardashian blow-out, parties spread the whole range.
Offer your kids the choice
Older kids might not all want a big party, or they might not want a big party every year. They might prefer to spend that same budget taking your immediate family to their favorite restaurant, or having a special treat or afternoon out with a parent or one friend!
Always ask and don't assume they want a big party, even if that's what you "always" do.
Tips to keep the cost of a birthday party low
When budgeting for a birthday party, the best way to save money is to cut down on the number of attendees. More people means more space, more food, more paper products, more everything.
To save money, make your own cake or cupcakes instead of hiring a baker. You can use a cake topper instead of fancy icing designs. I printed paper characters and taped them to toothpicks for free cupcake toppers!
Look for decorations on Free Cycle or a local Buy Nothing group. People are often trying to get rid of extras!
Time your party to be mid-morning or in the afternoon so people aren't expecting a full meal and you can just serve snacks.
Another great way to save money is to find a free party venue or a cheap birthday party place!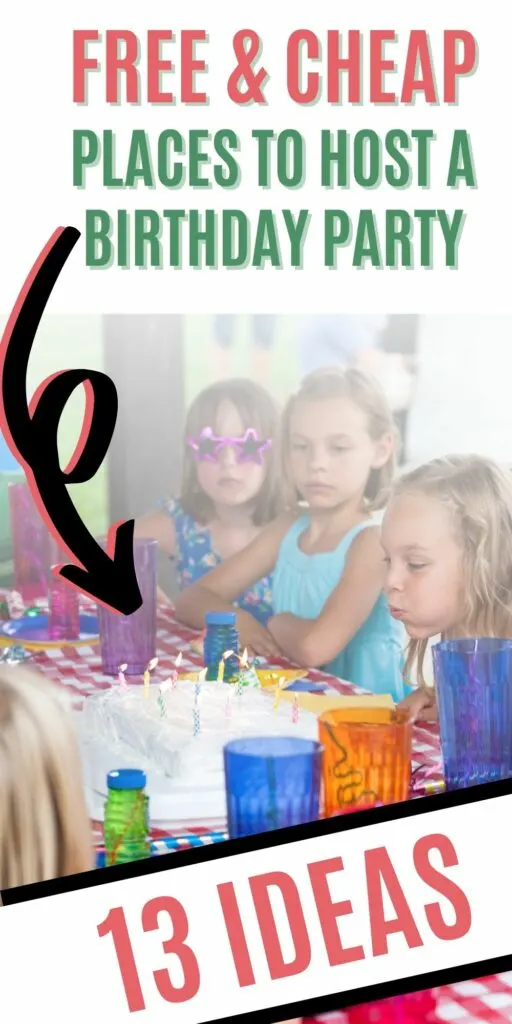 Free places to host a party
There are some free party places that are still fun places to have a birthday party!
Birthday party at home
The top of the list for where to host a party for free is at your own home. Depending on the time of year, a backyard party can be totally perfect.
Benefits of hosting a party at home in addition to it being free is it's easy to set up, you don't have to transport anything, you have a bathroom and a kitchen right there.
Things to keep in mind include parking, seating, and an activity or something to do. Renting a bounce house or something similar can get more expensive than booking a venue. A party at home doesn't automatically mean cheap!
Borrow a friend or family member's home
If you don't want to or can't host guests at your home, consider using a friend or family member's house. If you know someone who would lend you their backyard pool, for example, that could be awesome!
While a friend's house is a great place where you can have a birthday party for free, it still requires that you have a friend who would let you use their house! If not, keep reading.
Local park
One of my favorite cheap toddler birthday party places is a local park. Most parks have shelters that can be rented for a nominal fee. But, almost always, picnic tables or other park areas outside of the shelters are free to use.
It's important to know that these spots are usually first-come-first-served. So, if it's a popular time, you might need to camp out early to secure the space.
Also, note if your park has an entrance fee. Our county parks, for example, charge $2 per person to enter. Consider your guest list and if this would fly with the invitees.
Finally, consider your party size. If you are going to roll the dice and hope to grab a few picnic tables, stick to less guests. This is best as a small birthday party venue. However, if there is a playground and you can bring picnic blankets for kids to crash on, you might be able to get away with a few more guests!
Church room or playground
Many churches have fellowship halls or playgrounds that you can use for your special day. They often do not charge their active members to use these spaces. Or, they might charge a refundable deposit assuming you clean up after yourself.
If you aren't a member of a church, think about your friends and family. Is anyone willing to reserve a church room for you?
The beach or lake
One of my favorite places to attend a party is on the beach! Kids can really run wild and it's a great excuse for a beach day. This of course is weather and seasonally dependent.
The beach is great because most people will bring their own seating. You will just want to bring a cooler with drinks and snacks. I suggest cupcakes for easy serving! Remember to plan for how you will get all of your trash out.
Hiking trail
A hiking trail is a great place for a kids birthday party. They are usually free to get into. A hiking trail has a built in activity for kids to run around and play on. Plus, many hiking trails have picnic tables at the trail head.
Your workplace
If your workplace has a conference room or a large room, they may let you use the space in the off-hours. Obviously check in advance with the right people to see if this is possible.
Cheap places to host a birthday party
Here are some cheap places to throw a kids party. They may charge a fee but it should be on the smaller side.
Local splash pad
Many parks have splash pads. These are smaller versions of water parks that have various sprayers or fountains for kids to play in.
These may be free to go to or may have a small entrance fee. However, they can't be reserved and may be crowded, especially on a warm sunny weekend day. Keep that in mind when planning!
Ice cream shop
How fun to have a party at an ice cream shop! Your bill would involve buying everyone ice cream – but the venue itself is free, you just pay for food. You just can't bring in outside food and have to get everything there!
This could be very budget friendly for a small party.
Community pool
Community or neighborhood pools can be a great place to host a party in the summer. Some pools might charge a per person entrance fee. Others might charge a small fee to reserve an area of the pool.
If your pool does not allow reservations, send someone to arrive early to stake out proper seating for your size group. You may or may not be allowed to bring in outside food – it's best to ask in advance!
Community center
Local community centers usually have rooms that you can reserve for parties. They can be very budget friendly. However, be sure to call well in advance because they can really get booked up.
Retirement home
This might sound bizarre, but I once went to a sweet 16 birthday party in a retirement home! They often have party rooms that residents can reserve. If you have a family member living in one of these places, it might be worth an ask.
They usually have plenty of parking and a nice space. You just won't want to have too rowdy of a party!
Restaurant
Another option for a party is a restaurant. I know as a kid I went to a lot of parties at CiCi's Pizza! Some restaurants charge for a private room or some just have a food minimum. If you are feeding a group anyways, this is a good way to hit two birds with one stone!
Where is your favorite free place to have a birthday party? I'd love to hear your favorite cheap birthday party venues!