Looking for a fun, easy activity for your toddler or preschooler this fall? Check out my free printable matching memory game!
I am always looking for easy ways to keep my toddlers occupied.
Whether I need to fold laundry, make lunch, or just have a minute, anything that they can play by themselves is a win in my book.
I'm trying to really get my kids excited about fall. The weather doesn't really change where we live (we wear shorts at Christmas a lot of years!) so I have to make an effort to make fall a thing for them.
I whipped up these simple fall themed matching cards and was shocked at how much my 2 year old enjoyed them.
My 1 year old even liked looking at them and throwing them around, though she obviously wasn't doing the actual memory part.
This game pairs great with these fall songs for infants!
Anyways, this is a really simple way to give your kids something fall-themed to do.
This is a super easy, low prep printable activity for toddlers and preschoolers. Seriously, it doesn't get much easier than this!
Be sure to check out my printable Fall scavenger hunt for kids!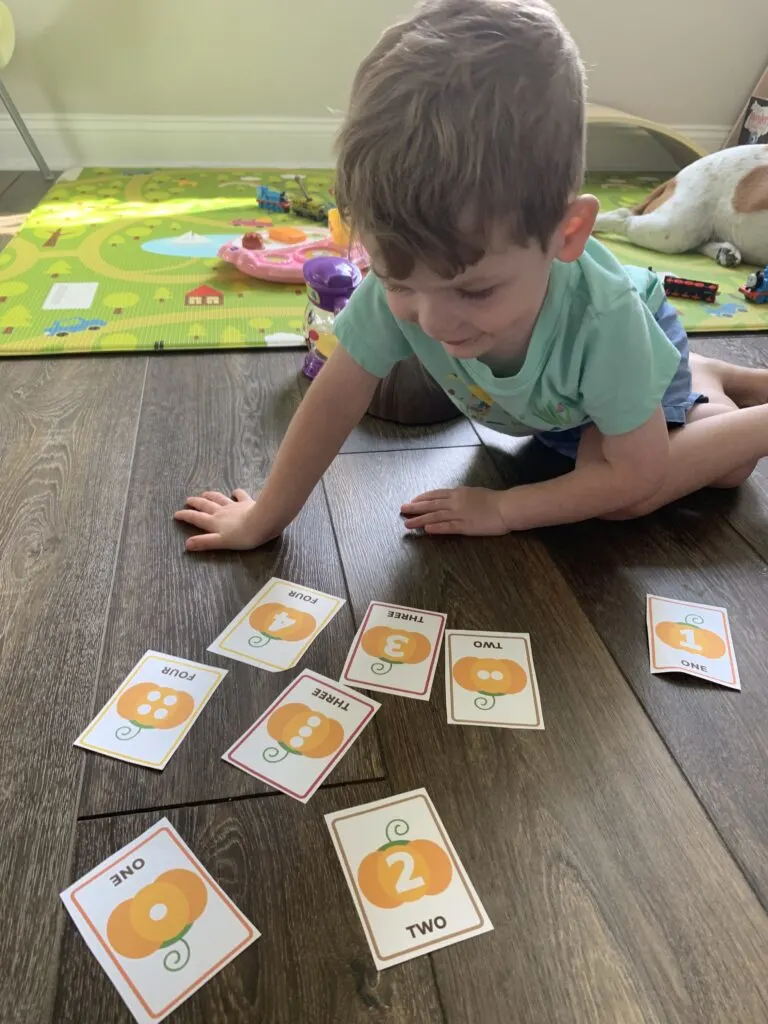 Benefits of matching games for kids:
Concentration
Learning the concepts on the cards (colors, numbers, letters, etc)
Fine motor skills
Vocabulary
Sorting skills
Color matching
Critical thinking
Memorization skills
Visual discrimination
A sense of accomplishment
Plus, printable memory games are free and easy for parents or caregivers to set up!
Want to take your Fall-themed learning to the next level? Check out these Fall alphabet activities for kids!
Free Printable PDF Fall memory matching game
Get our free printable PDF to do this Fall memory game at home!
My memory cards include 4 pairs for each set. I have a full color set, one that uses less colored ink, and one with numbers! All 3 pages are saved together in 1 PDF file. You can also print any 2 of the sets front and back if you prefer!
It's a simple matching game that can be used for a variety of matching activities.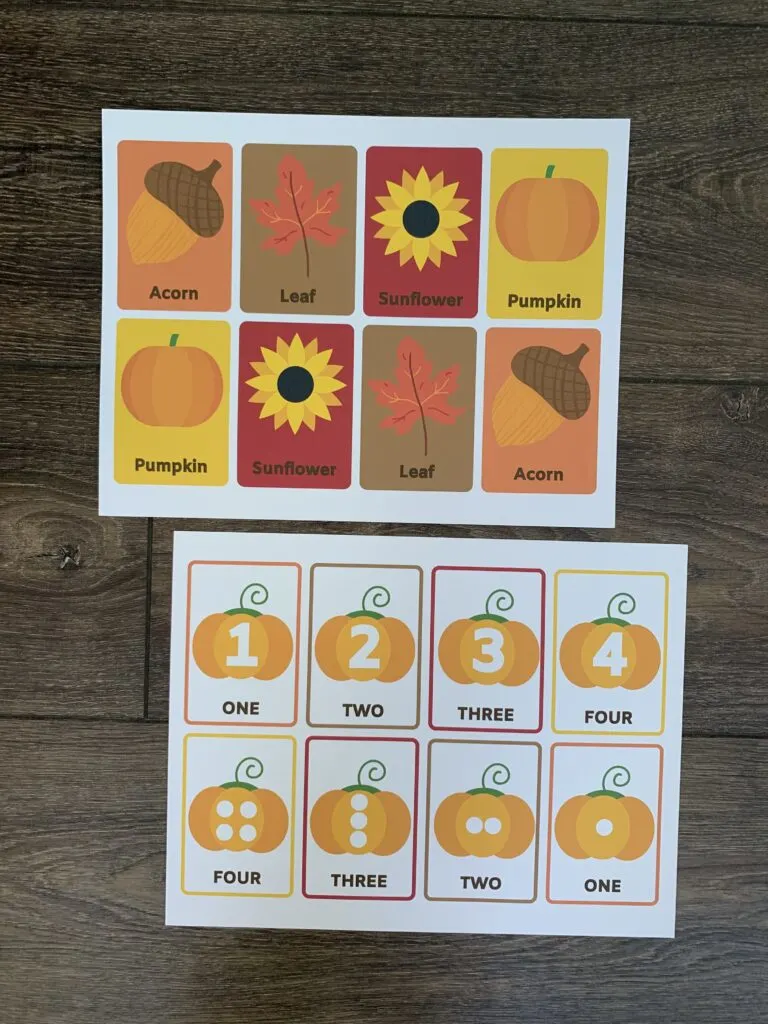 Materials needed:
Printer
Cardstock paper
Scissors or paper cutter
Optional: laminator machine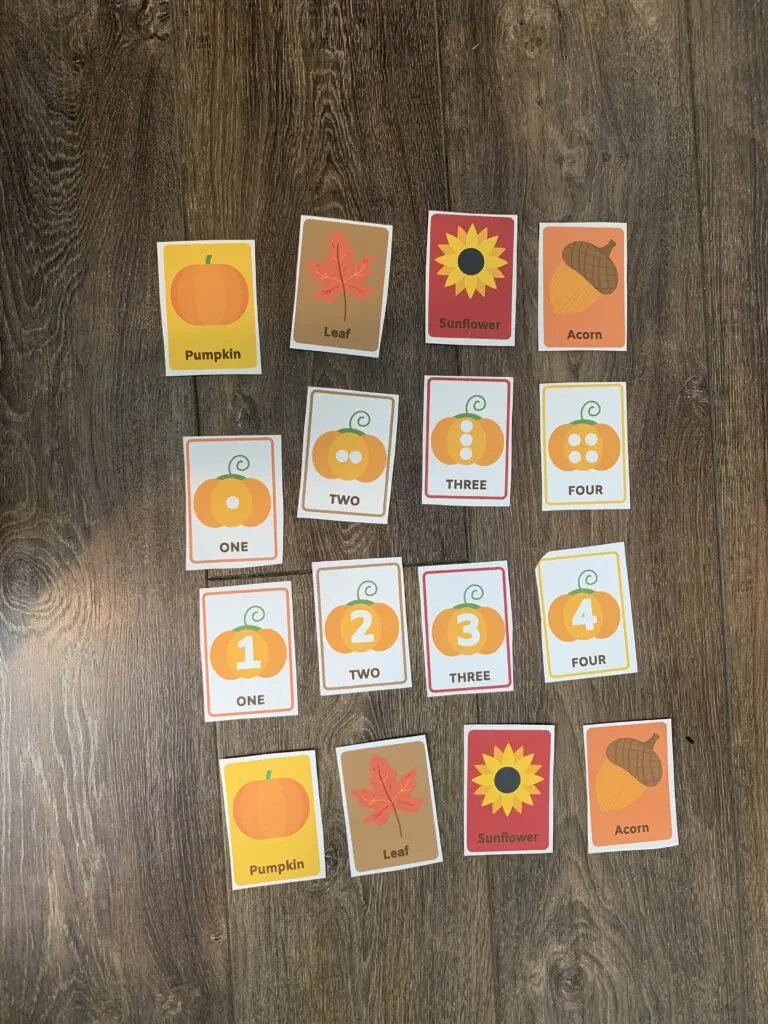 How to use the fall matching game cards:
Print the printable matching game. Use scissors or a paper cutter to cut the pieces apart.
Feel free to laminate it if you prefer – laminate the full sheet BEFORE cutting them apart. This will make the pieces last longer!
Lay the cards out and let your kid find the match!
For older kids:
Use the number cards to practice counting and recognizing numbers
Flip the cards upside down so they have to use memory to find matches
Talk about the letters & words on the bottom of each card
For younger toddlers:
Start with just 2 pairs and work your way up with the matching activity
Keep the cards image side up at first
Talk about the colors you see on each card
These flash cards are great for independent play for kids. But, if you are playing with them, talk about each object!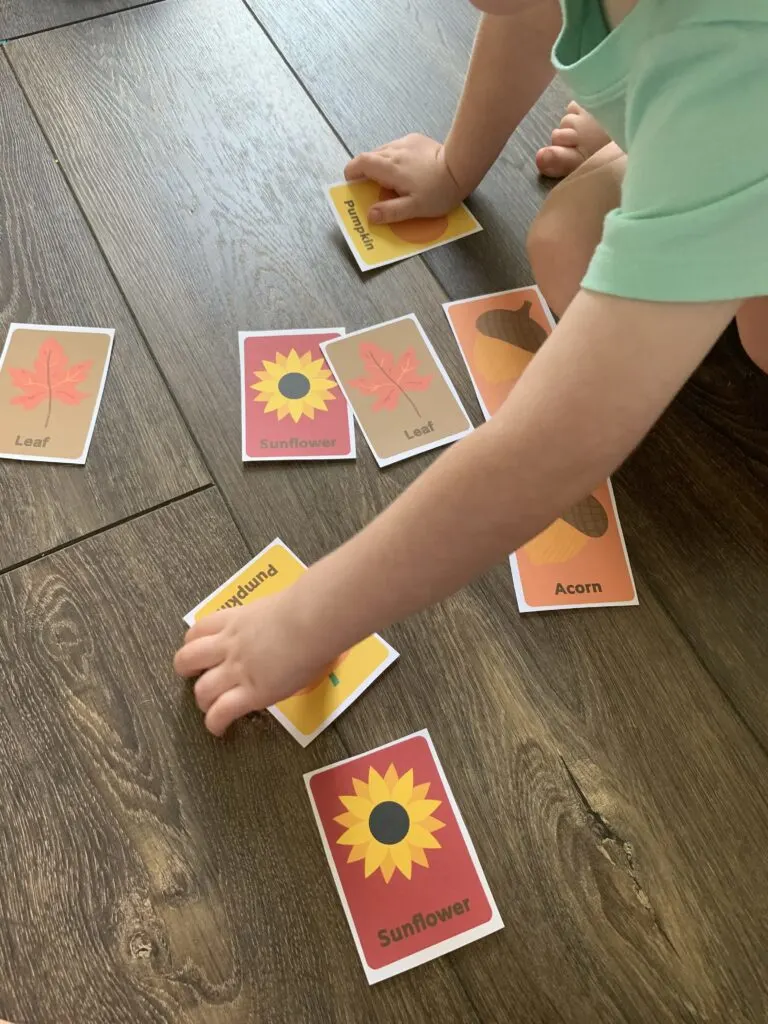 Free Printable PDF Fall memory matching game
Get our free printable PDF to do this Fall memory game at home! Click here to get the free printable memory game!