Looking for a fun ice themed activity for kids? Here's how to make an iceberg sensory bin!
Kids love playing with ice! Whether it is summer and you are trying to cool down, or winter and you want an arctic theme, there's always a good excuse to play with ice.
It's super easy – and basically free – to make this iceberg kids activity. My kids were really entertained balancing their little toys on the ice blocks.
I'd call this one a huge success!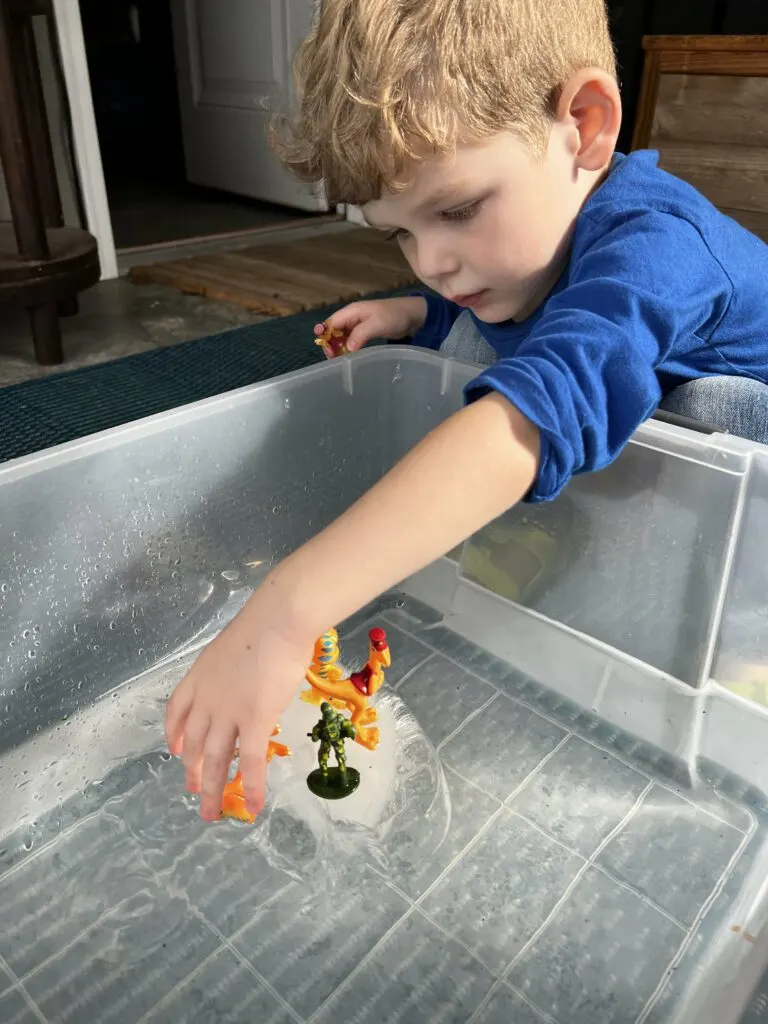 Easy Iceberg Activity for kids
Supplies needed:
Large bin or tray (to play in)
Small tupperware
Water
Freezer
Small plastic characters
How to make an iceberg:
To make your own icebergs for pretend play, simply freeze water in tupperware containers. I suggest using plastic containers as they have some give to them and I had a hard time getting the ice out of my glass containers!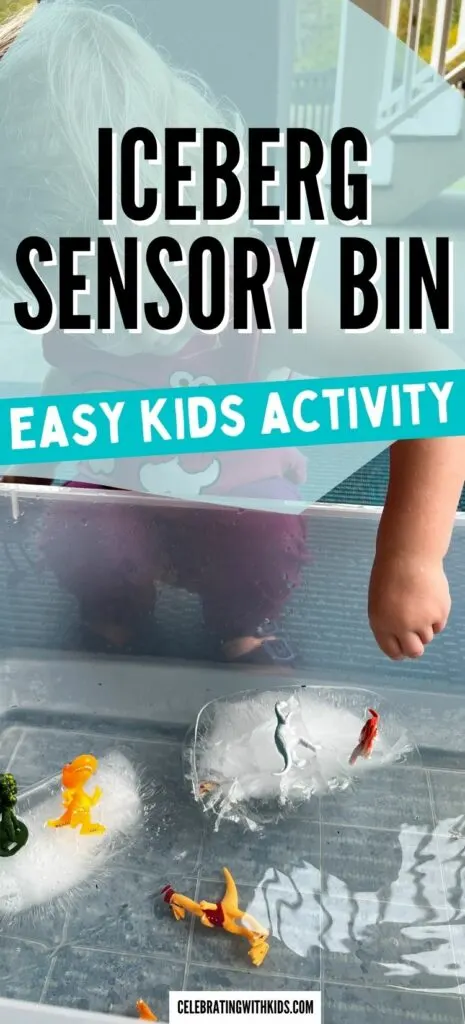 How to set up an iceberg sensory bin:
Step 1: make the ice
Prep the night before by freezing water in tupperware containers to create icebergs. Make at least 3.
Consider using a variety of sized containers to have different sizes of icebergs to experiment with.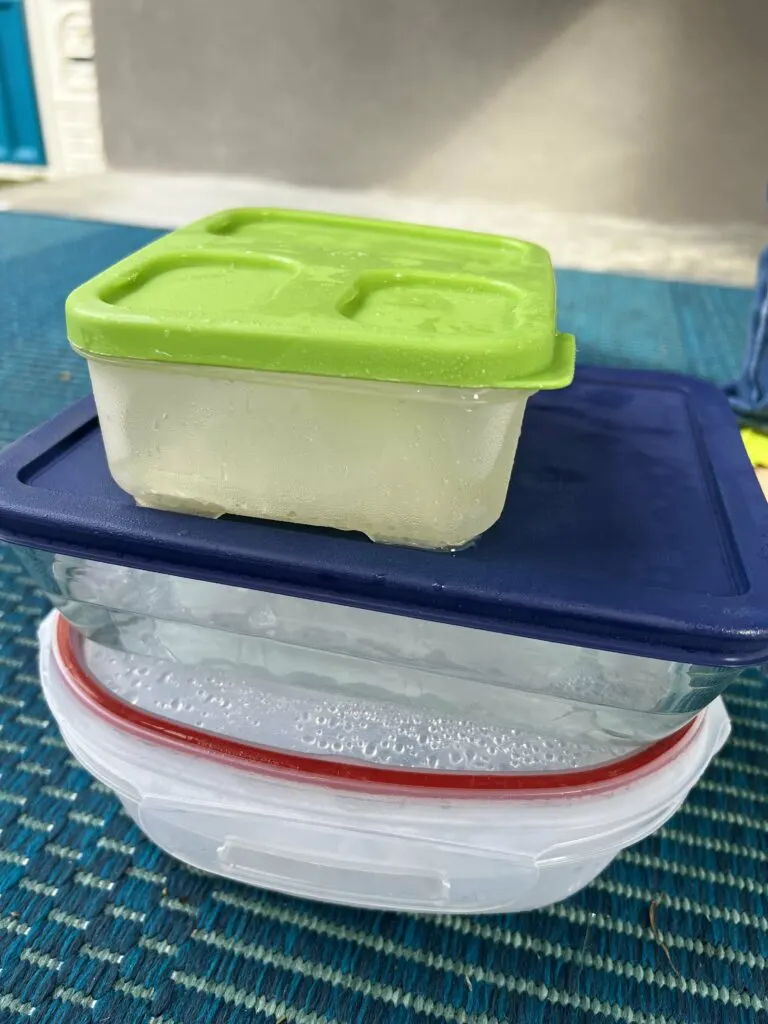 If you want to be EXTRA, you can freeze things into the ice as you make it. Think of foam shapes, sequins, glitter, or even small plastic toys. They will be revealed as the ice melts!
Kids love ice? Check out my dinosaur ice dig activity!
Step 2: fill the bin with water
Add water to your bin. You want at least 2-3 inches so the ice can really bob around. The more water you add, the more possible mess, so keep that in mind!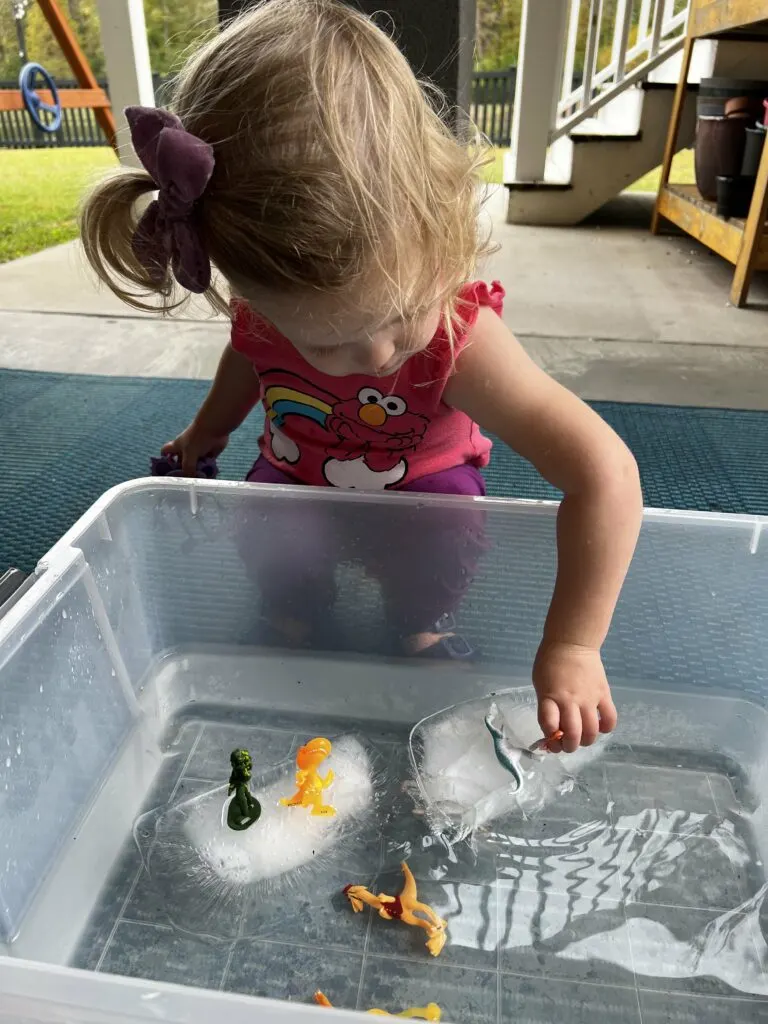 Step 3: add the ice
Carefully remove your frozen ice from the tupperware containers and add it to your bin of water You could choose to add all of the ice at once or add 1-2 pieces at a time and refresh as you play.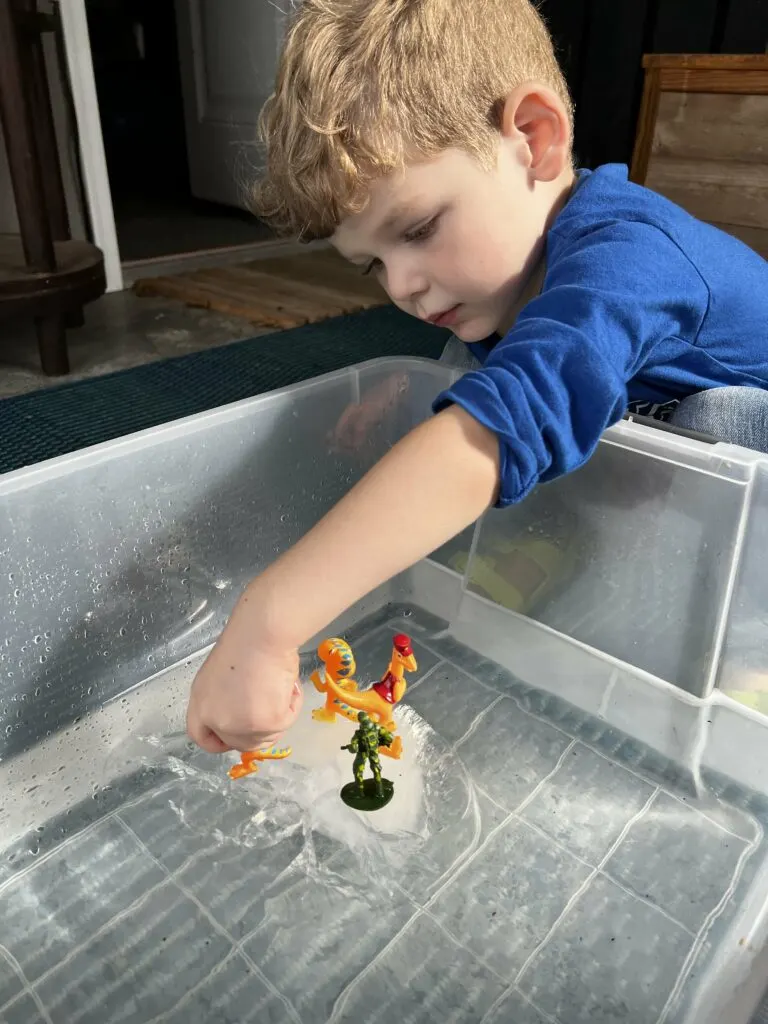 Step 4: add characters
Add small plastic characters to play with. You can use arctic animals to make more of an arctic sensory bin, or any favorites.
I suggest small, 1-2 inch tall plastic figures that stand up easily and steadily. If it is tricky to get it to balance on a table, it will be frustrating for little hands to try to balance on ice!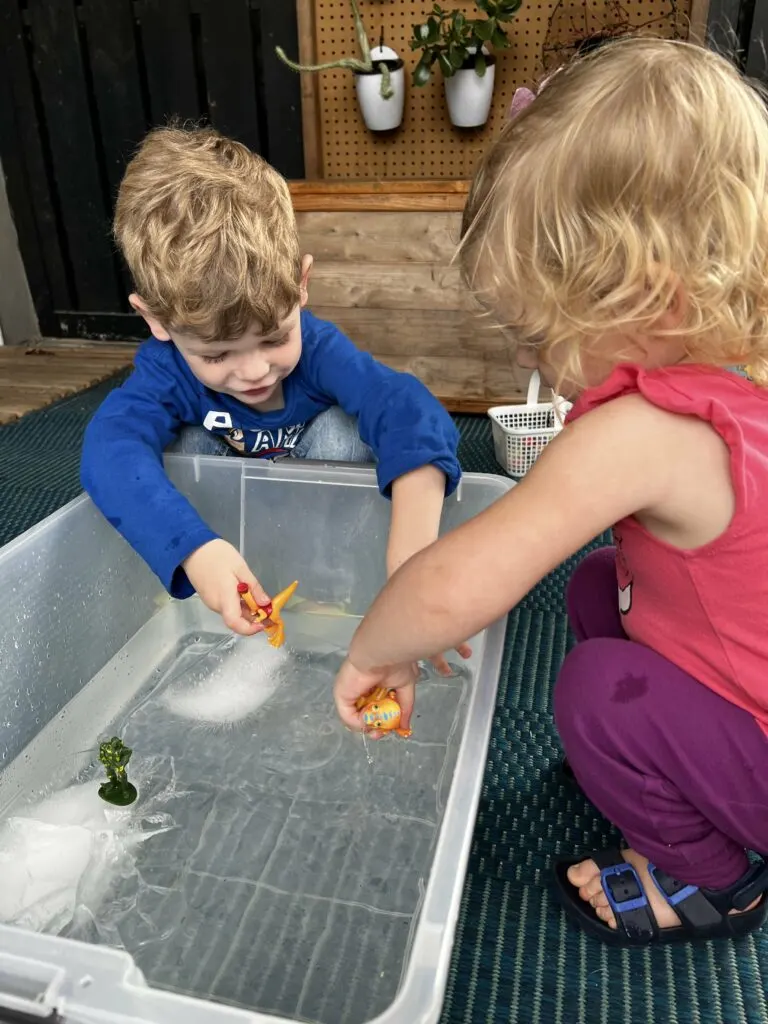 Step 5: play!
Let your kids go wild with small world play. Balance characters on the ice to practice fine motor skills. Push the ice underwater to watch it bounce up.
Over time, the ice will melt – the warmer the water, the faster it melts. This is a great time to talk about how ice is made of water and turns back into water when it gets warm!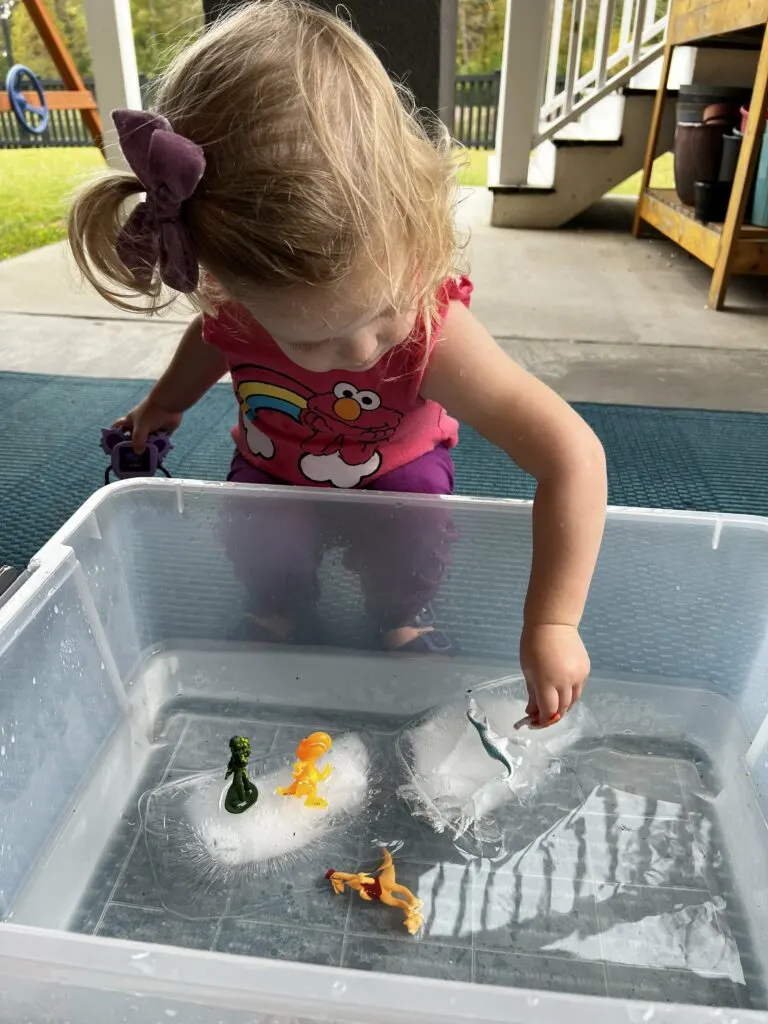 Any questions about this iceberg kids activity?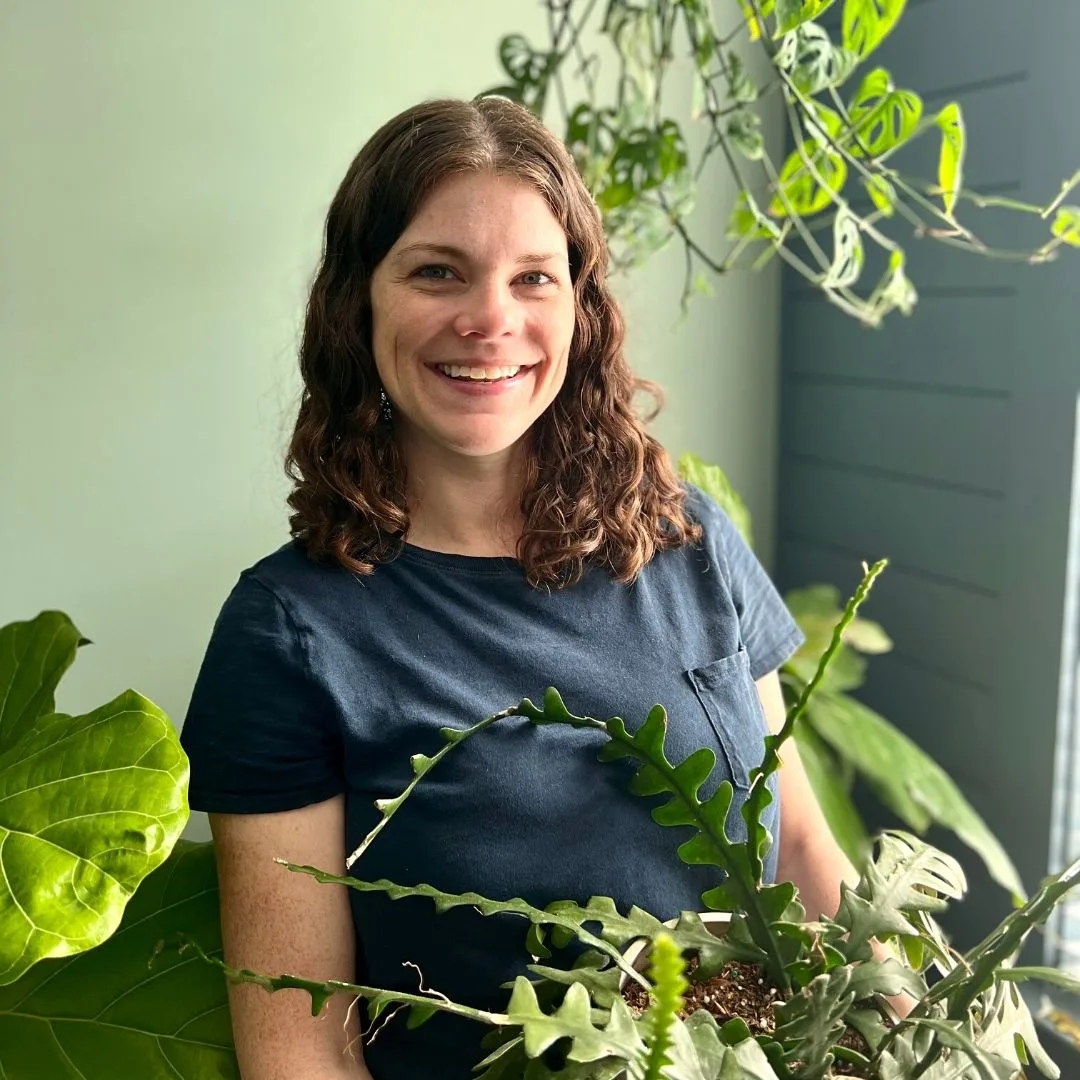 Hey there, I'm Morgan, the creative mind behind CelebratingWithKids.com! As a parent of two lively little ones, I've made it my mission to turn ordinary days into extraordinary adventures, sharing playful activities, thoughtful toy reviews, and delightful printables to help families celebrate every moment together. 🎉👨‍👩‍👧‍👦🎈