Considering purchasing a CordaRoy's convertible beanbag? Here is our complete CordaRoy's Beanbag bed review!
Have you ever wished that you had an extra seat that could also work as a bed in a pinch?
Well, you might need a CordaRoy convertible bean bag!
This 2-in-1 seat functions as an oversized beanbag for everyday play and seating and opens up to create a flat mattress when you need it.
We got a full sized beanbag + foot rest to try out in our playroom space.
Let's dive into what a CordaRoy bean bag is, how it works, and what we think of ours!
CordaRoy's beanbag review
Here's everything you need to know about the CordaRoy's convertible bean bag!
How it Works
CordaRoy's Beanbag Bed functions as both a beanbag and a bed.
It features a rectangular cushion that can be laid flat on the ground as a mattress, or folded and stuffed into a spherical cover to serve as a beanbag chair.
I was expecting the zipper to be sort of multi-purpose and somehow half-unzip to make the flat bed with the cover still attached as maybe the bottom of the bed. In actuality, to have it set up as a bed, you are just pulling the cover off completely and laying on the rectangular pad.
The filling of this beanbag is not the tiny beads from 1990s beanbags but instead polyurethane foam.
The foam does get a bit lumpy during compression and shipping and has to be fluffed really well by hand when it arrives at your home. It says you need to leave it out for 7 days while fluffing manually from time to time.
The foam also makes the bean bag very heavy – too heavy for my smaller kids to pick up or move without help.
But, the foam is much softer and more comfortable to sit on than the old fashioned bag of beans.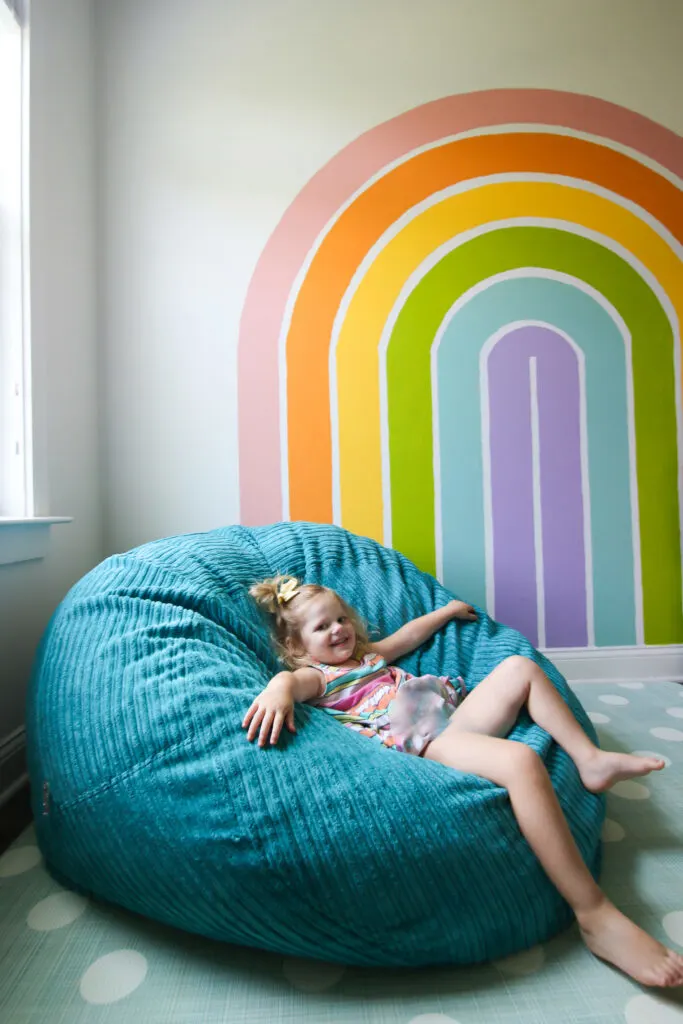 Popular Features
Here are some of the things that I love about our CordaRoy's bean bag.
Versatility
This beanbag is super versatile and can adapt to different spaces and needs. It can be a beanbag seat – for reading, sitting, or snuggling – and can unfold to become a flat mattress for sleeping, laying, or crashing on.
I love this beanbag for a reading nook, play area, or sleepover room.
It's a great alternative to a futon or daybed if you don't really have the space for a full couch, but want the option of seating or a sleeping area.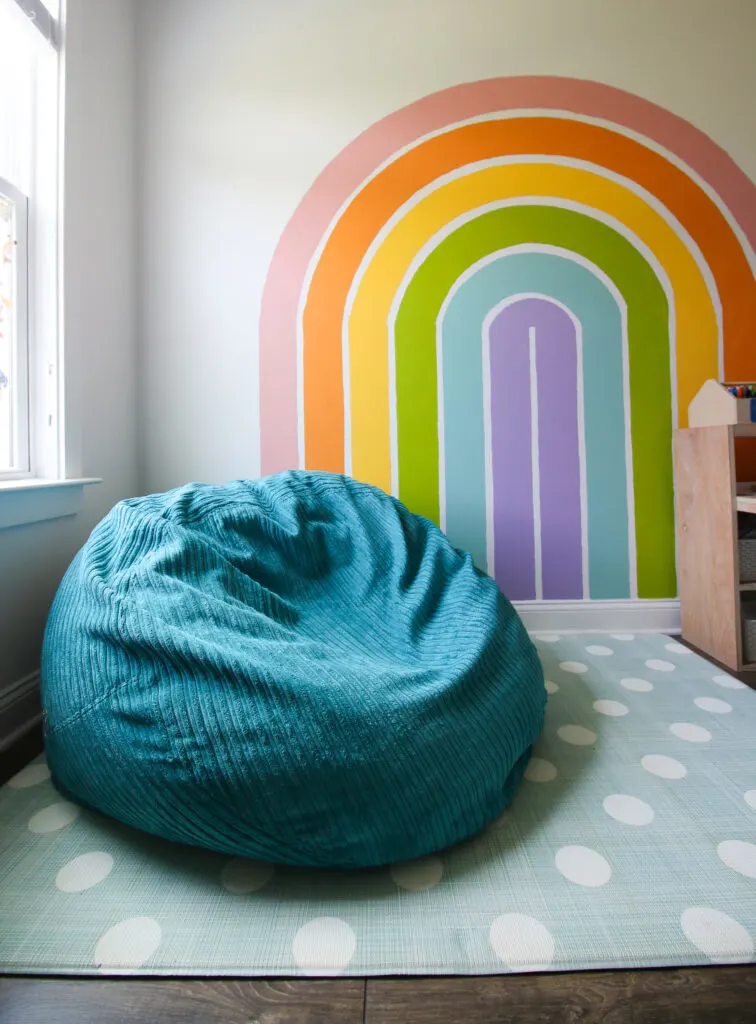 Comfort and Durability
When used as a beanbag, the CordaRoy's seat is super comfortable and cushy. You sink right in and settle nicely.
Ours is the full size – the smallest size – and it's still plenty comfortable for me and my two kids to snuggle together. I think that a queen or king size would be REALLY big, and you can see in some of their Instagram pictures that an adult man's entire body fits into the king size when rolled up as a bean bag.
When opened up, the bed is a little less comfortable. Honestly, I find it lumpy. It's definitely better than sleeping on the floor, but it's not a replacement for an actual mattress, long-term.
The cover is made from a very durable, high quality material that will hold up to kids crawling all over it, and even picking it up and throwing it around a bit.
Easy Maintenance
It is super easy to clean and maintain the CordaRoy's Beanbag Bed.
The outer cover is easy to unzip, remove, and machine wash and even dry. I personally prefer to hang dry things like this, but technically they can be dried.
The inner cushion cannot fit in a washing machine. It can, however, be sprinkled with baking soda and then vacuumed to help with any odors.
They can be spot cleaned with a damp, soapy rag. The cover can be treated with a stain remover before putting it in the wash.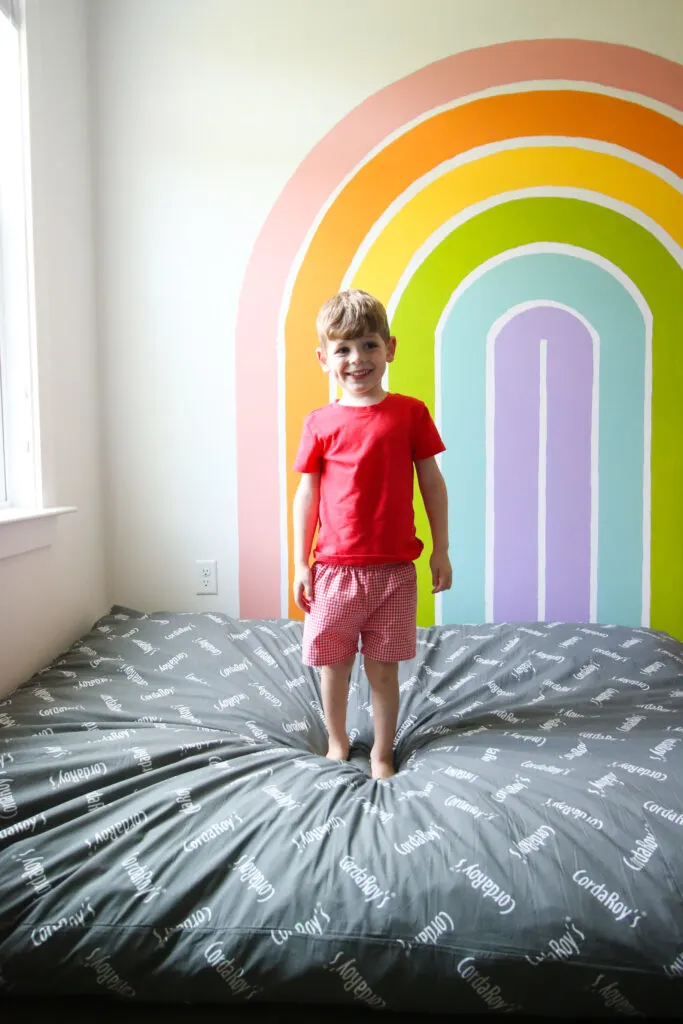 Our Impressions
First of all, I was a little disappointed in the functionality of the beanbag bed. I didn't realize that having it in bed-mode would just mean laying the cushion out with no cover on it.
I also didn't realize that the round beanbag would have a rectangular cushion inside it. This is a little awkward to shove in there and can also be a little difficult to shape inside the cover.
That being said, CordaRoy's definitely uses high quality materials and it feels very soft, comfortable, and durable.
Once it's set up, it's a very comfortable and large bean bag chair. I love the addition of the foot rest, too!
The mattress set up isn't great. It's, as I mentioned, pretty lumpy, despite us spending a lot of time trying to fluff it out. It's fine for lounging on, and makes a great crash pad for kids playing or nugget builds, but I would not recommend it as a comfy place to sleep compared to an air mattress.
If you are looking to replicate the feel of a mattress, an air mattress is going to be closer to that than the CordaRoy. This is more comparable to sleeping on a lumpy couch or a big pile of pillows on the ground.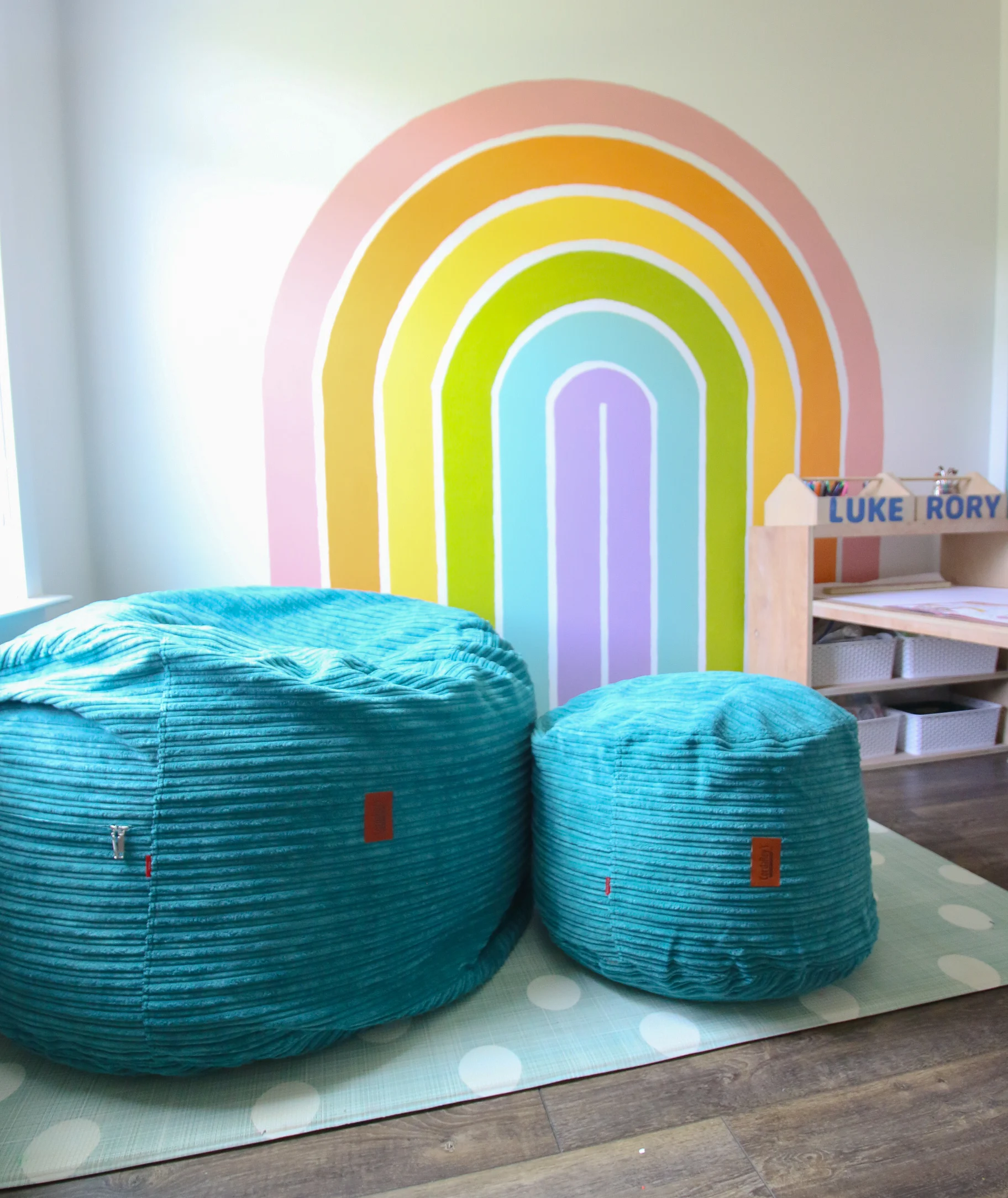 Is the CordaRoy's Beanbag Worth It?
CordaRoy's bean bags range in price from $300-500, depending on size and material.
This is a premium price for a premium product. You are paying for high-quality materials as well as the dual functionality of it as a chair and a bed.
We paid $149 for our Jumbo lounger from Costco and I feel like that was a much better deal for the price, but it does not convert into a bed.
If you are set on the dual-functionality of the beanbag that can convert into a bed, this is the best option.
It is perfect for a sleepover-friendly playroom space!
Any more questions about CordaRoy's beanbags?