Love the vibe of slumberkins but hate the price? Here are some cheaper alternatives to Slumberkins!
Slumberkins are super popular stuffed animals.
Like, they are one of those things that certain parents get *obsessed* with and end up buying the whole line for their not even born yet child to grow up with.
But, these suckers are pricey.
And while plenty of people can afford them, I am the first to say do NOT go into debt for kids toys. Please, please, do not.
So, I want to chat about Slumberkins today and some cheaper but still fabulous alternatives!
What are Slumberkins?
Slumberkins are super soft, flat stuffed animals that pair with books and stories to help kids manage their emotional health.
For example, the Honey Bear teaches about gratitude and the Alpaca teaches about stress relief.
Here are some Emotional Regulation Activities for Kids!
What age are slumberkins for?
Slumberkins are appropriate for any age, though babies should not sleep with stuffed animals. They are ideal for ages 1-6, and that age is what will be most likely to benefit from the books and stories and enjoy the toys.
Why are Slumberkins so expensive?
Slumberkins are expensive because they can be. They are designed as a high quality, high end product with a high dollar target audience. The brand wants them to be exclusive, collectible, and expensive.
I will say that they have programs for educators and the military – if you are involved in either, look into that, you may qualify for a discount.
Slumberkins are typically $48 for a stuffed animal + book + card. There are Minis that are about $19 (no book). There are sales and discounts sometimes.
However, there are some brands of stuffed animals cheaper but similar to slumberkins.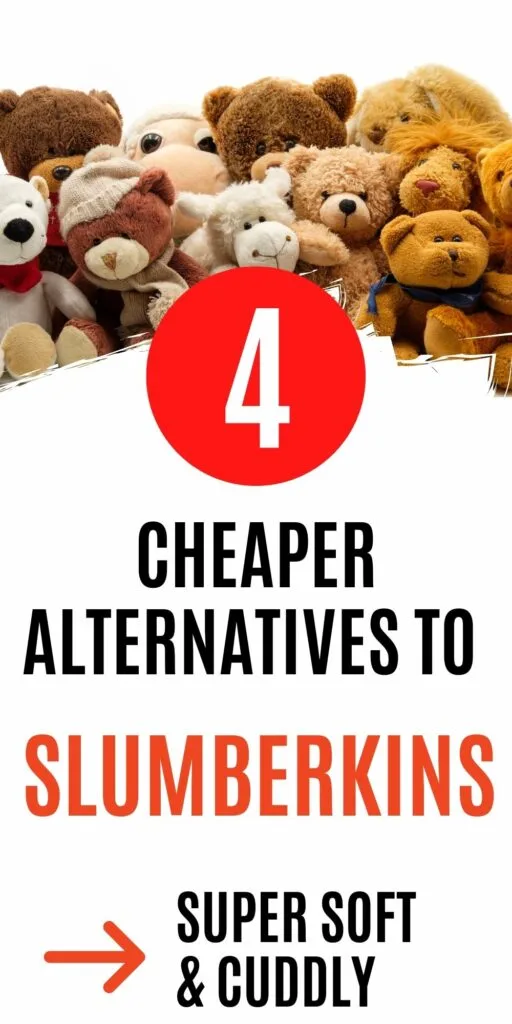 Cheaper alternatives to Slumberkins
Here are some popular – and less expensive – alternatives to Slumberkins.
Loveys like slumberkins
Here are some stuffed animals that are similarly snuggly but cheaper than Slumberkins!
Jellycat
Jellycat is the top recommended super soft stuffed animal. I know them from their easter bunnies but they have tons and tons of animal choices.
Jellycat is in the $15-30 range, depending on size.

DEMDACO
If what you love about Slumberkins is that they are soft and flat, check out DEMDACO's selection of plush blankie animals.
They are super soft, flat, and have animals heads. Very similar cozy snuggly vibes especially for younger kids.
These flat stuffed animals are in the $15-25 price range.

Sshlumpie
Sshlumpie is another brand of super soft stuffed animals that gets stellar reviews. They have more "normal" stuffed animals and the more flat lovey style.
These are a great alternative option and their price is usually in the $15-25 range.

Click here to shop Sshlumpie on Amazon.
GUND
My final suggestion for a cheaper alternative to the Slumberkins is GUND! They've been around forever and have tones of beautiful, super soft stuffed animal options.
They have great colors, great animal selection, and are high quality.

Click here to shop GUND stuffed animals on Amazon.
Slumberkins vs Cuddle + Kind
I wanted to mention Cuddle and Kind because they are also SO popular. However, I'm not counting them in my list because they are not cheaper than Slumberkins.
Cuddle and Kind are in my opinion gorgeous stuffed animals. They have more of a knit look and are less soft and snuggly. However, they are truly gorgeous, high quality stuffed animals.
If you are deciding between Slumberkins and Cuddle + Kind, I think it 100% depends on if you want something soft and plush looking or prefer the hand knit look. Both are made from high quality materials and have great mission statements.
Cuddle and Kind run around $80 for the larger ones and $60 for the smaller ones. Yeah, pricey!

Squishmallows – BONUS
Ok, Ok, squishmallows are really NOTHING like Slumberkins. But, if your kids just want something soft and squishy, they are a great option. Here's where to buy Squishmallows.
Books like slumberkins
If you enjoy Slumberkins for their books about emotions, here are some great kids books that we have read about feelings and emotions:
Did I miss any great Slumberkins alternatives?