Cooler shopping? Here is our complete and honest Brumate BruTank cooler review after having and using it for our family of 4 at the beach!
I recently purchased my husband a Brumate BruTank cooler for Father's Day.
He had been asking for a nice cooler and I had been shopping around, mostly looking at Yeti and RTic coolers.
I knew that we wanted something with wheels to easily take onto the beach for beach days with our family of 4 and occasional beach vacations with more people.
I ended up getting the Brumate BruTank cooler and we love it! I wanted to share a review because I feel like this is a lesser known but awesome rolling cooler option.
Looking for other beach essentials? You 100% need a Shibumi Shade!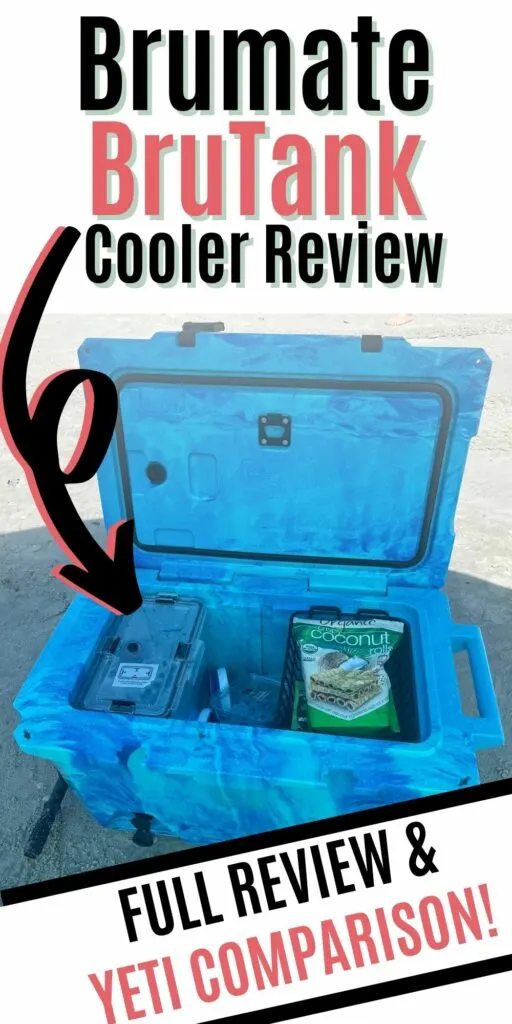 Brumate BruTank Cooler Review
The BruTank cooler is made by Brumate brand. I feel like they are more known for their can coolers and insulated cups, but they also make this awesome cooler.
You can buy the cooler directly from Brumate or at Dick's Sporting Goods.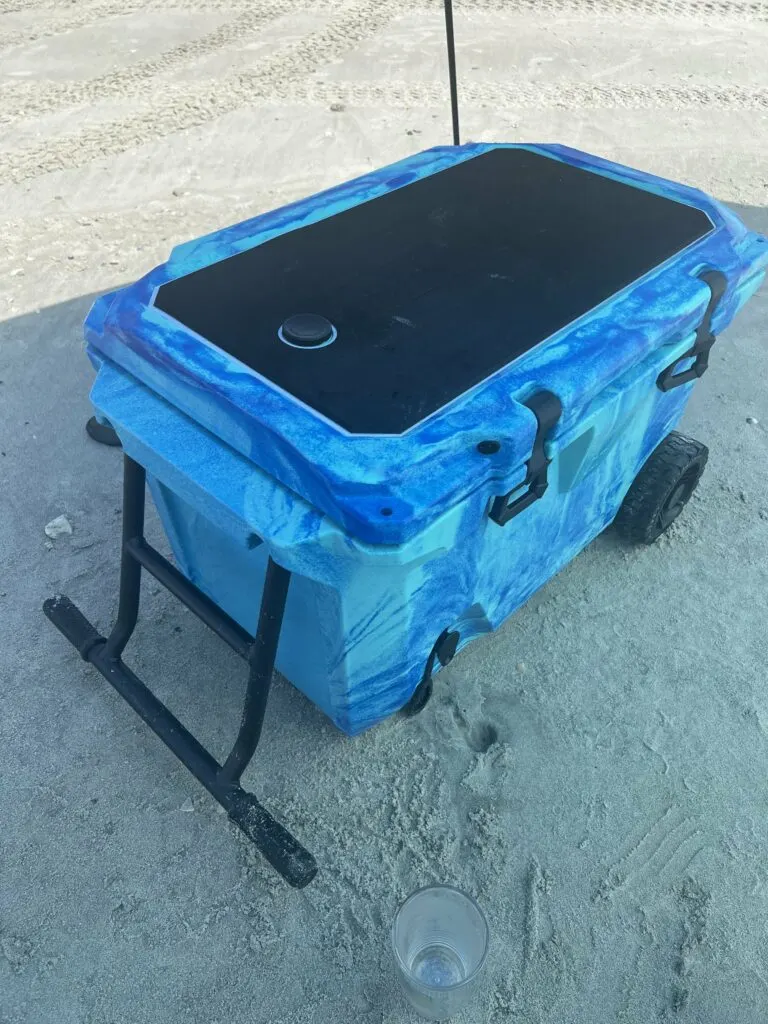 Functionality
This is a large 55 gallon cooler that can hold 40 pounds of ice, 48 cans, or 12 wine bottles.
The cooler has 7 day ice retention. They recommend cooling the cooler with a "sacrificial" bag of ice before adding your drinks and ice to help it last as long as possible.
It has all terrain wheels that roll great – even in the sand – and an easy pull handle.
We got the Ocean Swirl pattern which is 100% my beach aesthetic, but it comes in lots of colors.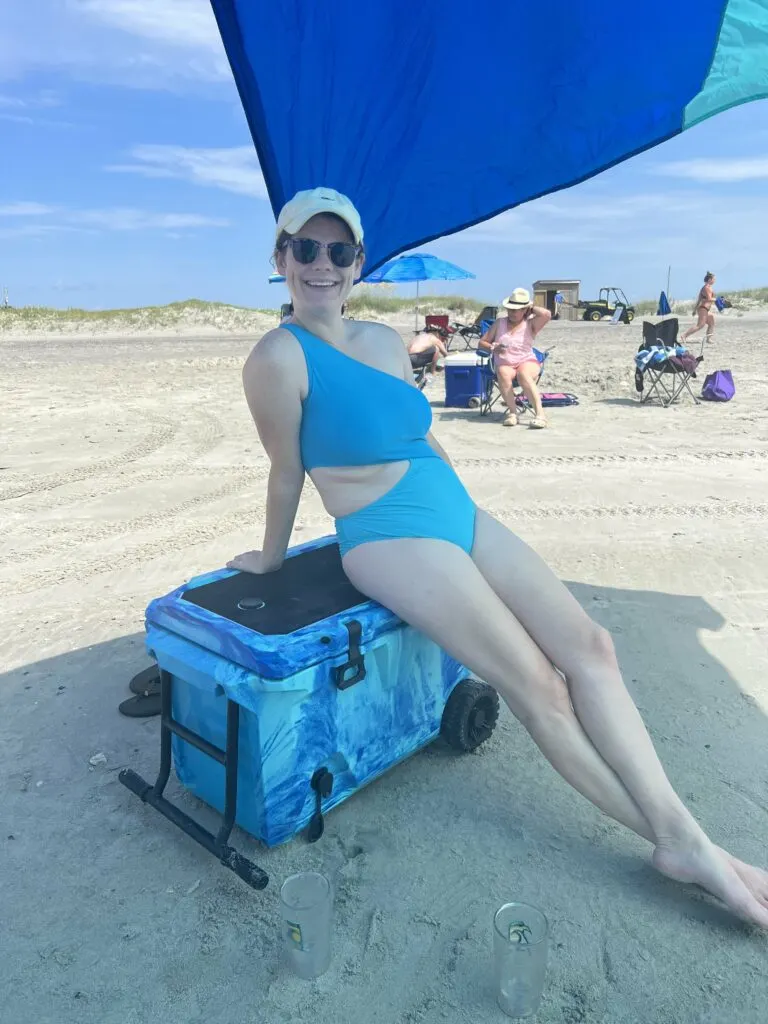 Size & Weight
One thing to keep in mind about the BruTank rolling cooler is that it is HUGE. This is typical with this type of insulated cooler, but it really boggled my mind at first.
The cooler itself is 33″x20″x20″. The insulation is 4″ thick so the inner cooler is 8″ smaller in each direction.
The Brumate cooler weighs 44 pounds empty. I couldn't find this anywhere on their site, so that's according to our bathroom scale.
The size of this cooler is a bit unwieldy, but it still rolls well, even full of ice. Just know that it is very large and heavy to carry, especially up and down stairs.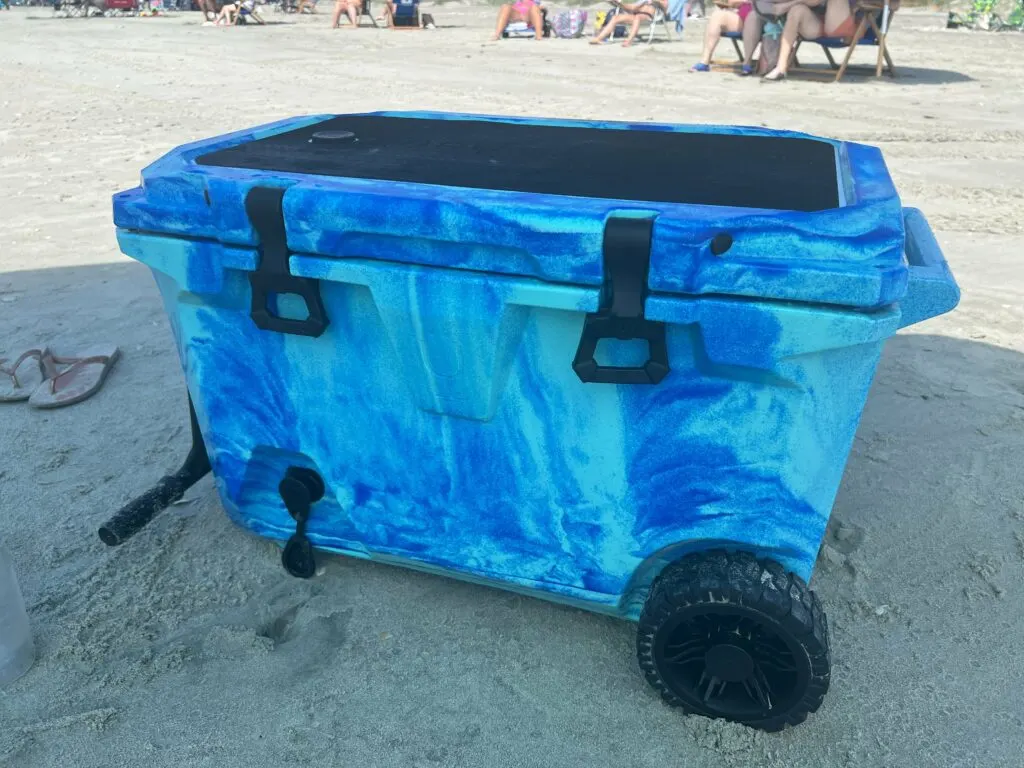 Features + Accessories
Here are a few of the features that BruMate promotes and what I think of them!
Foam bench top
The top of the cooler has about 1/4 inch thick foam on it making it a "seat". We actually sit on it at the beach and it's fine, but this is nothing earth shattering.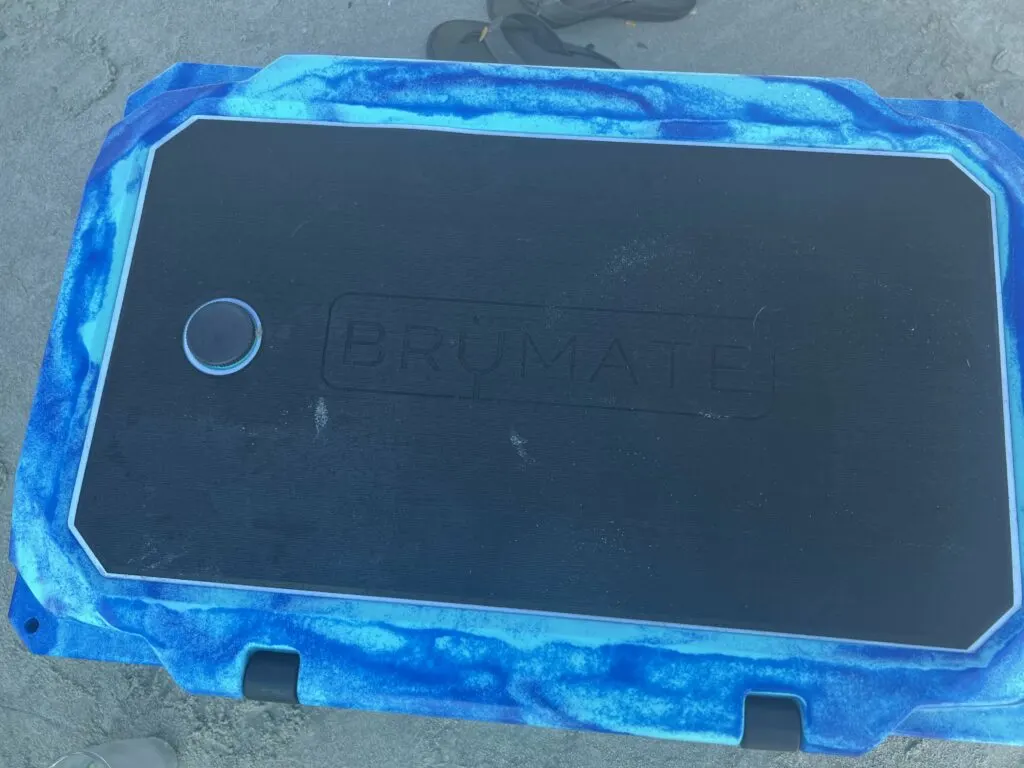 Built in bottle opener
Inside the lid there is a bottle opener. Very handy, not useful at the beach (no glass) but good for parties or tailgating.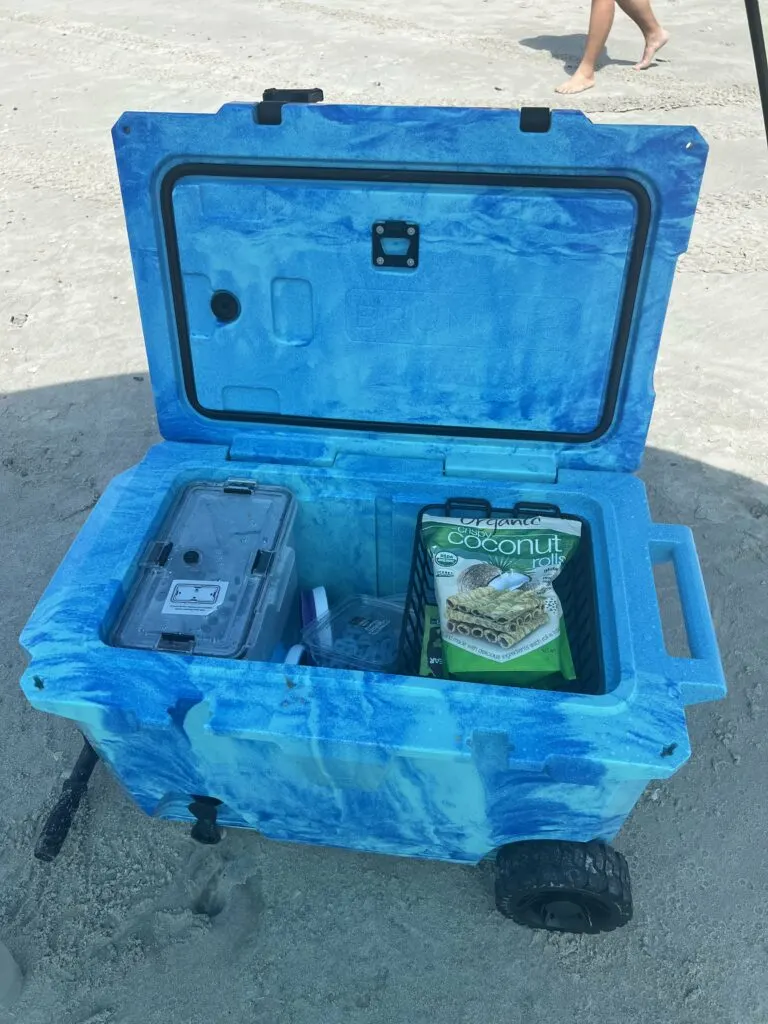 Dry basket
The cooler also comes with a wire mesh hanging basket. We use it for bagged sandwiches and similar, so they stay out of the wet ice but stay cool. It's a great feature!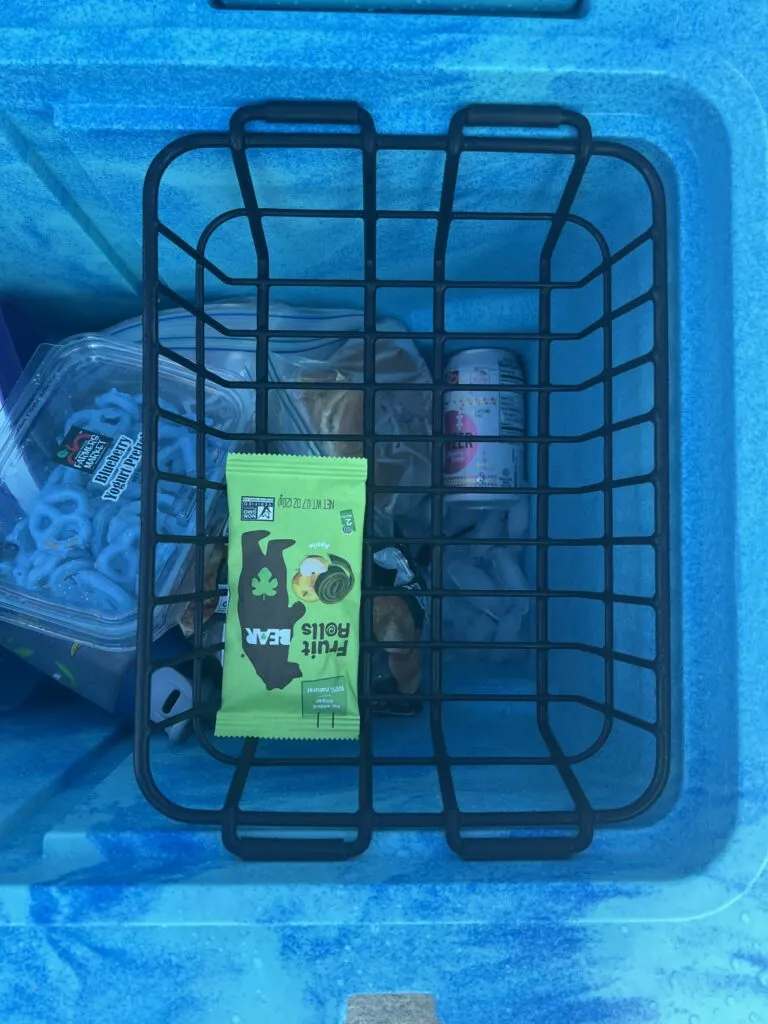 Drink tank
The drink tank is the reason that I purchased this cooler. It has a 2.8 gallon tank with built in spigot to serve drinks directly from the cooler.
I think that this was designed for mixed drinks and tailgating, but we love it for taking ice water to the beach. It is easy to grab tervis cups and throw them into the cooler and fill them with fresh ice water without opening the cooler as you need it.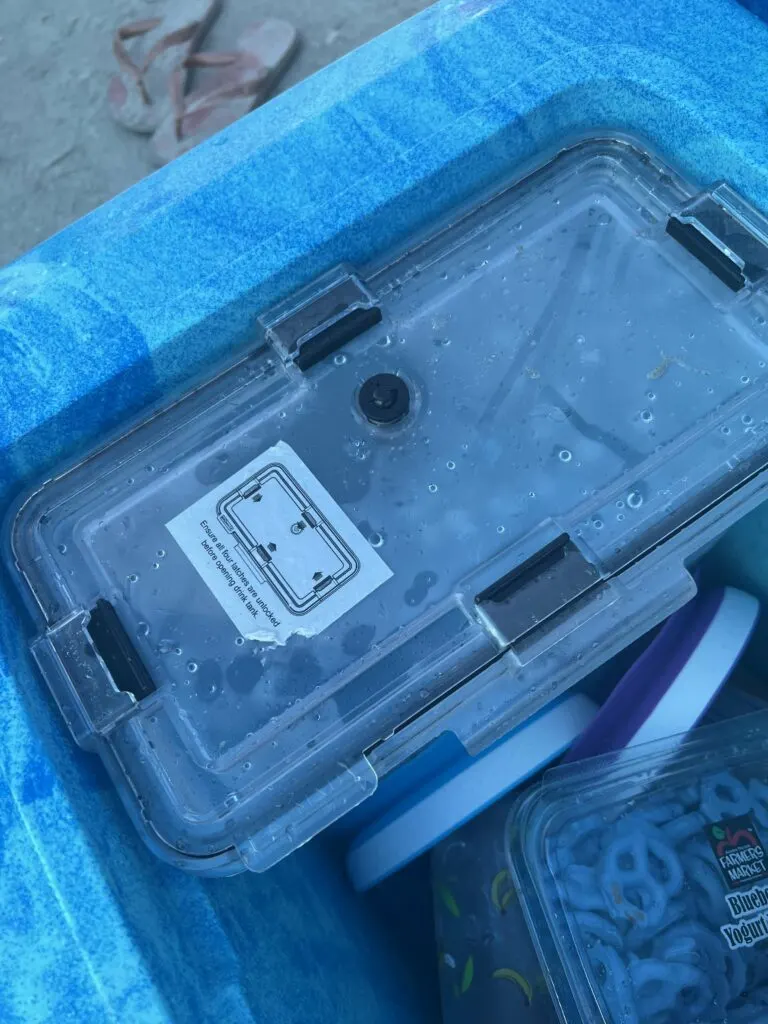 The tap is high enough to pour sitting on the ground and comes with a silicone cover to keep the spigot clean when rolling or not in use.
You can also remove the tank and the spigot (it comes with a plug to put in it's place) and have extra space for ice and drinks if you prefer.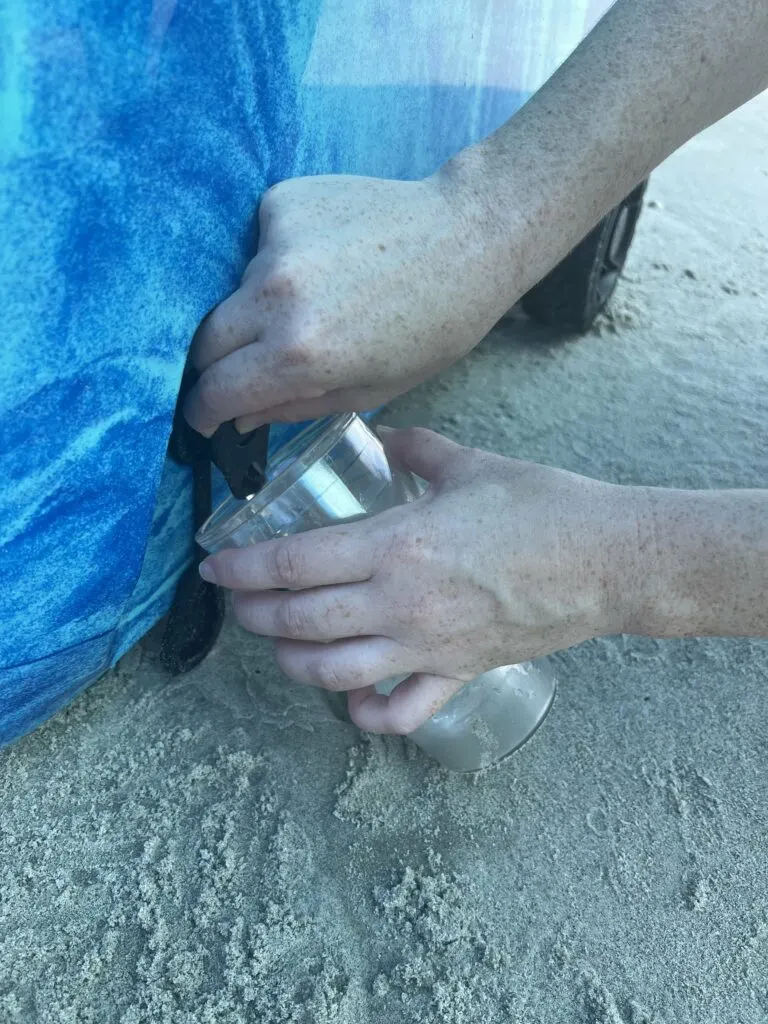 Warranty
BruMate offers a 5 year warranty on their coolers.
Brumate Coupon codes
Note that the Brumate website offers email list sign up discount codes (usually 10% off) and some people have referral codes. In my experience, these will not apply to the BruTank cooler (it is excluded).
I got mine at Dick's Sporting Goods because there was a 3-4 week wait direct ordering and Dick's had them in stock immediately!
Shop the BruTank at Dick's Sporting Goods here!
Yeti vs BruTank
Many people are familiar with Yetis and therefore want to compare the Brutank to a Yeti. The most comparable Yeti is The Tundra Haul wheeled cooler.
Yeti is probably the most popular luxury cooler brand and what I originally set out to buy. It was the built in water tank on the BruTank that really sold it for me.
These coolers are essentially the same price, same quality, same warranty, just slightly different features.
Here's a quick comparison of the Yeti Haul vs Brumate Brutank:
| | | |
| --- | --- | --- |
| | Yeti Haul | Brumate BruTank |
| Price | $400 | $399 |
| Dimensions | 28.3″W x 18.6″D x 19.5″H | 32.65″W x 19.5″D x 19.5″H |
| Weight | 37 lbs | 44 lbs |
| Can capacity | 45 cans | 48 cans (plus water tank) |
| Accessories | none included | water tank, seat top, bottle opener, dry basket included |
| Warranty | 5 year warranty | 5 year warranty |
Any more questions about the Brumate BruTank?