Looking for very hungry caterpillar printables and activities? Here are some favorites that are sure to be a hit with your kids!
The Very Hungry Caterpillar by Eric Carle is a classic for a reason.
This book has everything that kids love – bugs, food, holes to stick their fingers in.
The story is short, repetitive, and rhythmic. It's great for literary skills and fun caterpillar learning activities.
What does the very hungry caterpillar teach?
This story helps to teach the lesson of self control as well as transformation and change.
The book also helps to teach:
The days of the week
Food names
Colors
Counting
Fine motor skills
Caterpillar – butterfly life cycle
How do you teach the Very Hungry Caterpillar?
Here are some questions you can ask your child as you read:
What food do you think that the caterpillar will eat next?
How many fruits were eaten on a certain day?
What color are each of the foods?
What happens when the caterpillar eats too much?
Talk about the lifecycle of a caterpillar
Here are some of my favorite The Very Hungry Caterpillar activities, printables, and worksheets!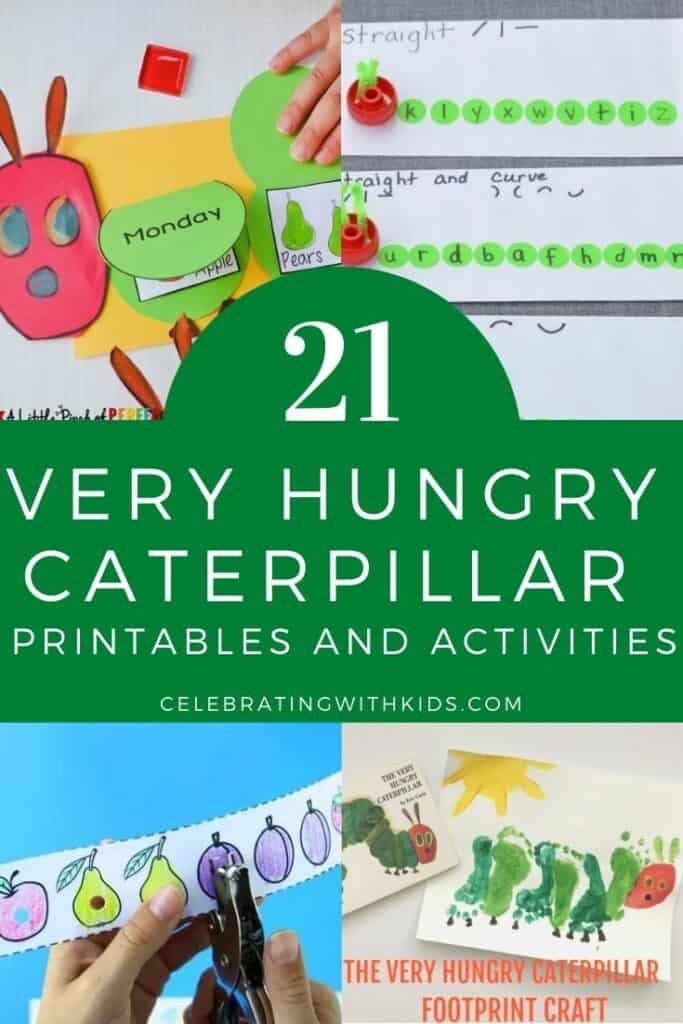 Very Hungry Caterpillar Activities + Printables
Want to teach the Very Hungry Caterpillar with your preschoolers? Here are some great activity ideas and printables to inspire your learning!